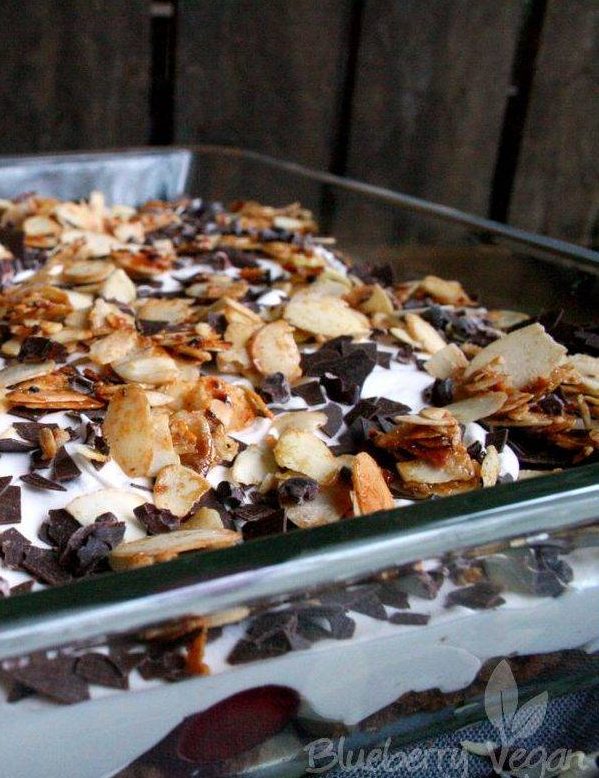 [Advertising: Affiliate Links]
Inspired by a black forest cake this dessert is much simpler to make, but tastes just as delicious.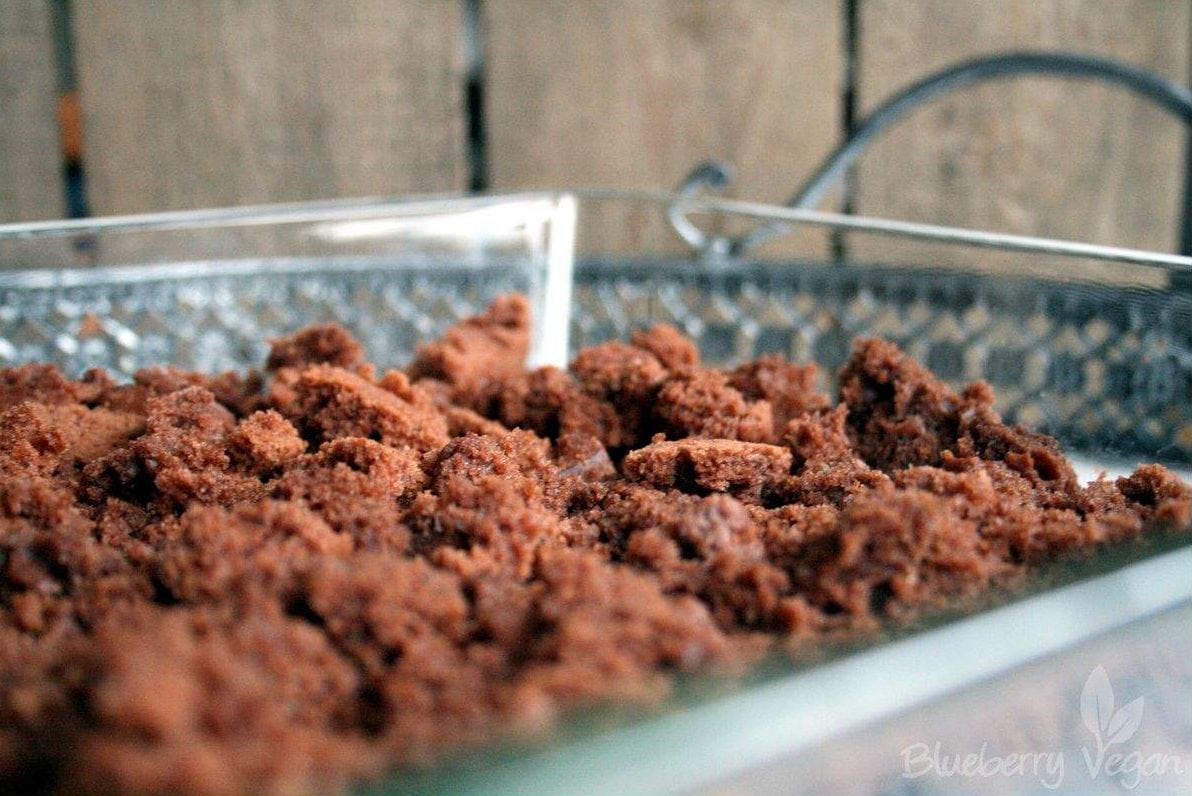 You can make it one day before and allow the flavors to develop overnight. So if you make it for an event or dinner party it relieves your schedule on that day.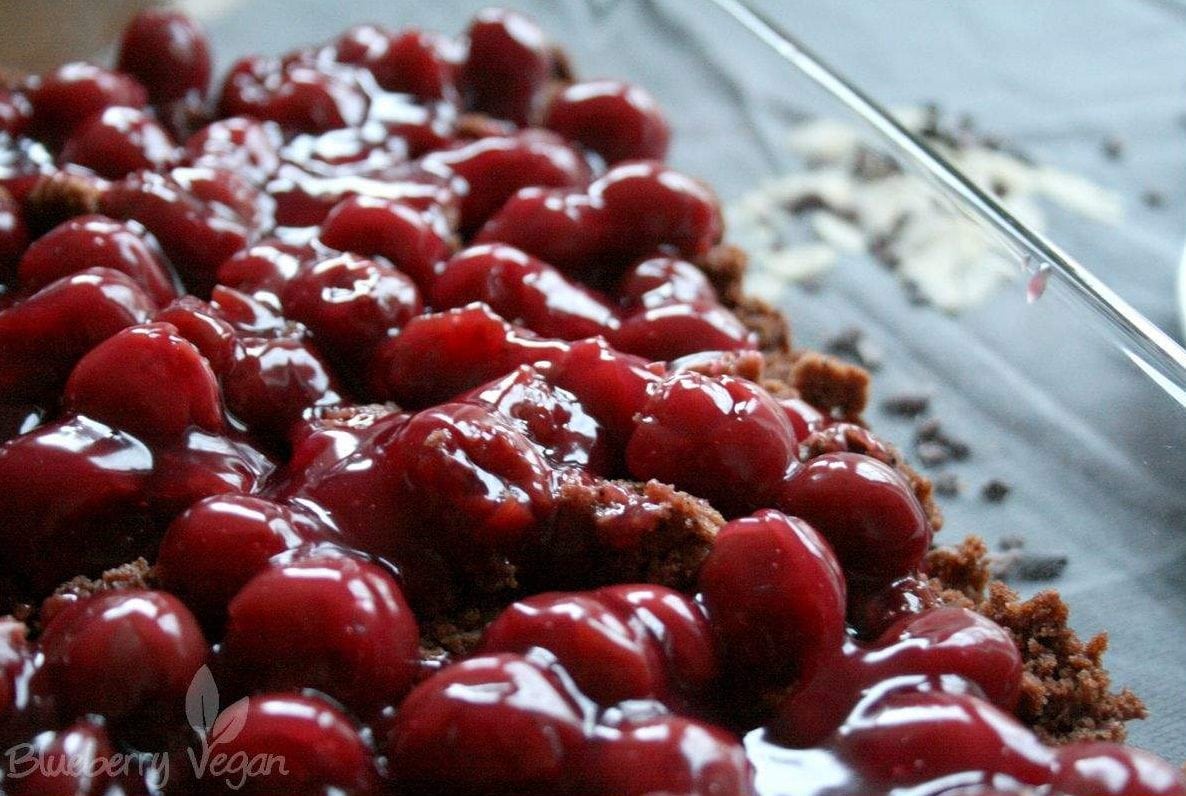 The base is a moist chocolate cake that I crumbled in a baking dish. Then covered the cake with cherries and vanilla whipped cream and topped it with chocolate and caramelized almond flakes.
You can omit the cacao nibs, of course, but they add the certain something to this dessert. My friends say, they taste a bit like whiskey, when you chew them a while. Their flavor infuses the cream.
Enjoy this delicious dessert!
Love,
Rina
Are you looking for more fruity desserts? Also try mango tiramisu, lemon tiramisu, pear blueberry crumble, baked apple crumble, vegan Crème brûlée and nice cream.

Chocolate and Cherry Layered Dessert
Ergibt/Yield:
8 - 10 Portions
Zutaten/Ingredients
For the chocolate cake:
240 g (1 1/2 cups) all purpose flour
25 g (1/4 cup) cocoa powder
1 tsp soy flour
1 tsp corn starch
100 g (1/3 cup plus 2 tbsp) sugar
2 tsp baking powder
1 pinch salt
1 pinch vanilla
100 ml (1/3 cup plus 1 tbsp) neutral tasting oil
220 ml (1 cup minus 1 tbsp) carbonated water


For the cherries:
1 jar cherries
100 ml (1/3 cup plus 1 tbsp) water
1 tbsp corn starch
1 tbsp kirschwasser or rum


For the cream:
1 pk. Soyatoo soy whip
1 tsp corn starch
1/4 tsp vanilla


For the topping:
2 tsp dark chocolate flakes
75 g (2.6 oz) almond flakes
2 tbsp sugar
1 pinch vanilla
1 tbsp cacao nibs
Zubereitung/Instructions
Grease an 8 inch loaf pan and preheat the oven to 160° C (320° F).


In a bowl combine the dry ingredients with a whisk, add the wet ingredients and stir briefly until just combined.


Pour the dough in the pan and bake for 55 - 60 minutes until a toothpick comes out clean. Let cool in the pan for 10 minutes then remove and transfer to a cooling rack. Let cool completely, then crumble into a baking dish.


Drain the cherries but keep the juice. Combine the juice with water, corn starch and alcohol and bring to boil. Let boil for one minute and then stir in the cherries. Spread on the chocolate cake crumbles and let cool.


For the whipped cream combine all ingredients and beat for 4 - 5 minutes until fluffy. Spread on the cherry layer and sprinkle over the chocolate flakes.


Mix the almond flakes with sugar and vanilla and let caramelize in a non-stick pan over medium heat. When they turn golden, spread on a sheet of parchment paper and let cool. Sprinkle over the dessert.


At last sprinkle over the cacao nibs and allow the dessert to infuse in the fridge. Let come to room temperature before serving.
Tipps/Notes
If kids are eating this too, omit the alcohol.