How often do I stand in front of my fridge on a Sunday morning, staring in and think: "If I only had bought some rolls!" Since a bakery isn't around the corner of my house and I like to stay in my pajamas until noon, I usually bake rolls myself.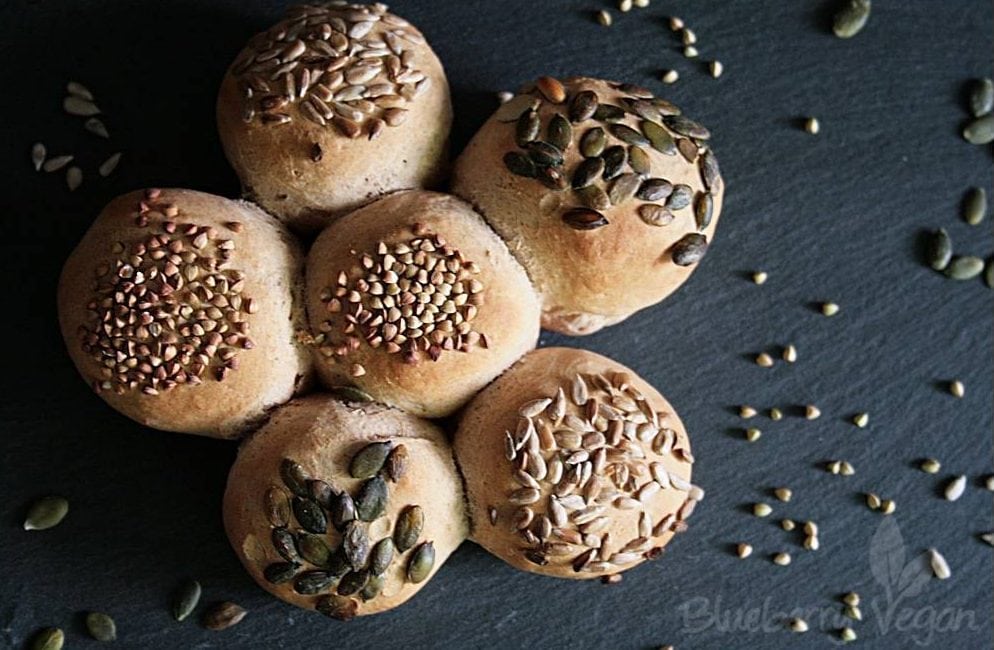 When you ever baked your own bread or rolls, you know, that it takes a long time to do that. Not, because it is so complicated, but because the dough needs time to rise properly. When you rush things, and don't give it the time, that it needs, you'll end up with those heavy, chewy rolls, that are horrible to eat. If I don't forget that I want to make rolls in the morning, I prepare a yeast dough and let it rise in the fridge for about 12 hours. So what if I forgot it?
Then I bake these rolls. They are much quicker made, because I don't use yeast, but baking powder. So the dough doesn't need time to rise. Just knead the dough, form little rolls, dip then into seeds and put them on a lined baking tray. The rest is done by the oven in 25 minutes.The rolls get most fluffy and soft, if you only use white flour. I like mine a bit more rustic and use a combination of white and wholemeal flour. Also you will be satisfied longer.
Enjoy your breakfast!
Love,
Rina
Quick Yoghurt Rolls
Ergibt/Yield:
6 small rolls
Zutaten/Ingredients
For the dough:
150 g (5.3 oz) white flour
100 g (3.5 oz) wholemeal flour
1 1/2 tsp baking powder
175 g (6.2 oz) soy yoghurt
1 1/2 tbsp neutral tasting oil
1/2 tsp salt


Also:
3 tbsp seeds - I used each 1 tbsp sunflower seeds, pumpkin seeds and buckwheat
Zubereitung/Instructions
Knead all ingredients into a smooth dough. Line a baking tray with parchment paper and preheat the oven to 200° C (400 ° F).


Divide the dough in six pieces and roll them into balls. Press them into the seeds and place them next to each other on the baking tray, flatten a little.


Bake in the oven for about 25 minutes until the rolls start to brown. Serve warm.