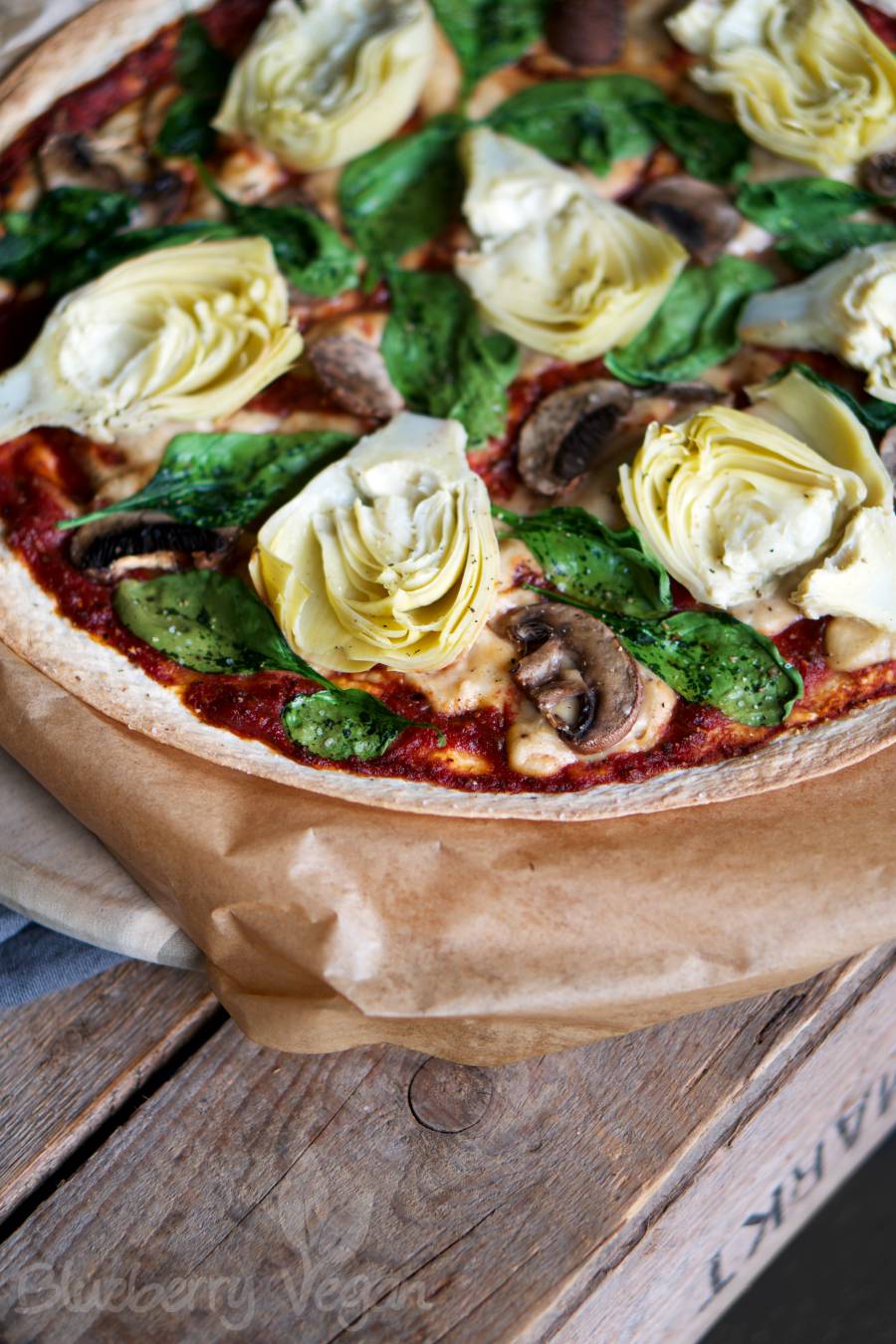 [Advertising: Affiliate Links]
Hunger for pizza, but in no mood for a time-consuming yeast dough? Sometimes the pizza cravings come faster than you can plan ahead. The idea to take a tortilla wrap as the base for a pizza is neither new, than my idea. A couple of years ago this blitz pizza was going through diet forums, because it is not only quickly made, but because of the thin base it is lower in total calories than a normal pizza.
From time to time I like this blitz pizza. Especially when I opened a package of my favorite wraps, the dueruem wraps from Lidl, to make some quesadillas. Since I don't like tortilla wraps that much (mostly they taste like cardboard) I looked for an alternative very long. Although I like to make food myself, wraps aren't the food I like to do. Sometime I found delicious wraps at Lidl and use them ever since. The dueruem wraps are soft and big. So there is much to put in a wrap and a blitz pizza is very big.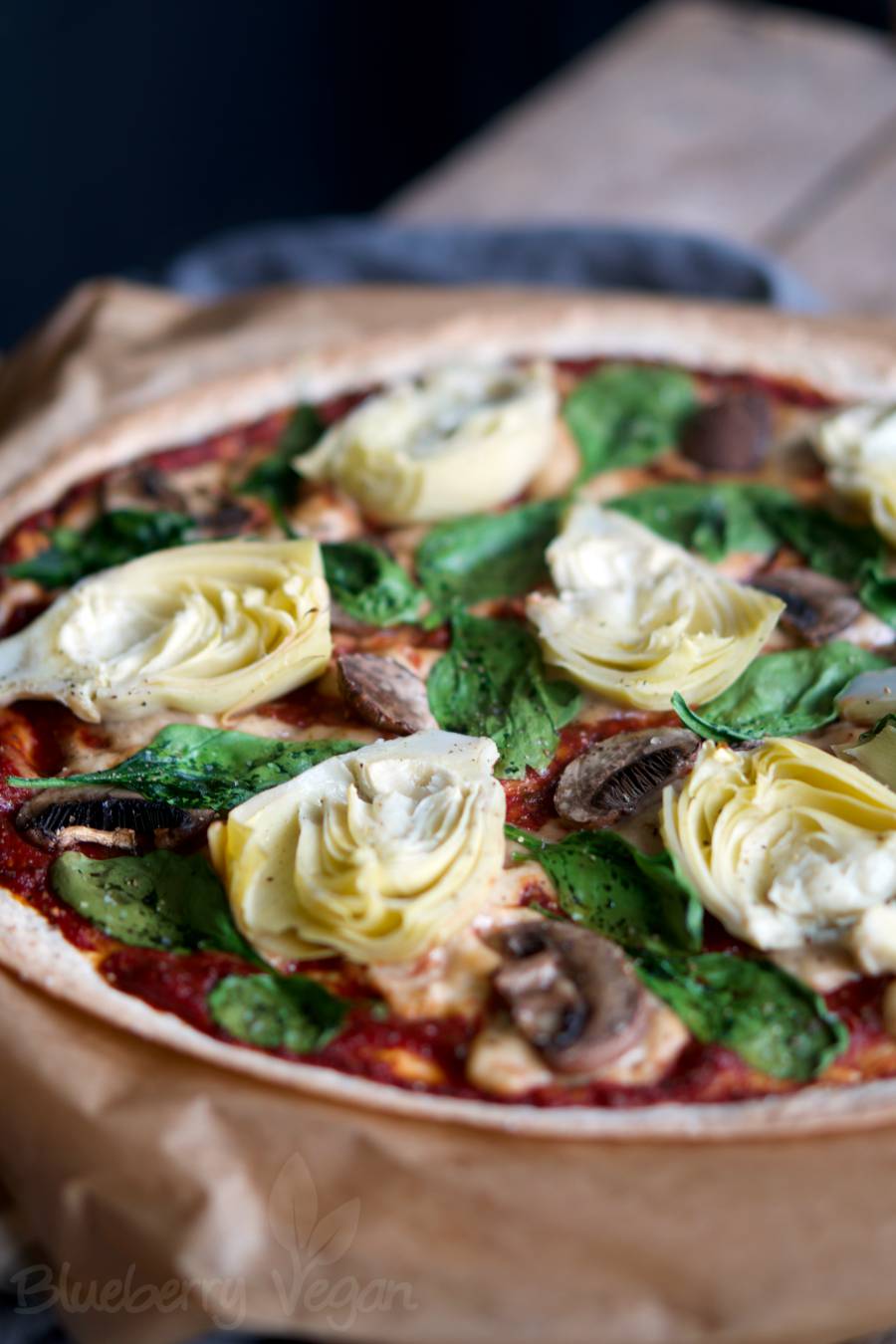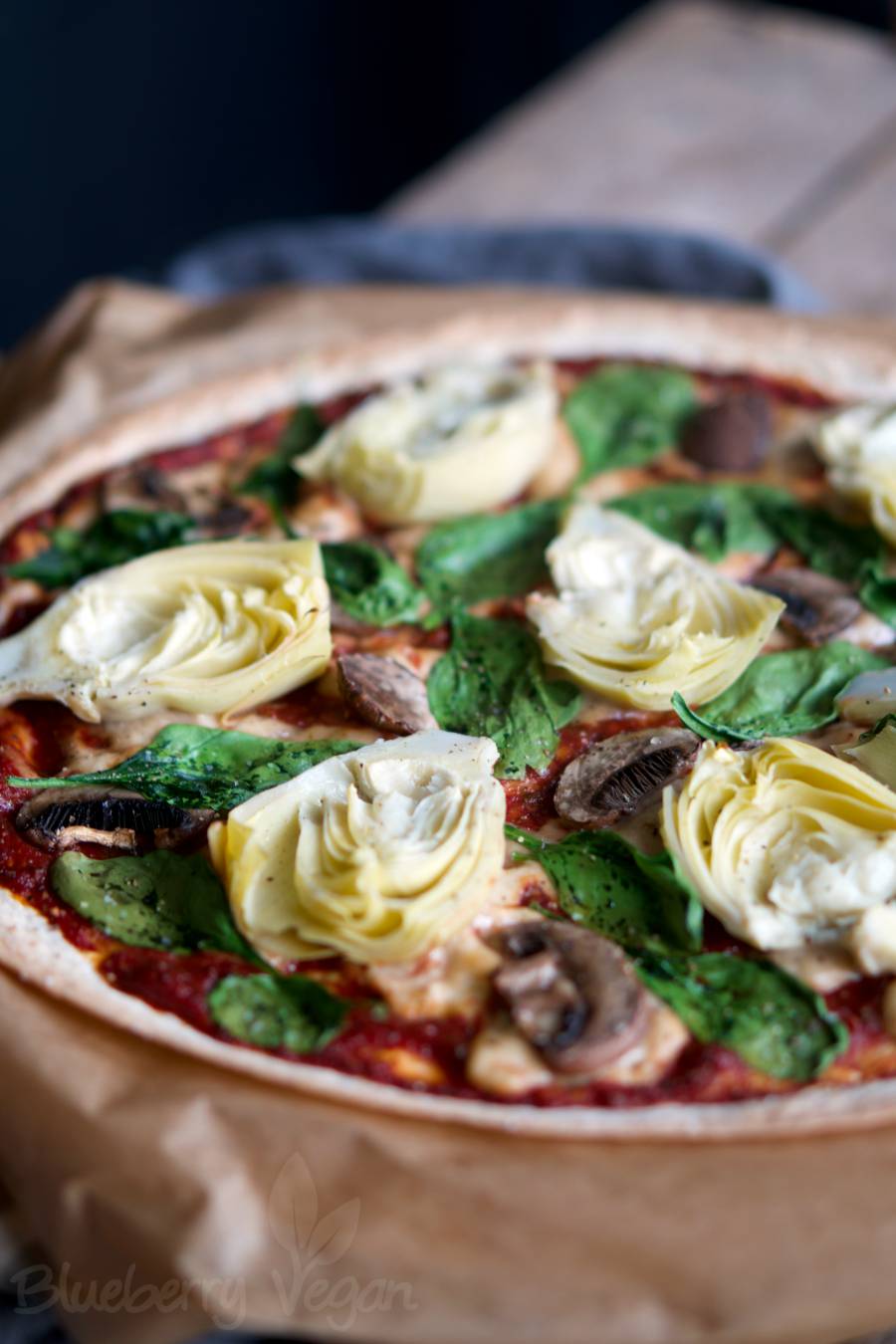 I topped the pizza with my favorite toppings: Cashew cheese, spinach, mushrooms and artichokes. I drizzle the cashew cheese directly on the tomato sauce and then add the toppings. I spray some oil over and season it with salt and pepper. Just use your imagination for your favorite topping. Also a tarte flambée tastes great!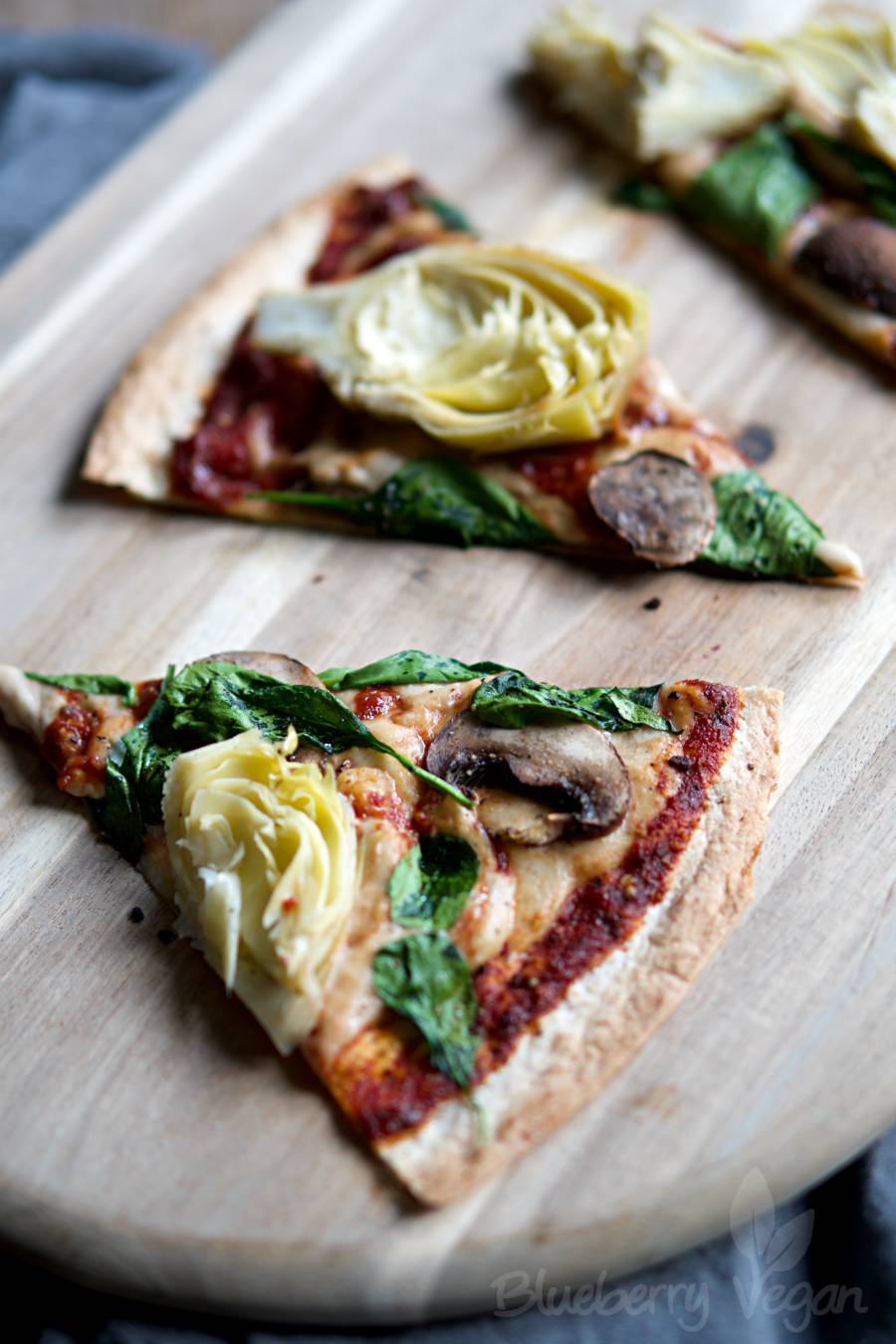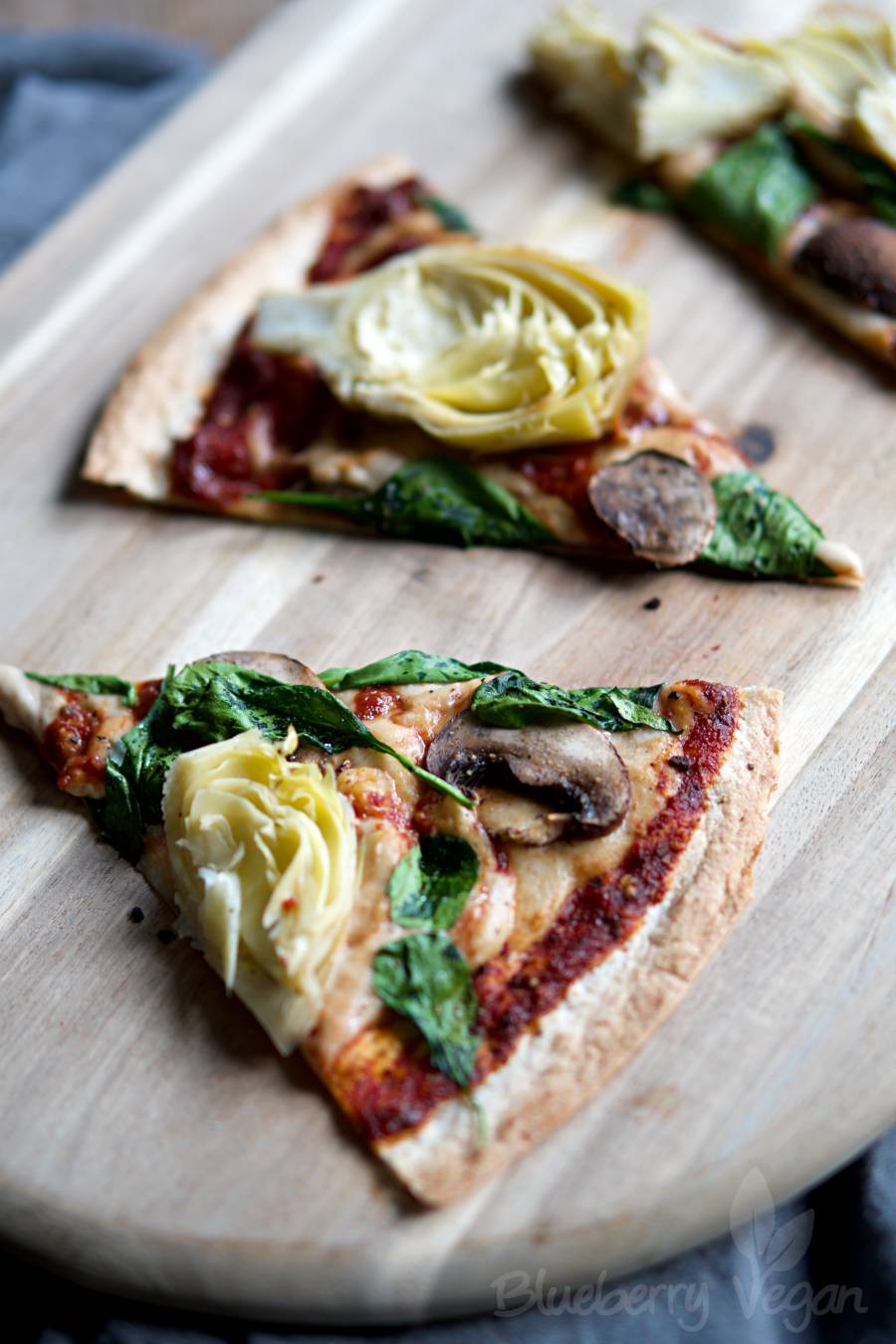 Have fun baking this pizza and enjoy!
Love,
Rina
Looking for more pizza inspiration? Then also try pizza with my beloved vegan pizza cheese, eggplant pizza, pumpkin pizza, asparagus pizza, wintry pizza boats, pizza wheels with wind garlic and mushrooms and tart flambée pizza wheels.

Quick Wrap Pizza
Zutaten/Ingredients
For the tomato sauce:
2 tbsp tomato paste
6 tbsp water
1/2 tsp oregano
1/4 tsp garlic powder
1/4 tsp onion powder
salt
pepper


For the cashew cheese:
20 g (2 tbsp) cashews - alternatively cashew butter
4 tbsp water
1 tbsp nutritional yeast flakes
1/4 tsp garlic powder
1 pinch sweet paprika powder
salt
pepper


Also:
1 wrap
Toppings to taste, for example:
4 artichoke hearts
2 mushrooms
1 hand full baby spinach
salt
pepper
some oil
Zubereitung/Instructions
Preheat the oven to 180° C (360° F) and line a baking tray with parchment paper.


Combine all ingredients for the tomato sauce and season well. Slice the mushrooms, halve the artichokes and wash and spin-dry the spinach.


Finely grind the cashews and blend with the rest of the ingredients to a seasoned cream. Pour into a pot and bring to boil. Thicken the cashew cheese so that you can easily blob it on the pizza.


Spread the tomato sauce on the wrap and sprinkle the cashew cheese over. Then add the veggies and spray some oil on. Season with salt and pepper and bake in the oven for 10 - 15 minutes until the edges of the wrap turn brown. Serve immediately.
Tipps/Notes
I grind cashews in my
Personal Blender
. If you don't have the possibility to grind the cashews and you don't have a high-speed blender use cashew butter instead.
With this
oil spray
you get a nice oil dust.