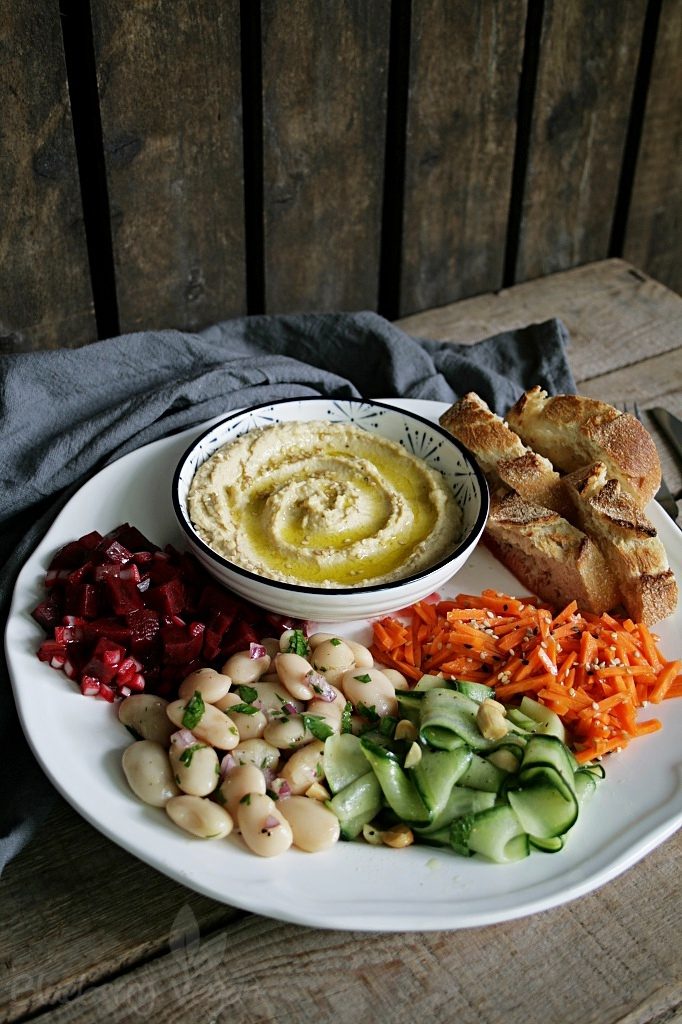 [Advertising: Affiliate Links]
I love light and cold dishes on hot summer days. It is so much easier to digest than a hearty stew (I am looking forward to have this in autumn). I like salads or antipasti with some baguette best. And hummus is a must, of course.
This platter looks like a lot of work, but it doesn't take that much time, if you make it for two. It does, however, take longer if you make large batches for a garden party.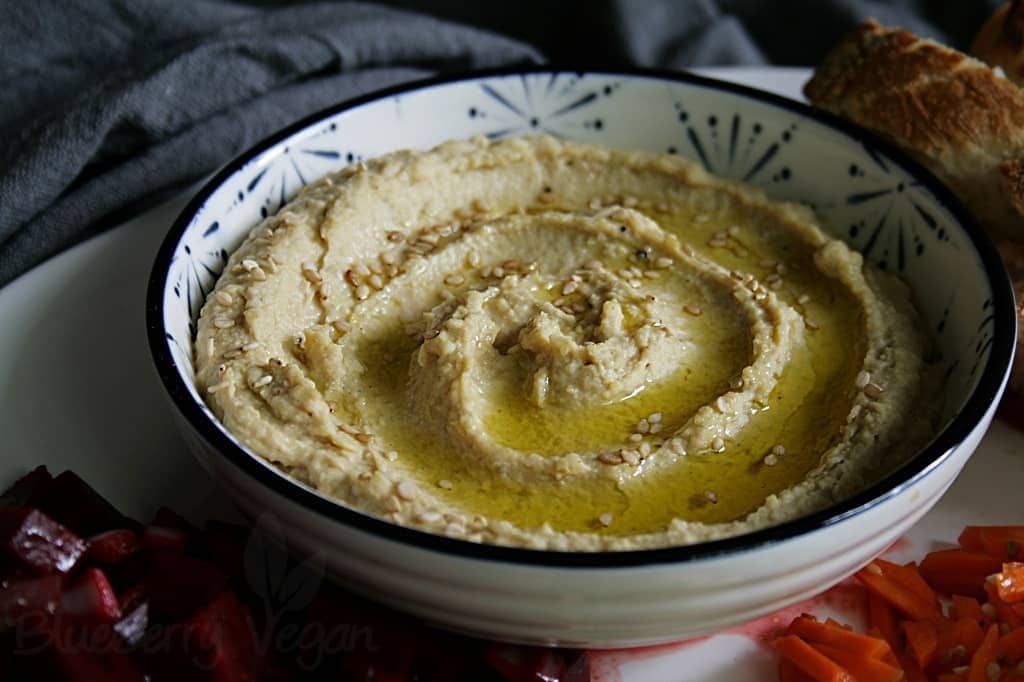 I decided to make a basic hummus . With some olive oil, sesame and salt on top it is my favorite. Also try some smoked paprika powder if you have it at hand.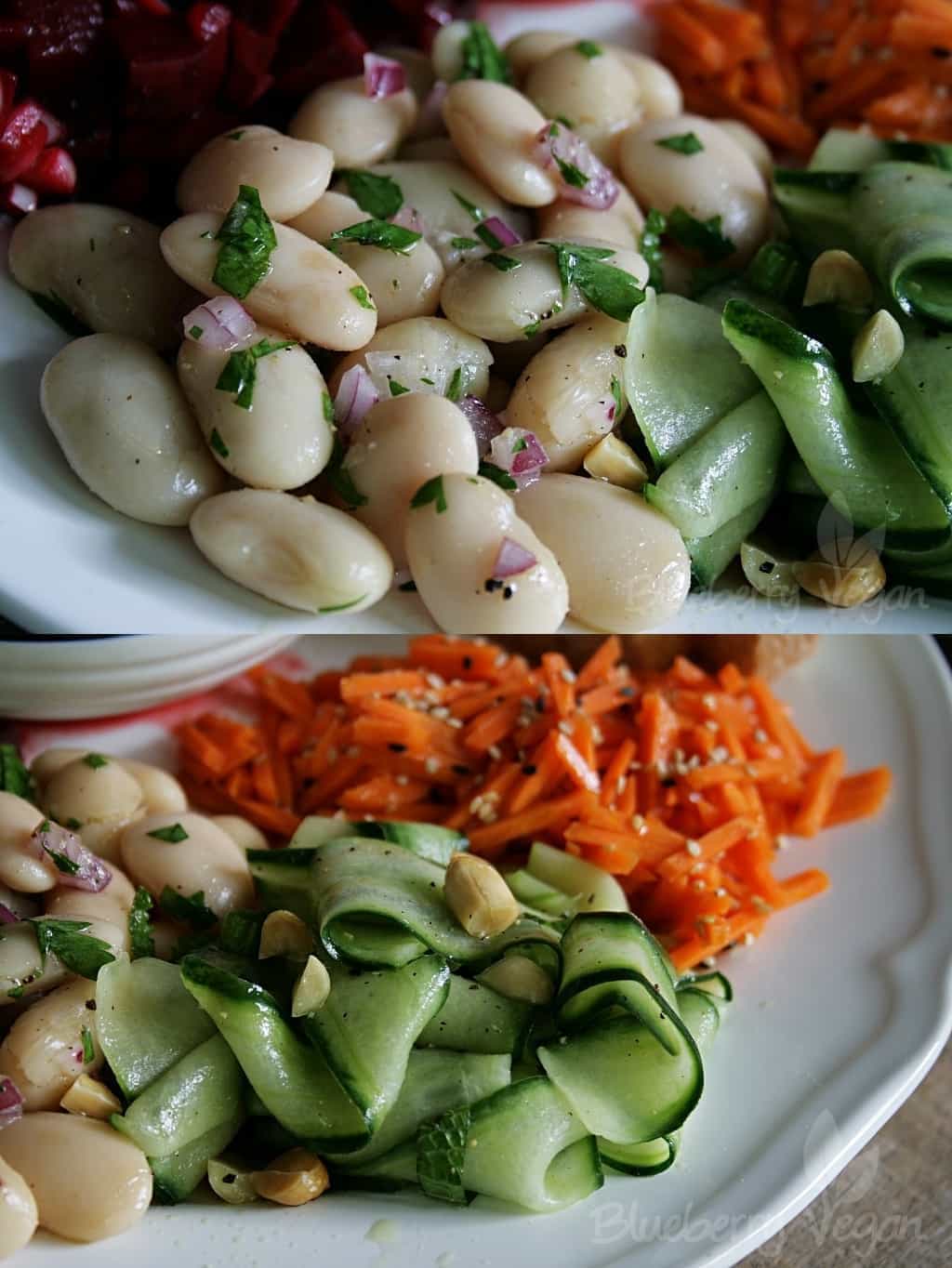 The salads all taste differently, but still fit perfectly. If you want to omit one salad and replace it with potato salad or make a double of another one, feel free to do so.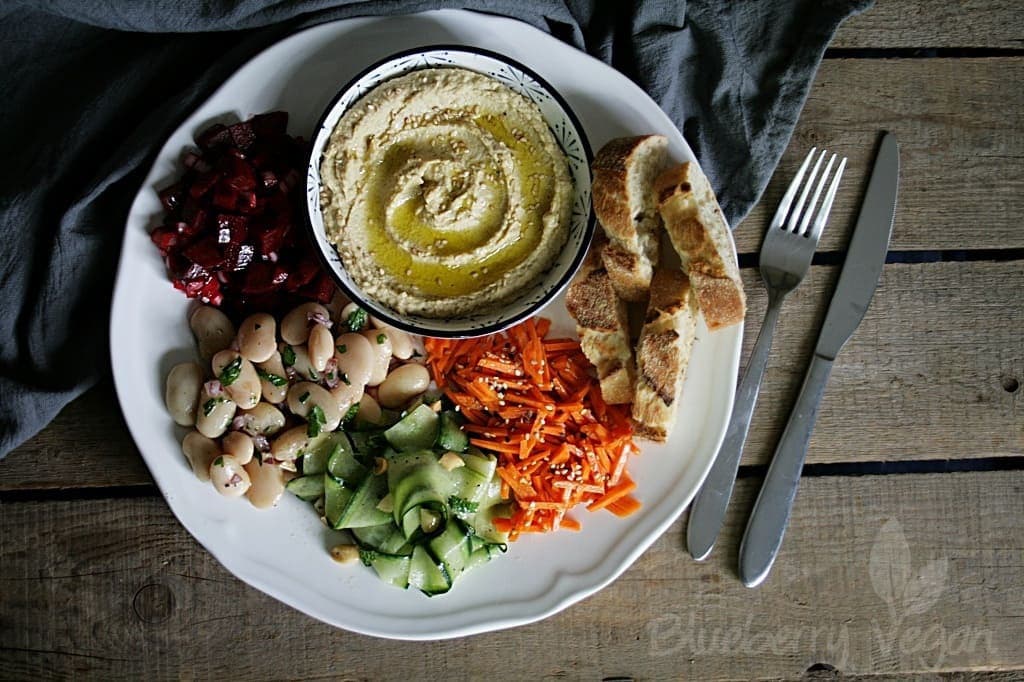 Give the dish at least half an hour to rest. It tastes better, if it has time to rest. In the meantime you can bake the baguette.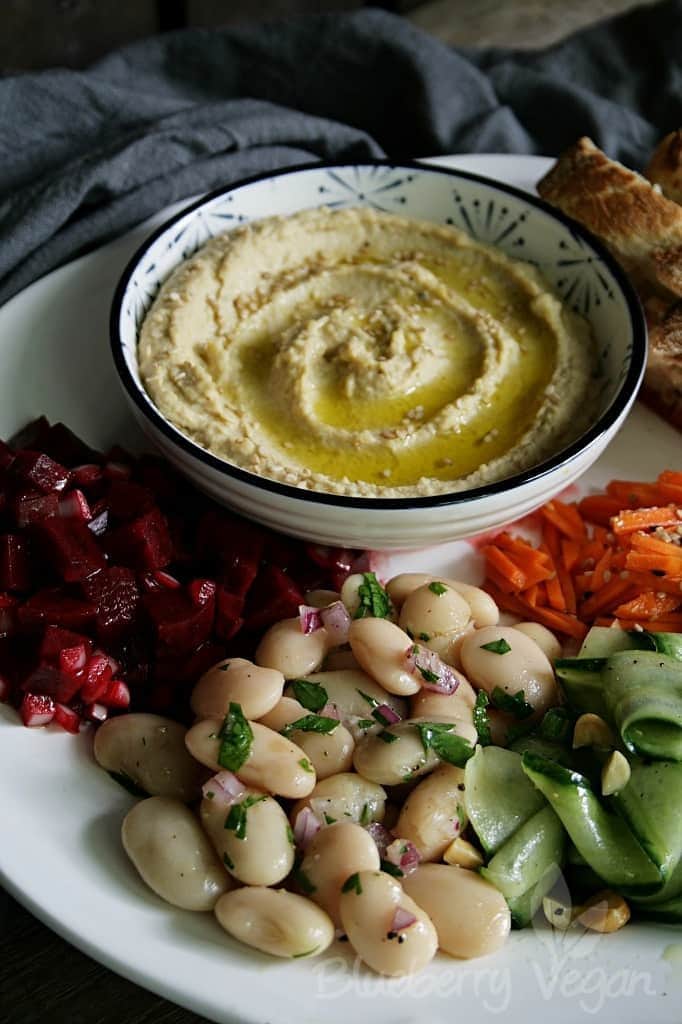 I hope you enjoy your delicious salad platter!
Love,
Rina
Delicious Salad Platter with Hummus and Baguette
Gang/Type:
Main Dish, Salad
Zutaten/Ingredients
For the hummus:
1 14-oz can chickpeas
1 tbsp tahini
1 tbsp lemon juice
2 tbsp olive oil
1 clove garlic
salt
pepper
cumin
sesame and paprika powder - optional


For the beetroot salad:
2 bulbs beetroot, cooked
1 small onion
1 tbsp raspberry vinegar
1 tbsp olive oil
salt
pepper


For white bean salad:
1 14-oz can (giant) white beans
1 small, red onion
1 tbsp herb vinegar
1 tbsp olive oil
2 tbsp parsley, chopped
salt
pepper
cumin


For the cucumber salad:
1/2 cucumber
1 tbsp mint, chopped
2 tbsp peanuts, chopped
1 tbsp olive oil
1 tsp lemon juice
salt
pepper
chili flakes - optional


For the carrot sesame salad:
2 carrots
1 tsp sesame
1 tbsp sesame oil
salt


Also:
Zubereitung/Instructions
Hummus:
Mix all ingredients in a food processor or blender until pasty. Season to taste with salt, pepper and cumin and arrange in two small bowls. Drizzle with olive oil and sprinkle with salt, sesame and paprika powder.
Beetroot salad:
Finely cube the beetroot and onion, combine with the rest of the ingredients and let rest in the fridge.
White bean salad:
Drain and rinse the white beans. Finely chop the onion and combine with the rest of the ingredients. Also keep refrigerated.
Cucumber salad:
Slice the cucumber with a vegetable peeler in large strips and combine with the rest of the ingredients. Then -> fridge.
Carrot sesame salad:
Julienne cut the carrots with a mandoline or knife. Mix with the rest of the ingredients and put to the other salads in the fridge.




The salads taste best, if they have some time to develop flavor. I couldn't resist to wait longer than 30 minutes, which gave a good result. If you have more time, even better. You might add some more salt then.


Bake the baguette in the oven and arrange the salads and the hummus on a plate. Serve with baguette slices.