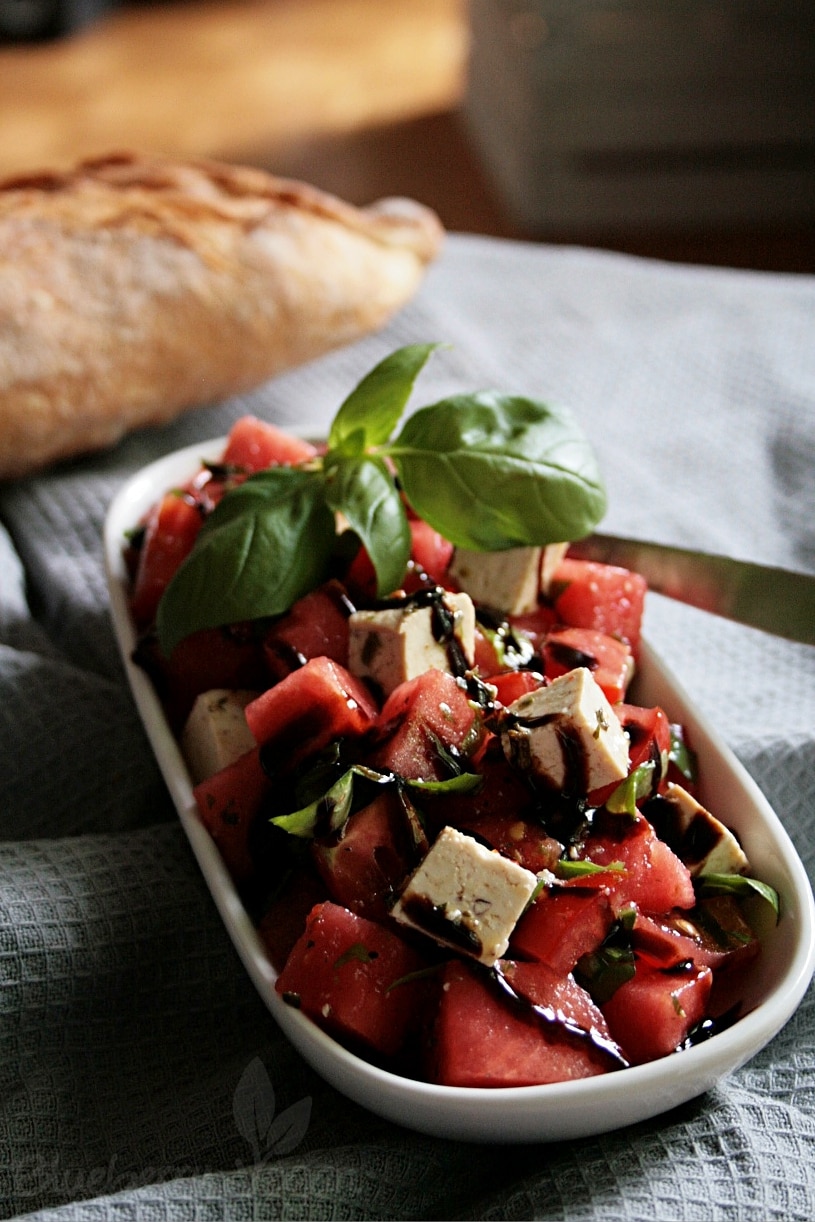 [Advertising: Affiliate Links]
On some days summer finally graces us with its present. I hope there will be some more warm and sunny days, so that I can recharge my soul batteries before the next winter comes.

So if it is hot outside, this delicious, cool salad is just right. It is very light and cools you down from the inside.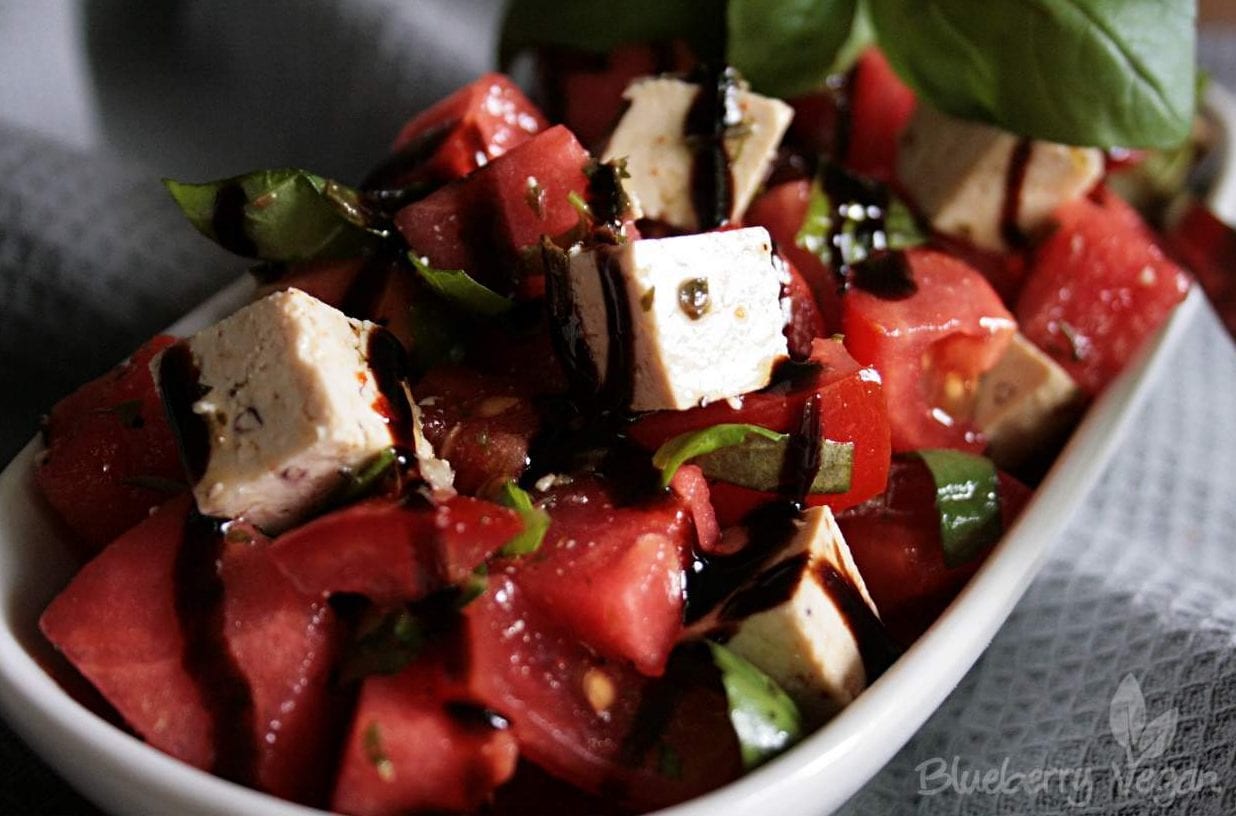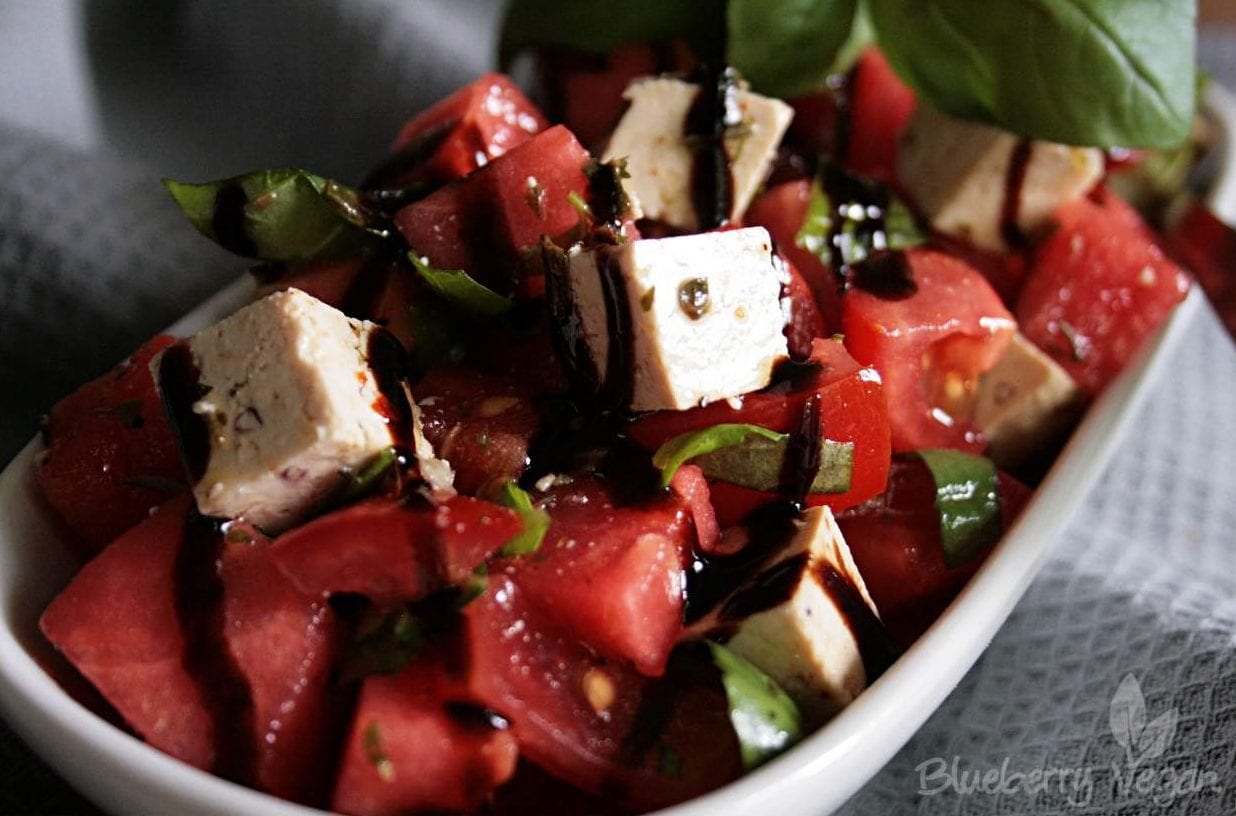 If you cannot imagine, that watermelon would taste great with a tangy dressing, you should definitely try this salad! To make this salad special, I added some tofu feta. I have used the recipe for it with my gyros dish already and since then I always make a jar in stock. I serve the salad with oven fresh baguette. Either I bake it myself or I heat up a stone oven baguette from the supermarket. Enjoy your fresh watermelon salad!
Love,
Rina
Salad with Watermelon, Basil and Feta Alternative
Zutaten/Ingredients
For the feta alternative:
200 g (7 oz) firm Tofu
2 tbs lemon juice
2 tbs herb vinegar
2 tbs water
2 tbs olive oil
1 tbs basil, chopped
1 tbs parsley, chopped
1/2 tsp salt
1/4 tsp pepper
1/2 tsp oregano, dried
1/4 tsp chili flakes
1 small garlic clove, crushed


For the salad:
500 g (18 oz) watermelon
250 g (9 oz) tomatoes
1/2 bunch basil
salt
pepper
1 tbs olive oil


Also:
2 tbs Crema di Balsamico
1/2 loaf baguette
Zubereitung/Instructions
To press the tofu place it between two folded kitchen towels, weight down with a couple of heavy books for about 30 minutes. Combine all ingredients for the tofu feta in a jar. Cube the pressed tofu and toss in the marinade. Jiggle to cover all tofu cubes and let it marinate for at least 2 hours, better overnight.


Cube the watermelon and tomatoes, chop the basil. Combine all ingredients for the salad and add some tofu feta alternative and a little of its dressing. Season to taste with salt and pepper.


Arrange on plates or in bowls, sprinkle with balsamic cream and serve with fresh baguette.