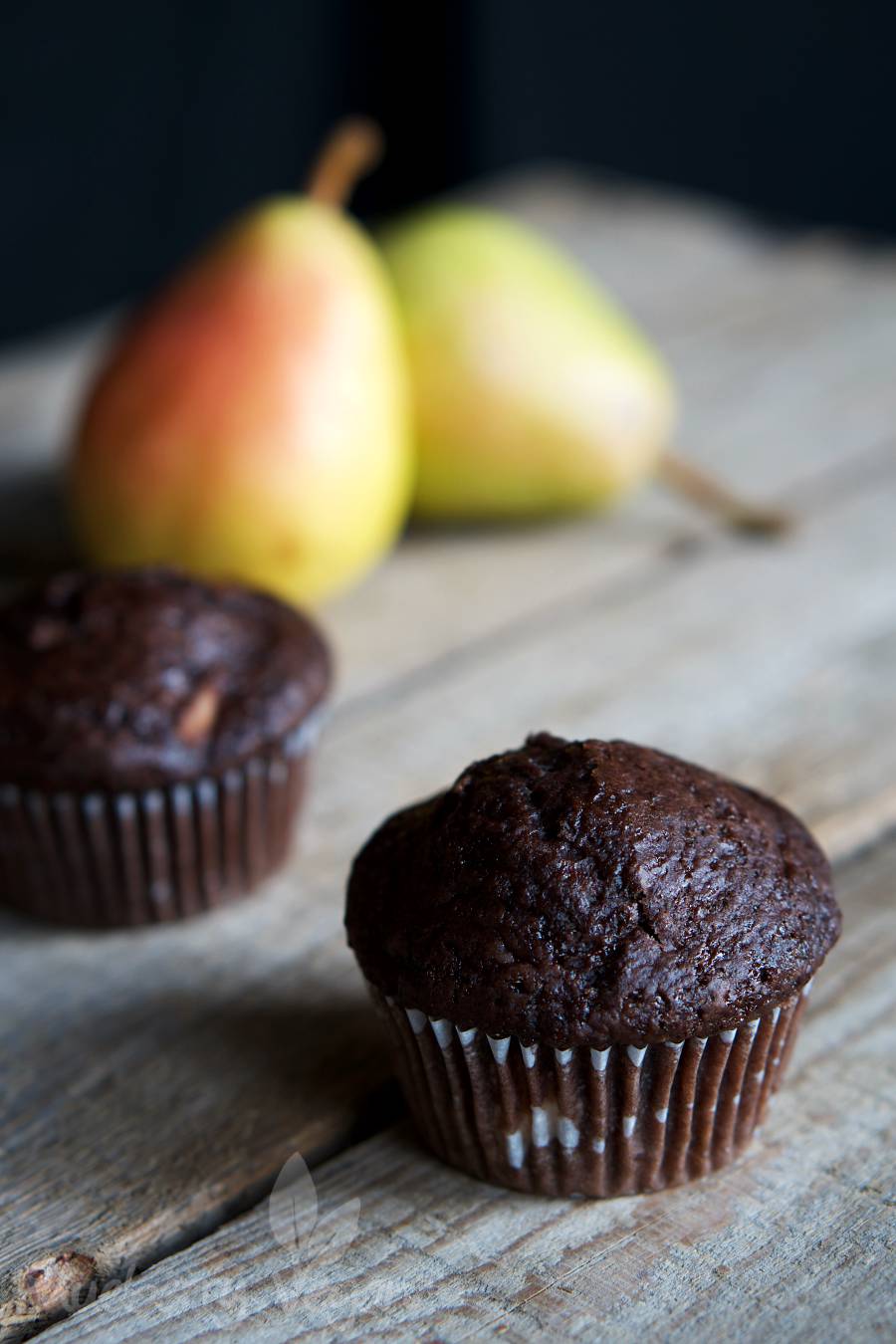 [Advertising: Affiliate Links]
Chocolate and pear is a combination that I have always loved, although I don't eat it often. Why is that? Pears are sweet, juicy and really delicious!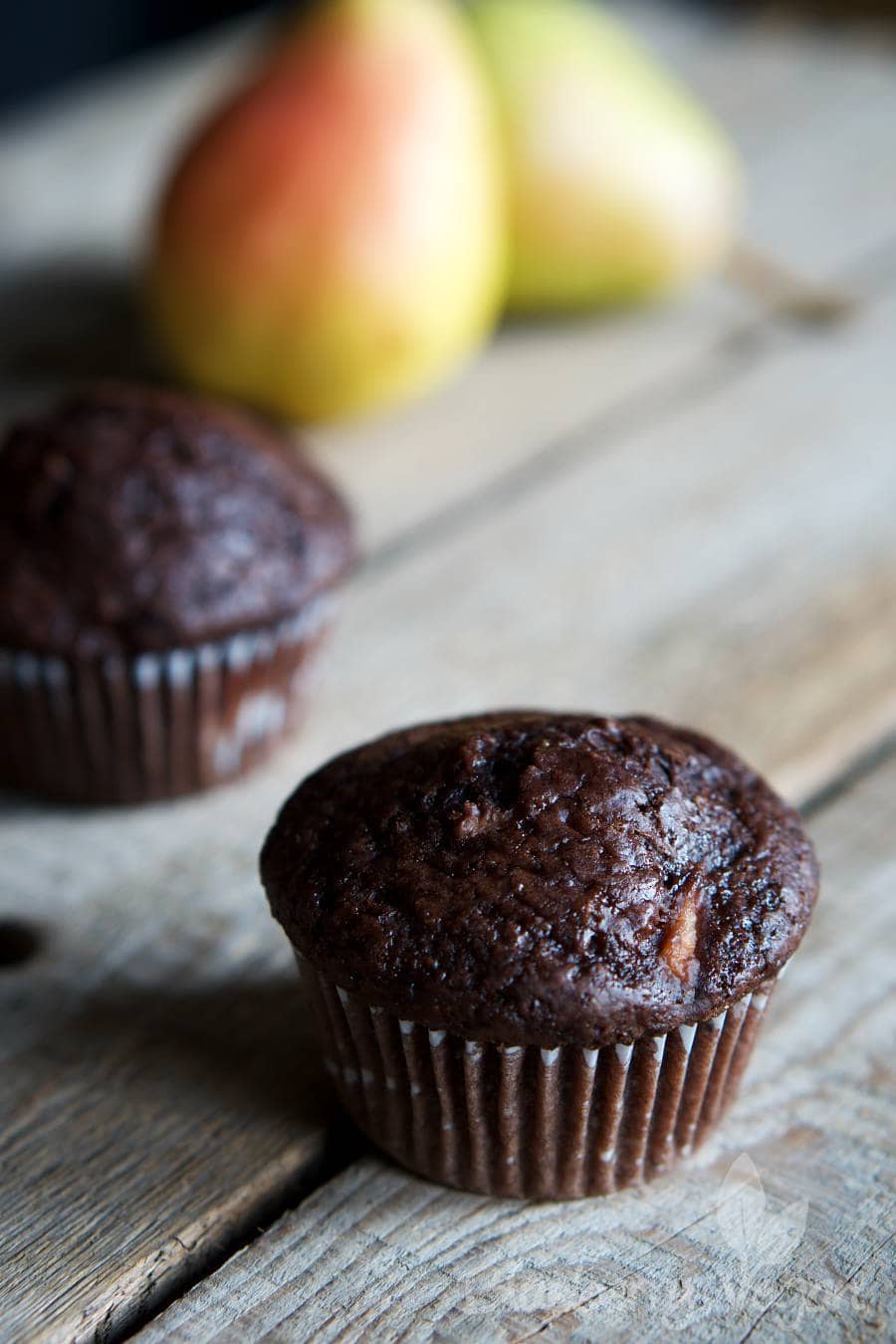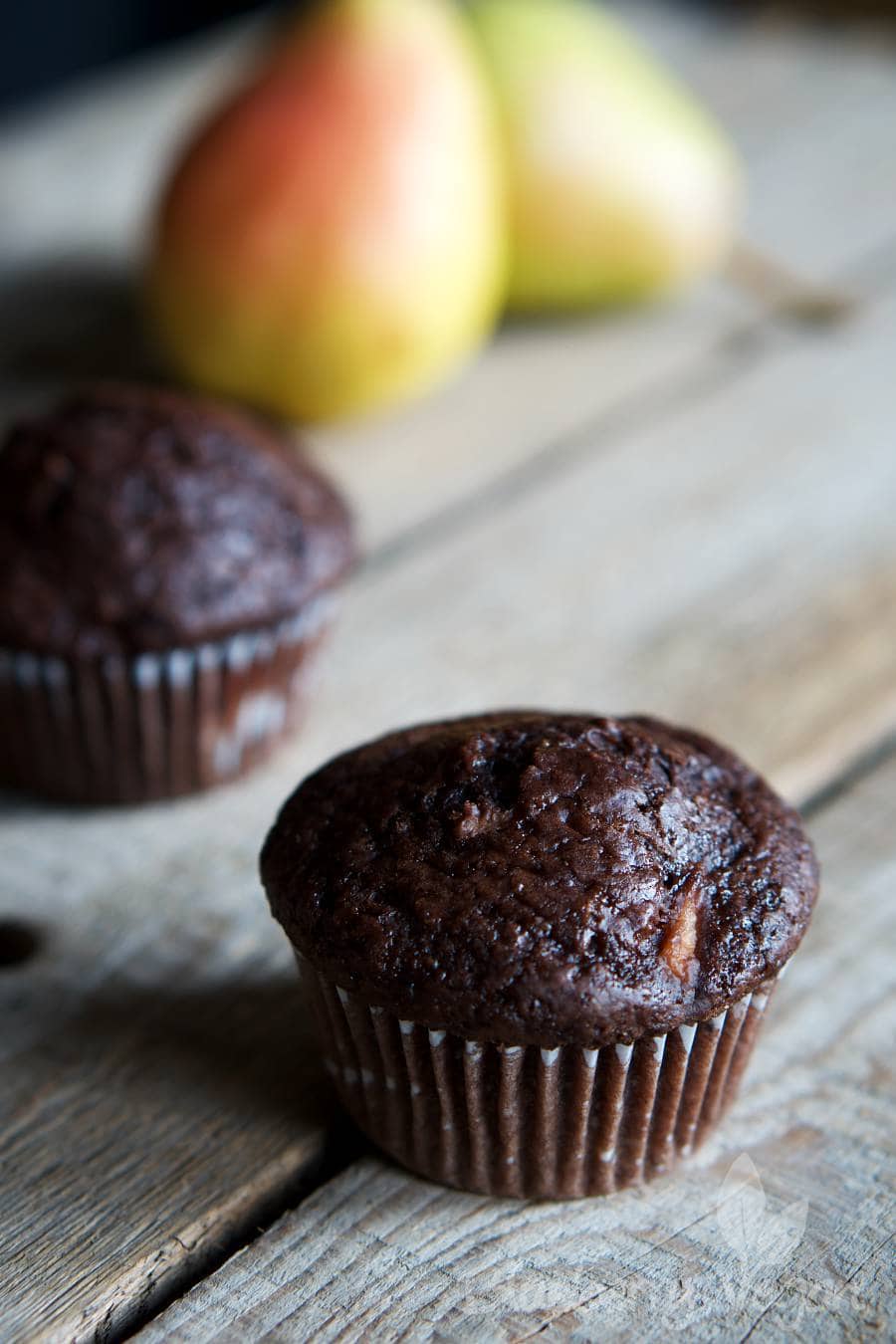 Okay, then this is a pear feature. Eat more pears (covered in chocolate dough)!
These muffins are super easy to make: mix the dry ingredients, then briefly stir in the wet ingredients and then bake in the oven.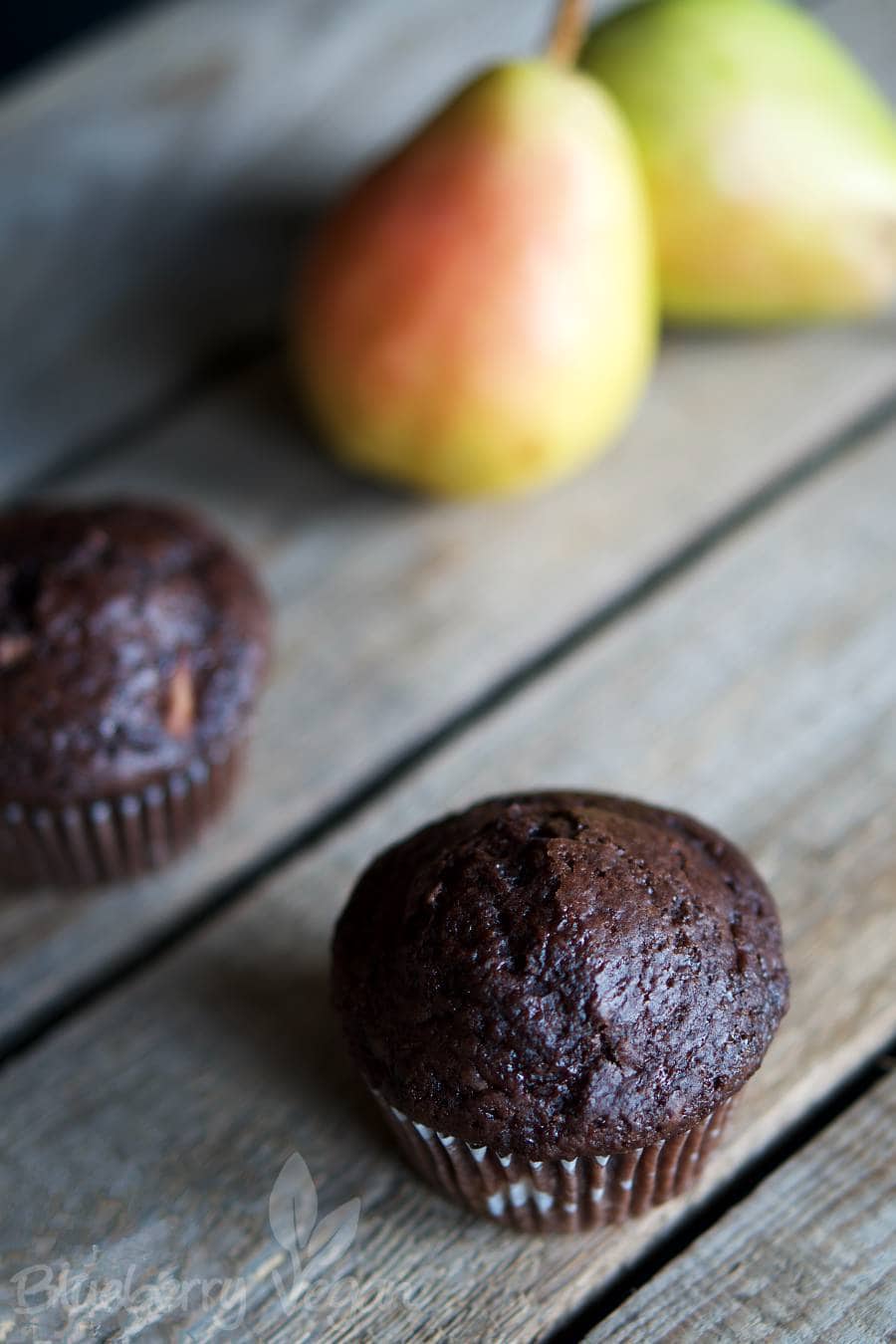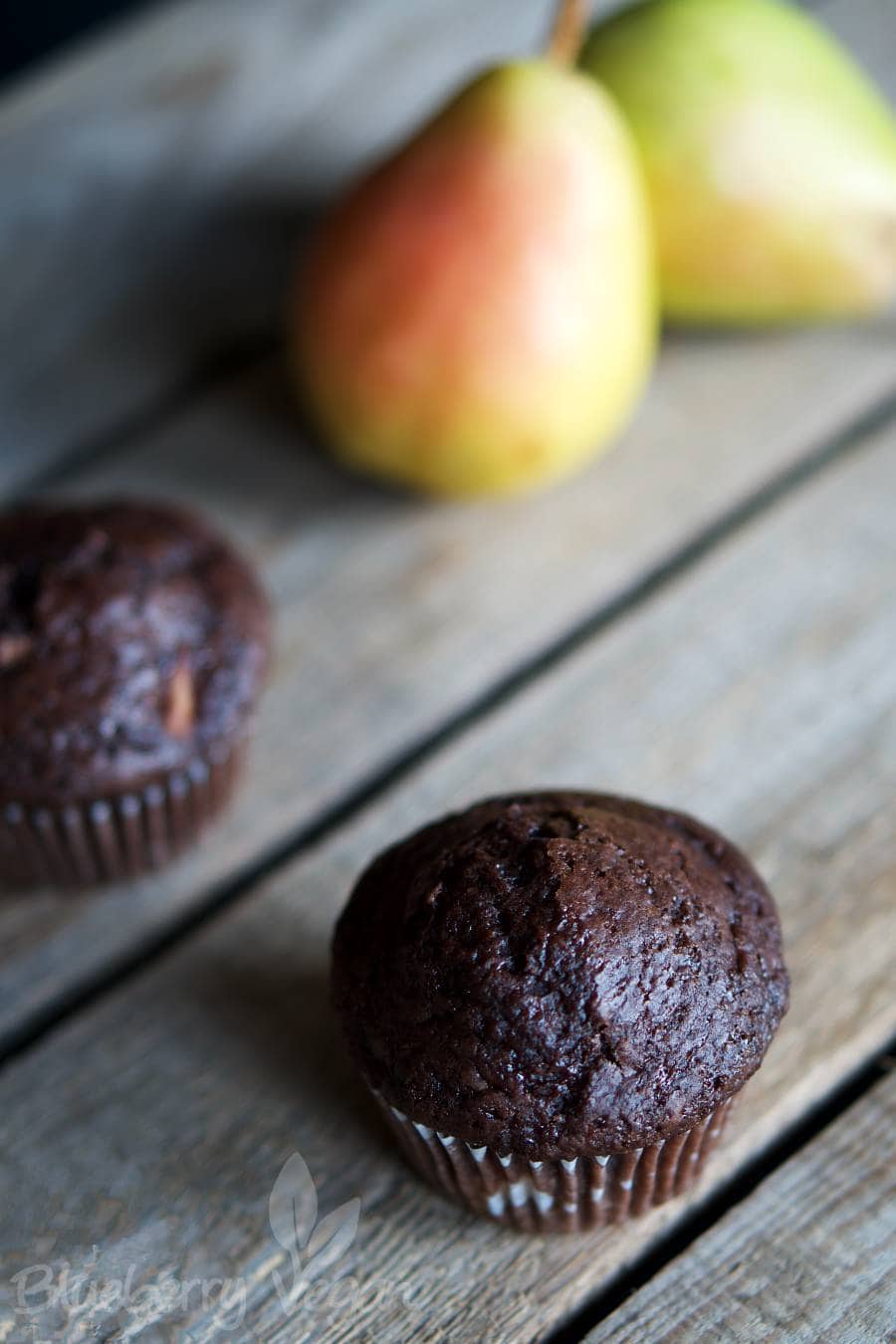 I hope you like them as much as I do. Have fun baking them!
Love,
Rina
Juicy Chocolate Pear Muffins
Zutaten/Ingredients
2 tbsp flaxseed, ground
6 tbsp water
250 ml (1 cup) soy milk
1 tsp apple cider vinegar
2 tsp vanilla extract
60 ml (1/4 cup) neutral tasting oil
250 g (8.8 oz) white flour - spelt or wheat
140 g (4.9 oz) sugar
2 1/2 tbsp cocoa powder
1 1/2 tsp baking powder
1 tsp baking soda
1 medium-sized, not too juicy pear - about 200 g (3.5 oz)
Zubereitung/Instructions
Preheat the oven to 180° C (360° F) and line a muffin tray with paper liners.


Combine the flaxseed and water and let jelly. Also combine soy milk and apple cider vinegar and let curdle. Peal and finely cube the pear. If it is very juicy mix with one tablespoon of corn starch.


Combine all dry ingredients in a bowl with a whisk. Then add the wet ingredients and quickly combine. Don't overmix or your dough will get tough. Fold in the pear cubes.


Pour the batter in the paper liners and bake in the oven for about 20 minutes, until a toothpick comes out clean. Let the muffins cool in the tray for 5 minutes, then remove and let cool on cooling rack.
Tipps/Notes
To pour the batter IN the paper liners and not around them, I use an ice cream scoop with ejection function, that I have bought years ago. I ground the flaxseed in my
Personal Blender
.