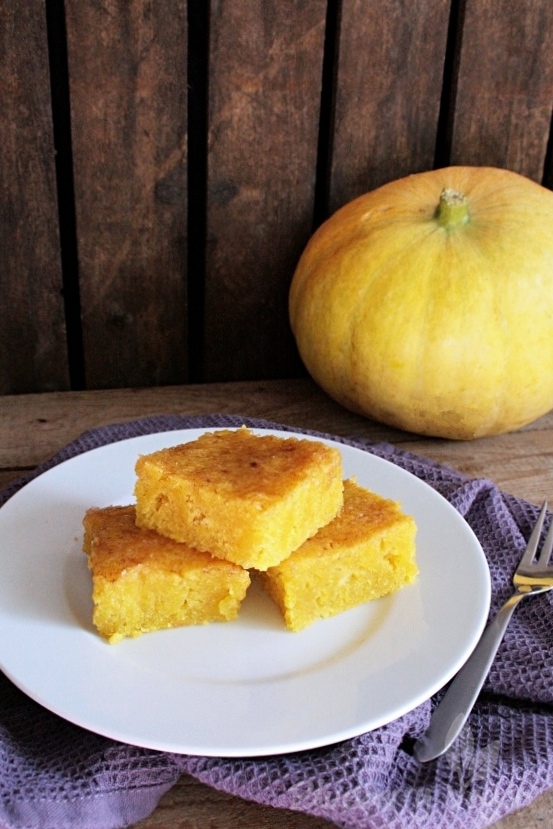 [Advertising: Affiliate Links]
I love to smuggle some vegetables in my sweet pastry. Like in my zucchini chocolate muffins. The great thing is, that you don't taste it and it makes your baked goods incredibly moist. Also you don't need as much fat for your dough.
When it comes to blondies, the light-colored equivalent to brownies, moisture is a must. A good blondie or brownie is heavy and rich in flavor. To make that happen, I used a lot of pumpkin purée in my dough, which gives it the bright color.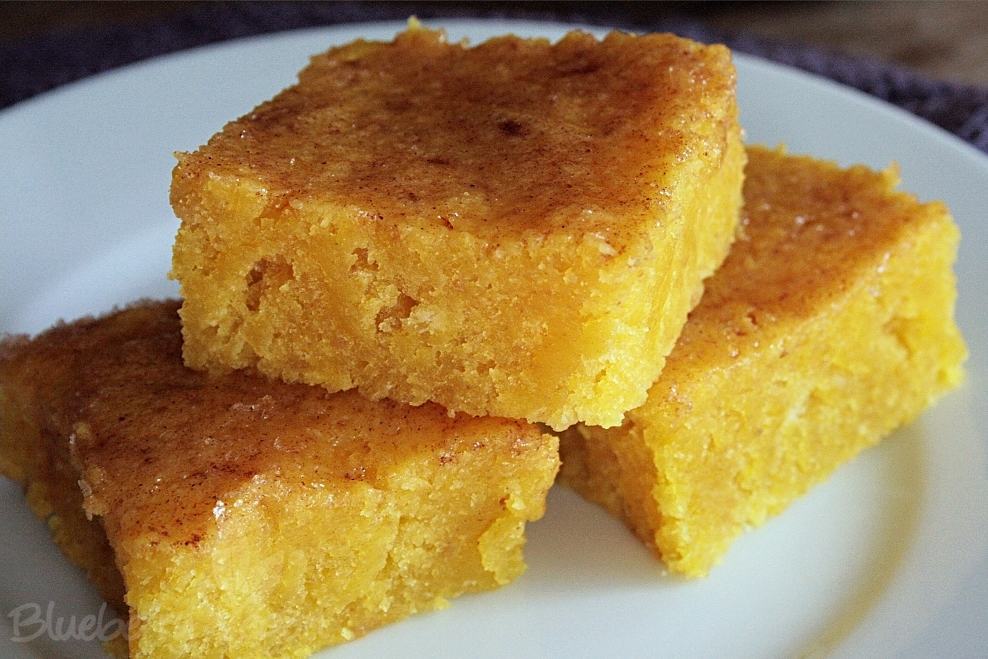 My sister Kathi commented on the taste: " I thought they would be bad, but they are delicious!" You have to know, that she isn't a big fan of pumpkin so this is a huge compliment. All my friends who tried the blondies said, the amount of sugar is just right. So if you don't like really sweet pastry, reduce the amount of sugar a bit.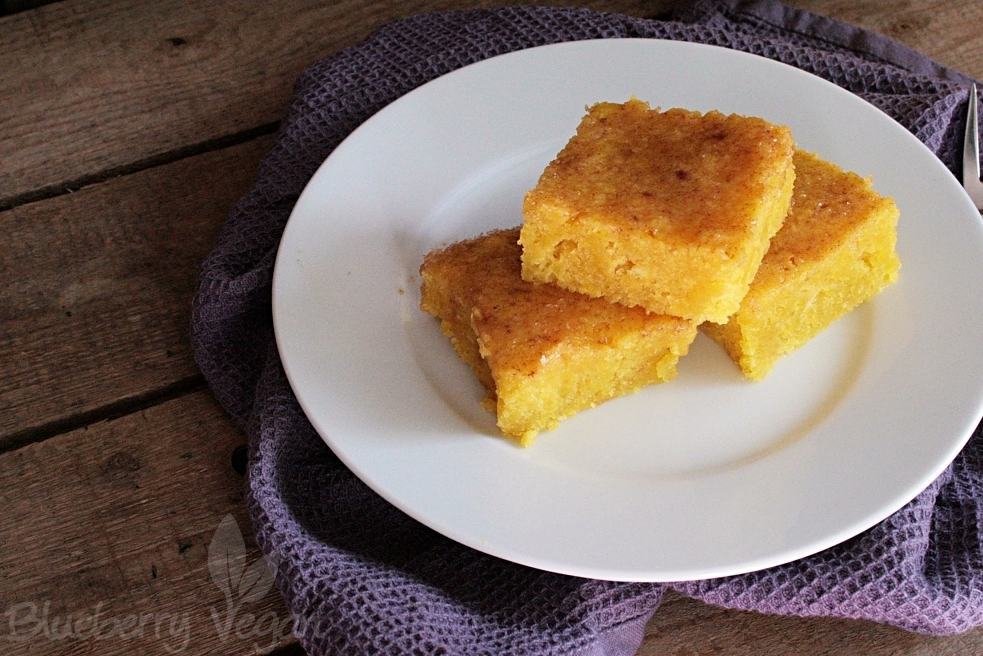 To complete the taste, I sprinkled some cinnamon and sugar tincture over the blondies. The sugar doesn't dissolve completely in the water so it crackles a bit, when you eat it.
Enjoy!
Love,
Rina
Pumpkin Blondies
Zutaten/Ingredients
For the dough:
250 g (8.8 oz) pumpkin
1 tbsp (golden) flaxseed, ground
3 tbsp water
200 g (7 oz) white flour - spelt or wheat
200 g (7 oz) sugar
1/4 tsp salt
1 tsp baking powder
4 tbsp vegan butter
1 1/2 tsp vanilla extract - alternative ground vanilla


For the tincture:
2 tbsp sugar
1/4 tsp cinnamon
2 tbsp water
Zubereitung/Instructions
Peel the pumpkin, cut into bite-sized pieces and cook until soft. Transfer to a blender or use an immersion blender to purée the pumpkin. Set aside.


Preheat the oven to 180° C (360° F) and grease an 8-inch square pan. Combine flaxseed and water and let jelly.


In a bowl combine the dry ingredients. Melt the butter and add with the other wet ingredients to the bowl. Use a wooden spoon to stir quickly into a smooth dough. Pour in the pan, level the top and bake in the oven for about 25 - 30 minutes, until a toothpick comes out clean.


Prick the dough with the toothpick several times. Combine sugar, cinnamon and water and jiggle a bit, then pour over the dough. Let cool in the pan, then cut into 9 pieces and serve.
Tipps/Notes
I ground the flaxseed with my
Personal Blender
. Did you know, that it is pretty easy to make your own vanilla extract? Find  the recipe here:
vanilla extract
.