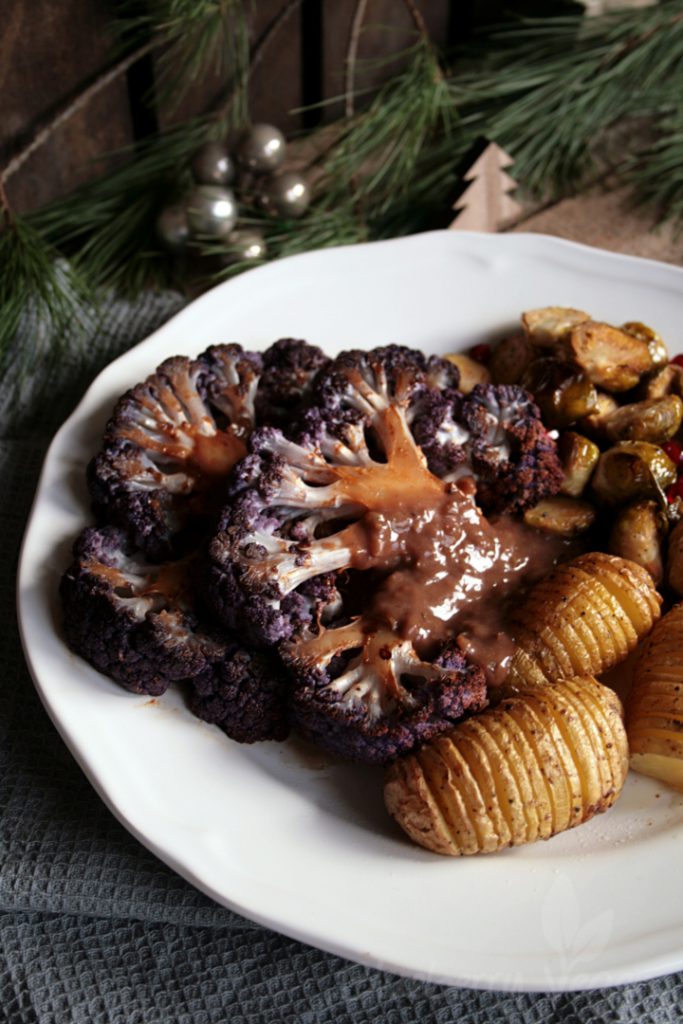 [Advertising: Affiliate Links]
Up next: The main course of my Christmas menu. This dish is soy- and gluten-free and thus also perfect for people with intolerances. I got some purple cauliflower in my supermarket, that I used for this recipe. It tastes just like white cauliflower. So if you don't get purple cauliflower, you can simply use white one.
I have made cauliflower steaks before in summer and served them with chimichurri. But with a different marinade and gravy they are also great in winter. I combined them again with hasselback potatoes. The dish is conceived in a way, that you have a minimum dish-washing to do. Because everything, except for the gravy, is made in the oven.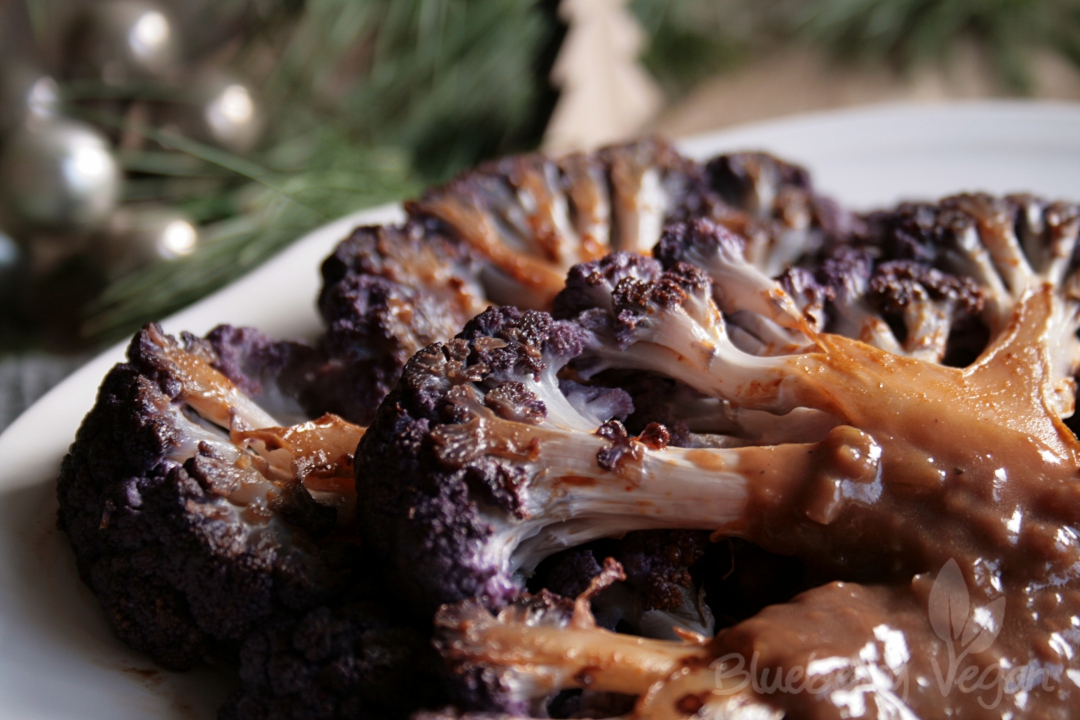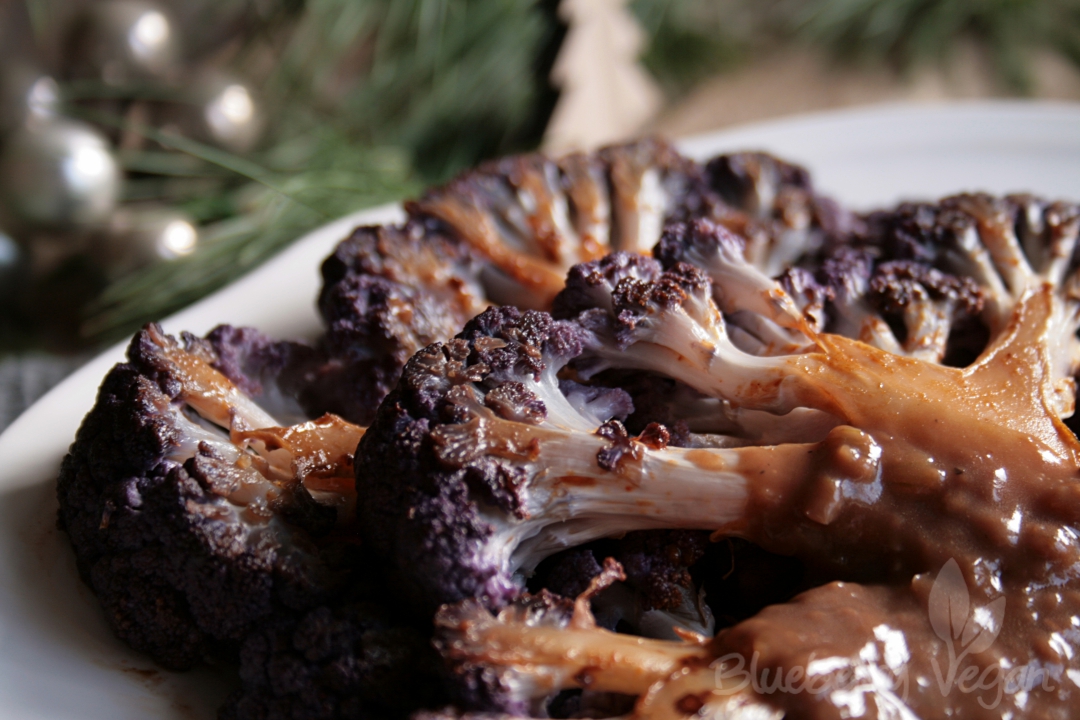 I wrote in the recipe, at what point each part of the dish is added to the oven, so that everything is ready at once. I hope, I made myself clear, so that you understand it easily. If you have any questions, don't hesitate to contact me and I will explain it to you.
I hope you like the main dish and enjoy it. Click here to go back to the starter.
I'll post the recipe for the dessert in a couple of days. Get it right in your inbox by signing up for my newsletter.
Love,
Rina
Smoky Cauliflower Steaks with Hasselback Potatoes and Roasted Brussels Sprouts
Zutaten/Ingredients
For the hasselback potatoes:
6 small potatoes
1 tbsp olive oil
salt
pepper


For the Brussels sprouts:
400 g (14 oz) Brussels sprouts
1 tbsp olive oil
1 tbsp lemon juice
2 cloves garlic
salt
pepper
1 tbsp maple syrup
2 tbsp pomegranate seeds


For the cauliflower steaks:
1 head cauliflower
1 tbsp olive oil
1 tbsp soy sauce/tamari
1 tbsp nutritional yeast flakes
1/2 tsp liquid smoke
1/4 tsp (smoked) paprika
1/4 tsp maple syrup


For the gravy:
2 onions
2 tbsp olive oil
1 cloves garlic
1 tsp apple butter, heaped
1 tbsp corn starch
1 dash red wine - optional
300 ml (1 1/4 cups) broth
1 bay leaf
1 ball all spice
salt
pepper
Zubereitung/Instructions
De-seed the pomegranate and set the seeds aside. Keep some seeds for the dessert. Preheat the oven to 180° C (360° F) circulation.


Finely cut the potatoes, but don't cut through (two chopsticks around the potato helps with that). Place in a baking dish, drizzle with oil, season with salt and pepper and toss until the potatoes are fully covered. Place in the upper third of the oven and bake for 45 minutes total. After 10 minutes add the Brussels sprouts.


Halve the Brussels sprouts and pour in a baking dish. Add pressed garlic, oil, lemon juice, salt and pepper and stir. Place next to the potatoes in the oven and bake for 10 minutes. Stir the potatoes.


From the center of the cauliflower cut two 3/4 inch-thick slices, place on a lined baking tray. Combine oil, soy sauce/tamari, nutritional yeast, liquid smoke, paprika and maple syrup to a marinade and brush the cauliflower steaks with it.


As soon, as the Brussels sprouts baked for 10 minutes, Place the baking dishes with potatoes and Brussels sprouts in the lower third of your oven and place the baking tray with the cauliflower steaks in the upper third. Bake for 20 minutes. After 10 minutes turn the steaks once and again stir the potatoes and Brussels sprouts.


While the cauliflower steaks are baking make the sauce. Finely chop the onions and sautée in oil until they start to brown. Press and add the garlic and sautée. Add the apple butter and stir until combined. Deglaze with a dash of red wine (or broth). Then add the broth and stir in the spices. Mix the corn starch with 2 tbsp water and stir in the sauce. Let simmer until the oven stuff is ready. Stir occasionally to prevent sticking.


After 40 minutes baking in total add the maple syrup to the Brussels sprouts and stir. Bake for 5 more minutes.


Arrange the cauliflower steaks on two plates. Place the hasselback potatoes next to them. Mix the Brussels sprouts with pomegranate seeds and add to the plate.


Drizzle with gravy and serve immediately.
Tipps/Notes
Use the leftover cauliflower to make a low carb tabbouleh. To make it shred the cauliflower in a
food processor
until it has the size of bulgur. Add halve a bunch parsley and quarter of a bunch mint. Mix with each two hands full of tomatoes and cucumber and dress with 1 tbsp olive oil, 1 tbsp herb vinegar, 1/2 tsp cumin, salt and pepper... Mhhh! You can buy
liquid smoke
,
nutritional yeast
and
smoked paprika
online.