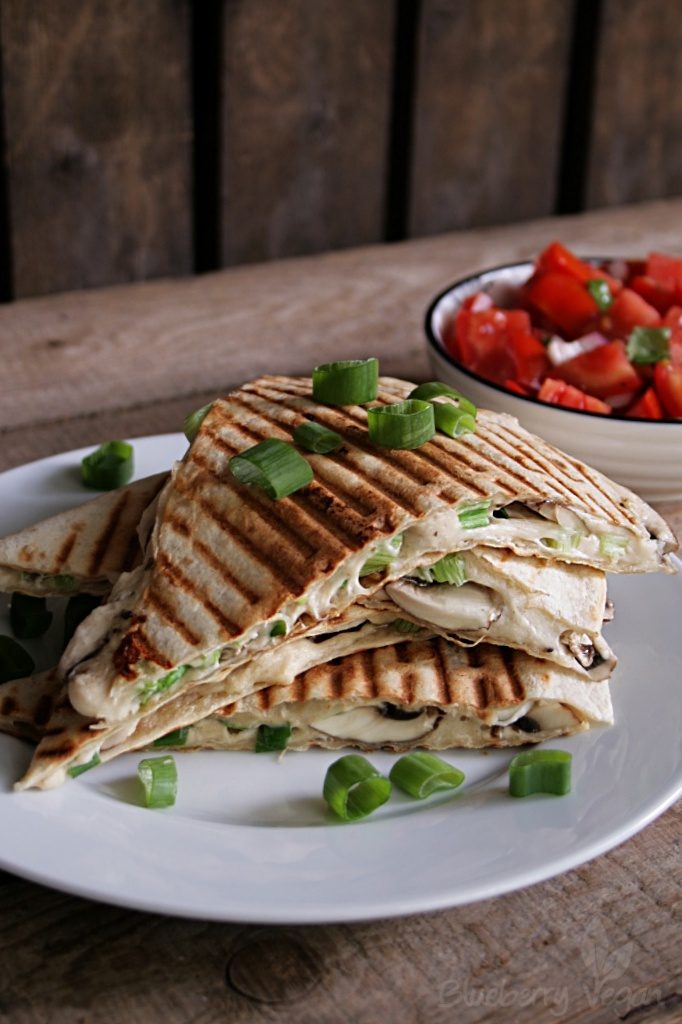 Melted cheese is great! On a pizza and in a grilled cheese sandwich I like cashew cheese best. It melts just like mozzarella and tastes great.
Today I filled wheat tortillas with cashew cheese and added a few green onions and mushrooms to make great quesadillas.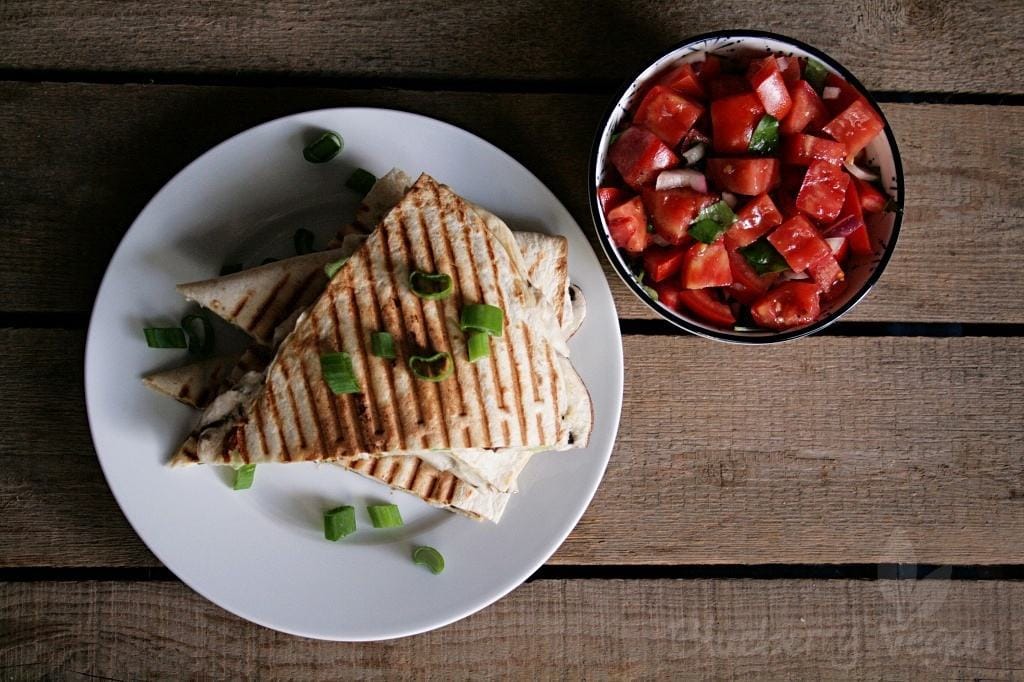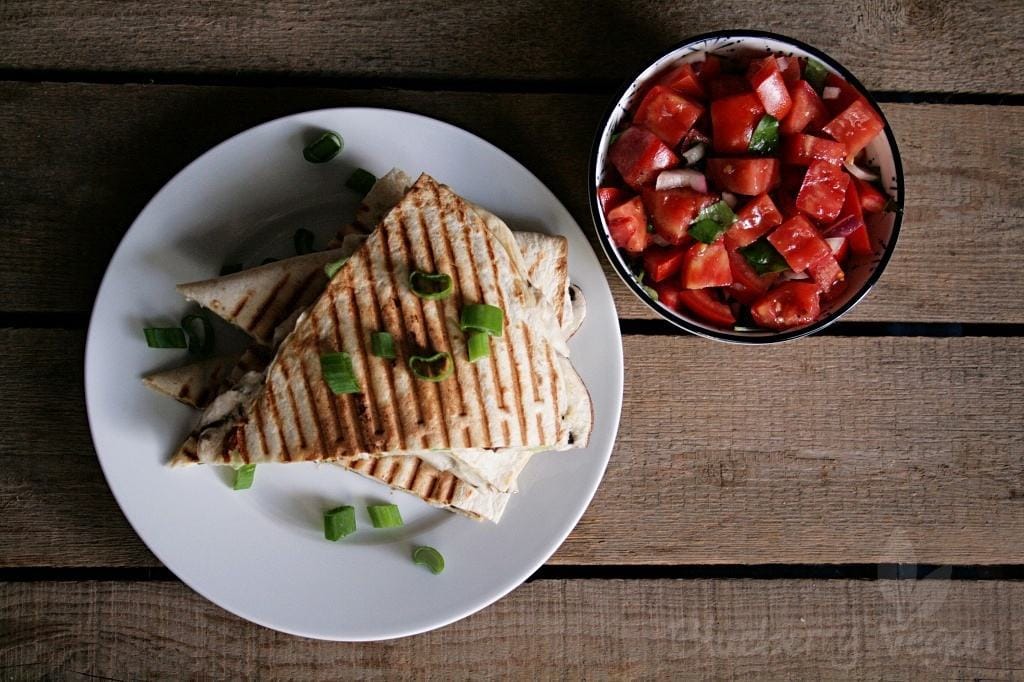 I toasted the quesadillas in my contact grill. If you don't have one, you can easily toast them in a large frying pan on each side.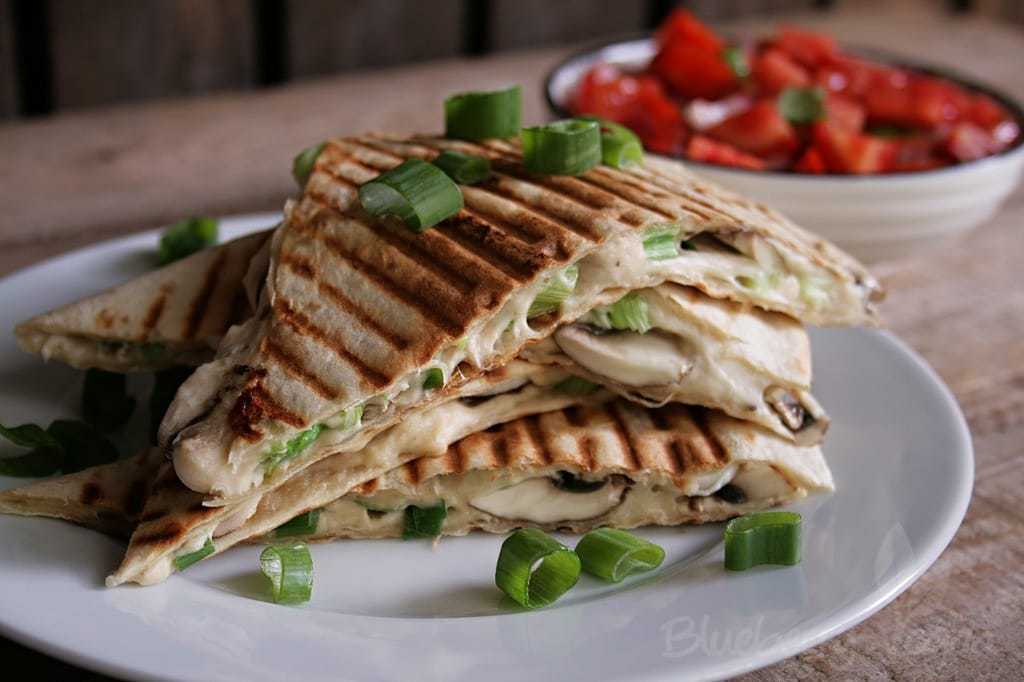 As a side dish I made a simple tomato salad. I hope you enjoy this meal!
Love,
Rina
Quesadillas with Cashew Cheese, Mushrooms and Tomato Salad
Gang/Type:
Main Dish, Snack
Zutaten/Ingredients
For the cashew cheese:
70 g (2.5 oz) cashews
200 ml (3/4 cup plus 1 tbsp) water
2 tbsp lemon juice
2 tbsp nutritional yeast flakes
1/2 tsp salt
1/4 tsp agave nectar
1 tbsp ground psyllium husks


For the tomato salad:
4 big tomatoes
1 small onion
1 tbsp olive oil
1 tbsp herb vinegar
10 leaves basil
salt
pepper


Also:
2 big wheat tortillas
4 big mushrooms
2 green onions
salt
chili flakes - optional
Zubereitung/Instructions
For the cashew cheese mix all ingredients, except for the ground psyllium husks, in a high-speed blender for about a minute until smooth. Then add the psyllium husks and blend again a couple of seconds. If you don't have a high-speed blender you'll have to soak the cashews in water for about 2 hours, to blend them smoothly. Or use store-bought cashew butter. Pour the cheese in an airtight container and refrigerate for 1 hour.


For the tomato salad roughly cube the tomatoes, finely chop the onion and roughly chop the basil leaves. Combine all ingredients and let steep.


Slice the mushrooms and green onions. Spread half of the cashew cheese on one tortilla and place the mushrooms on one side and the green onions on the other side. Season with salt and chili flakes. Then fold the tortilla and bake in the contact grill for 3 - 4 minutes. Do so with the other tortilla.


Let the quesadillas cool a little (they are hot!), then cut each into three triangles and serve with the salad.
Tipps/Notes
If you don't have a contact grill, toast the quesadillas in a large frying pan. They'll need 3 - 4 minutes on each side.