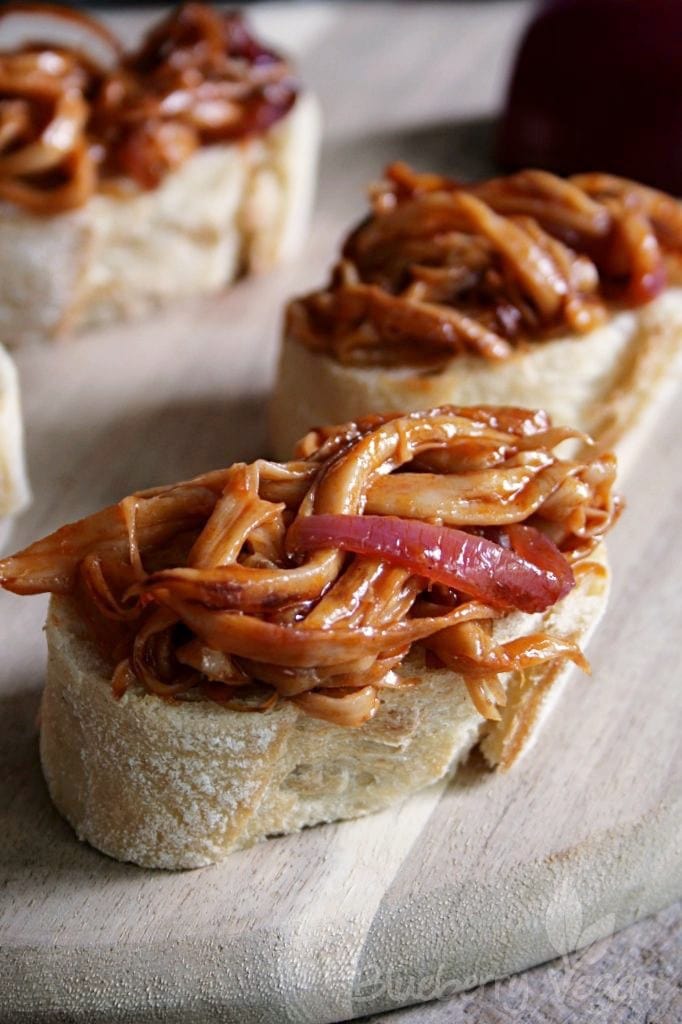 I love this meaty, juicy pulled mushroom bites. I used king oyster mushrooms to make it. Bake the mushrooms in the oven, pull apart with a fork, fry in some oil and add barbecue sauce.
The sandwich tastes best warm, but also as an appetizer on a cold platter it is great. I made it for my birthday buffet last year. Also omnivores like the meat-like taste, I am happy to report.
Enjoy!
Love,
Rina
Got a craving for mushrooms? Finde more recipes here: fried mushrooms like from the fair, mushroom potato stew, zoodles with mushroom carbonara, mushroom pot pies and many more…

Pulled Mushroom Bites
Ergibt/Yield:
4 - 6 Portions
Zutaten/Ingredients
For the pulled mushroom:
3 medium-sized king oyster mushrooms
1 onion
2 tsp oil
2 tbsp barbecue sauce


Also:
Zubereitung/Instructions
Bake the king oyster mushrooms in the oven at 180° C (360° F) for about 15 minutes until they start to shrivel, let cool a bit.


Cut the onions in strips. Pull apart the mushrooms with a fork. Heat oil in a pan and fry the mushrooms and onions until they brown. Remove from the stove and stir in the barbecue sauce.


Slice the baguette and arrange the pulled mushroom on it.