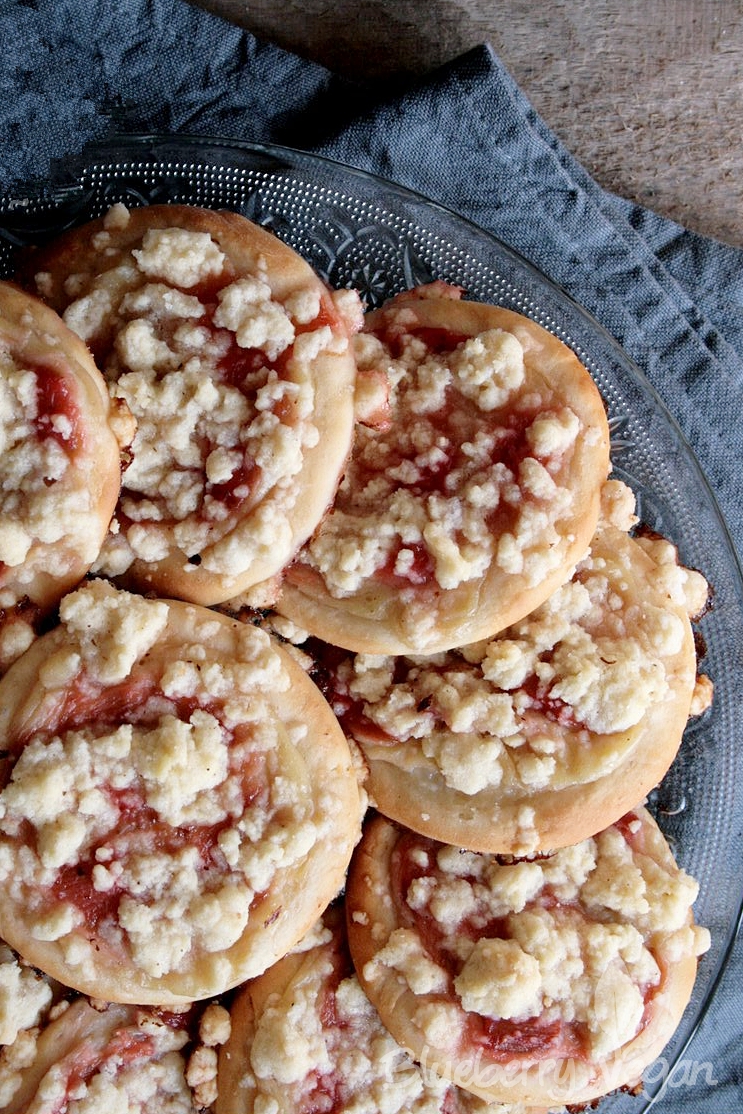 [Advertising: Affiliate Links]
A couple of days ago I found the first local strawberries and of course I had to take them. They weren't a bargain at 6 Euros a kilo, but it was worth it. Mhhh! I love strawberries and I ate them the next morning with my overnight oats.
I saved a few and made a strawberry rhubarb compote. The compote is great in yoghurt, on nice cream or just with a spoon. And on this pudding streusel cakes.
You can make bigger or smaller cakes. If you have guests make them bigger. If I make them for a bake sale or buffet, I prefer the smaller ones.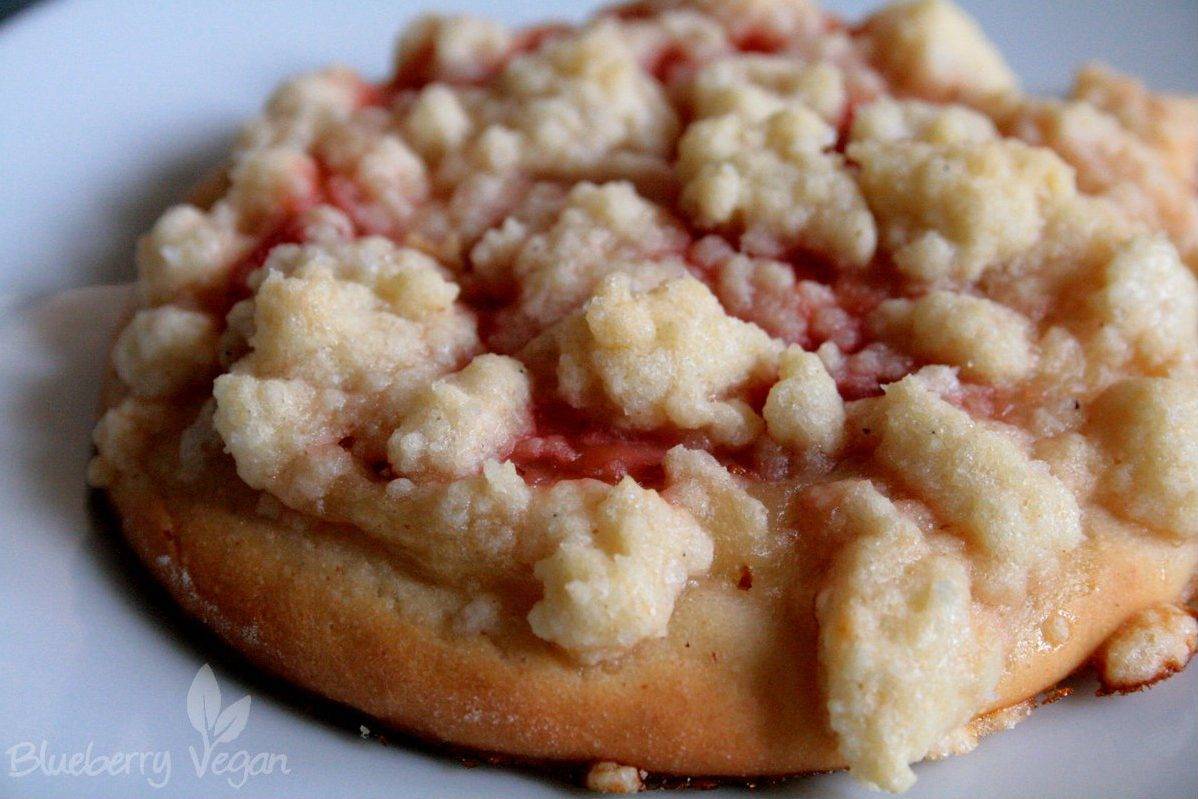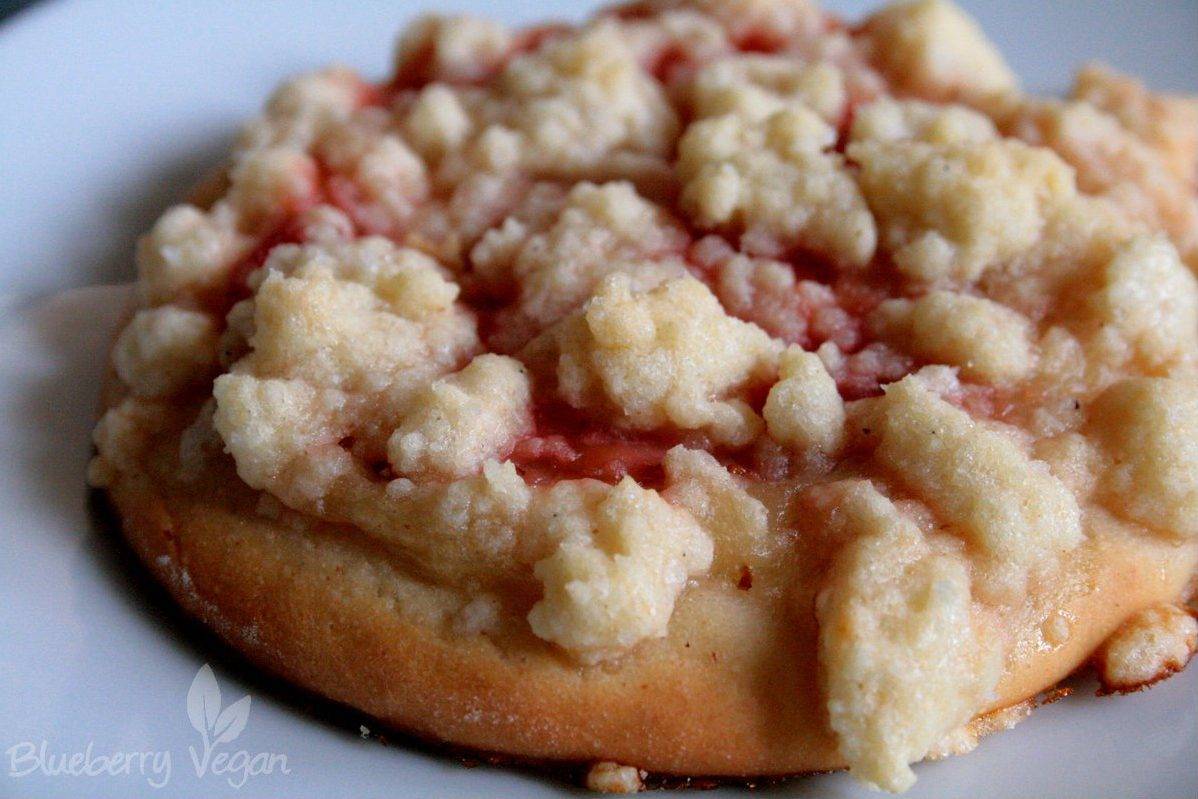 You have to try them in autumn with plums instead of strawberries!
Have fun baking this delicious treat!
Love,
Rina
Pudding Streusel Cakes with Strawberries and Rhubarb
Ergibt/Yield:
9 small Cakes
Zutaten/Ingredients
For the strawberry rhubarb compote:
350 g (12.4 oz) rhubarb
150 g (5.3 oz) strawberries
2 tbsp sugar
1 pinch baking soda


For the yeast dough:
250 g (8.8 oz) white flour - spelt or wheat
40 g (2 tbsp) vegan butter, melted
40 g (2 tbsp) sugar
1/2 pk. dry active yeast
140 ml (1(2 cup plus 1 tbsp) soy milk, lukewarm


For the pudding:
250 ml (1 cup) soy milk
1/2 pk. (2 slightly heaped tbsp) pudding powder, vanilla
2 tbsp sugar


For the streusel:
120 g (4.3 oz) white flour - spelt or wheat
65 g (2.3 oz) vegan butter
65 g (2.3 oz) sugar
1/2 - 1 tsp water


To taste:
powdered sugar
a few drops water
Zubereitung/Instructions
For the strawberry rhubarb compote peel the rhubarb and cut in pieces and put with sugar and baking soda to a pot, bring to boil and let simmer for 5 minutes. Remove the green part from the strawberries and quarter them. Put in the pot and cook for another 5 minutes. Pour the compote hot in a screw top jar and close the lid. This way you can store it for weeks.


For the pudding whisk together soy milk, sugar and pudding powder, bring to boil. Then pour into a bowl and cover with clingfilm directly on the pudding surface to prevent a skin.


Thoroughly knead all ingredients for the yeast dough (at least for 5 minutes) until soft. Let rest in a warm spot for at least 30 minutes to rise. Cove the bowl with a kitchen towel.


Preheat the oven to 180° C (360° F). Roll out the dough on the dusted working surface about 5 mm (0.3 inches) thick. Use a glass or small bowl (8.5 cm/3.3 inches in diameter) to cut out small round cakes. Place them on two lined baking trays.


Whisk the cold pudding until smooth and spread each one slightly heaped teaspoon on each cake. Leave the edges clean, as when you make a pizza. Then add a teaspoon of the compote to each cake and spread on the pudding.


Knead all ingredients for the streusel until crumbly and crumble over the cakes. Bake in the oven for 20 - 25 minutes until the edges turn golden.


If you like make an icing from powdered sugar and water and drizzle over the warm cakes.
Tipps/Notes
If you make bigger cakes, make sure to leave them in the oven a little longer.