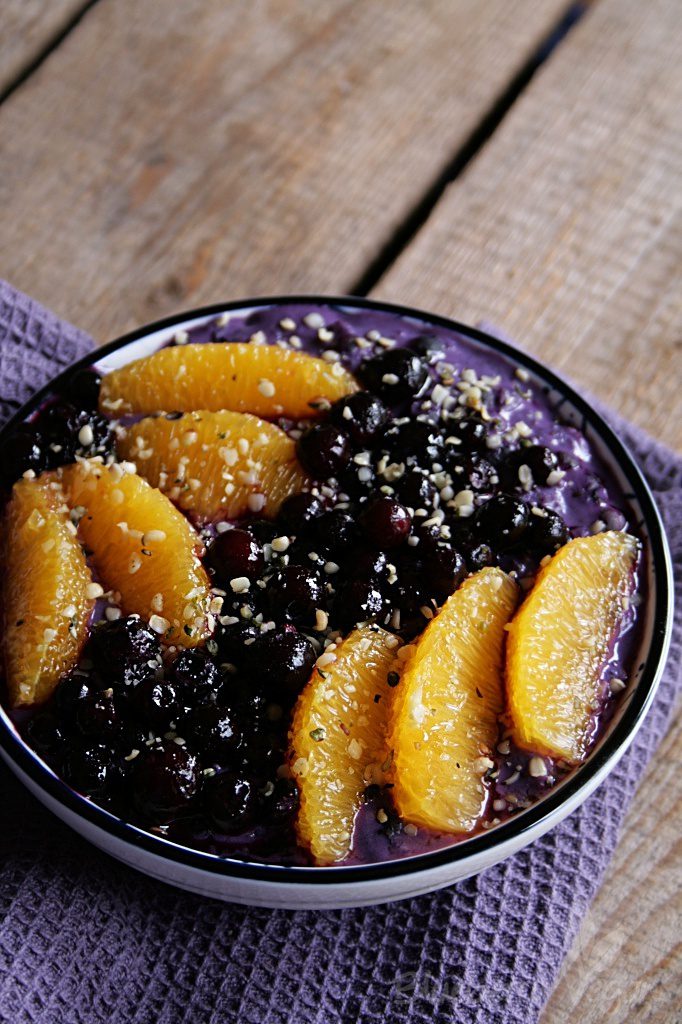 [Werbung: Affiliate Links]
On a cold winter morning I can't imagine anything better than a warm breakfast. When it is storming or raining outside the day starts just right with a warm bowl of porridge.
A porridge has many advantages. It is prepared rapidly, keeps you full for a couple of hours and it is very healthy. And also you can take it with you to work.
The classic porridge is made from rolled oats, water and a dash of salt. The mush is cooked on low heat while stirring constantly and is served with fresh fruit or fruit purées.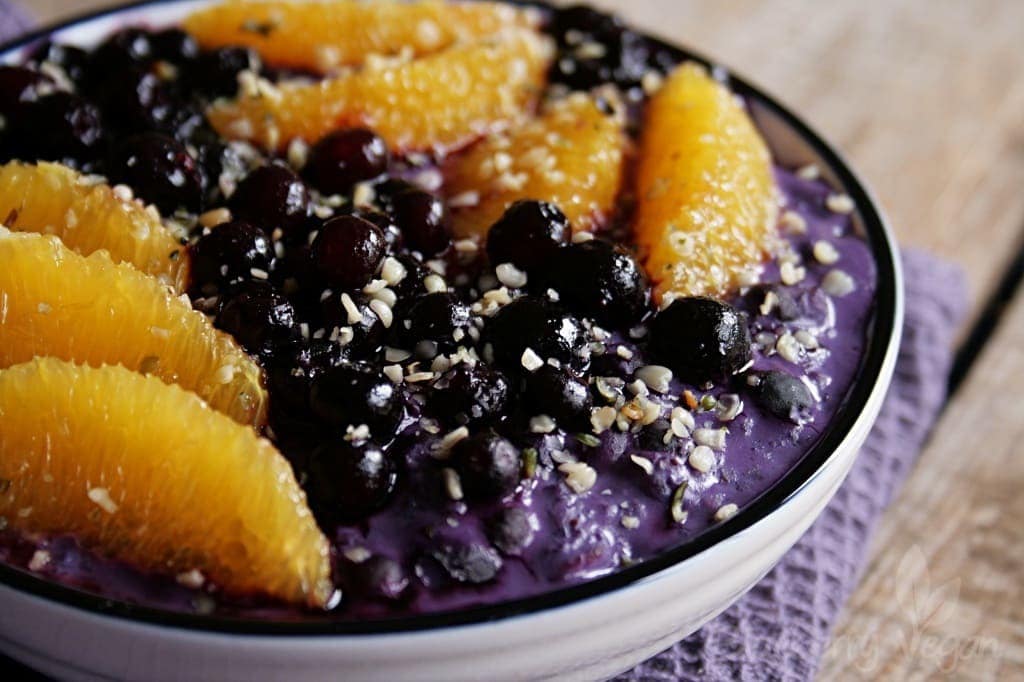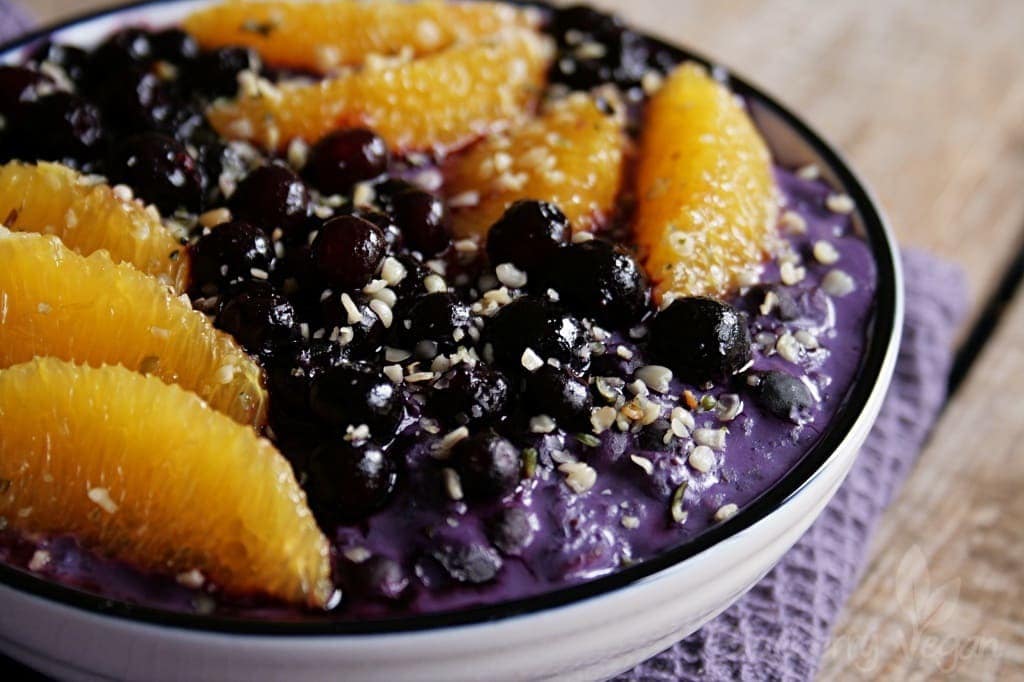 Today I decided to use blueberries which I cooked along with the oats. This way they not only sweeten the mush, but turn it into a wonderful purple colored porridge. To decorate the porridge I used also blueberries, orange slices and hemp seeds. Hemp seeds are rich in fat, but also contain lots of protein. I recommend you buy them hulled, since the husks are very hard and don't chew very nice.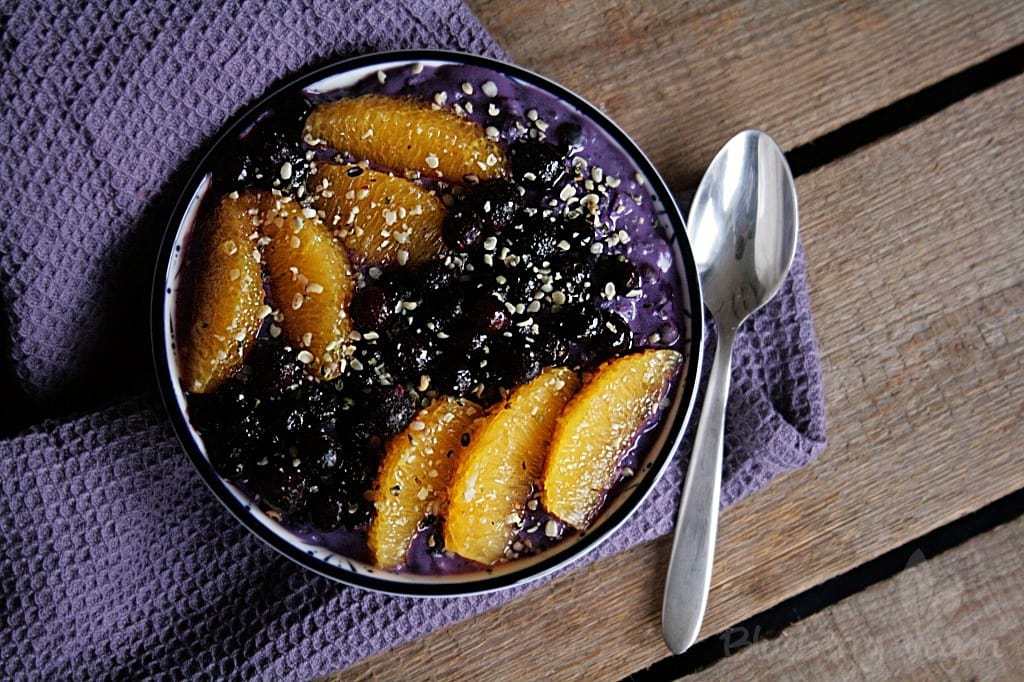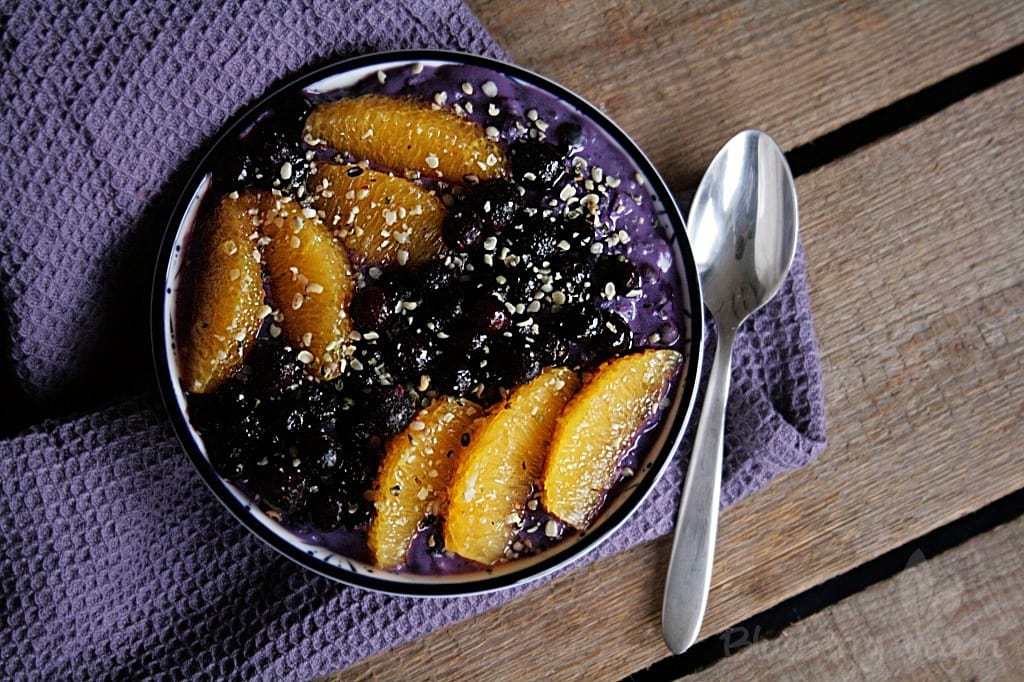 I don't like to buy fruit that is out of the season. Not only the quality suffers (when you have ever eaten a strawberry in winter you know, what I mean), but it is expensive and it stresses the environment. And also: Isn't it nice to wait for strawberry, cherry, pumpkin or asparagus season?
That's why I used frozen blueberries in this recipe. Those taste very good and they make the porridge purple, which looks really nice.
Have fun cooking and enjoy your breakfast!
Love,
Rina
You like porridge? Then also try Chocolate porridge with peanut butter and banana, Warming apple pie porridge with glazed almonds, Hearty porridge with tomatoes, mushrooms and spinach and Crunchy millet porridge with rhubarb blueberry compote.

Porridge with Blueberries
Zutaten/Ingredients
40 g (1.5 oz) rolled oats
200 ml (3/4 and1 tbs) non-dairy milk
150 g (5 oz) frozen wild blueberries
1/2 orange
1 tsp hemp seeds, hulled
Zubereitung/Instructions
Peel the orange and split into sections.


In a pot bring the oats, non-dairy milk and 2/3 of the blueberries to boil. Reduce the heat and let simmer while stirring for about 5 minutes.


Turn off the stove and cover the pot with a lid. Let the porridge gush for 5 minutes.


Then pour the porridge in a bowl and decorate with orange and blueberries. Sprinkle with hemp seeds.
Tipps/Notes
You can also use cherries, strawberries or other fruits to prepare this meal. Also cacao nibs or chopped nuts taste delicious when sprinkled over the porridge.