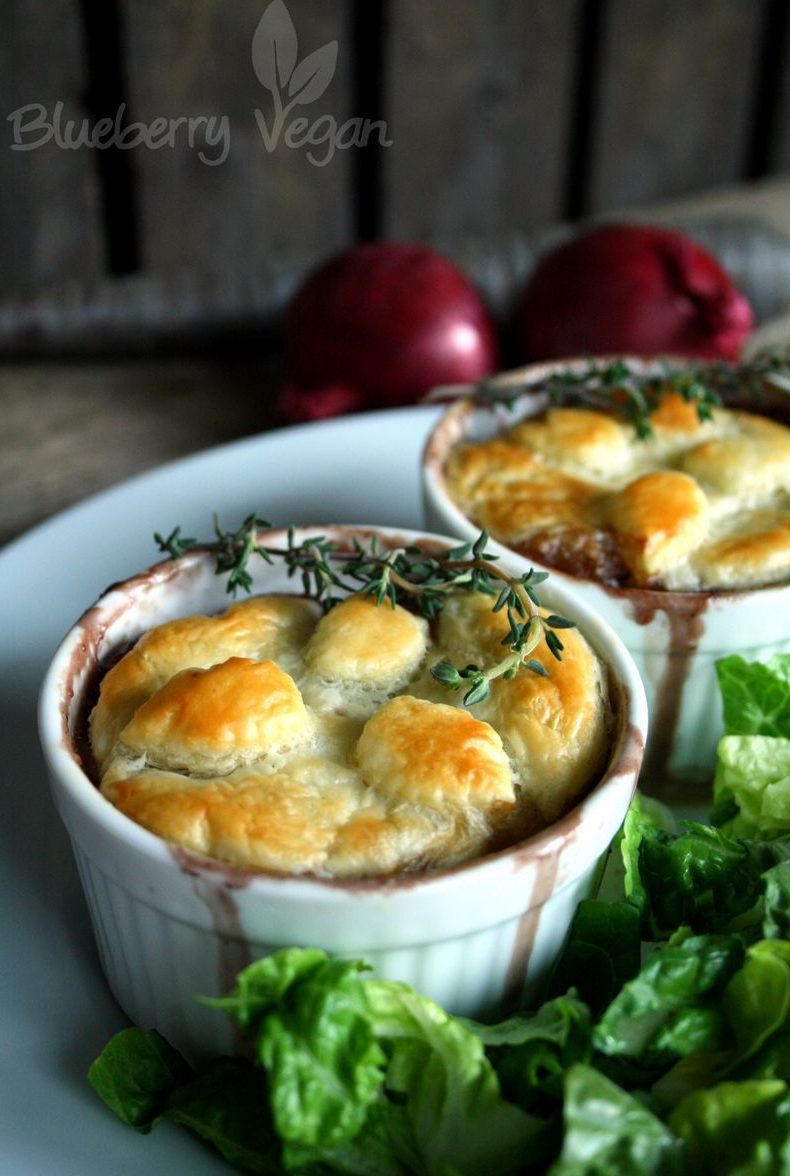 [Advertising: Affiliate Links]
I love mushrooms! They are delicious and so versatile. You can make a kind of pulled pork with king oyster mushrooms, for example. Or use the stems to make vegan scallops.
Because of their natural umami taste, I like to add some chopped mushrooms to my gravy.
This is a recipe for braised mushrooms with malt beer. I took brown mushrooms. You can also use a mix of different sorts of mushrooms and dark beer (Guinnes is vegan now).
Thyme is my favorite herb when I cook mushrooms. I used a lot of it. I found purple carrots in my favorite supermarket and found them to be perfect for this dish. You can use orange carrots, if you can't find purple ones.
If you make this dish for two people, serve the pot pies with a mixed green salad. If you make it for four people, I recommend you also make some hasselback potatoes.
Enjoy!
Love,
Rina
Got a craving for mushrooms? Finde more recipes here: pulled mushroom bites, fried mushrooms like from the fair, mushroom potato stew, zoodles with mushroom carbonara and many more…

Mushroom Pot Pies with Puff Pastry
Ergibt/Yield:
2 - 4 Portions
Zutaten/Ingredients
For the pot pies:
500 g (18 oz) brown mushrooms
1 big (red) onion
1 clove garlic
1 big (purple) carrot
4 sprigs thyme
1 tbsp olive oil
1 tbsp flour
150 ml (1/2 cup plus 2 tbsp) malt or dark beer
salt
pepper


Also:
1/2 pk. vegan puff pastry
1 tbsp non-dairy cream
Zubereitung/Instructions
Finely chop onion, garlic and carrot. Pick the thyme leaves off the sprigs. Quarter the mushrooms.


In a big pan heat the oil and sauté the onions until translucent. Add carrots and garlic and sauté briefly. Then add mushrooms and thyme and fry until fragrant.


Dust the vegetables with flour, stir and deglaze with malt beer. Stir well and season with salt and pepper. Let cook for 10 minutes, stir occasionally.


Preheat the oven to 180° C (360° F).


Roll out the puff pastry and cut out round discs with the baking dishes. Use a cookie cutter to cut out nice shapes (leaves, hearts, stars) out of the rest of the puff pastry for decoration, set aside.


Pour the mushrooms in the baking dishes and cover with a pastry disc. Pinch with a toothpick, to let out air while in the oven. Brush on non-dairy cream and decorate with the leftover puff pastry, also brush with non-dairy cream.


Bake in the oven for 20 minutes until golden and serve with a salad (and hasselback potatoes).