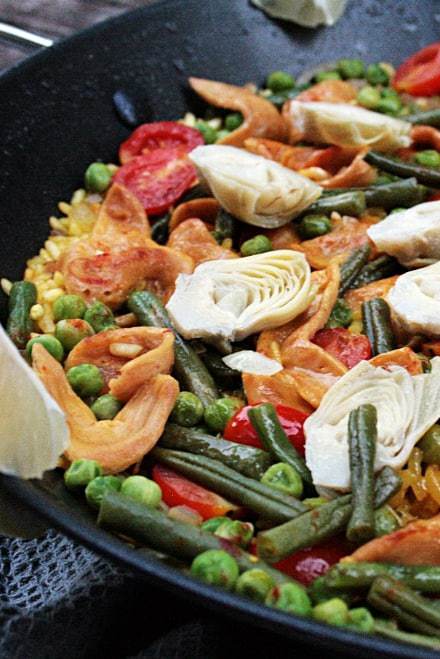 [Advertising: Affiliate Links]
Paella is THE dish that is most related to Spain. A classic paella is made from rice, saffron, light meat, such as chicken or rabbit and seafood. You prepare a paella in a paellera, a big, round pan, so that the rice is not higher than 1 1/2 inches.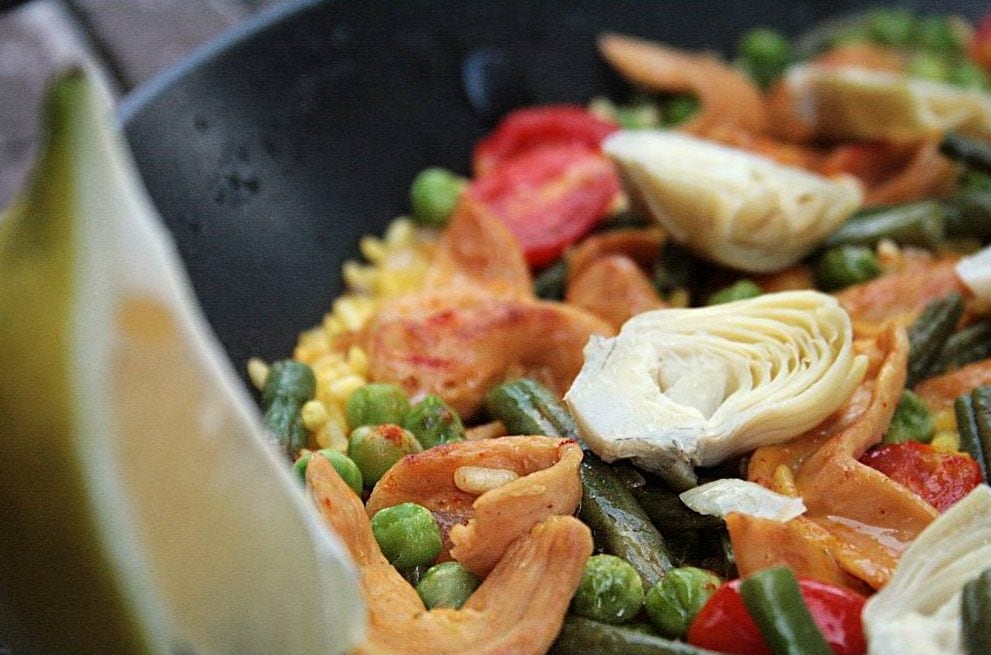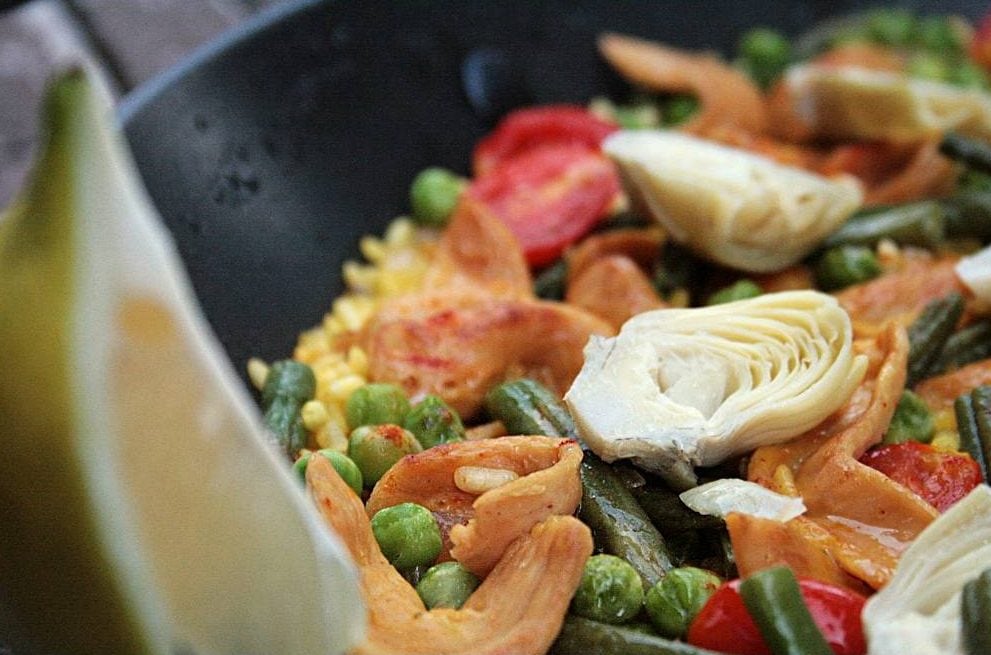 You should never stir a paella, after you added the rice. It could become sticky like a risotto, but you don't want your paella to become a risotto.As a vegan meaty option I used pulled soy from Veganz, that I had left in my pantry. But any kind of soy shreds should work, too. Also I added to my paella: green beans, peas, tomatoes and artichokes.
Enjoy!
Love,
Rina
Paella with Pulled Soja, Artichokes and Green Beans
Ergibt/Yield:
2 - 3 Portions
Zutaten/Ingredients
2 hands full of pulled soy or other bigger sized soy shreds
1 tbsp olive oil
2 tsp soy sauce
1 small onion
1 clove garlic
Each 2 hands full, frozen peas, green beans and cherry tomatoes
1 cup (200 g) short-grain rice
2 cups vegetable broth
1 small jar artichokes
1 pk. saffron, ground
1 tsp smoked paprika
salt
pepper
chili
1 lemon
Zubereitung/Instructions
Cook the soy shreds in water for 10 minutes, the drain and let drip well. You may need to press out excess water, if you use regular soy shreds, not the pulled soy. Finely chop the onion and press the garlic.


Cut off the ends of the beans and cut them into bite-sized pieces. Defrost the peas in warm water for a couple of minutes. Halve the tomatoes and de-seed them. Drain the artichokes, press out the excess water and halve them.


In a paellera or a big pan, fry the pulled soy on high temperature, then deglaze with soy sauce. Add onions and garlic and lower the temperature. Sautée until the onions are translucent. Then add the vegetables, except for the artichokes, and the rice and sautée for 2 minutes. Add the broth and stir in the spices. Then stop stirring for good and let the paella simmer for 15 - 20 minutes.


Ten minutes before the end of the cooking time, put the artichokes on top of the rice, cover the paella with a lid and let simmer for another 10 minutes.


Turn off the heat and let the paella sit for another 5 minutes. Cut the lemon in lengthwise in quarters and serve with the paella.