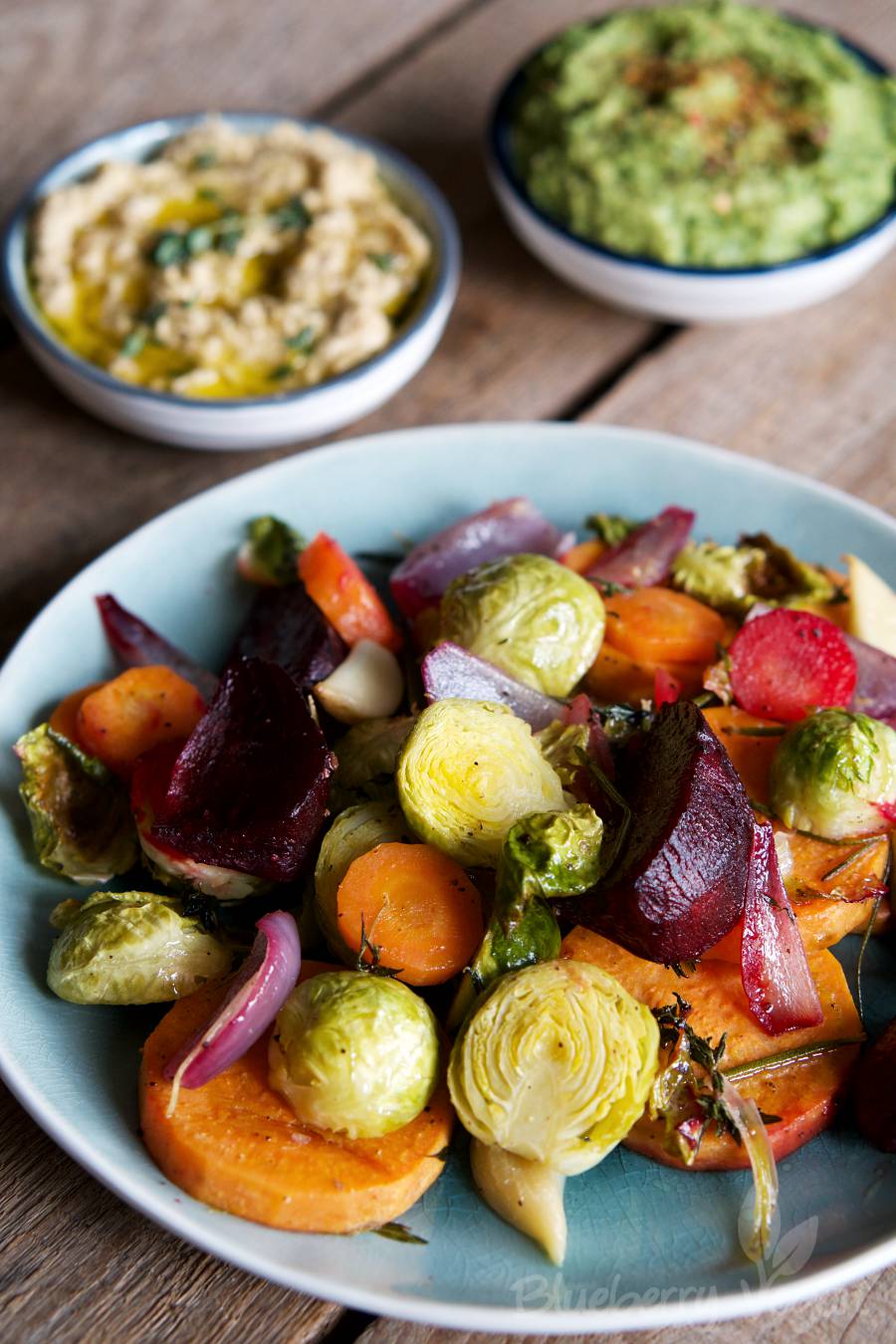 [Advertising: Affiliate Links]
Here I have one of my favorite dishes for you: oven veggies with hummus. I thought about whether to post this dish or not for a long time. It seemed too simple, not fancy enough. But I make it so often and then get asked how I make my hummus, so that I wrote down the recipe now.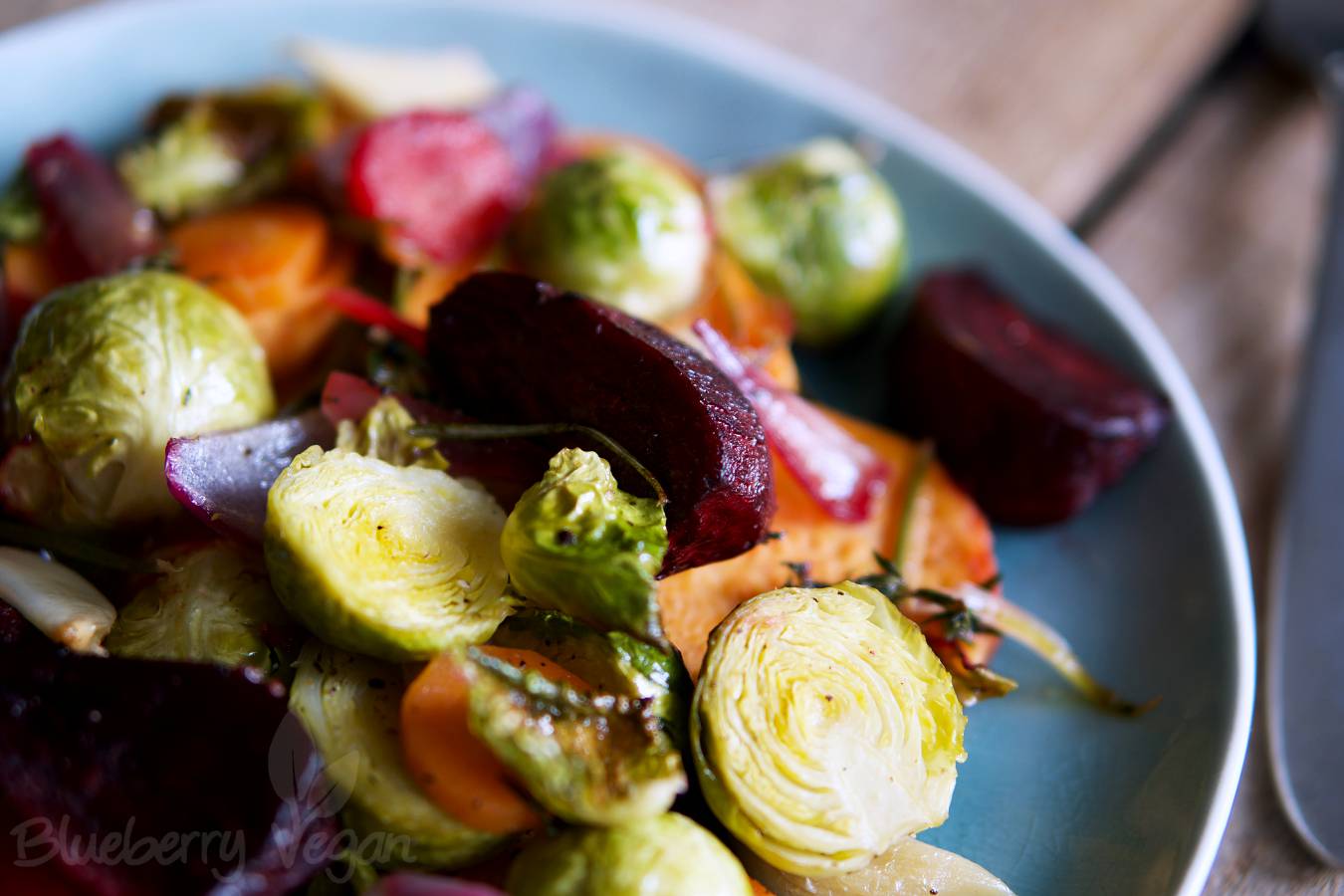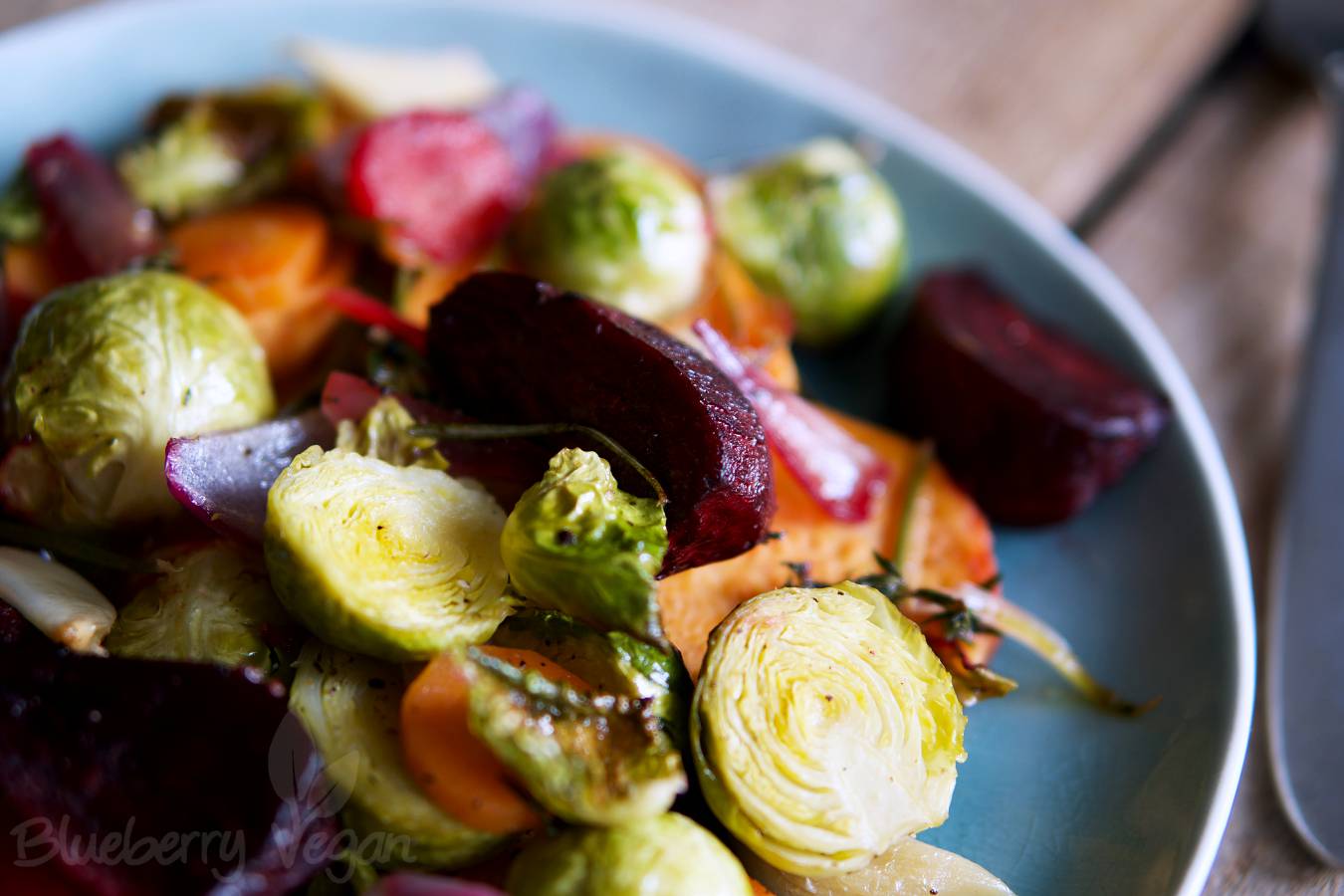 You can vary the oven veggies to your taste or the veggies that are lying in your fridge. I always use potatoes, onions, garlic and carrots. This time I used beetroot, Brussels sprouts and sweet potatoes as well. In the summer months zucchini, peppers and corn are also great. Use fresh herbs such as rosemary, thyme and oregano, which I like best, to add some extra flavors.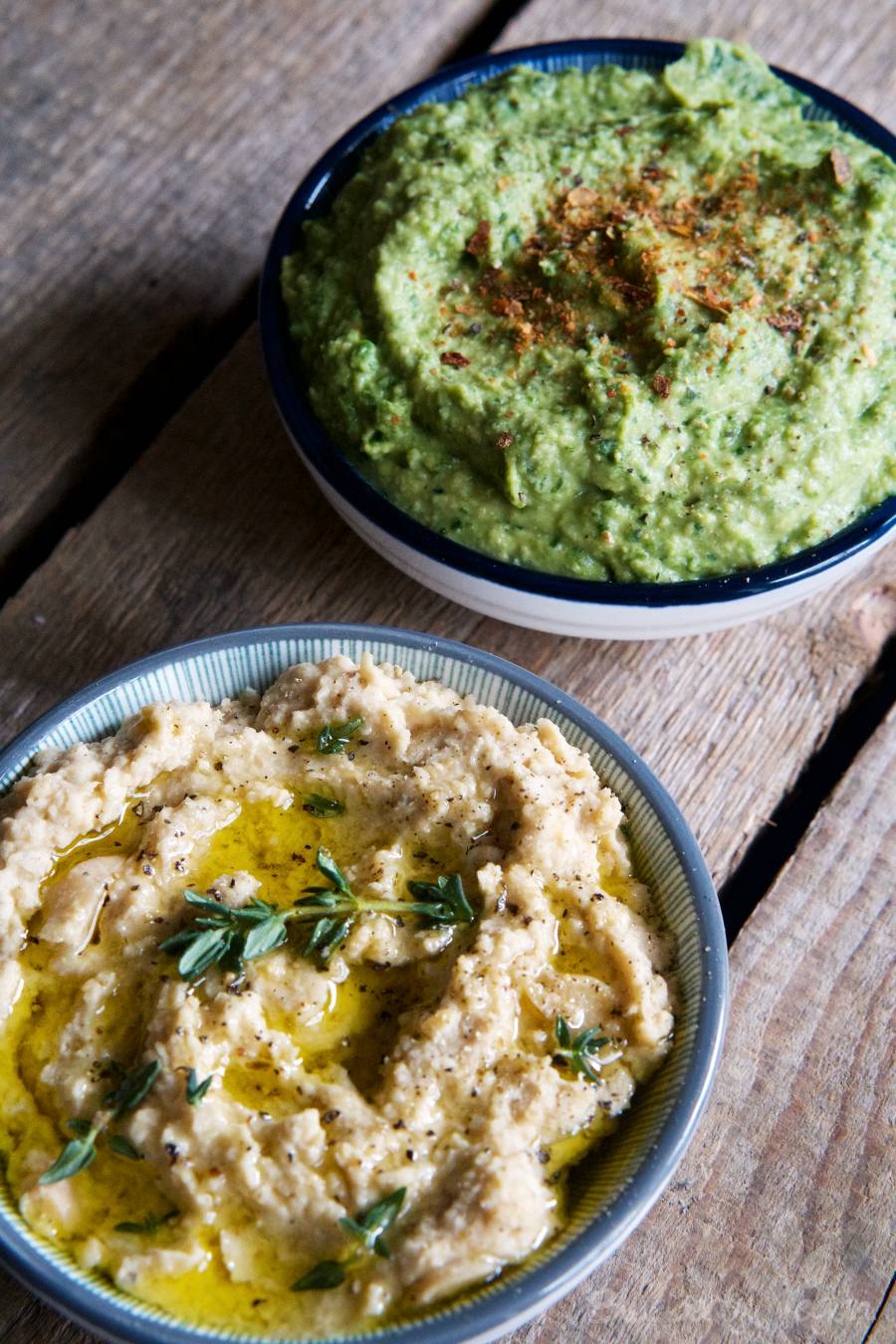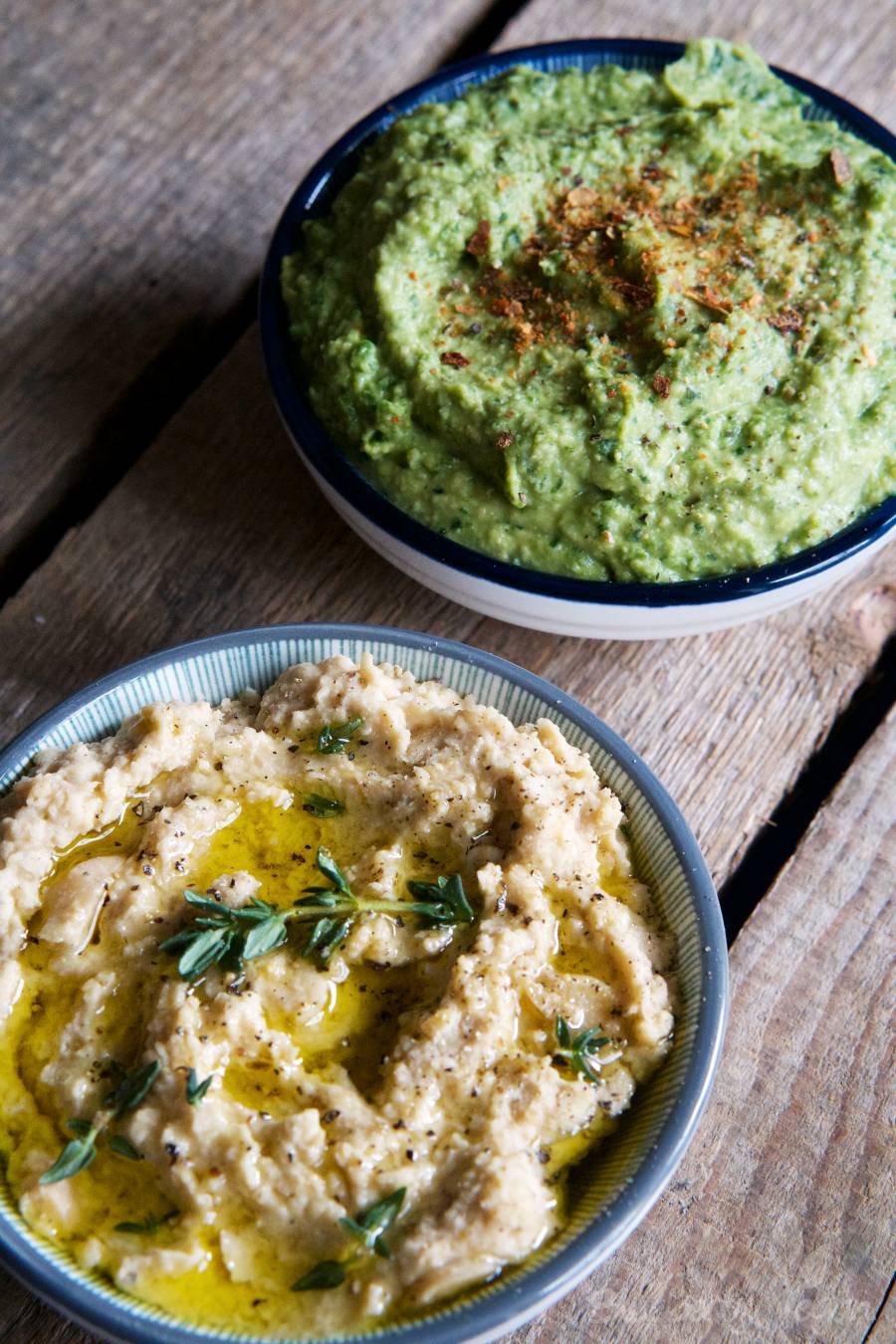 You only need a few ingredients for the hummus. For the spinach hummus you need some spinach additionally. Also a pepper, sriracha or beetroot hummus taste so good. Just add some roasted pepper, half a teaspoon sriracha or a bit of beetroot to the basic recipe and blend it with.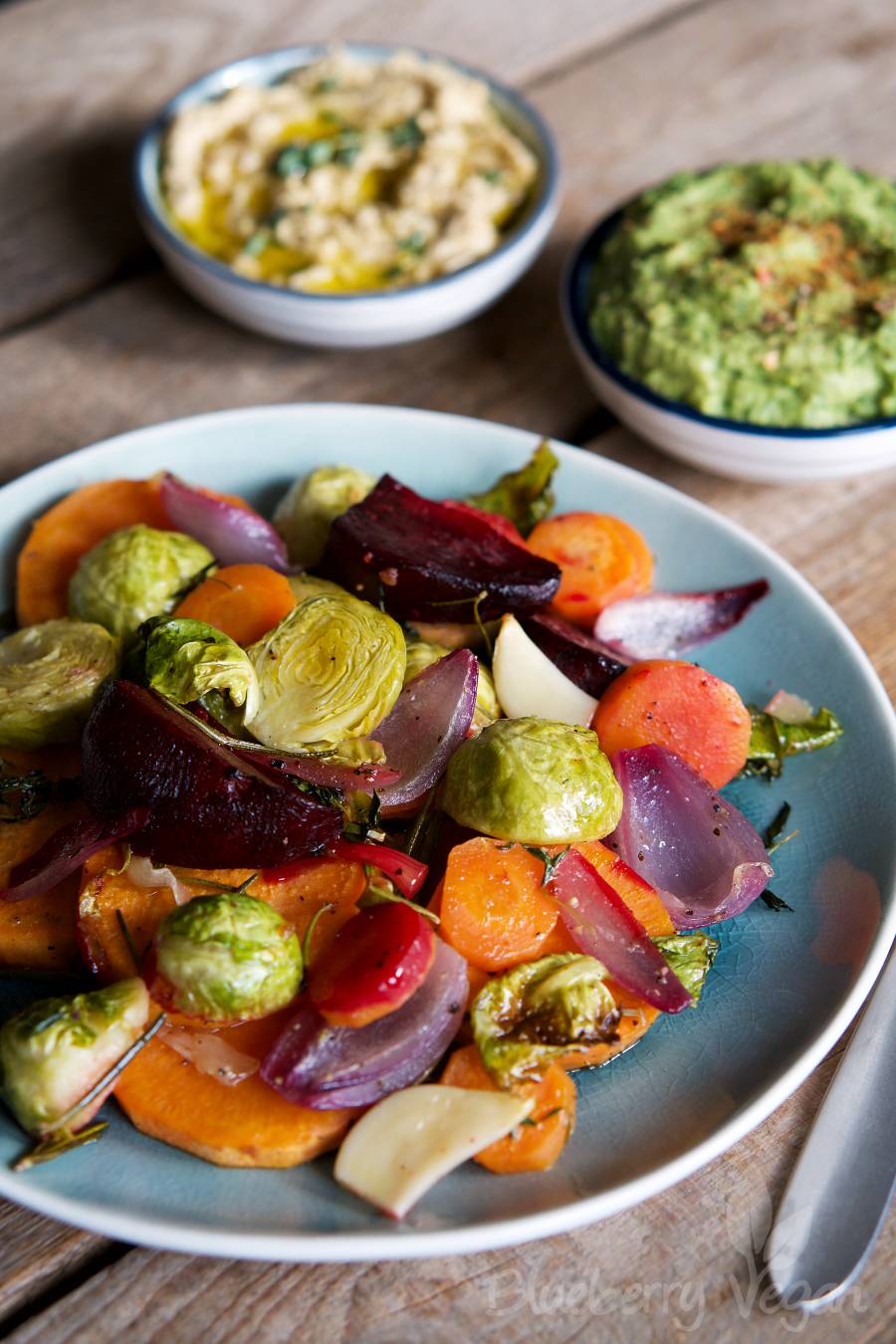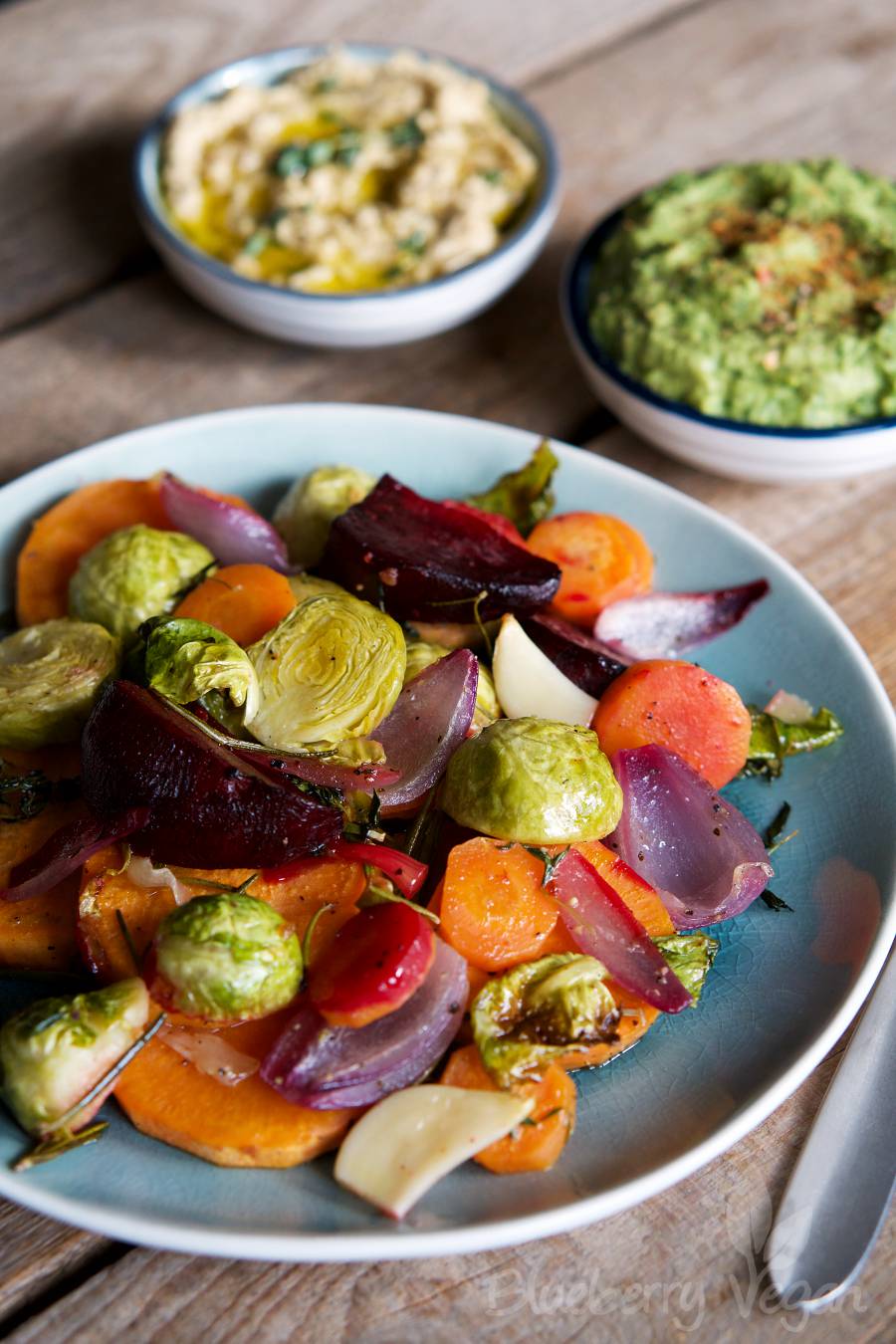 The dish is so simple, but so good: Just wash the veggies, cut them into pieces and put them in the oven. That's all.
Enjoy!
Love,
Rina
Oven Veggies with two sorts of Hummus
Zutaten/Ingredients
For the oven veggies:
1 sweet potato
2 big carrots
2 hands full Brussels sprouts
2 bulbs beetroot
1 (red) onion
1 clove garlic
2 sprigs rosemary
a few sprigs thyme
2 tbsp olive oil
salt
pepper


For the hummus:
1 can chickpeas
1 tbsp tahini
1 tbsp lemon juice
1 small clove garlic
1/2 tsp salt
1/4 tsp cumin


For the spinach hummus also:
4 hands full spinach
chili flakes - optional
Zubereitung/Instructions
Preheat the oven to 200° C (400° F) and line a baking tray with parchment paper.


Wash the veggies thoroughly, brush, if needed and cut into big, but bite-sized pieces. There is no need to peel the veggies. Quarter the onion and roughly chop the garlic. Pick the needles and leaves of the herbs and combine veggies, herbs and oil in a bowl. Season to taste.


Spread the veggies on the baking tray and bake in the oven for about 40 minutes, until they brown a bit.


In the meantime make the hummus. Drain the chickpeas, but keep about half of the liquid. Pour in a food processor along with the other ingredients and mix until smooth.


Remove half the hummus, add the spinach and mix again to make the spinach hummus. Arrange the hummus in two bowls and serve with the veggies.
Tipps/Notes
You can easily vary the veggies to your taste or the seasons. I like zucchini and peppers in summer and asparagus and young potatoes in spring.
When I don't have much time, I cook the veggies in the microwave for about 5 minutes, then it only takes 10 minutes in the oven to make them. Small portions of hummus I make in my
small food chopper
 and bigger portions in my
food processor
.