[Advertising: Affiliate Links]
Have you heard of nice cream yet? This healthy ice cream is also called nana ice. It is so simple to make and needs just two ingredients: bananas and (non-dairy) milk.
It is also absolutely versatile. If you like a vanilla nice cream just add some ground vanilla to the basic ingredients. If you like fruity ice cream, add a handful of frozen strawberries, raspberries, cherries, blueberries, mango or whatever you like to your frozen banana and blend it together.
To prepare this healthy snack peel 1 – 2 ripe bananas, cut them into pieces (you don't have to, if you have a sharp knife to cut the frozen bananas) and freeze them. I always have some frozen bananas in the freezer to have something healthy on hand to deal with sudden chocolate cravings.
Speaking of chocolate: I like my nice cream as chocolate nice cream. Or with chocolate, peanut butter and caramel sauce. Some might call it snickers nice cream.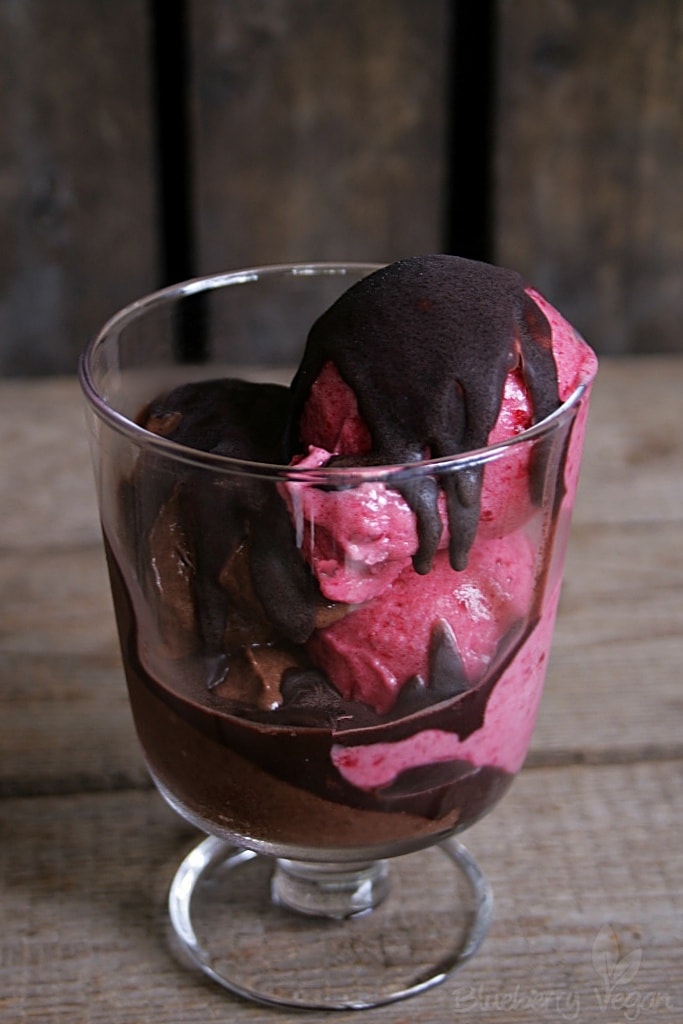 Put the frozen banana slices in a food processor (I like this one for making nice cream) and process them with some non-dairy milk. If you prepare bigger batches of nice cream, you can also use a power blender (such as Vitamix).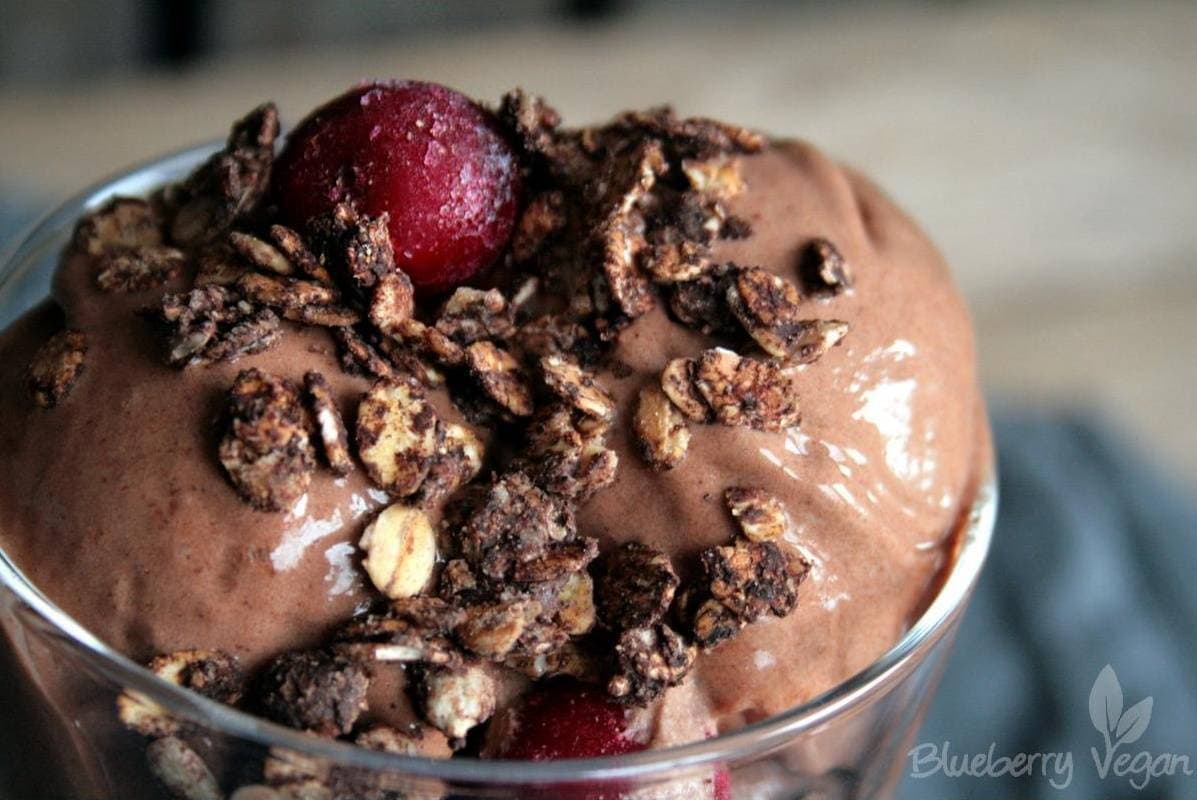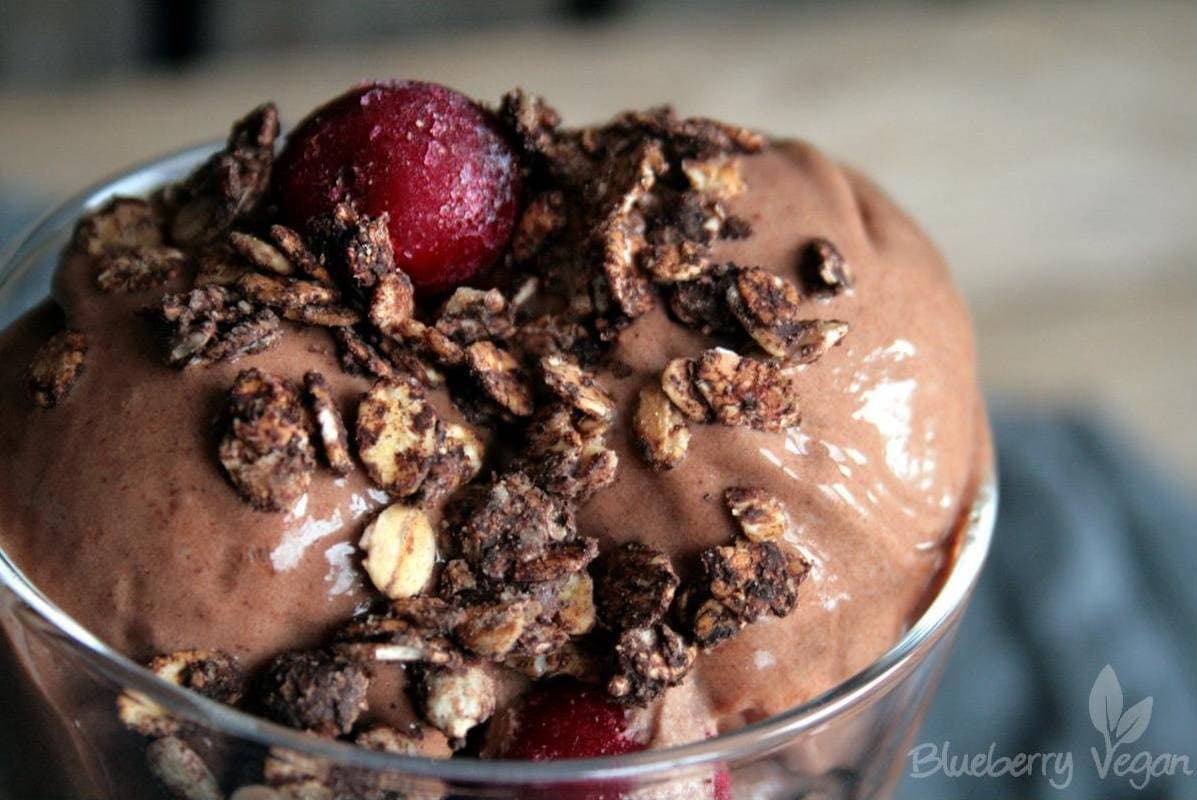 As a topping you can use anything you like: chocolate sprinkles, chopped nuts, chocolate- or fruit sauces or homemade chocolate granola. Just to name a few things.
Enjoy this healthy snack!
Love,
Rina
Are you looking for more fruity desserts? Also try mango tiramisu, chocolate cherry dessert, lemon tiramisu, pear blueberry crumble, baked apple crumble, vegan Crème brûlée and apple cinnamon nice cream.

Nice Cream
Gang/Type:
Snack, Dessert
Zutaten/Ingredients
For the basic nice cream:
1 - 2 ripe bananas
2 - 4 tbs non-dairy milk
To flavor your nice cream:
1 tbs cocoa powder
1 tbs peanut butter
1 pinch ground vanilla
1 handful frozen fruit


For the topping:
Chocolate sprinkles
Cacao nibs
Chopped nuts
Chia seeds
Chocolate- or fruit sauce
Granola


For a chocolate sauce:
2 tsp coconut oil, melted
1 tsp cocoa powder
1 tsp agave nectar
1 dash vanilla extract
Zubereitung/Instructions
Peel the bananas, cut them into pieces and freeze them for at least 4 hours, or better over night.


Blend the frozen banana pieces with the milk and the ingredients you like to flavor your nice cream in a food processor or blender.


Pour into a bowl an decorate with your favorite toppings. For the chocolate sauce just stir all ingredients until smooth and pour over the cold nice cream.
Tipps/Notes
The bananas should be ripe or otherwise your nice cream tastes only like banana and isn't as sweet.
If you have a sharp knife you can cut the bananas when they are frozen.