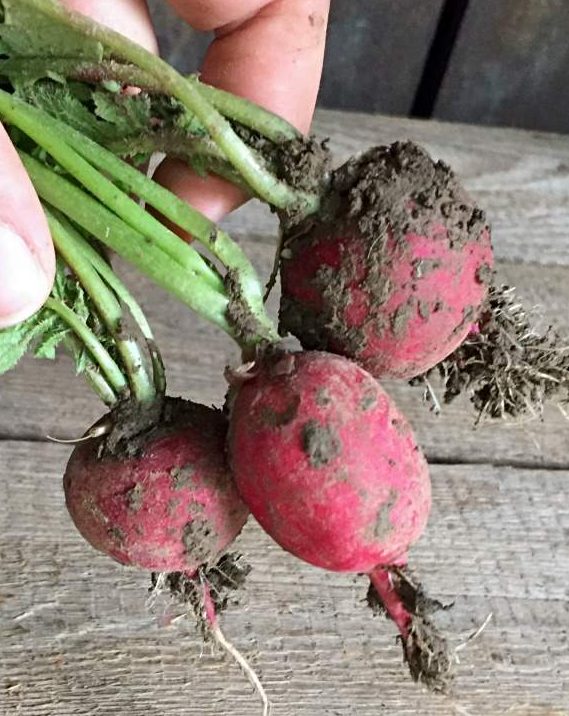 Here comes the rain again…
That could also be a proper headline for this update from my kitchen garden. It rained a lot lately. So much, that my lettuces are starting to rot from the bottom. I have already removed some leaves to increase the distance between soil and lettuce. So far this tactic seems to work. But I had to litter 5 heads of lettuce, because they were rotten to their hearts. But since I have at least 26 heads of lettuce to eat all by myself, that loss isn't that tragic.
The lettuces taste fabulous! I love the curled lettuce most and since they are all big engough to harvest them, I have salad every night right now. Sometimes as a side dish and sometimes as the main event. For example with fresh strawberries and balsamic syrup.
I have also harvested a couple of radishes and have eatem them right away :-). The next days I am starting to harvest the white kohlrabi and also the fennel looks almost big enough to enjoy.
Beside the rotten lettuces, I also had to remove two heads of cauliflower. A bunch of caterpillars had lunch their and left me with only the frame of the leaves. I picked each up and put them on the compost. They can eat the weed there, not my cauliflower ?.
Also a few rabbits seem to have fun in my garden. At least I think that, when I see their dump. They like my pointed cabbage and red cabbage. I am still thinking about throwing over a net, to protect the cabbage of further damages. For now it is not so bad.
I am now starting to get an idea what it means to be farmer. All the work and worries. I never thought, that I would harvest 100% of the planted crops, but all the things that can happen to spoil your harvest, I am learning every day.
But nevertheless I enjoy my kitchen garden. When I drive home from work and pick up a salad for dinner it is probably hilarious to see, when I cram my business suit pants in my gumboots and stand in the middle of the field bending over. The time that my garden requires for maitenance is very limited. I work there about an hour per week, which I find more than reasonable. The main exercise is to pull up weeds. I guess I pulled out three times the amount of weeds to crops.
In a few minutes I am driving there again, to see what the darling animals have been up to and if they left me some crops.
See you soon with an update from my garden!
Love,
Rina