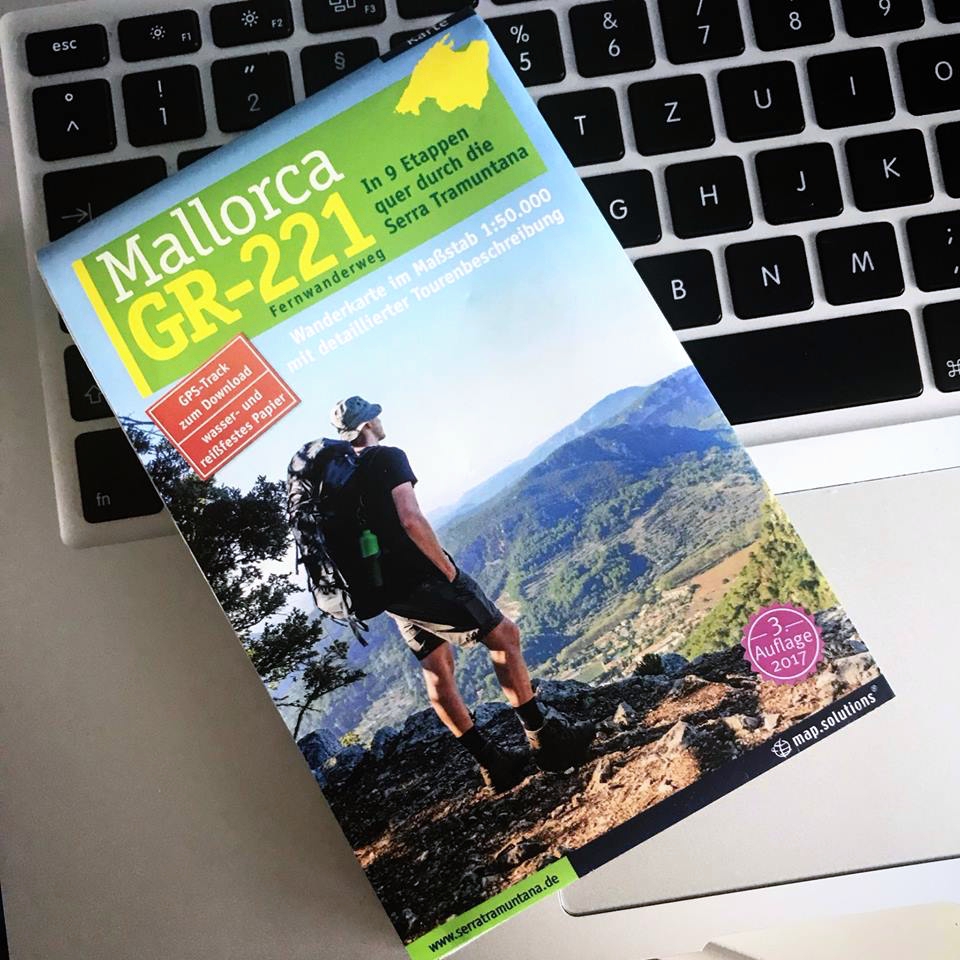 [Unpaid Advertising]
I made the decision that I am going to hike the GR 221 on Majorca in October last year. At this time I filed those two weeks of vacation with my employer. And a few days after that I bought a GR 221 guide-book that describes the way through the Serra de Tramuntana.
I dusted the guide-book last weekend and made the first preparations for my next big trip. Since you can book the chalets only less than 5 months in advance, I couldn't use the free days around Christmas to plan my trip. But as usual it didn't take me that much time to plan. I made it in only 2 hours.
First I booked my flights – I first have to get to Majorca. Since I am not the kind of person that drives around for hours to find the cheapest gas, I booked the first two flights that sounded reasonable. I typed in the start and target airport at Google flights and then decided to go with the flights on May 5th and May 19th. Eurowings will fly me for 228 EUR including baggage.
Next I searched an apartment for my arrival day in Palma. At Airbnb I found a room for 33 EUR and will be the guest of Elena for one night: Habtiación doble con baño privado.
I didn't plan the bus trip to Port d'Andratx where my hike starts. I will look for the bus stop on my arrival.
I chose the stages mostly according to my guide-book. A friend who hiked the trail recently also gave me some tips for accommodation options. Those are the stages of my hike:
1. Stage: Port d'Andratx – Sant Elm
06.05.2018

8,1 kilometers – 290 elevation gain – 3:00 hours – difficulty: easy
This stage is a good start to my hike. Rather short and only a few meters in height to get it going.
I planned to stay at Hostal Dragonera. They are supposed to offer delicious vegan tapas, because the landlord's daughter is a vegan. But unfortunately because of two hiking groups they don't have a free bed for me. So I booked a room in a hotel nearby. I am not a fan of big hotels, but I love a bed at night. I will now stay at Universal Hotel Aquamarin for 64.80 EUR incl. breakfast. Maybe I will got to Dragonera for dinner.
2. Stage: Sant Elm – Ses Fontanelles
07.05.2018

12 kilometers – 560 elevation gain – 4:30 hours – difficulty: easy
It's going up the hill now and the efforts get paid by amazing panoramas.
I will stay with Britt in the refugi of her Finca Ses Fontanelles for 23 EUR. There is no hotel service, no shops, no kitchen, no dishes, no electric kettle, no garbage disposal and no reception. So I won't be reachable by phone or internet this night and I also have to bring my food and take the garbage with me from Sant Elm. But they offer drinks. So I can have a wine with my bread and olive dinner.
3. Stage: Ses Fontanelles – Estellencs
08.05.2018
10,9 kilometers – 600 elevation gain – 5:00 hours – difficulty: hard
Hidden paths and rugged rock scenery are awaiting me. I am curious if I will make it in 5 hours.
This night I will stay at Hotel Maristel. A room is charged 86.40 EUR without breakfast plus 3.30 EUR visitor's tax.
4. Stages: Estellencs – Esporles
09.05.2018

14,6 kilometers – 550 elevation gain – 5:30 hours – difficulty: easy
I linked two stages from the guide-book and will have a large lunch break after the first stage in Banyalbufar.
In Esporles I got a bed at Sa fita backpackers. It is charged 27 EUR a night without breakfast. There are two supermarkets in Esporles and several cafés and restaurants in which I will find something to eat. There is also a pharmacy, if I need something.
5. Stage: Esporles – Valldemossa
10.05.2018

9,5 kilometers – 580 elevation gain – 3:30 hours – difficulty: medium
I am looking forward to my visit in Valldemossa: Double, Pool & Garden Patio. Take a look at the pictures of this finca, it looks heavenly! I found the place at Airbnb. The night without breakfast costs 87 EUR. Valldemossa has a beautiful old town and a monastery to see. I hope I am not too tired to miss it!
6. Stage: Valldemossa – Deià
11.05.2018

13,5 kilometers – 575 elevation gain – 5:00 hours – difficulty: medium
On a rocky path it goes up to the nature park Son Moragues. There are two options to go to Deià: a) through the protected area Muntanya del Voltor or b) through the Caraits valley. To pass the protected area you must have a permission. I wrote an email to the organisation to ask for permission. The answer two days later was (without salutation): "Take a look at your guide-book, you are not passing the area." – Got it. I will take option b…
In Deià there is a beautiful bay to go down to. 30 minutes down the hill and then afterwards 30 minutes up the hill. We'll see, if my legs are up for that.
At Refugi Can Boi I got a bed and breakfast for 25.21 EUR. I hope there is a lot of fruit not just cheese and yoghurt. But I would also take muesli with orange juice. I plan to have cookies and/or salted nuts with me at all times, just like on the Camino.
7. Stage: Deià – Refugi Muleta (Port de Sóller)
12.05.2018

9,9 kilometers – 330 elevation gain – 3:00 hours – difficulty: easy
This stage offers great panoramas again and with only a few meters in height it is almost a rest day.
This will be the first of three night in a row in one of the official GR 221 refugi. I had to enter the data of my passport when I booked it – just like on the Camino de Santiago. I booked a bed and dinner, because I could choose a vegan meal. It costs 23.50 EUR. I am excited of what I will get to eat! I already made a note in my guide-book, that I have to remember to go grocery shopping, because there is no supermarket near the refugi tomorrow. Although it's Sunday the supermarket opens from 08:00 a.m to 10 p.m..
8. Stage: Refugi Muleta (Port de Sóller) – Refugi Tossals Verds
13.05.2018

23 kilometers – 1100 elevation gain – 9:00 hours – difficulty: hard
This stage is totally crazy. 1100 meters in height AND 23 kilometers will give me much pain. I will start this stage at 6 a.m. to have enough time for breaks and to get to the refugi in time for dinner. The nature is supposed to be beautiful. Walking on a 600 year old pilgrim's path through the amazing ravine of Barranc de Biniaraix.
I have a bed in an official GR 221 refugi, Refugi Tossals Verds, for 23.50 EUR incl. vegan dinner. For the breakfast the next morning I will have to shop on Saturday or Sunday, because near the refugi is nothing. No restaurant, no supermarket, nothing. So I have to carry an extra 3 pounds of food this stage…
9. Stage: Refugi Tossals Verds – Monastery Lluc/Refugi Son Amer
14.05.2018

14,9 kilometers – 840 elevation gain – 6:00 hours – difficulty: medium
After that horror stage number 8 it continues being exhausting. About 15 kilometers with more than 800 metes in height. I probably will relax from these days after my hike.
At the last official refugi of the GR 221, Refugi Son Amer I also booked a bed and dinner combination for 23.50 EUR. I will have to watch out for a supermarket to stock up my provisions, because there is no supermarket near the refugi, only a few restaurants and a gas station in 20 minutes walking distance. At least that's what I see on Google maps. Maybe there is a greengrocer or a bakery where I can get bread and an avocado. Also 20 minutes away is the monastery Lluc, which I want to visit.
10. Stage: Monastery Lluc/Refugi Son Amer – Refugi Ponte Romà (Pollença)
15.05.2018

16 kilometers – 220 elevation gain – 5:30 hours – difficulty: medium
The last stage of the GR 221 is going on a historic pilgrim's path and has only a few meters in height. But a longer distance with 16 kilometers. The last 5 kilometers are on the road leading to Refugi del Pont Romà. There I will spent my last night on the trail for 19.71 EUR. 4.50 EUR of that will be reimbursed, since I bring my sleeping bag and won't need sheets.
After my hike I will stay a couple of days in Palma and booked this nice, spacious and cosy room with wifi and aircon at Airbnb to stay at. Patricia will be my host for three nights and 99 EUR. In Palma I want to wander the streets and indulge in vegan meals. If anyone has vegan tips for me – tell me!
I also thought about what to pack. It will be a mixture of my Via Baltica packing list and my Camino Francés packing list. Here is my first draft (German): Packliste. Before all I thought about the weight. My backpack is comfortable to carry, but with 2.5 kilograms (including daypack and rain cover) one of the heavier packs. I will definitely bring my MacBook, which weighs 1.9 kilograms including bag and supplies. But I will leave my camera at home with a heavy heart, because it would add another 1.6 kilograms to my pack. Since I had made beautiful pictures with my iPhone before, I will use my phone for photographing and will safe the weight. One thing I will definitely get before I go on the trip is a lightning dual adapter to be able to hear music and charge my phone at the same time. I experienced to only be able to do one thing at a time on the Via Baltica…
I ordered a pair of new sneakers to save 100 grams. My rain jacket is 200 grams lighter than I thought and the guide-book is also 100 grams lighter than the ones for Camino Francés and Via Baltica. Nevertheless I will probably end up around 9 kilograms of baggage, adding an extra few kilograms of water (2 liters equal 2 kilograms) and food it might go up to 13 kilograms that I will have to carry. This is everything else but lightweight and up the hill a challenge for the muscles and down the hill a challenge for the knees. I am turning over the idea whether to buy a light-weight backpack. But I am absolutely not sure if that 1 kilogram difference will make up for the fact that it will cost me 100 – 200 EUR. I will think about it until April.
Leaving my MacBook at home is no option. I don't have time to write my travel log after I returned home. And I will definitely keep a diary again. I love to able to read about my hikes again. And they are much more authentic, if I write them in the moment when I experience things. If I had written about my adventures on the Camino de Santiago after being home again it would have been much more romantic and shallow. But now I have a report that is full of pain, tears, hope and great evenings with new-made friends – I love it!
I also will prepare my body for the hike: at least 5 kilograms have to go until May. I am hoping that my ligaments and tendons will still be used to the higher body weight when I lose weight in a short time, so that the baggage kilos will have an impact of only 6 – 8 kilograms to my body. I have no idea if it works this way, but nevertheless a reduction of 5 kilograms is easier to get up the hill anyway. I also want to pack my heaviest cooking books in my pack once or twice a week and walk up and down the stairs of Wuppertal (and there are a lot!). This should get my knees ready for the overall 5,645 meters in height .
So much about my preparations of my third long-distance hike. I will publish a post about my packing list before I leave.
Love,
Rina