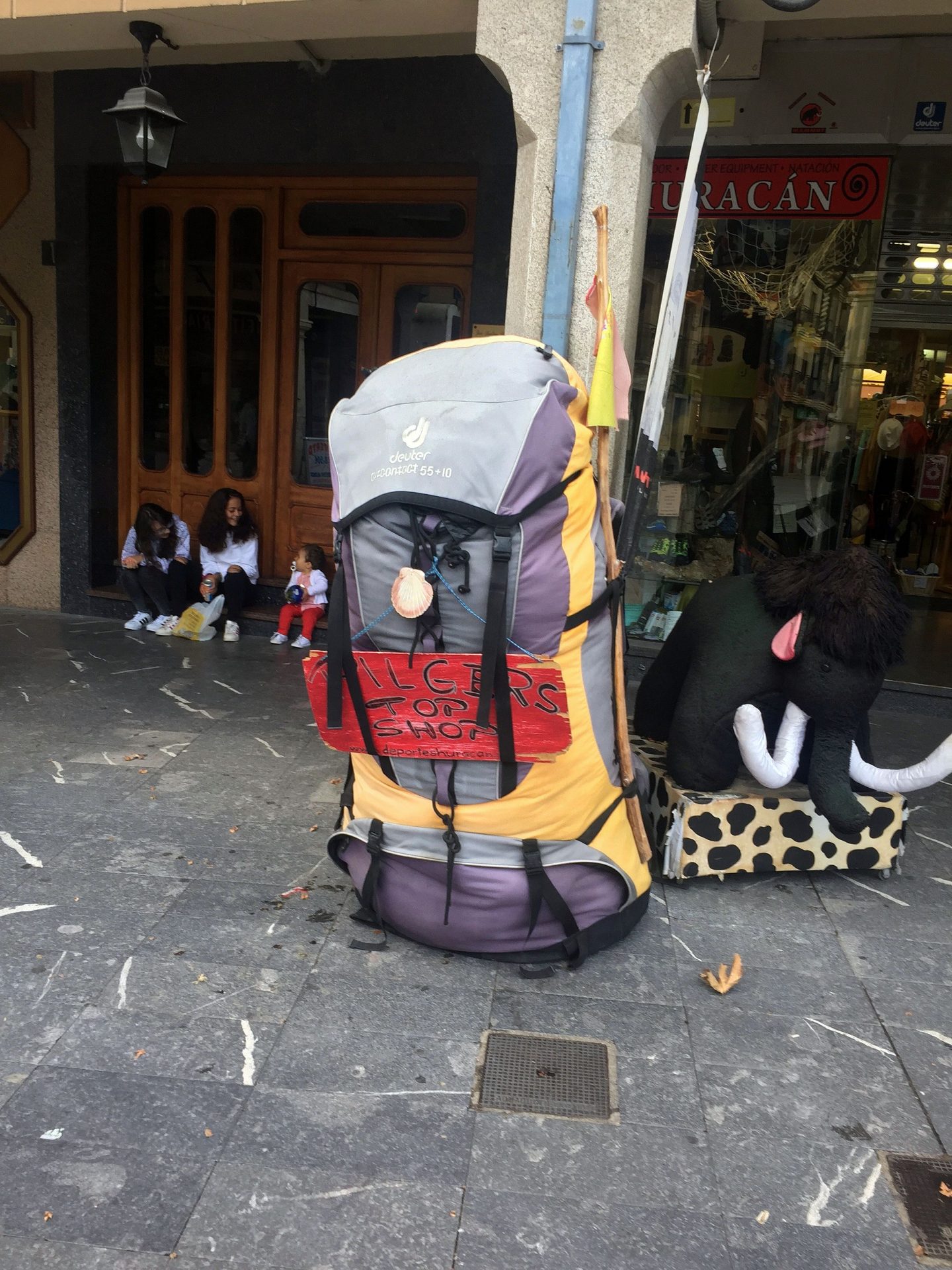 Very early, at 6 we get up and pack our backpacks, have a little breakfast and then take off. The first two hours we walk along a road in the dark. And then one gravel track after another always further (this will be my mantra later) towards the clouds.
After the first part, which is 15 km long, we take a break in a hostel with a restaurant. The landlord doesn't understand a word English or why I want to order something animal-free. So I just take a fresh orange juice, that Julia orders for me. We walked the past 15 km together, sometimes still and sometimes we chat a bit about this and that. After a short breakfast, which is a banana, a few bites of baguette and nuts for me, we continue our hike.
The start after the break is bad, like always. I can barely move and my feet hurt. But after a couple of minutes I get into my flow and walk past the others, who walked past us, while we were having breakfast.
The next couple of hours are horrible for me. I jog on and ask myself, why I had let myself carry along with the others to walk to Astorga today. I say to myself: "You can do it, you can do it" followed by "Always further, always further". Almost two hours I pray those sentences to myself. Sometimes in English, sometimes in German. Sometimes in my mind, but most of the time audible. Nobody can hear me, I am alone while the rain is coming down so heavy, that it floods the streets. The wind is almost blowing me away, which makes the walking uphill even harder. I clench my teeth and try to breath through the pain, that has spread through my whole body. The ground is moist and clayey. I stomp on the ground every 6 steps, to get rid of the lumps around my shoes, that make the shoes almost too heavy to lift. After what seemed like ages, suddenly a village appears. But it isn't Astorga. So I go "always further, always further" until I finally arrive in Astorga, which is another 3.5 km away. The albergue is in the center of the village up a hill and the last couple of meters are challenging. My left shoulder had become a hard piece of wood and it feels like a knife is stuck into it. On the last step on the stairs to the village my knee squeaks and a sharp pain let's me tear up. I am completely wet, exhausted and done with everything as I arrive at the Albergue Servias de Maria at 1 p.m.
As always I have to show my credential and my passport. My credential is all wet and starts to dissolve at the edges. I hand it to the hospitalero and look for my passport. I can't find it. I am starting to panic, as I find it in another pocket of my bum bag. Relieved I sink down a chair and start to relax. Julia arrives a couple of minutes after me. I get a bed in a 4-bed room and as I am making my way to the shower, she gets the bed underneath mine. Then it's siesta time. I actually sleep for a couple of minutes, but most of the time I am just snoozing.
At 5 p.m. I leave my bed and meet all the others, who also chose this albergue for the night. We make plans for dinner and everybody takes some time to do what they like, such as drinking tea, keeping their diaries, drying their laundry in the albergue's tumbler or getting a social media update from the internet. Then we go to the store and have to wait 1 1/2 hours until the kitchen is free to cook. It seems as everybody is using the kitchen today. We are having a vegan meal again: noodles with tomato sauce, mushrooms, tomatoes and olives. We also bought two bottles of red wine that we share. Our dessert is a watermelon, that we bought and share. Today 10 people are having this meal, which means a share of 1.40 EUR for each. It is unbelievable, that I have spent less than 10 EUR a day so far.
Every evening those lovely strangers or almost strangers build me up again. Many of them go the way because of personal reasons. The stories behind them are so different as the people. Some have everyday issues and some have a deep reason, that really moves me. I am not going to tell them here, because I think it is wrong. If you want to hear those stories yourself, I recommend you start your own journey on the camino.
Without those evenings, I don't think I could make it. I met a pilgrim from Brandenburg, who sleeps in a tent at night. This would be too lonely for me. I would miss my conversations.
At 10 p.m. we go to bed, because the alarm goes off at 6 a.m. again. Tomorrow we want to go 26 km to Foncebadón.
Good night!
Love,
Rina