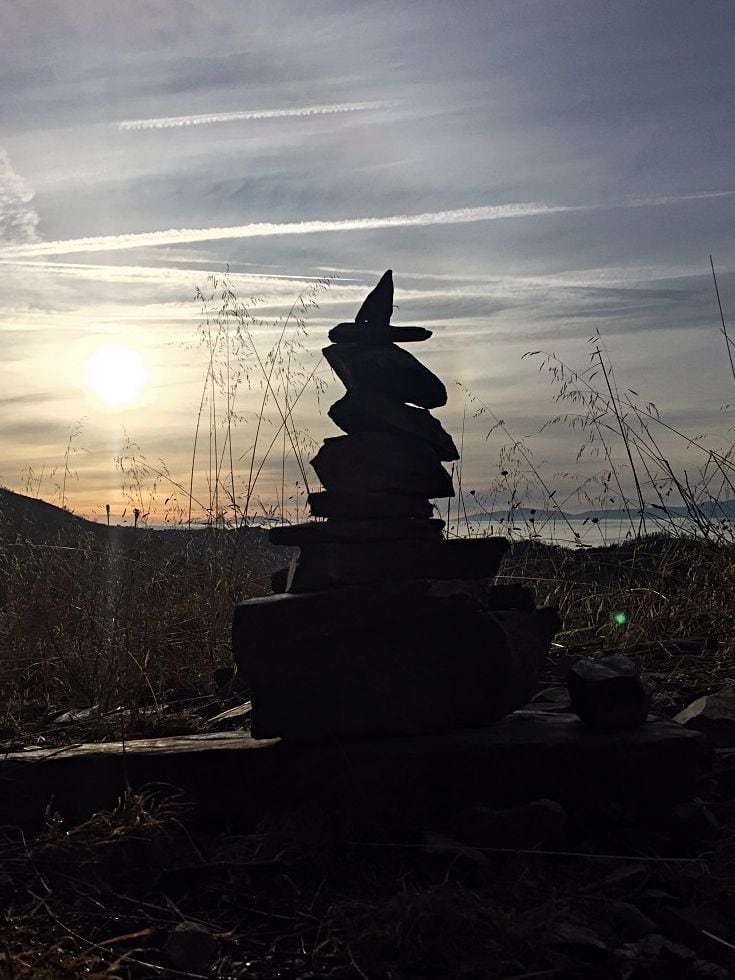 At 7:30 in the morning Sam, Lara, Sandra and I start our day. It will be a hard day. Although the route won't be so long with 26 km (16 mi) it will be very hilly. We want to walk the camino duro, not by the road. So we start our hike and walk 15 minutes in the wrong direction. So back again and then we start again at 8.
The camino duro is very demanding. Some passages are so steep, that you almost can't put one foot in front of the other. But we get rewarded with an amazing view, which we couldn't have seen in the dark. So it was good, we started that late today. We take a long break.
After miles walking up the hill, it's now time to walk down again. And this is almost harder than going up. My feet and knees hurt. Also my calves have to work a lot and my Achilles tendon cries over the weight.
I could finish for today, but I have to go on. We only did 9 km (5.6 mi) so far. The next hours we have to walk by the road and it doesn't seem to end. Now my shoulders thought, they could sing along with the other pains. I want to stop.
At 2 p.m. we are still 8 km (5 mi) away from our goal. And they contain an ascent of 600 meters (0.4 mi). We calculate that we will be in O Cebreiro at 5 p.m. after 9 hours of walking. The next couple of hours I hit my limit several times. I am exhausted and in big pain. But I go further, always further. What choice do I have? Everytime a village appears, I think I made it. But it takes four more villages on the steep, rocky trail until I finally do. I look forward to a shower and a bed.
Lara and Sam, who were a couple of minutes earlier than Sandra and me, greet us with the words "everything is full". There are no free beds left. Also the hostels and hotels are completely booked. Someone tells us to ask in the church, if they could let us sleep there, but the woman can't decide that. We should wait until 6. Then the concert will have ended and we can ask the priest.
The concert ends ad 6:30 p.m., but there is no priest. We ask a man, that seems to have some kind of business in this church, if we could stay the night. He says there is a room with 12 beds, but it's cold and dirty. At this point I don't care about dirt, I need a bed!! The exhaustion of the day, the missing bed, the cold and my hunger are too much and I start to cry. One pilgrim tells me, that this is total normal. Everybody gets to the point, when they cry on the camino. I thought I left that behind me, when I cried in the rain on the second day. But I could go worse, obviously.
The other german guys share the thrill of whether we get a bed or not with us. They offer to smuggle us in the albergue and let us sleep on the floor. It is touching, how everybody wants to help.
At 7 p.m. there is a pilgrim's mass and finally the priest shows up. We take part at the mass and wait to ask him afterwards to sleep in the church or that room, that the guy mentioned. Lara called the next village and the villages before if there are free beds. But no luck, everything is booked.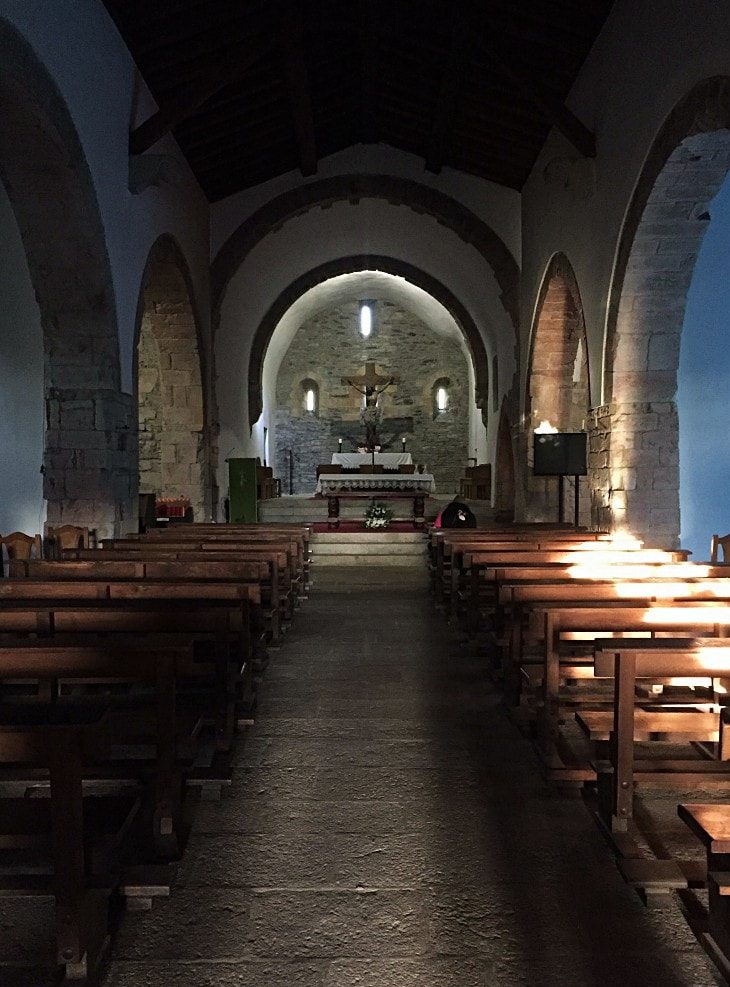 After the mass Vit, a German with Spanish roots, who can speak Spanish fluently, talks to the priest. He says that he cannot let us sleep in the church because of an alarm, that he cannot turn off. The smuggling plans get enlarged, when Vit talks again to the man, that mentioned the room and appeals to his conscience. He negotiates clever, so that we can stay in this room, if we sign a paper, which says that we won't complain or press charges, because it is dirty and cold. At 8:15 p.m. we finally have a bed. I am relieved and we go to get some dinner. I have fries and salad and Sandra and Katy have the pilgrim's menu.
The room is in fact dirty and cold. We don't have a shower and only a small sink. Sam and Lara are more flexible than me and wash their feet in the sink. I just brush my teeth and wash a little, just take my pants off and get in my sleeping bag. I will wash everything tomorrow. All 12 beds are taken, but it is very calm that night, there is nobody who snores. I wake up at 5 because I am cold. I should have put on my ski underpants. My sleeping bad is obviously not that breathable. I sweat and the sleeping bag sticks to my skin, but I am freezing. So I go for a pee, put on my hiking pants and back in the sleeping bag, to warm up a little, before I finally get up.
What happens after I got up, you'll read tomorrow!
Love,
Rina