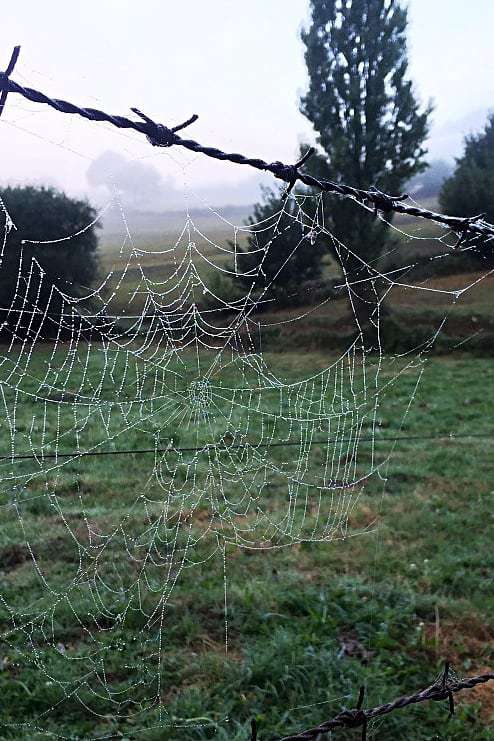 [Advertising: Affiliate Links]
I don't sleep well this night. I wake up often and I don't know how to get rest. At 6 I get up and tape my feet, like every morning. I will get some water at a well on the way. So I start my way at 6:30. Today I will have to walk 24 km (15 mi).
I have troubles getting started today. My right little toe is totally damaged and I almost cannot put down my right foot. After 15 minutes it gets better. It 's the same after the two breaks, that I take today. The first two hours I walk in the dark through a forest and be careful, that I don't fall. The way goes straight up and is very stony. And in fact I find a well in the first kilometers. I fill my bladder with water and continue.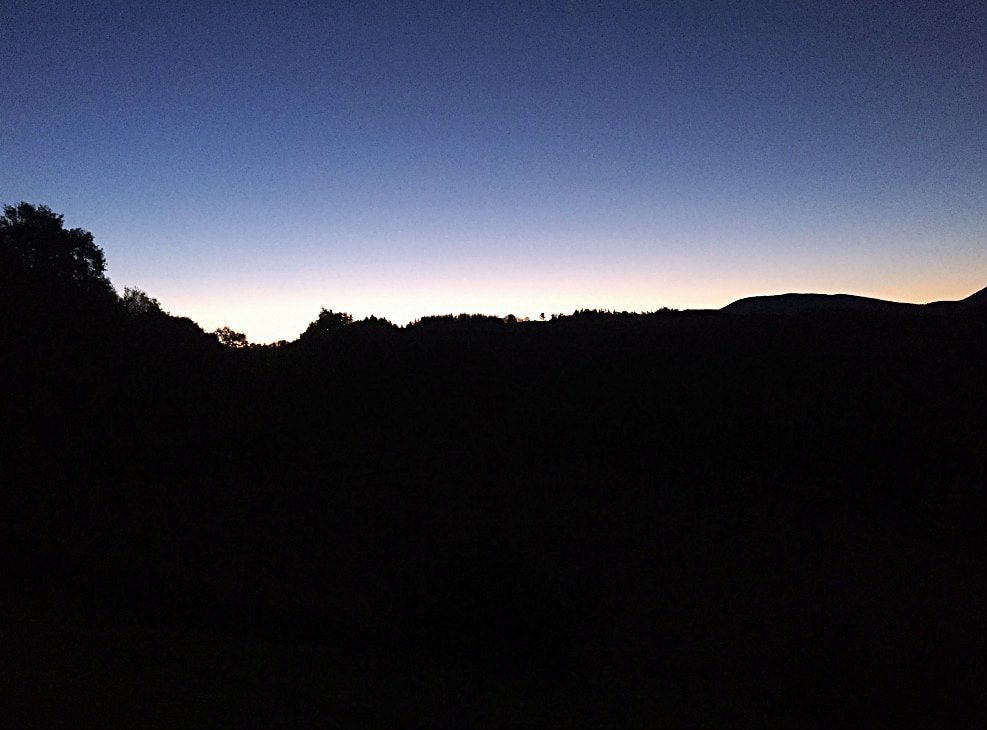 Today I walk all day almost alone and I enjoy it. Several pains alternate (the toe, my Achilles tendon), but there are minutes in which my mood is great and I smile. I think one gets used to the pain at some point. I see so many wonderful things this morning. The sunrise turns the sky into pink, purple and blue pastel colors and the fog, that covers the valleys looks mystical.
I walk into the fog and everything gets wet. My hair collects water drops and the spider webs, too.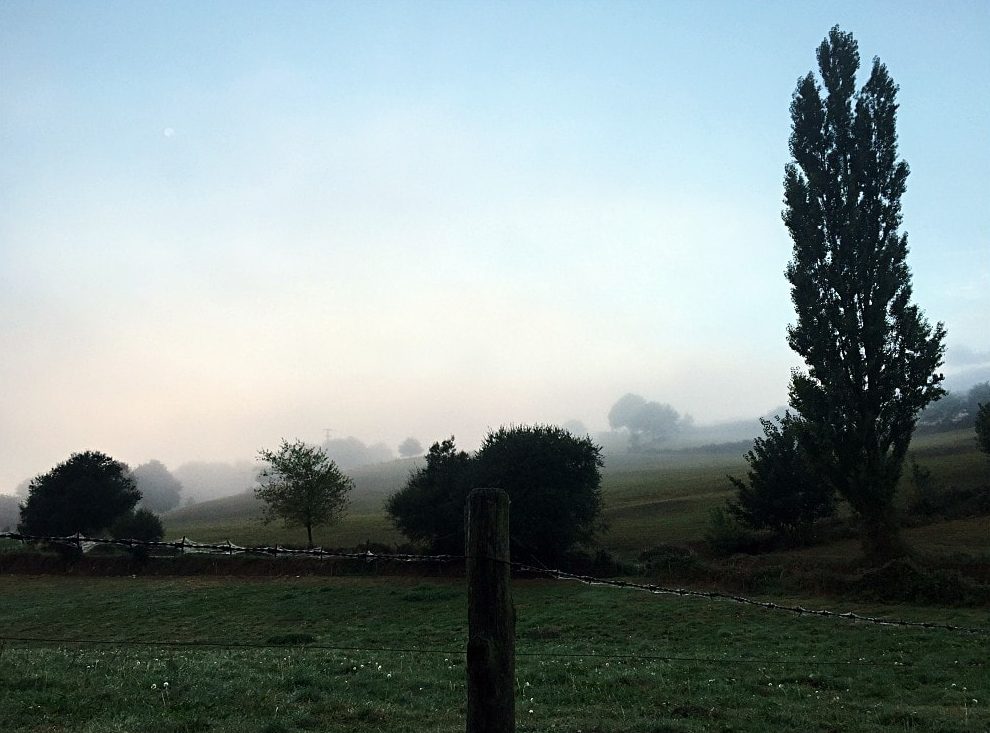 On top of the mountain I take a breakfast break. Since I only got a baguette, a bar of chocolate and some salted peanuts in the only opened supermarket yesterday, I have chocolate baguette for breakfast. I warm up with a rooibos tea.
Sandra and Katy arrive at the little café, just as I am leaving. They tell me about the albergue in Barbadelo, which has a pool. I think this sounds great, although it's hard to imagine going swimming, since it's just 6° C (43° F).
So I continue my walk and meet Lara in Sarria a couple of kilometers later. She walked to Samos yesterday and slept in a monastery, while we stayed in Triacastela. We drink coffee and tea with Alan and hang around in the city for a while. We wait for Sandra and Katy, but they don't show up. But Sam does and we walk together with him to Barbadelo. As we arrive, we read in our guide books, that there is an albergue with kitchen, but no supermarket to buy food. So we try to tell the others, but no one answers their phone.
Lara and Sam decide to stay at the albergue municipal for 6 €. I still have enough from the municipal from yesterday, so I choose the alberge "Casa Barbadelo" with pool for 9 €. It doesn't have a kitchen, but I don't have food either. After taking a shower, I hear people talking German. I walk outside and meet Steffi, Vit, Meike and Tine. They will stay at the next albergue and have a barbecue. They planned ahead and bought food in Sarria. Short after that Sandra and Katy show up. They also bought some food: noodles and tomato paste. But it turns out their albergue has not pots. We think about ordering a pizza, but no one delivers to Barbadelo. I will eat in the restaurant that is next to my albergue and probably will have salad and fries.
I spent the afternoon by the pool in the sun, which came out, just when I sat down there. This is a pilgrims life, too?! My pains fade and I start to relax.
By the pool I get to known a man from Perth, Australia. He travels the Camino by bike with a friend. The next time he would also do it by feet, because you get to know more people. He is right. I meet the same people everyday and we walk together for a while and the part again.
We talk for a while and he tells me that he has relatives in Germany which he sometimes visit. I forget to ask for his name. Since he takes the bike, I won't meet him again.
In the evening I go to the restaurant and am very happy to find something else than fries and salad on the menu for me. I have olives, paella de verduras and a glass of wine. I am alone, but I still enjoy my night very much.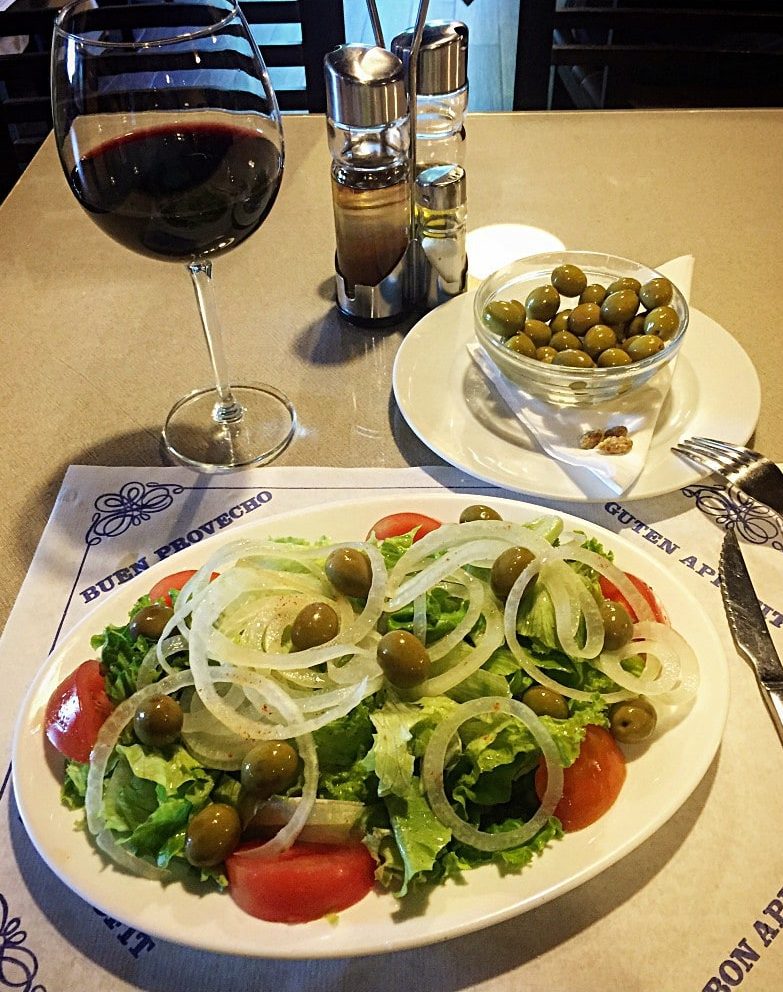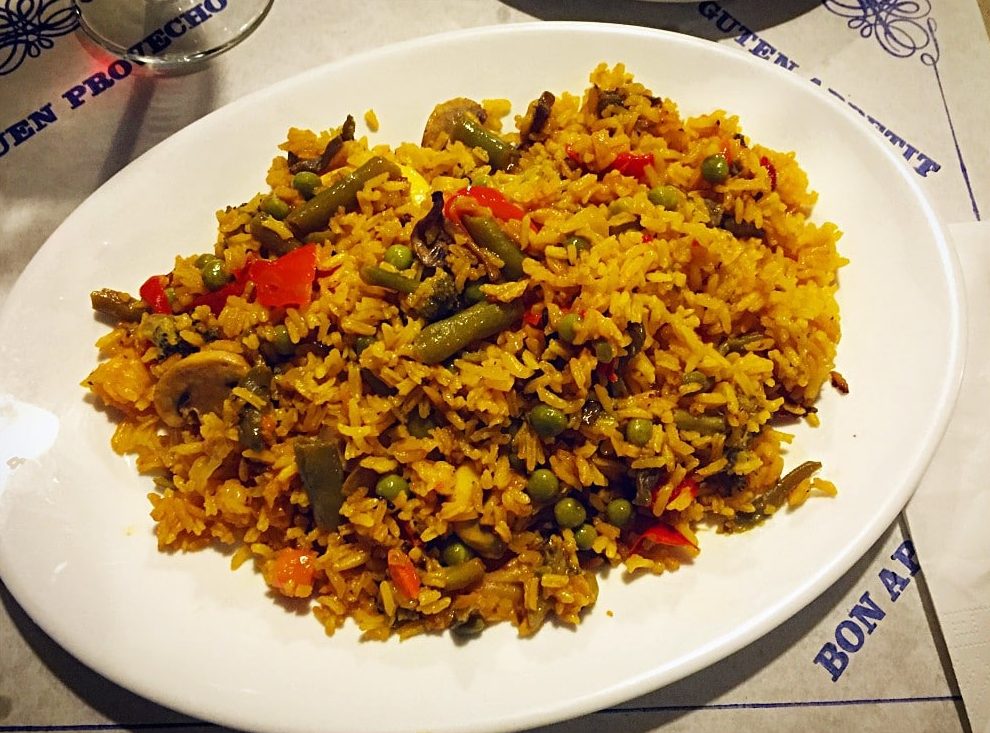 The others asked, if I would come to their restaurant, but I don't wanted to walk an extra 1,6 km (1 mi) their and back again. Before I sleep I read a bit in my guide-book (it was about time!) and plan the tour for tomorrow. Maybe I will have less pain, if I go my speed and not try to keep the pace?!
See you tomorrow at the Camino!
Love,
Rina