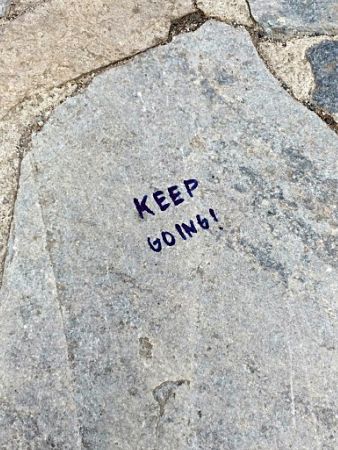 I start early again. At 6:30 a.m. I start my day in the dark. I am curiously more scared today. I think I hear noises and feel, like I am not alone. Maybe it's the darkness. The moon is covered in clouds and thus it's even darker this morning.
I walk for about an hour and enjoy being on my own again, which I missed yesterday. Suddenly six luminous eyes walk towards me. It can't be cats, the movements don't fit. Boars? Dogs? I stop and wait for what happens. The eyes get closer and I hear panting. It seems as if the neighbors' dogs met for a walk in the dark. They walk right past me, but don't pay any attention.
A couple of minutes later another gang of dogs greet each other with wagging tails. Apparently it is dog meeting day.
After two and a half hours I take a breakfast break and then the Camino gets crowded. Very crowded in fact. More and more pilgrims with day packs join the pilgrims to Santiago de Compostela. The way suffers from the amount of people. Not only is it full on the way and my "Buen Camino" isn't heard, but it also gets blemished. The shell tiles get stolen and the milestones scribbled on.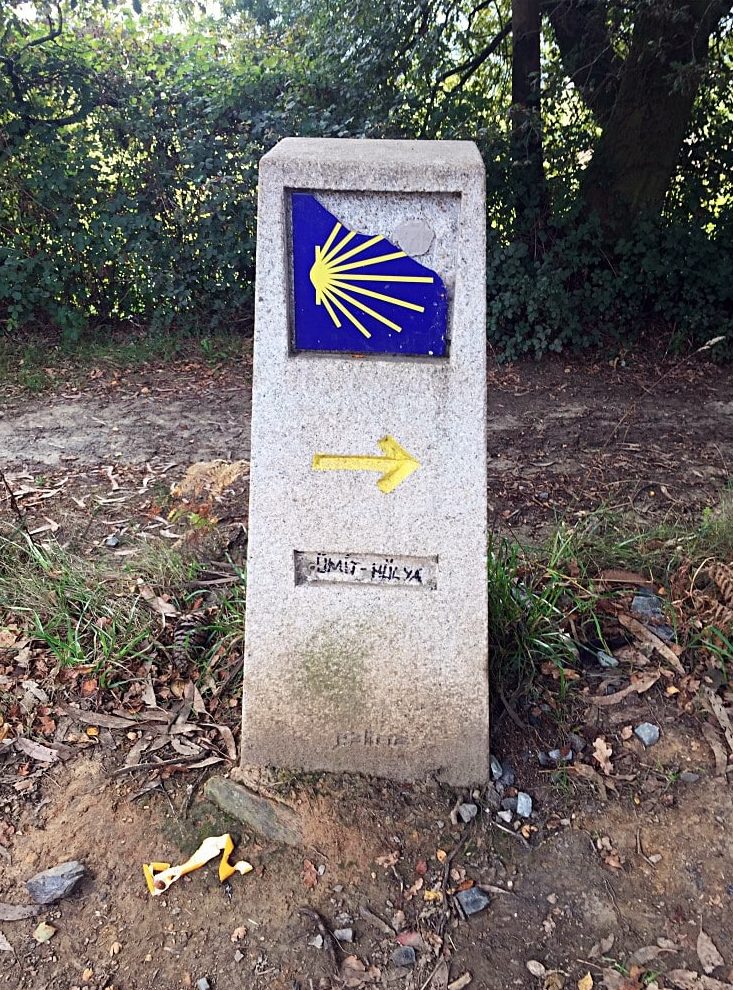 A few pilgrims go to Finisterra, because the Camino gets its original vibe back on these three-day hike after Santiago. I think about doing the same. I have the time…
The last 7 km (4.3 mi) are painful. I don't get new blisters, but my soles hurt because of the weight they have to carry. Today is the longest day. Tomorrow and the day after tomorrow are only around 20 km (14 mi). I am so looking forward to meet the other guys. I miss them and the evenings of cheering up.
Already at 12:15 a.m. I arrive at the albergue and have an orange lemonade in the café next to it. The albergue opens at 1 and I am the second person to get a bed. It's the top one, of course. The friendly, little Italian notices, that I am not thrilled and offers to switch beds. He doesn't mind sleeping in the top bunk. I thank him and accept his offer. I take a shower and start to freeze, because the shower is outside. But the water is luckily warm. When I come back in the room with 30 beds (my biggest sleeping hall so far), Katy has arrived, too and has bed number 4. We have our siesta and the go to the café to keep our diaries.
This evening I have fries and salad for a change, since the albergue has a kitchen but no equipment. Also there is no supermarket. There is only the albergue, the café and a pension. The next town is 2,5 km (1.6 mi) far away. Tomorrow we will have an albergue with kitchen and a supermarket. Katy and I plan to make lentil soup or bean soup, that we are craving.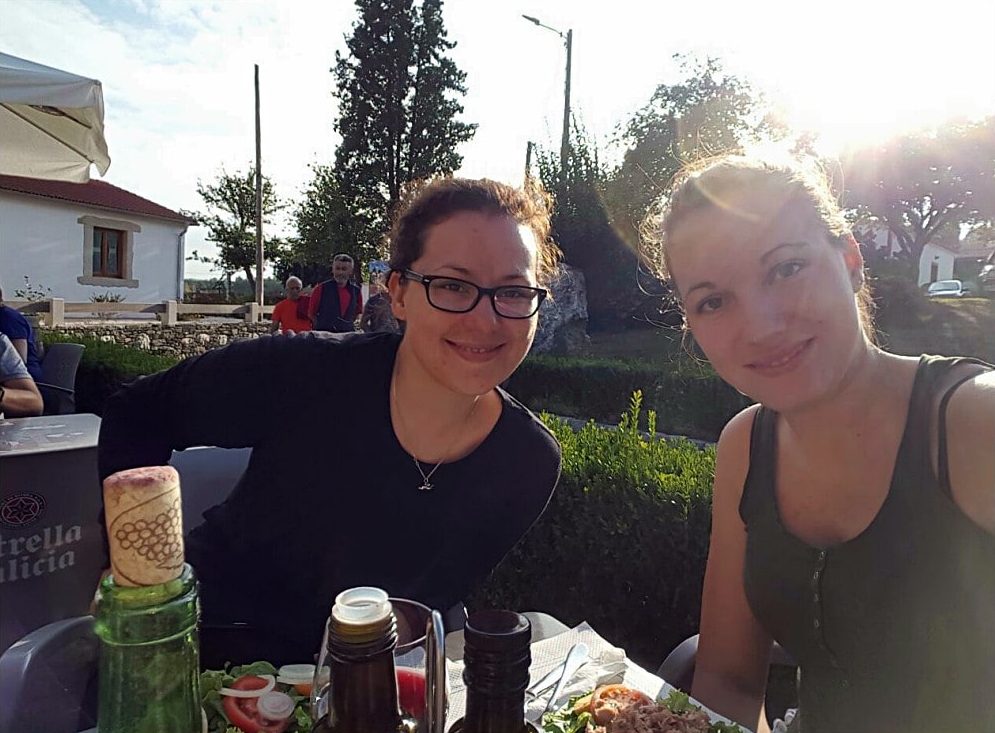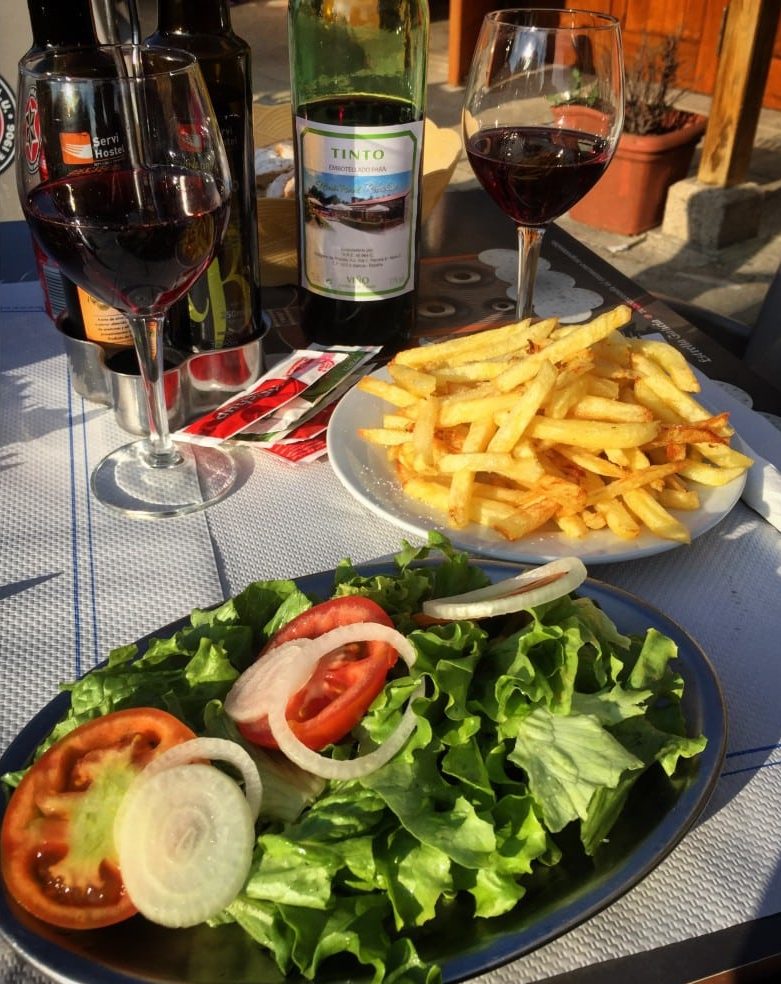 We enjoy the evening sun while we eat and go to bed early. I want to start tomorrow early again.
Only two more nights to Santiago…
Love,
Rina