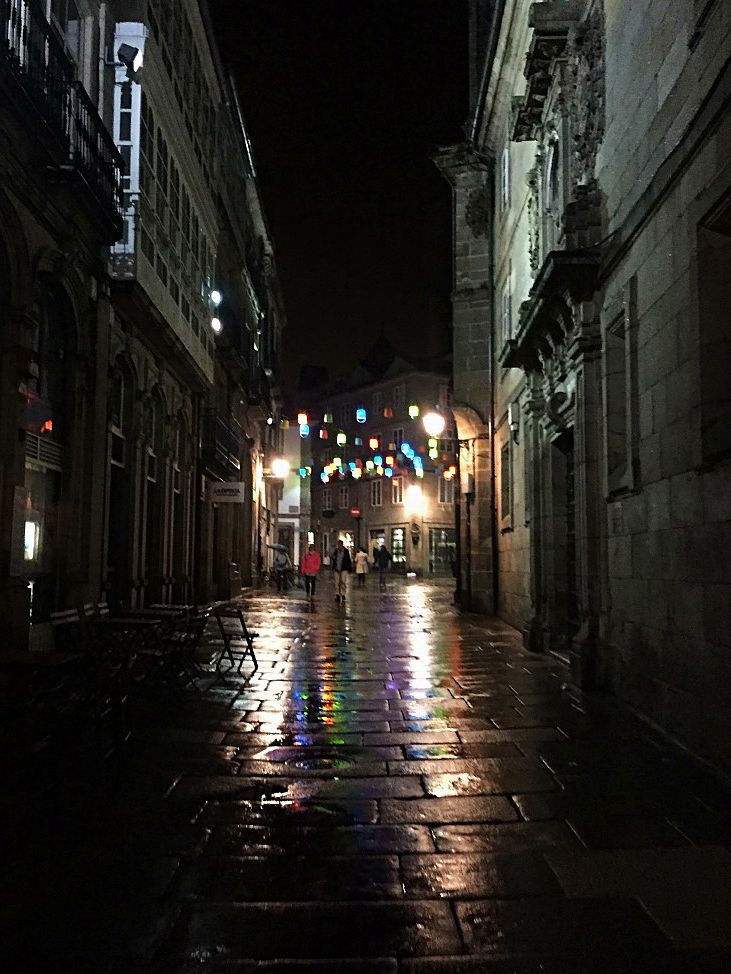 The night is over very early, because the Italians make such noise at 5 a.m., that everybody wakes up. Katy and I get up at 6 and are on the hike again at 6:20, while the Italians still pack their bags…The way rushes past me. I don't pay much attention to anything. Only the scent of the eucalyptus woods is tickling my nose. I am focussed today to my goal: Santiago de Compostela. 20 kilometers (12.4 mi) to go. After 15 km (9.3 mi) we take a break and have bread, cookies and coke.
The last kilometers are exciting. We are quickly in the city, but it takes some time to reach the center. I can't help myself, I am grinning the whole time. It is great feeling to be here. For almost two weeks I am hiking for about 6 hours a day to get here. As we reach the cathedral, Katy and I fall into each others arms. It is a very emotional moment and I am overwhelmed: With the past 13 days, with the big city, with the amount of people here, the noise and my exhaustion.
First we want to get rid of my backpacks and walk to the hostel, but we can't check-in before 12 o'clock. So we go back and find a store that will keep our bags. We can't go into the cathedral with our backpacks. The mass begins at 12 o'clock and we just make it in time. The mass is in Spanish and except for the "Our Father" I don't get a word. But nevertheless the mass is beautiful. I sit down in a flanking aisle of the cathedral. The singing echoes through the entire building and my eyes fill up with tears. But this time I am just touched.
At the end of the mass the Botafumeiro, the incense burner is pivoted through the cathedral. We thought that this spectacle is only done Fridays and are very pleased that we could witness this event. Since 2016 is named a holy year, the grave of apostle Jakob is open to visit. The queue is long for that, but we also visit the grave.
After visiting the cathedral we want to get our Compostela, the certificate of our hike. A few streets away from the cathedral we stand in the Oficina del Peregrino and wait for our turn. My feet hurt and I almost can't bear the pain and the waiting time. After 2 1/2 hours we finally have our Compostela.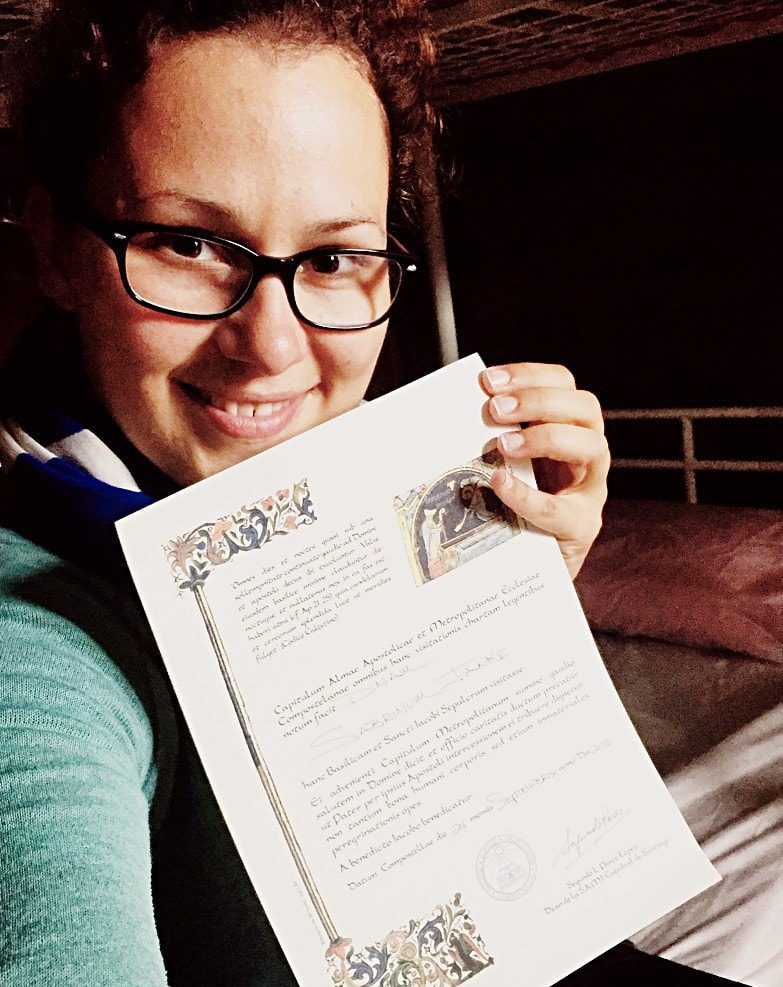 On the way to get our backpacks we meet Sandra, Julia, Lara and Jonas, who arrived yesterday. We make plans to meet later and go to our hostel to take a shower and make our beds.
In the evening we meet again and we shop for some souvenirs and have a beer. We all go to a vegetarian restaurant and have a wonderful evening, which is continued at Momo, a bar in that we drink sangria. How nice, that I don't have to turn on my alarm clock for tomorrow. I will stay one more day here to process the Experiences from today. I will take the bus on Monday to Finisterra to spend a few days at the sea.
Sandra also drove there this night with her boyfriend who came here to see her and spend a week at the beach with her. Kathi and Julia will walk to Finisterra and Lara doesn't know yet. Maybe we will meet again there. I am looking forward to a few days of relaxation and hope that my feet will heal quickly.
See you soon in Finisterra!
Love,
Rina