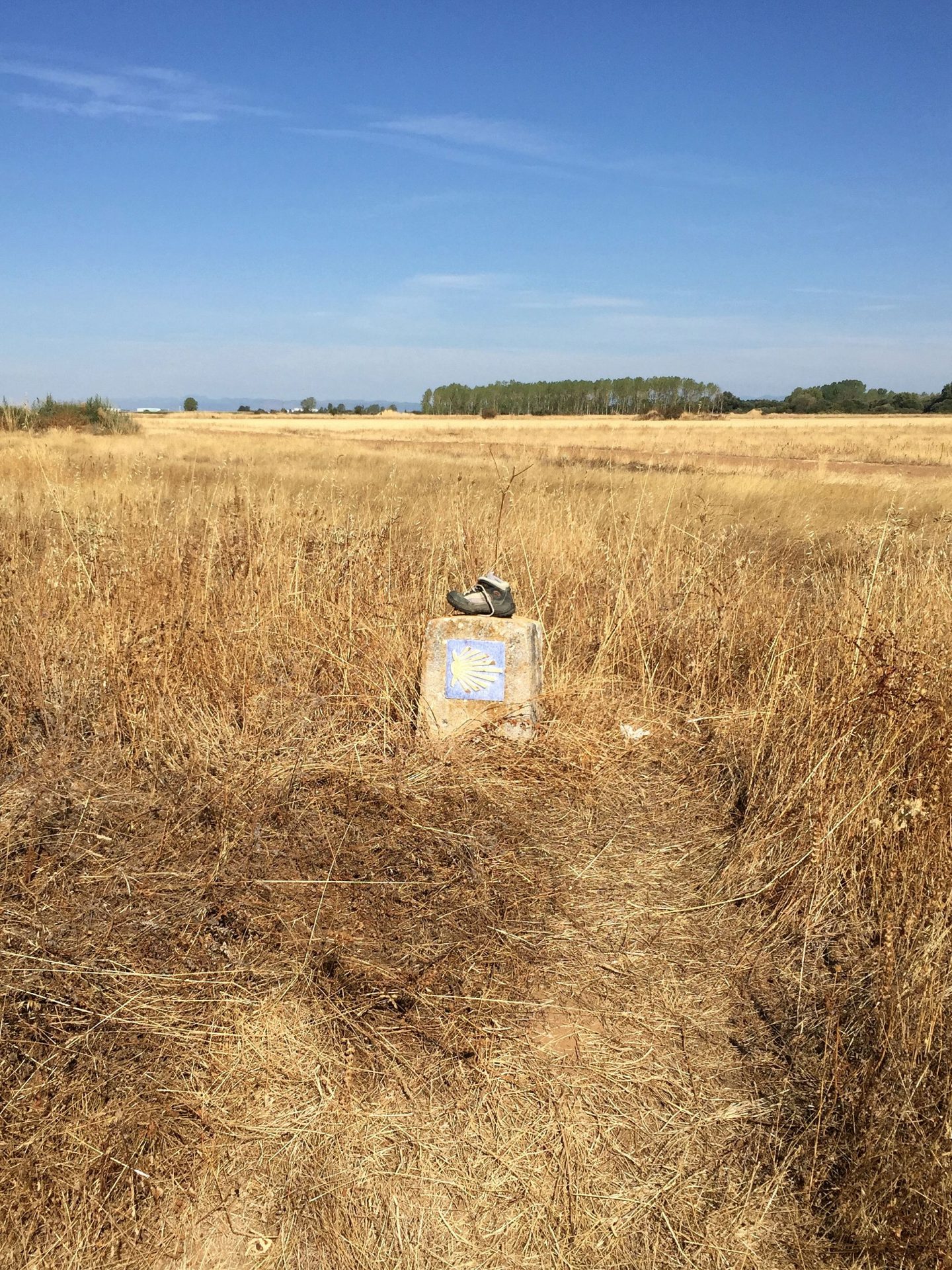 Right on the first day, I am meeting a couple of german girls. They all know each other more or less and started their way in Saint-Jean-Pied-de-Port three weeks ago. I am hiking with Sandra for a while and she tells me, that she is a law student, living and studying in Bochum. She took the semester break to make this journey. Time flies while we talk.
Soon we are only 5 km away from our today's destination Villar de Mazarife and take a break in the shadow of a house. My feet hurt and one blister, that I got yesterday is getting worse. So I put some tape on it. I should use a lot of tape anyway, says Sandra and tells me about her record breaking tape use. She ditched her hiking boots after the first day when she got 10 blisters and hikes in her sandals since then. It works best for her.
I put on my sandals and try that feeling, but I feel better in my boots. I will have to get more tape then. And sunscreen. Because there is a pool in the Albergue de Jesús and I don't want to get a sun burn on the first day. Before we continue our way I get to know Julia from Fürstenwalde. She also takes a small break and then the three of us walk together for the rest of the day.
Many pilgrims, that Sandra met on the way, are vegetarians. That's great news for me and I am hoping, that I won't starve as a vegan on the Camino. She hasn't met a vegan though. Every night they cook together and I will join them, depending on what we are going to cook. Maybe I could have a plate full, before they add cheese or eggs.
It's noon, when we arrive at the Albergue de Jesús and are almost the first ones, just Meike and Tine from Germany checked in before us. The hostel has 50 beds that are mostly in rooms of four. So I am getting to know the "sleeping with others in a room" part of the camino slowly and I won't have to sleep with 30 people in one room on my first night. Sandra tells me, that this is her smallest room so far. Also it is the first hostel with a pool for her. So I feel very spoiled on my first day, that also was a short one with only 22 km. I can't see this as a normal day! It won't always be as pretty and easy. The walls in the hostel are covered with doodles and sayings from pilgrims and I realize that there were a lot of people here before me.
The weather forecast predicts rain for tomorrow. So I am washing my underwear and socks to have them fresh again for changing. Who knows, if it will dry as good as today, when it's raining tomorrow.
After we cooled down in the pool, Sam from Belgium and Lara from Berlin go to the shop and get some baguette and cheese for lunch. After that, everyone is taking a siesta. Only Sandra and I use the time to keep our diaries. She has a small book and I have my laptop.
We want to go to Astorga tomorrow, which means a trip of 32 km. I am not sure, if I can do that on my second day with already sore feet. I also planned at home, that I will stay at the Albergue Verde, a vegetarian hostel with 26 beds, for one night. But it is only 15 km away, so I will decide spontaneously, if I stop there or go further.
In the late afternoon Sandra, Julia, Sam, Lara and I go to the shop and get some fresh veggies, salad and chickpeas. Together with the leftovers in the kitchen of the hostel, Sam turns them into a paella-like rice dish with salad as a side. One's share is only 1,70 € including the wine that only cost 1 € and tastes really good.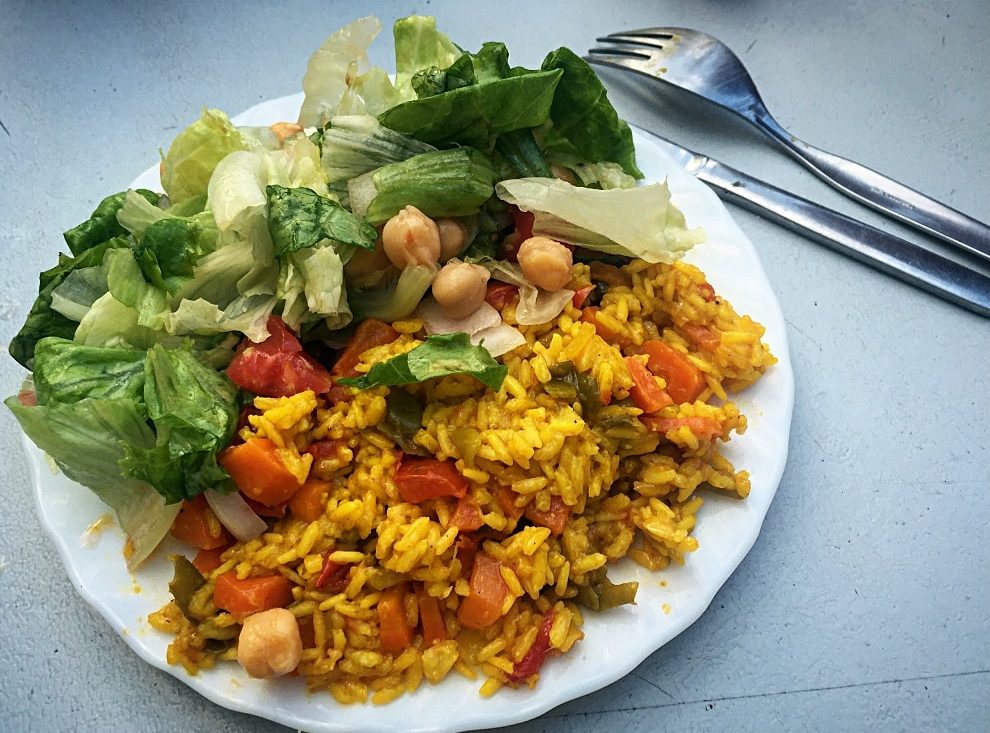 We are sitting outside until it's getting dark. Sam grabs a guitar, that he found in the hostel. Together with Lara, who speaks Spanish and Jonas from Denmark, who brought a ukulele to his camino, he composes a song about the camino. Every new line that rhymes gets celebrated. It actually is a really good song in the end and we record it with our phones. It got dark and we go to bed. Camino days start early.
See you soon at the camino.
Love,
Rina