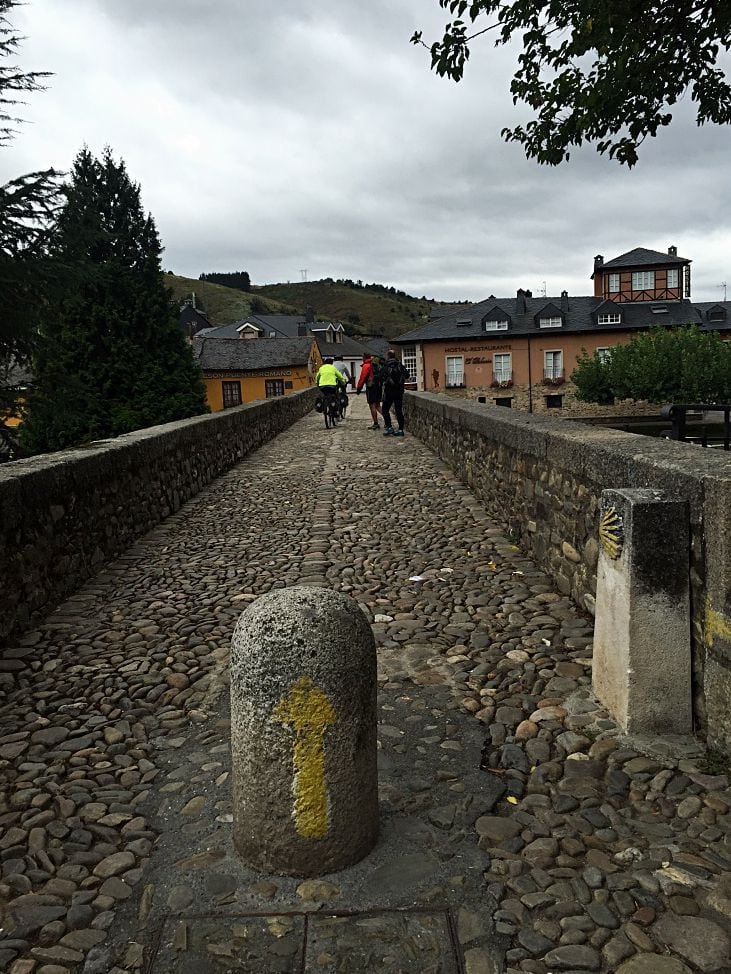 This morning the others have an untypical big breakfast. Sandra finally gets her muesli with yoghurt, that she was dreaming about for days and the others lunge over fresh bread and nutella. We need this strengthening, because it is cold outside. It's only 4° C (39° F), it's drizzling and it's very stormy.
I wear all of my clothes over each other, wrap my scarf half around my neck, half around my head and pull the hood deep in my face. My knee is a little better this morning, but it will be challenging to manage the descent on those wet, rocky trails. The first two kilometers to the Cruz de Ferro past in a rush. But I am a little confused, I walked further uphill. What I expect there, you really cannot call a beautiful view. I see nothing because of the cloudy, foggy weather. I walk up to the cross and lay down my rock, that I brought from home. With that I lay down my anxiety and my pain (at least I hope so).
Then it goes up and down for a really long time. I pass a hut, that is made from planks and some foil. It is keeping off the wind a bit, but it's still cold in there. On the outside several planks are signposts to different destinations far away. One even in Germany. My legs are frozen and my pants soaking wet, so I go in. The guy who lives in this hut sells coffee and necklaces with hand carved crosses. I ask him, if I might use the toilet. I don't understand his answer, because he speaks only Spanish. Then he seems to remember the word "forest". Mhh. I just want to put on my ski underpants, so my legs won't hurt as much from the cold. So I tell him, that I will change here, if it would be ok. I don't think, he understands what I am saying, but he nods. So I take off my pants and suddenly he understands what I am doing and goes outside. While I am putting my ski underpants on, he takes a peek inside and says. "Ah, más protección, more protection!" I nod and say: "Si. Because it's so cold today." He asks, if I would like a cup of coffee, but I decline with thanks. I put on my backpack, give the man a Euro and say goodbye. "Buen Camino!" he shouts in my direction as I disappear in the windy rain.
At some point I must have missed a junction, because I walk with a road, that seems to never end. I saw a mile stone a long while ago. It had 35 written on it. And now, maybe an hour later, I see number 36? That can't be! I turn around and suddenly see the others walking a couple of meters next to me on the Camino. I crawl up the embankment and find myself back on the stony Camino. We made it to the top now and the view is amazing. Unfortunately my phone is also freezing and withholds its support. So I can't take a picture, because I can't turn it on, despite the half full battery. So I can only take a picture in my mind of the foggy mountains on the left side and the sunshine behind them. We won't reach the sunny place today, it's to far away. But the weather forecast predicts higher temperatures in the next village.
But until we get there, we have to climb down the mountain. My knee is already aching and I regret, that I wrapped it in a bandage. It shifted and cuts into my leg. The others are already gone again. I am simply not that fast today. Sandra overtakes me and we go a couple of minutes together, but even Sandra is faster than me, today. I try to walk faster, but it puts the tears in my eyes. I let it be and cry a little as I walk slowly down the hill.
As I arrive down in the village Sandra gives me a big smile and says: "You made it!" Also in the café in that we all meet, Katy hugs me and congratulates me on my success. We already walked 12 km (7.5 mi). I thought it was much less and so I am relieved, that almost half of the stage is behind me.
As I want to buy a cup of tea, I drop my bottle of Sedaselect, that I bought to manage my anxiety. I took it before the flight and the first three mornings, because I was nervous. Sandra says, that happened, because I don't need it anymore. And she is right, I hadn't taken it this morning. But I am curious, if I will miss it on my flight back home.
After the break Sandra and I walk the rest of the stage together. We talk so much, that the time flies by. We take a break after a couple of kilometers and eat something. We meet a group of German seniors, who travel the Camino by bus. They stop the bus at interesting places, take a look and pictures and then drive to the next interesting place.
As always the last couple kilometers are the worst and I feel the Achilles tendon in my left leg swelling. Another half an hour later we arrive at 4 p.m. at the albergue. We have never been this late. A look at my step counter tells me, that I walked a longer way, going next to the road. The others walked 27 km (16.7 mi) and I did 29 km (18 mi) today.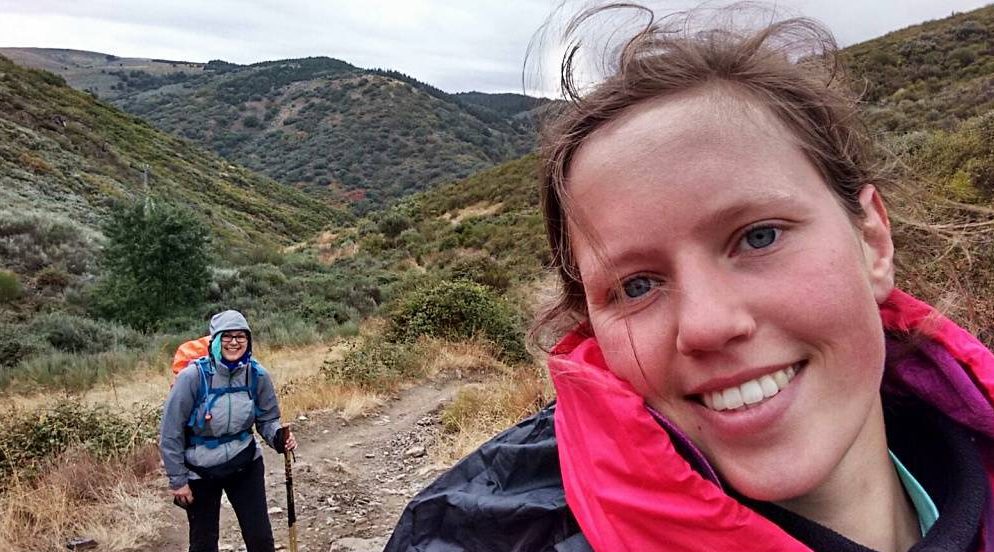 In the evening the mosquito bite (or spider bite, I don't know) that I got two days ago swells tremendously. So I go to the pharmacy and show the apothecary my red, hot, swollen arm. She offers me Fenistil, that I used for two days now, but it gets worse. I try to tell her that, but she doesn't understand me. Luckily another pilgrim is behind me, who speaks English and Spanish. She translates and thus I get a 5% cortisone cream.
The rest of the evening we share a wash in the machine for our clothes and as a special treat also a spin in the dryer. We have couscous with vegetables and soy cream for dinner. Sam asked the hospitalero, if there is any pepper around and got some cayenne. As we try the dish, we are keen. Sam says: "I used some Cayenne to surprise you girls". You just have to love him…
Tomorrow won't be as hard as today. It's 25 km (15.5 mi) but not as much difference in altitude.
Good night, see you tomorrow!
Love,
Rina