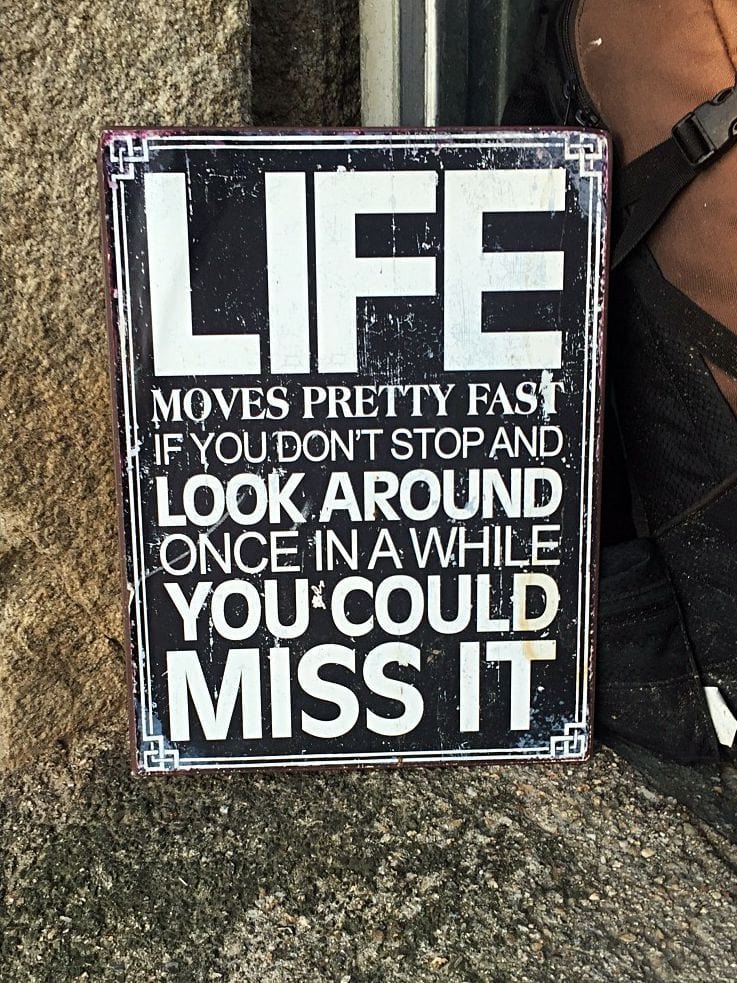 By now I got used to get up at 6 a.m. and pack my backpack in the dark. At 6:30 sharp I am on the trail again. I am planning to go to Marcadoiro today, which is about 20 km (12.4 mi) away. The others want to go a bit further to Portomarín or even further than that. But I am sticking to that short day. Portomarín is very touristic and I doubt I would get a bed in the afternoon there.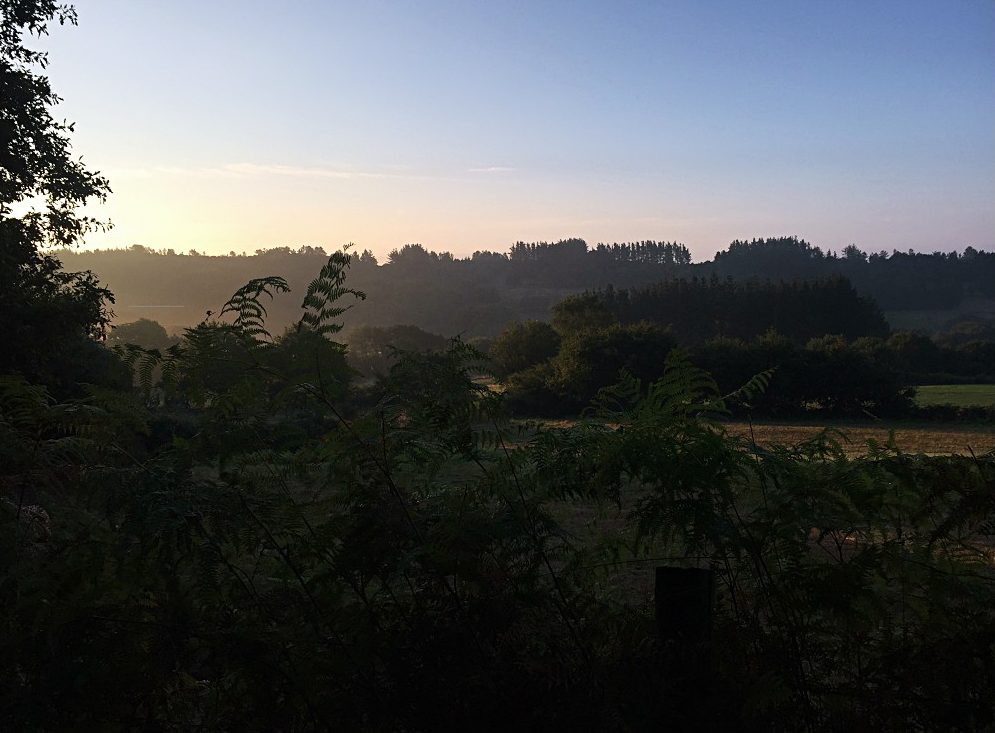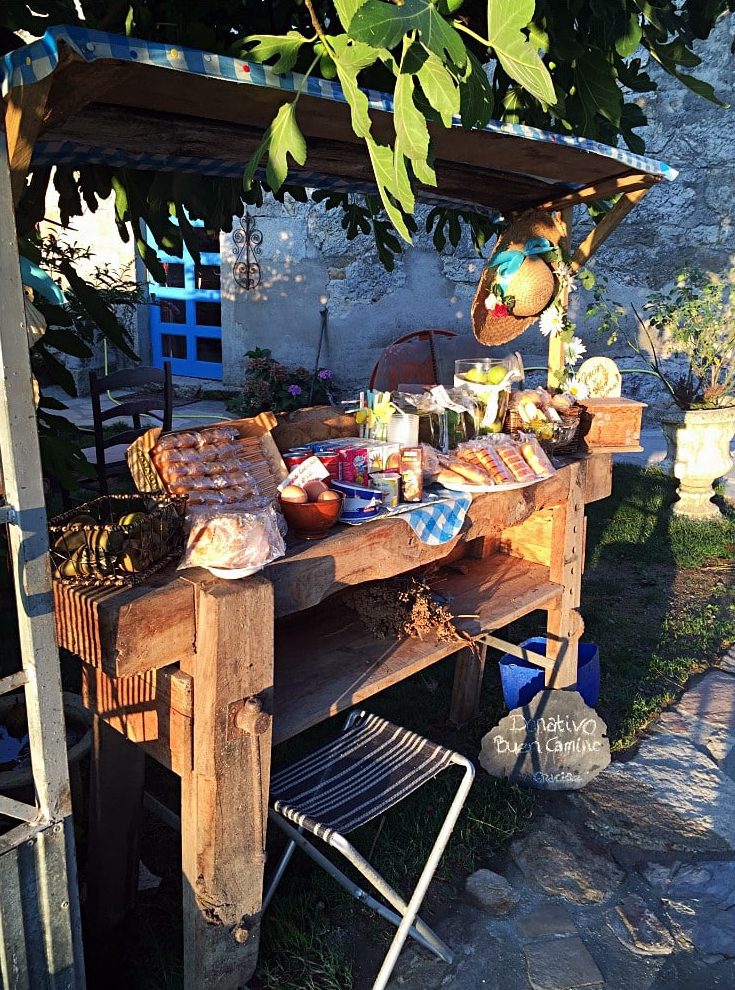 I want to take the first break, when I find a supermarket to get some baguette and avocado. I am craving avocado on bread. I pass a booth with refreshments for pilgrims based on donations. I love this idea and have seen it several times on the camino.
The next supermarket won't turn up. That's why I walk for straight four hours. I stop only one time after 3 hours to change my socks. I didn't tape my feet this morning and feel that my feet are rubbing too strong when the socks are wet. On my way I pass the 100 km milestone and am so happy.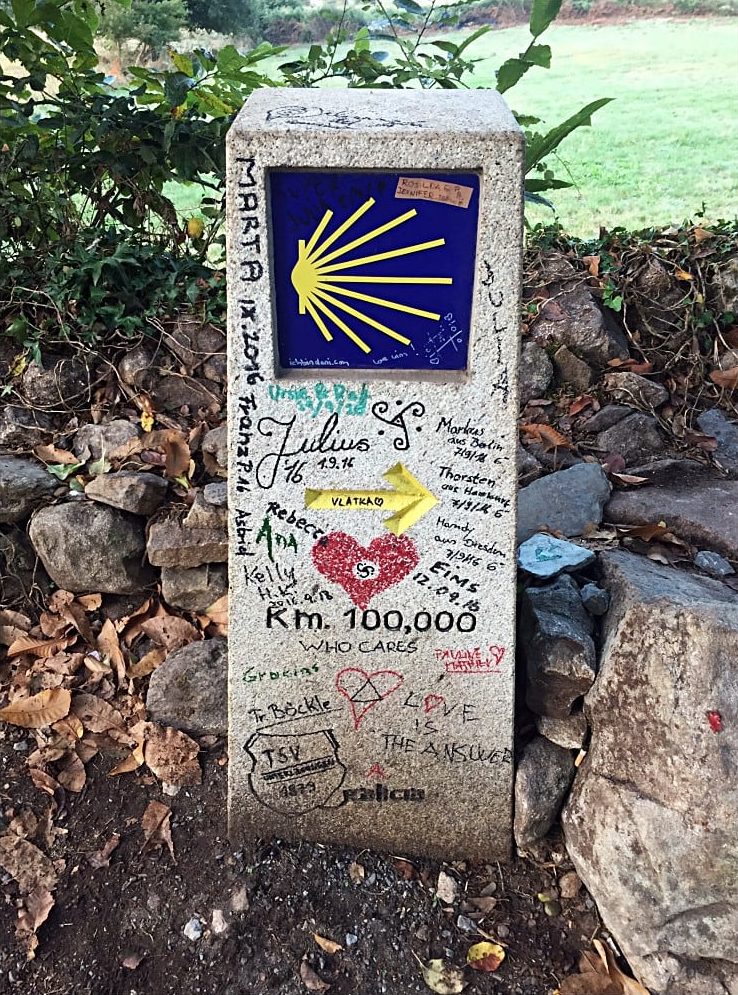 After four hours, so about 20 km (12.4 mi) I suddenly stand in front of a large bridge and realize, that I am in Portomarín. It seems as if a took a shortcut somewhere. It is only 10:30 in the morning, so I sit on a wall, have some bread and cookies, enjoy a coke and the view.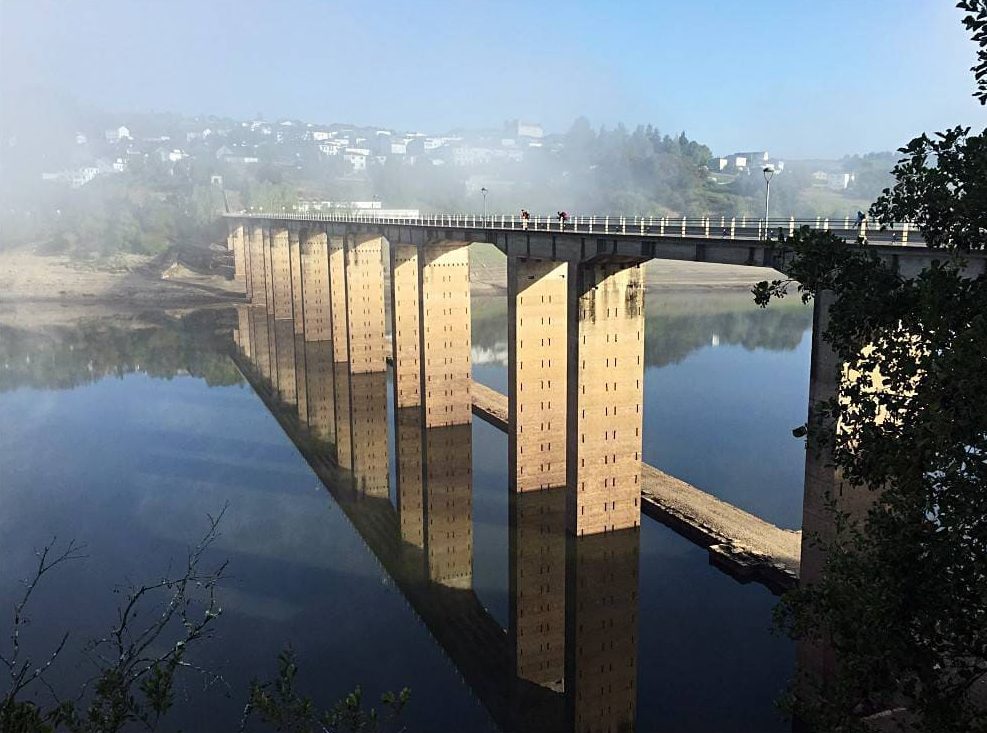 It is eight more kilometers (5 mi) to the next town. There is an albergue but no wi-fi. So I decide to stay in Portomarín, despite the early hour. As a matter of fact I am one town further, than I planned. And my Achilles tendon will thank me for that.
I browse my guide-book for an albergue and decide to stay at Albergue Porto Santiago, which sounds best. I am lucky: A lot of people reserved a bed and I get the last one for 10 EUR. I also get to use a real washing machine with detergent not shampoo for 3 EUR, not a speedy one, that doesn't provide too good results. After one hour I hang up all my clothes and wander around in my ski-underpants.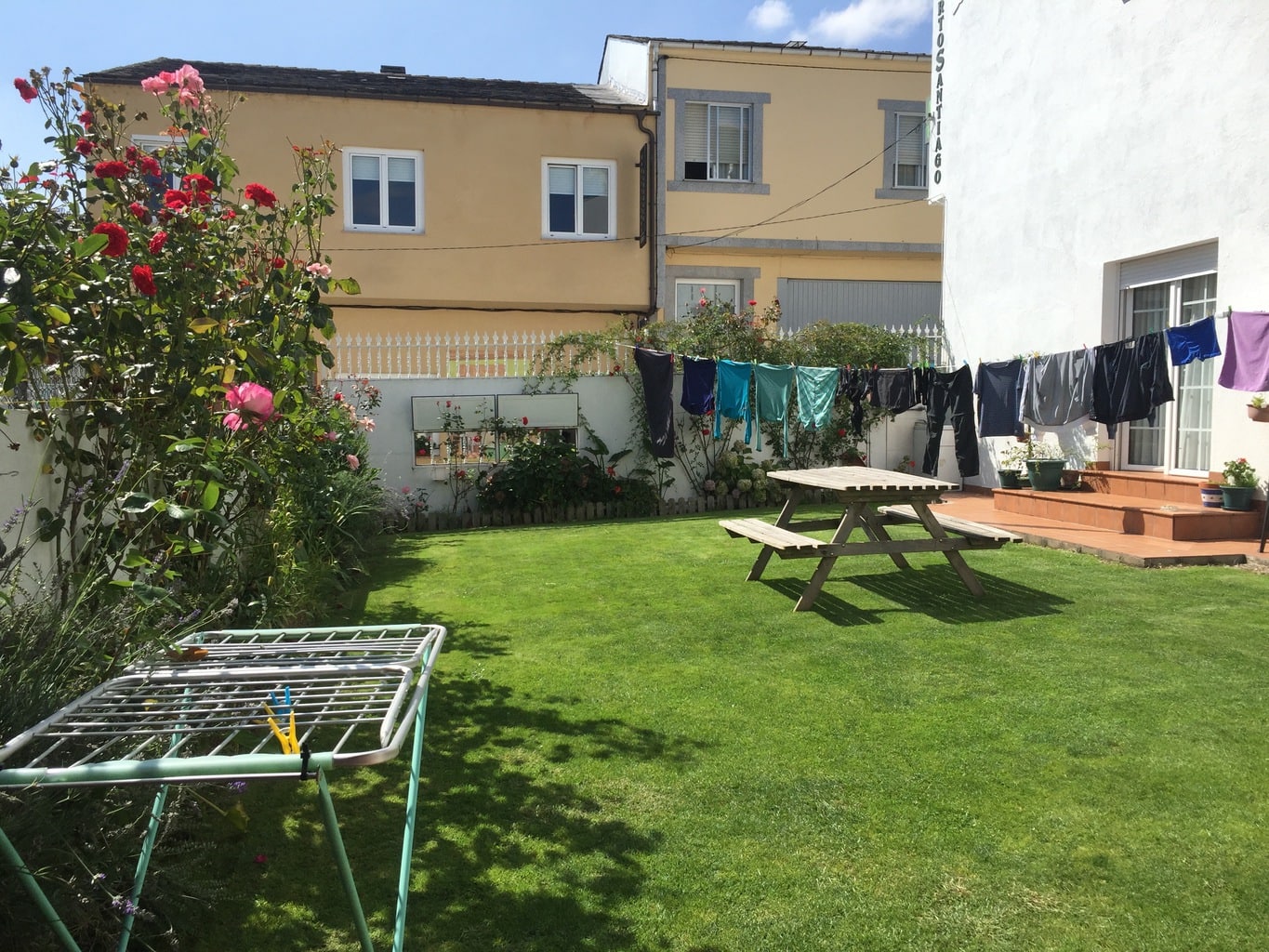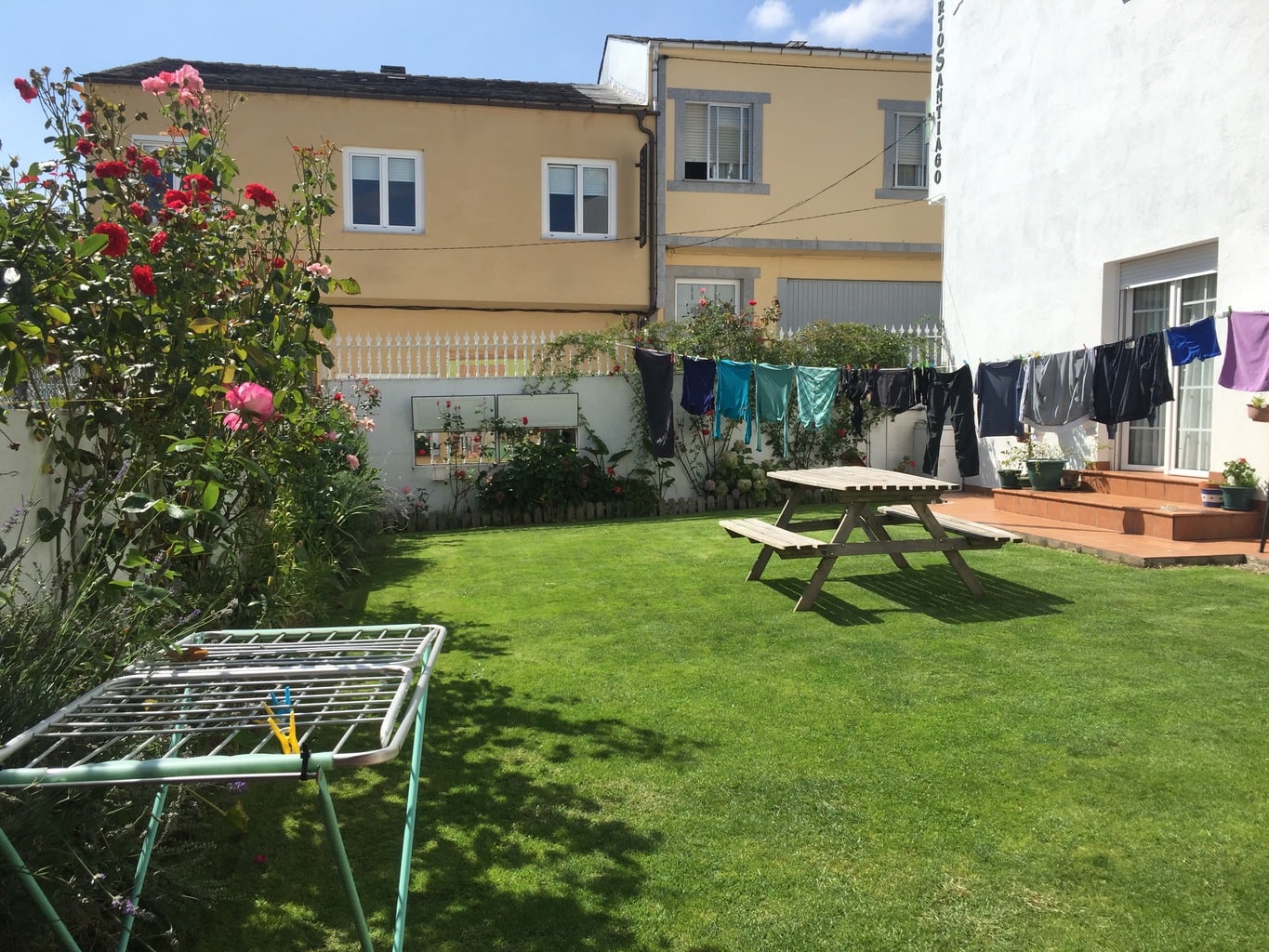 The albergue has a kitchen with oven. So I think about making a noodle casserole with vegetables later. Yum! And I will take left-overs with me on my way to Palas de Rei. It is 24 km (14.9 mi) far away. I have asked the host of today's albergue to reserve a bed in an albergue in Palas de Rei. So I can walk slower and don't have to start that early. The pictures looked good. The albergue has a kitchen and wi-fi – all I need.
The rest of the day I sit in the garden and keep up with my blogging. In the evening I send a text to Katy, if she would like to meet. I put on my freshly washed leisure clothes and go to the city center to buy some food for dinner and meet her there.
We cook noodles with chickpeas in tomato sauce and almost eat up the whole pot. Also a bottle of wine gets killed. It is such a nice evening and I am so happy with my choice of albergue. It is so nice and calm here, that I can relax.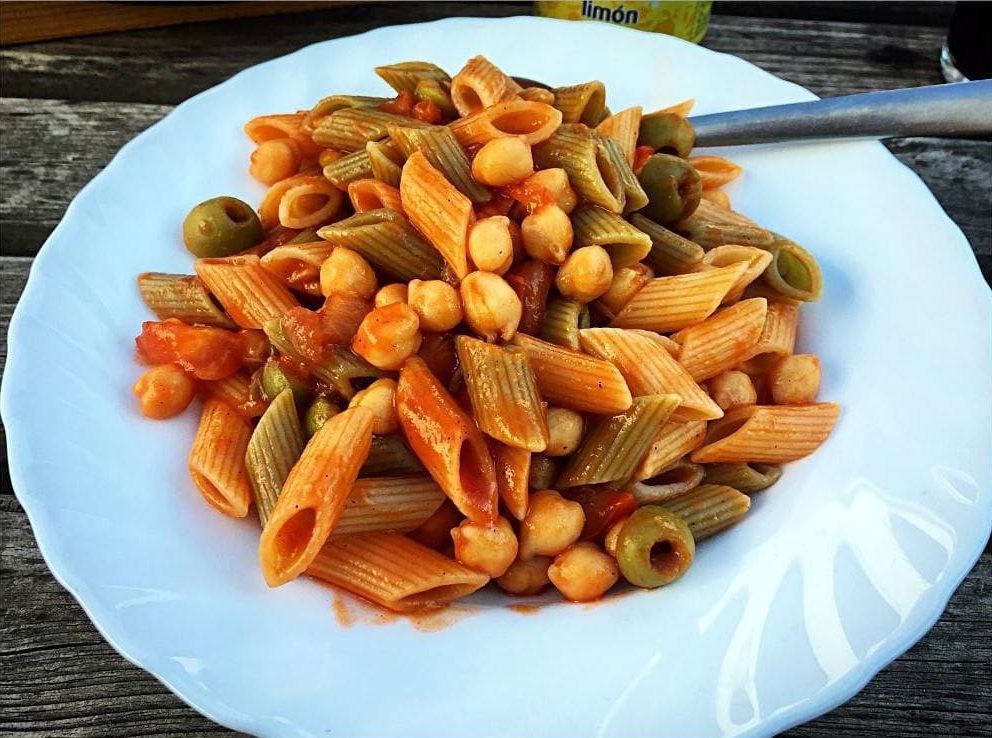 Around 8 p.m. Katy says goodbye and we plan to meet the next morning at 7 at the church San Andreas to walk the 24 km (14.9 mi) to Palas de Rei together. Katy wants to take it slower from now on, because she has a thick shin, I welcome her plan. Our new day arriving in Santiago de Compostela is now Saturday. Because if we wanted to make it on Friday, we would have to walk 30 km (18.6 mi) each day. This is my holiday, I am also here to rest! So it will be less than 30 km (18.6 mi) each day. (I hear my feet rejoice).
I will now crest my bed. Yes, I got the upper one again. Obviously I look young and agile to the Spaniards…
See you tomorrow on the Camino!
Love,
Rina