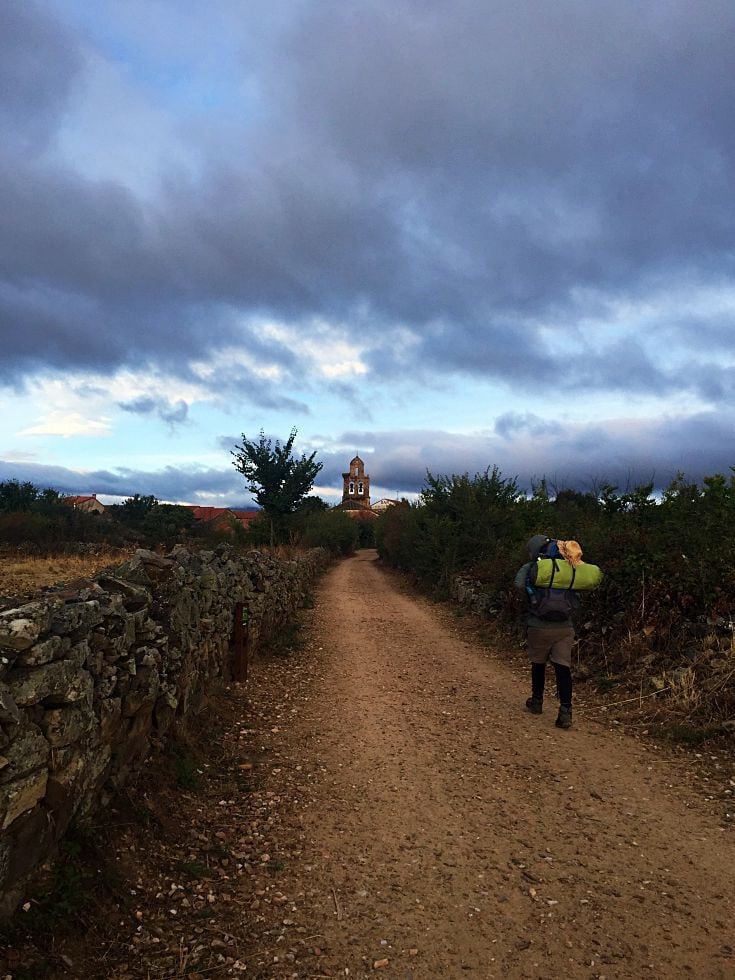 As I wake up this morning I can feel it in my knee: I walked too far yesterday. I have a couple of new blisters and my muscles are sore. But I have no choice. I have to go on. So Julia, Lara and I start our journey at 7. Today we walk along an illuminated street, so we don't need our head lamps.
The first kilometers fly by and then my knee starts to ache again. I try to ignore it, but then I feel a big blister in the fold underneath my big toe coming up. Two villages pass by and in the third, after walking for 12 km, we take a break. We sit in an unheated barn, which doesn't really bring relaxation. I am freezing. It is cloudy and drizzly weather around 7 ° C (44° F), that I haven't expected in Spain in September. Julia orders a hot chocolate and I order a water to finally take a magnesium carbon tablet. The water is cooled… Because of the cold, we only take a short break and I try to move again. Some might think I ring the bells at Notre Dame, as I start to limp. I like to compare myself to a lawnmower, that you have to pull several times until the motor starts.
The wind is getting stronger and that makes me feel, like it's getting colder and colder. The scenery has shifted. There are no more yellow fields, but heath and little green plants. Also it's getting hilly and the small pine woods exude a beguiling fragrance, that keeps me moving forward. I took a pain-killer in the break, to make it a little easier for me to walk. It seems to work. In the next village, after another 6 km, we have a tea break. The tavern is well-heated and the host is in a good mood. The soundtrack of dirty dancing is playing from a cassette player from the last century. We move a little to the music, when suddenly Lara and Sam appear. We start to walk together on the rocky trail up the hill.
The wind is pushing us aside and it's getting difficult to lean against it. We go really fast, to arrive at Foncebadón, before it starts to rain. And we make it. Just a bit of drizzle wet us a little. We want to spend the night in the donativo, an albergue based on donations. But it's not open until in 1 1/2 hours. I don't want to wait in this cold. So I decide to stay in the private albergue. I open the door and the first thing I see is a burning fireplace. I am home, no matter the costs. And actually, compared to the other nights before, it is quite pricey. I sleep in a room with 16 beds. The night costs 8 EUR including a breakfast. That I won't have breakfast doesn't matter. There is no kitchen in the albergue, but for dinner there will be rice and vegetables with other dainties. That's another 9 EUR. So I pay the man and go to the room to pick a bed. Of course the beds on the bottom are already taken. So I throw my things on an upper bed and have a nice, hot shower.
In the "living room" I meet Meike, Tine and Steffi. They also walked here from Astorga and heat up around the fireplace. There is guitar music playing, which makes it even more comfy.
My knee, however is killing me. I bought a tube of Voltaren and massage my knee with it. Tomorrow I will have to go down the hill and it will be very steep at some points. I am not sure, if I can walk as far, as the others… We will see.
The rest of the evening, we sit and talk. I am having bread, hummus, rice and veggies for dinner, the others have cheese and chorizo along with that. As a dessert the host makes me a hot soy chocolate. I am in heaven!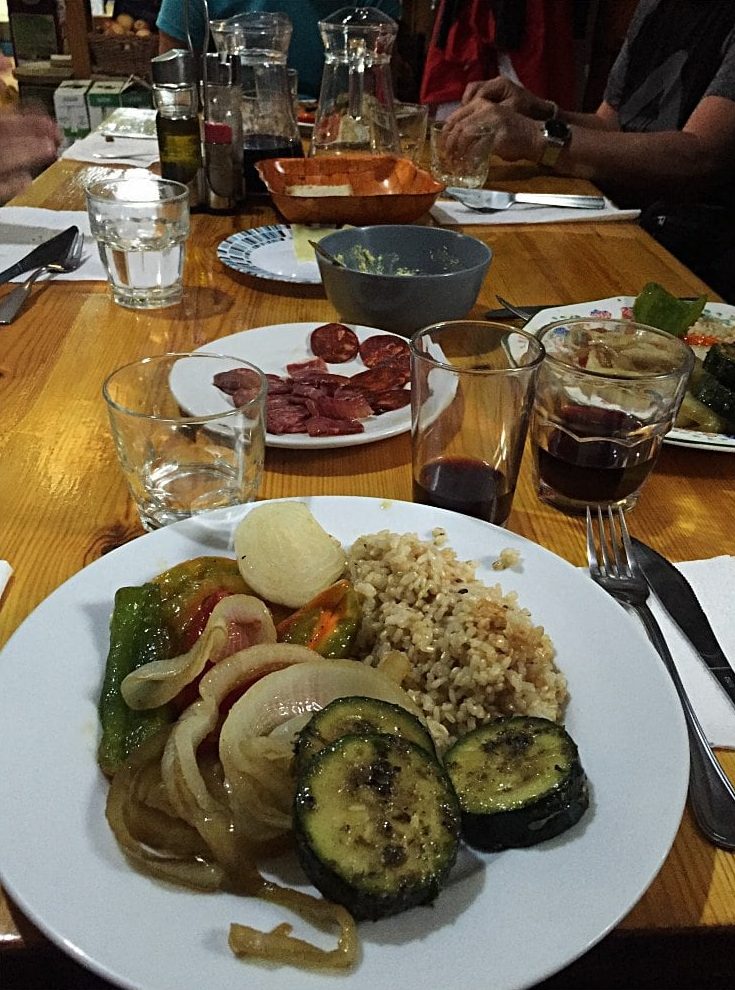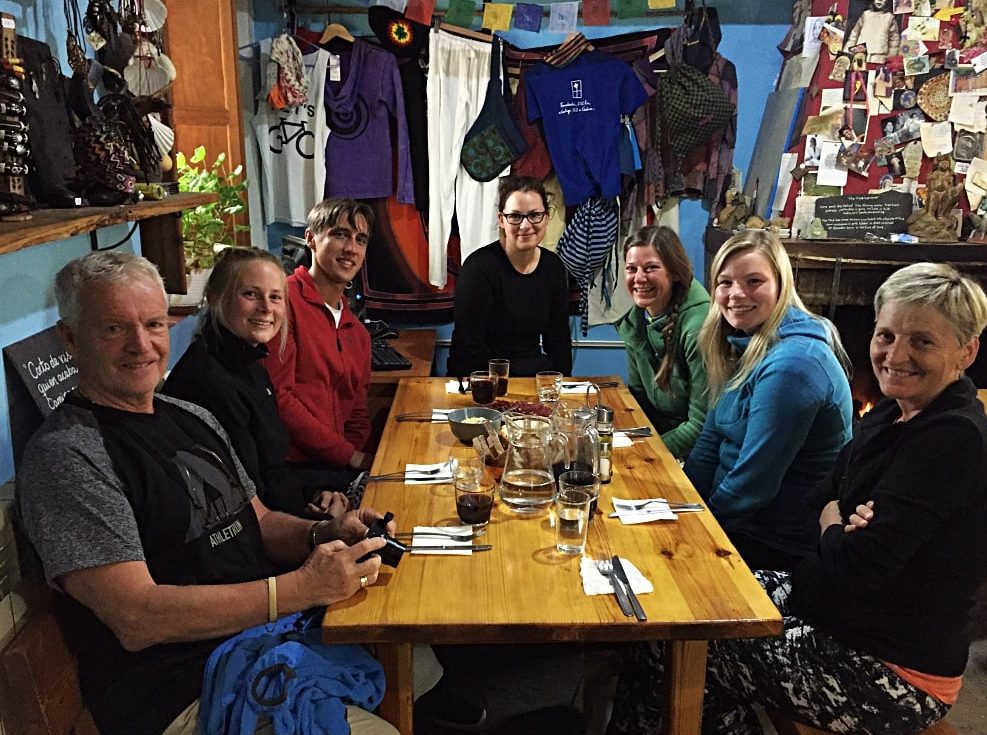 The night is calm, thanks to my earplugs, but I wake up several times, because of my aching blisters. I am tense about tomorrow: 1000 meters descent and 26 km to walk. But "I'll think of it tomorrow, at Tara…"
See you soon on the camino!
Love,
Rina