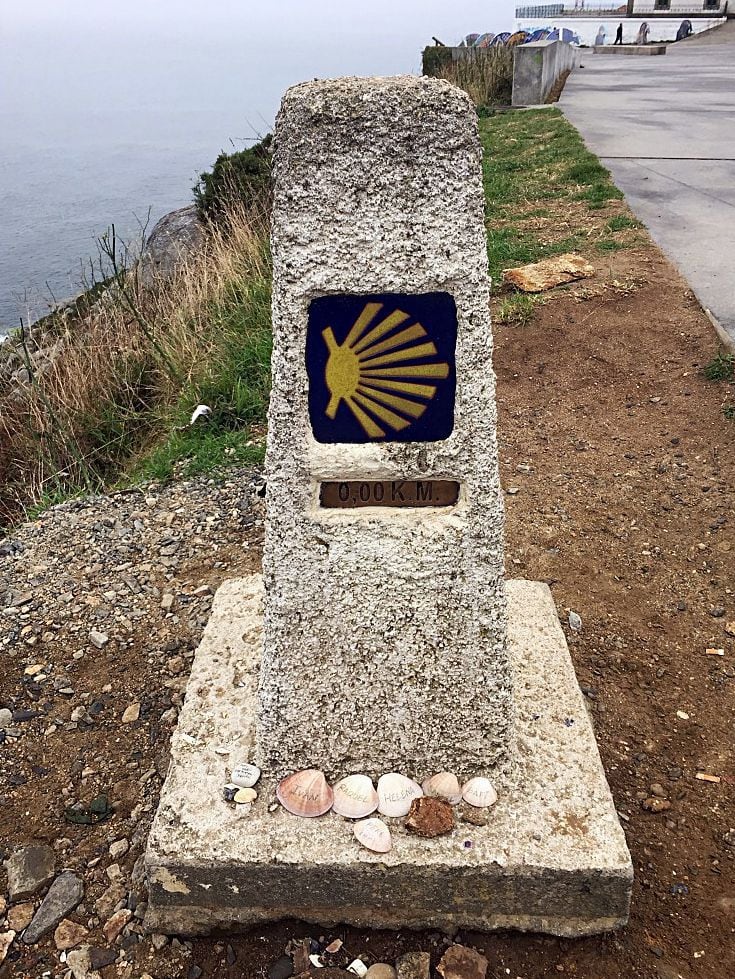 Anna from Sweden and Solveig from Denmark want to go from Santiago de Compostela to Finisterra, just like I do. We think about renting a car, because it takes three hours by bus and it makes 48 stops. So we walk around in Santiago with our backpacks and are greeted with "Buen Camino" like pilgrims again. At the main station there are several car rentals and we go to all of them to get the cheapest car.
When we decided on which car rental to take, it takes forever to give all the information that they need from Anna, who will be driving the car, just to realize that she had her drivers permit less than a year. Solveig has had her permit for two years now, but she is only 20 years old. Well, and my driver's licence is at home, because I didn't think I would need it. I am 31 years old and had my permit for 13 years, so that would be okay, but it's at home and thus useless. Since the last bus to Finisterra is leaving at 7 p.m. and it takes three hours to get there, I am already seeing myself calling the albergue to change my reservation and finding a bed in Santiago for one more night. But the the guy from the car rental tells us to ask at Sixt a little way down the road.
Sixt only cares that Anna is older than 21 years, no matter how long she had her driver's permit. The price is similar to the other car rentals. All in all this way of transportation is more than double the price that I would pay taking the bus, but I enjoy this little road trip. After 1 1/2 hours of driving we arrive in Finisterra and walk around a bit to find a place to stay for those two. On the way we pass a shop that offers Goa-fashion and also serves food. Solveig buys some pants there and Anna and I also try on some clothes. The colorful pants are not for me. I would probably only wear the in the house and I have more clothes than enough for this purpose. The smell of the food makes us hungry, but we want to get rid of our backpacks first.
The albergue municipal is already full. So we walk further down the road and suddenly arrive at my albergue. The night costs 11 EUR, what sounds reasonable to Anna and Solveig, too. So they check in along with me. My ratatouille that I cooked yesterday is a great appetizer, while we are checking in.
Then we go to the supermarket to buy wine, chips and chocolate. We want to take it to the lighthouse and see the sunset there. We walk there, of course and pass the 0 kilometer milestone. It is a weird feeling to look at the sea at "the end of the world". Unfortunately it is raining and the wind also doesn't make things cozier. We climb up the rocks and see the remains of a wall, which covers us a bit. We sit down in the wake and have our wine and chocolate. We can't see the sunset, because it is too foggy. We can't even see where the sun is. I will come here again on Wednesday or Thursday when the weather is supposed to be better. Katy and Lara should be here then, too. And maybe Sandra and Matti, Sandra's boyfriend want to join us, too.
As the rain gets heavier again we return to the city to get something "real" to eat. We choose a pizza place with a great view to the harbor. As we arrive we meet Sandra and Matti. I am so glad to see her again! We have a pizza together and then go the beach, where a "hippie" party is supposed to be. But we can't find it. On the way back to the city we come by a café, that is operated by a wild bunch of pilgrims and expats. This is where the beach party is happening, because of the bad weather. A glass of wine costs 1 EUR and the air is too bad. I feel like at a students party. We have a lot of fun and party hard. Around 1 a.m. I have had enough and I am going to the albergue, which luckily has a coded door, so I can come there when I want. I enjoy the sound of the waves for a little while longer and then go in and straight to bed.
The next day we go to a hotel to have a breakfast and then go to the beach to collect some seashells. There are a few really beautiful ones and I find a mini scallop muscle ❤️. Then Anna and Solveig say goodbye and drive back to Santiago to get a tattoo, a little seashell. I will miss those two and I am looking forward to a meet-up in Berlin next year.
And then I am alone again. First I go to get some groceries and have a great meal. You can also do your hobbies while on vacation. The asparagus looked good in Astorga and here, too. It is not the time for asparagus, but I make an exception. I cook linguine with asparagus and mushrooms in cream sauce. Luckily the supermarket offers plant-based cream. The hospitalera mimes that my lunch smells very good and also the other residents in the albergue are looking interested, but don't say anything. They talk to each other in German. I could meet new people here, but I don't want to. I am more of a loner and my capacity of meeting new people is full now. So I keep myself shut and greet in Spanish.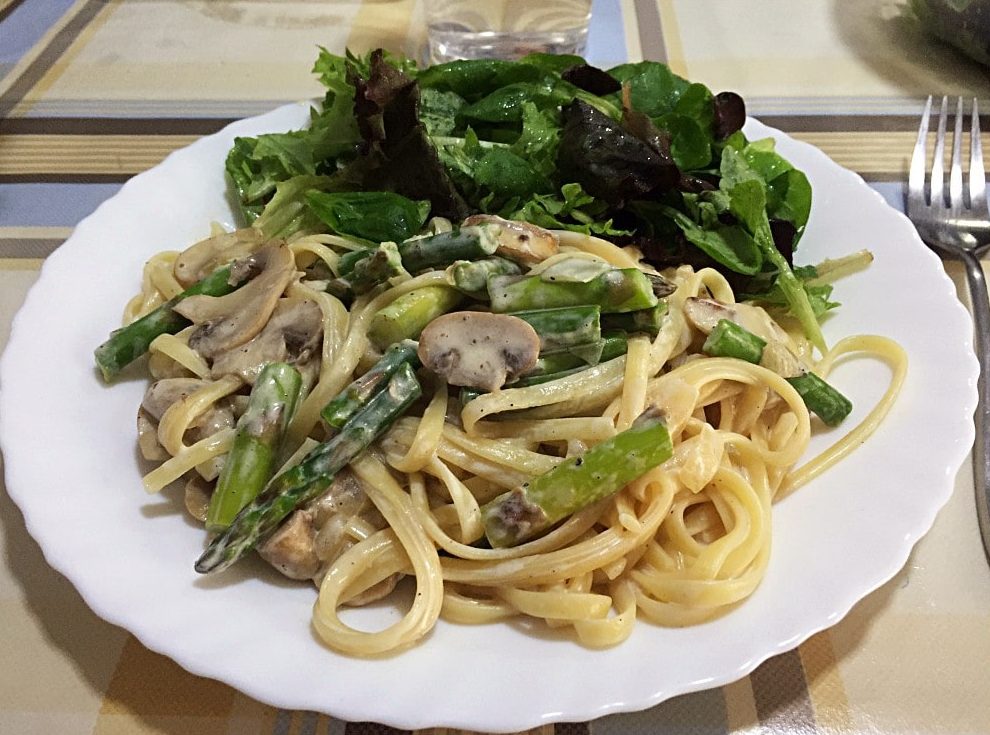 The rest of the day I stay in my room on the couch, eat chocolate and blog a bit. The weather isn't nice enough to sit outside, so I get comfortable with a blanket. Suddenly I get a text message from Katy, who will arrive in Finisterra today. We decide to meet right away to make plans for the next couple of days. This is also the Camino, even at the end of the world: You are never alone… ❤️
Love,
Rina