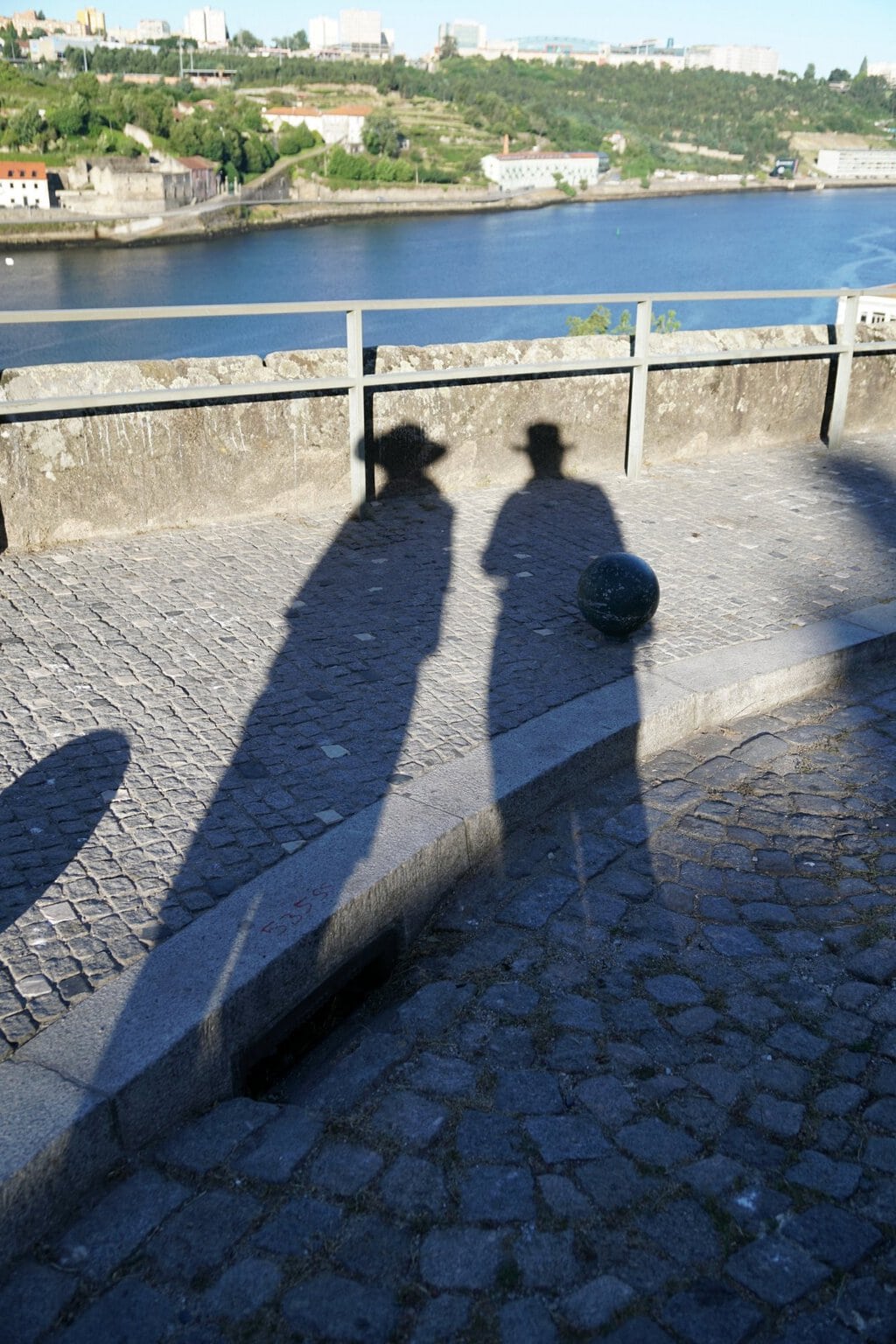 This night, as the night before, a mosquito bit me. I wake up several times because it's itching and burning. I tend to react a little more to mosquito bites without having a real allergy, but maybe I'm just whining. It is very warm at night, which makes it the more difficult to get a good night sleep. Around 6 o'clock we are both awake and are slowly getting ready for our hike. The air outside is wonderful!
We didn't get in our routine yet, so the packing of our backpacks is taking up more time this morning, then it will be in a few days. Around 7:15 we are starting our way. The city is still asleep while we are walking behind each other on the narrow sidewalks through the city.
It is quite warm already, but some wind is blowing, which makes it very pleasant. We are seeing two pilgrims on the way, but they are faster than us and walk away. I'm getting my first ear worm of the day: the song to which Belle from 'The Beauty and The Beast' is walking through the village. I saw the film with Emma Watson a couple of days ago.
Around nine we are approaching a restaurant which is directly at the sea. It just opens and we are having our first coffee there. The break was much needed by me, because my feet are overheating. I am so swollen, I can't even move my fingers properly, because they are so thick.
The trail isn't as nice as we hoped. But the central Camino is supposed to be even less attractive at this point. So it is probably best, that we chose the coastline. We're going through the harbor and cross a big bridge. Then we walk by a small café. The owner is very eager to get his stamp in our credencial. We are getting his stamp and continue walking.
We leave the city behind us and love how it's getting more rural. We can see the ocean again and walk side by side with it. Underneath a couple of trees, we are taking a seat in their shadow to have a lunch break. We're having leftovers from yesterday and getting some fresh air around our feet. The socks dry very fast and soon we are on the wooden pass again always heading north.
The next one and a half hours we are going on the wooden way and we are already sick of it. We are glad that we are heading to the traditional way tomorrow to walk the central Camino. I is getting warmer and warmer and I'm feeling the weight of my backpack in my feed. We are taking another break to have another espresso and some orange spritzer.
The last 4 km are exhausting and hurting. At least to my feet. And it is warm, very warm. At the campsite Orbitur Rainer, the hospitalero, is greeting us and wishing us a warm welcome. He's checking us in, collecting €11 from each for a bungalow that we are going to share. As we arrive at the bungalow, we are laying down on couch and bed, spreading our legs into the air to get the blood back into the body and head again. There are a couple of noodles left over from yesterday and we are having them with some cookies. After getting the heat a little bit out of our bodies, we are changing into our swimming suits, grab our dirty laundry and dishes and go to the washing shed. And with this my latest utensil of my packing list is becoming useful. There are no plugs for the sinks. Washing clothes under running water is not very effective. So hurray to the plug, I packed.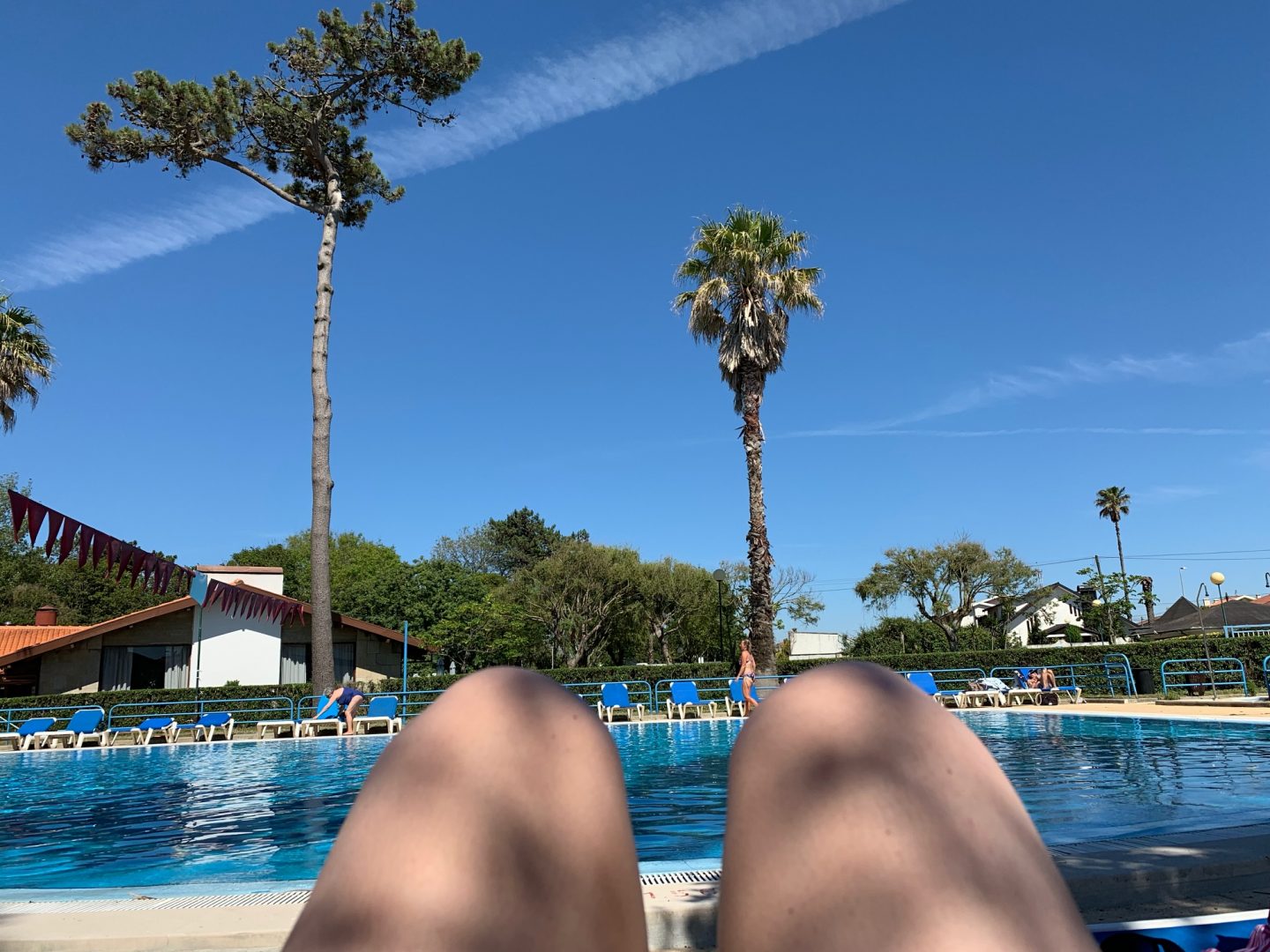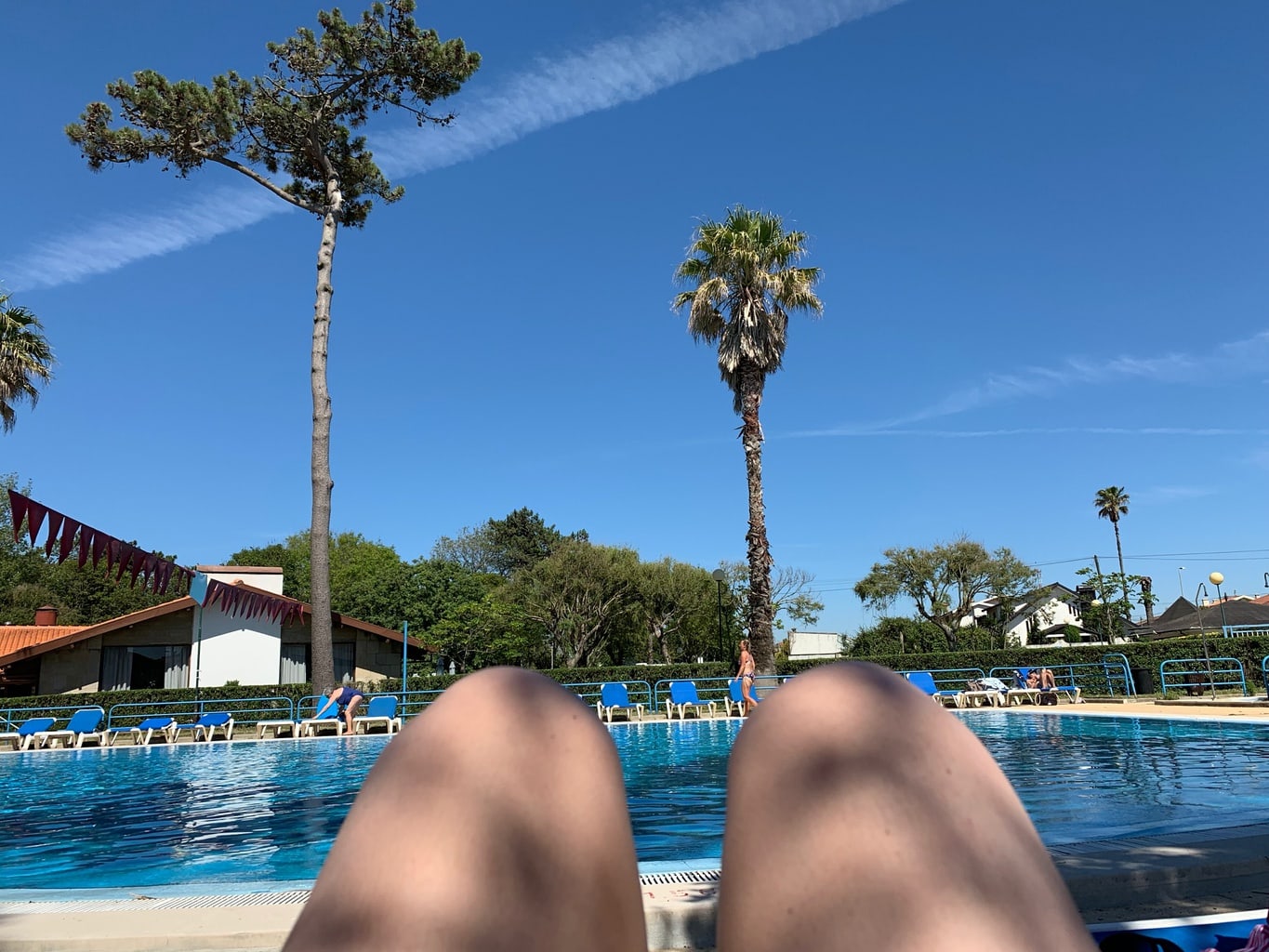 After washing our laundry, we are going to the pool to cool down. At the pool I am writing today's article and after that we are heading to the supermarket to get some water and food for tomorrow.
The supermarkets offers on big space little amount of food and nothing that we are looking for. We want avocado, tomato and baguette, but they don't offer any fresh food. Neither baguette, nor avocado or tomatoes. At the restaurant we are taking a look at the menu and are not at all convinced. The pilgrim's menu is offered with meat, fish and also as a vegetarian meal, but vegetarian isn't enough for us. So we choose the pizzeria which is a little down the road from the campsite. On the way to the place there's also a supermarket, where we get tomatoes, cucumber and bread for breakfast. We're also getting two peaches and a 5 L water bottle.
Because we are craving a mixed salad and there's no such salad on the menu, we are asking the owner if he could make us a simple mixed salad with a vinaigrette. The food is fantastic and we are thankful, that we chose the campsite as our sleeping place tonight, because otherwise we wouldn't be able have this delicious meal.
After dinner we are slowly going back to the campsite watching a great sunset. We are very tired and we will sleep soon.
See you tomorrow!
Love,
Rina