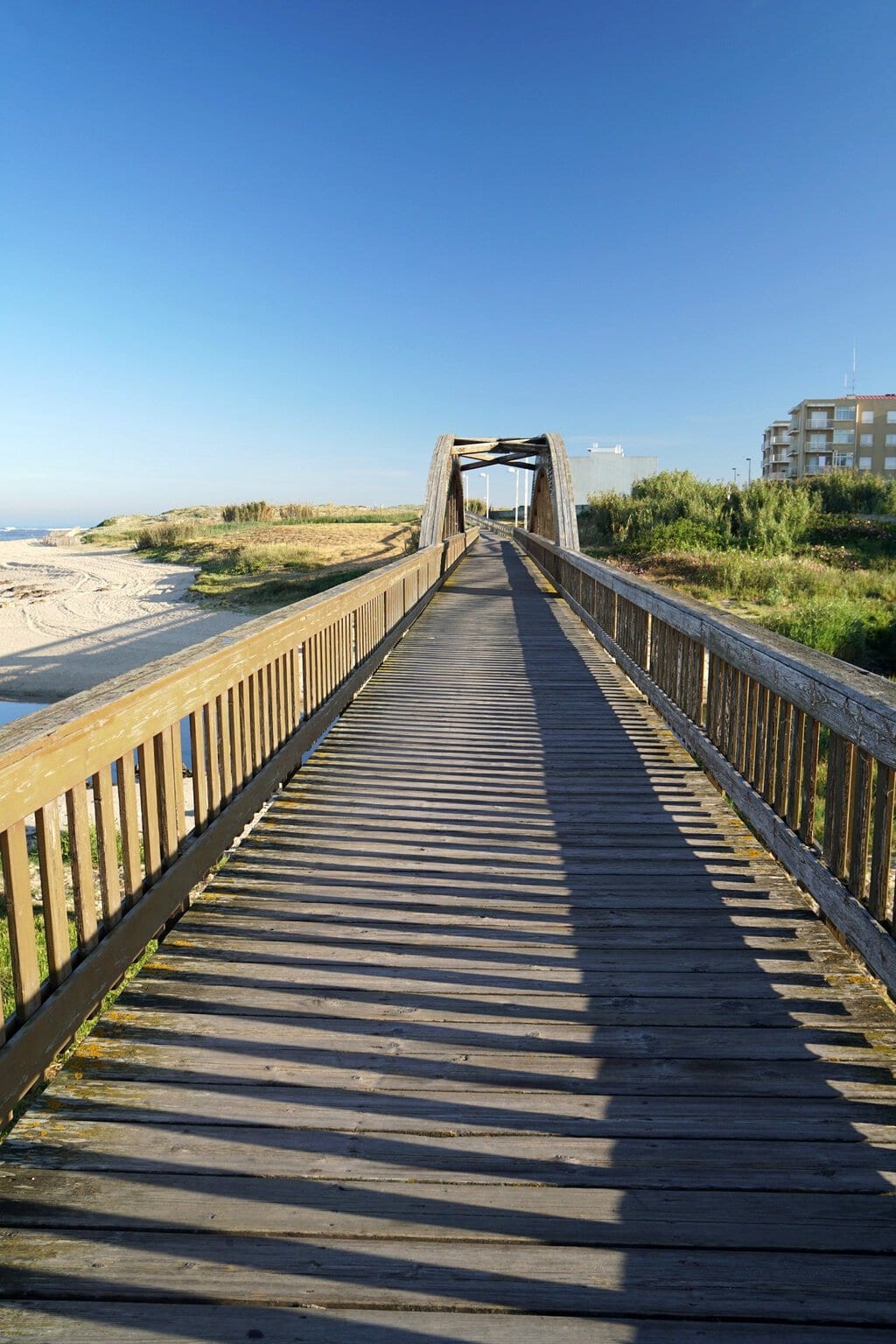 One thing before we start. I am dedicating this day to the following song: Mimimi.
We didn't sleep well this night. Sleeping in this bungalow felt more like sleeping in a tent, only bigger. The couch was too short for my body size and too hard for my hips. We are packing our bags in the early morning and are on the way at 7:15 again. A couple of pilgrims have already started around six.
The path leads us, like it did yesterday, on wooden floors straight north. The morning sun is shining from the right side in our faces and from the seaside it is warm and slightly foggy. The lighting is beautiful. Kind of mystical.
In Vila Chã we are spotting some pilgrims and walk by them. Then we are coming to a beach and see a café that is still closed. We are sitting down behind the café and take a breakfast break. We're having bread with hummus and tomatoes, some cucumber and a peach. As we have finished eating, the café opens and we change seats to get a coffee. For the first time we try Tom Soya, a soya milk powder, which I brought from Germany. We are taking a longer break, then we intended to, but it does us good. Before we continue our hike, we are taping our feet. Precaution is better than hindsight.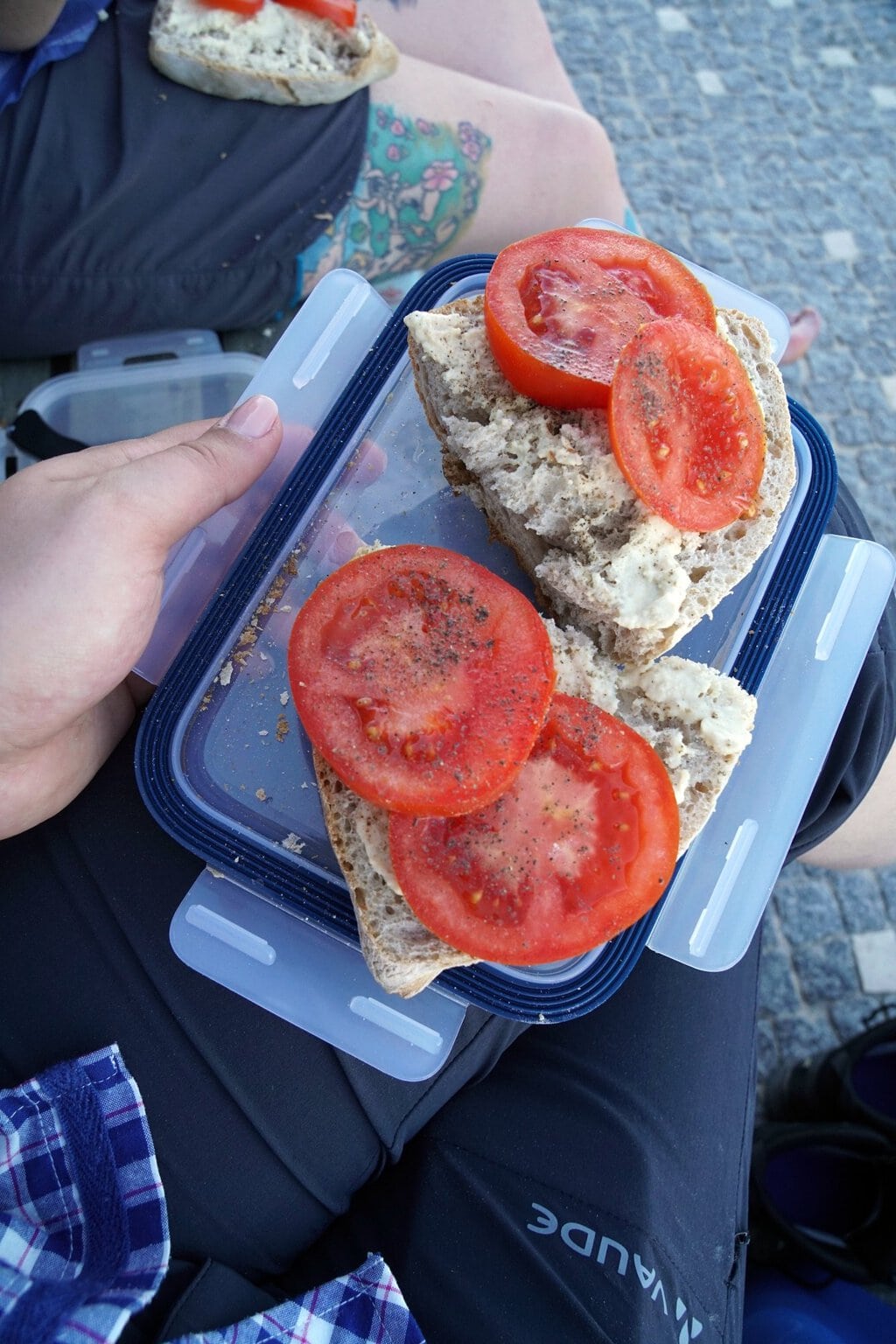 The wooden path is more and more covered in sand. This makes it very hard to walk. Especially with heavy backpacks.
At the next beach bar we are getting a popsicle which is refreshing us for the next couple hundred meters. In the far we are seeing Vila do Conde. But it will still take some time until we arrive there.
We leave the beach behind us and go into the city. We are passing a devout building and have another break in the shadow it provides. I am taping tissues underneath my ball of the feet to collect the moisture and provide a little buffer. I made great experience with that on the Camino Francés. As we continue our hike the walking is already easier. We are passing veggie gardens where wild fennel is growing. I take some, rub it between my hands and smell it.
As we arrive in Vila do Conde, we are taking a detour, to see the monastery. There's a wedding going on, so we can't get in. But we are getting a stamp for our credencials in the café next to the monastery. Then we continue our hike to Rates.
We are taking the road, which brings us to the central Camino and we are walking on desert-hot roads for the rest of the day. There's no wind and the industrial area doesn't provide much to look at. We are planning to divide the remaining 10 km into two stages and take a break between. I can't do this, because my feet feel like they're walked flat and they're hurting much. 8.5 km before the destination we're having a long coffee break and get some cold water.
Then we are following the N206. A walk through hell at 29°C without any shadows. I have to take two more breaks, before we arrive at the albergue in Rates, because the heat is killing me. My cardiovascular system is down, I see spots and before I fall down, I am sucking a bit of the molten chocolate, that I bought yesterday. Pure sugar is definitely a good idea right now. Steffi is great and takes up with every break, that I need. Her feet, bottom and back are aching too, but she's not complaining. She's talking good to me and tells me, that we have all the time in the world. We are talking a while about how oneself is often the biggest enemy.
As we finally arrive in Rates, we are checking into the albergue and are welcomed so heartly, that I am feeling home instantly. I was struggling with the way the first two days, because only a few pilgrims were greeting and somehow the Camino flair was missing. Today the old known feeling of being on the Camino is there again, I'm full of pain, exhausted, but happy. We are talking to a pilgrim from Duisburg a little bit and then have a shower. We're doing our laundry and since I had enough of the sun today, I'm hiding in my bed to write the article for today. Also Steffi is having a siesta and reads a bit in the guide-book.
For dinner we like to cook our own meal again and the perfectly-equipped kitchen is welcoming our plans. We're going to the supermarket and look for vegan food and decide to make noodles with tomato sauce, zucchini and chickpeas. As we come back to the albergue, the kitchen is stuffed with people. So we wait for half an hour, before we start cooking.
One pilgrim gives us her left over olives and we put them in the pot. There are a lot of spices at the albergue. We decide to use salt, pepper, oregano and cumin. It smells heavenly, which also the others in the kitchen notice. With a few dashes of lemon juice we round up the dish and pack leftovers for lunch tomorrow. I found a fruity, but dry pink wine for 1 € in the supermarket, which is great.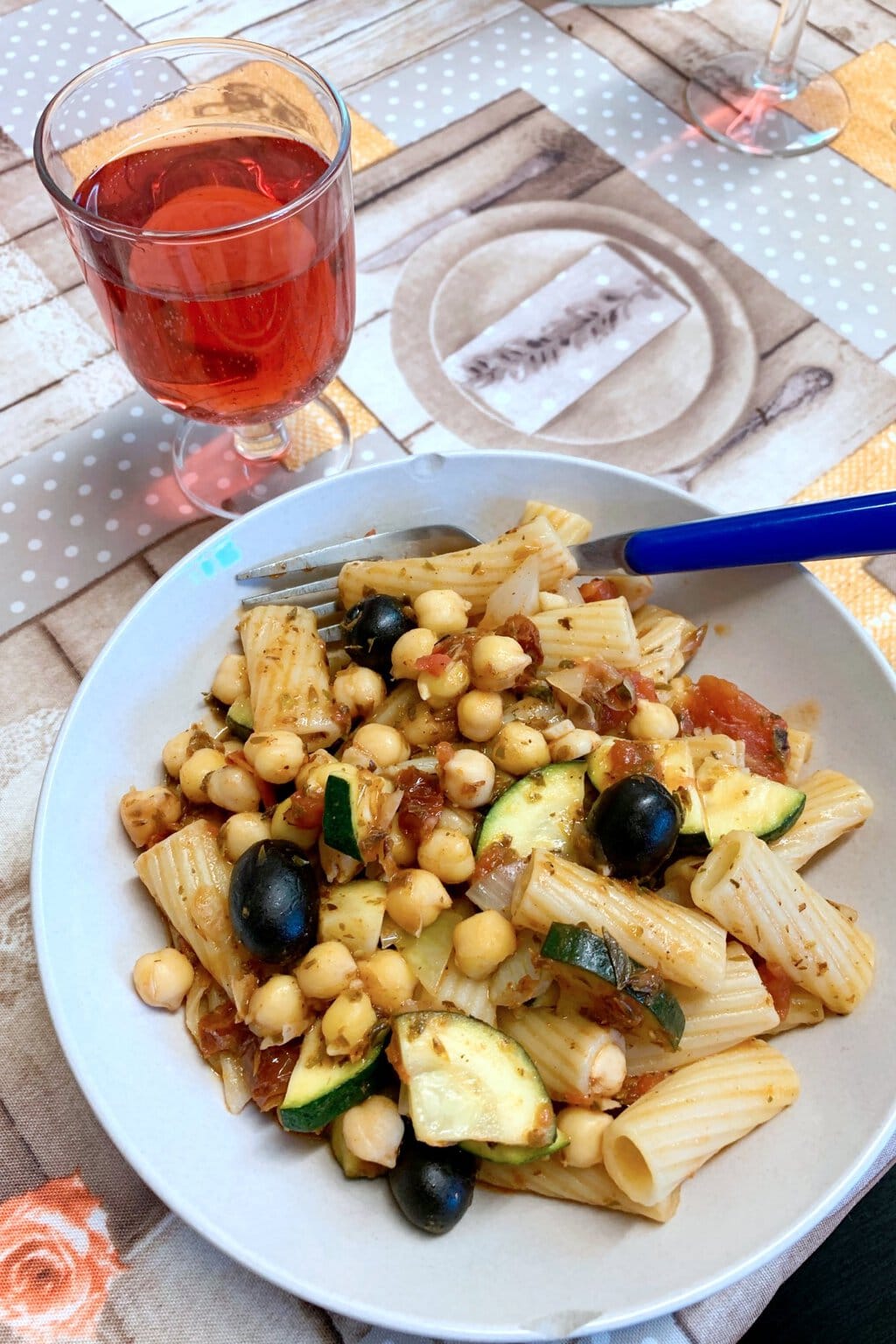 We spend the rest of the evening outside with the other pilgrims and everyone is writing in their diaries. We are so happy, that tomorrow is only 16.9 km to Barcelos after this hard day. At least this is the plan.
See you tomorrow!
Love,
Rina