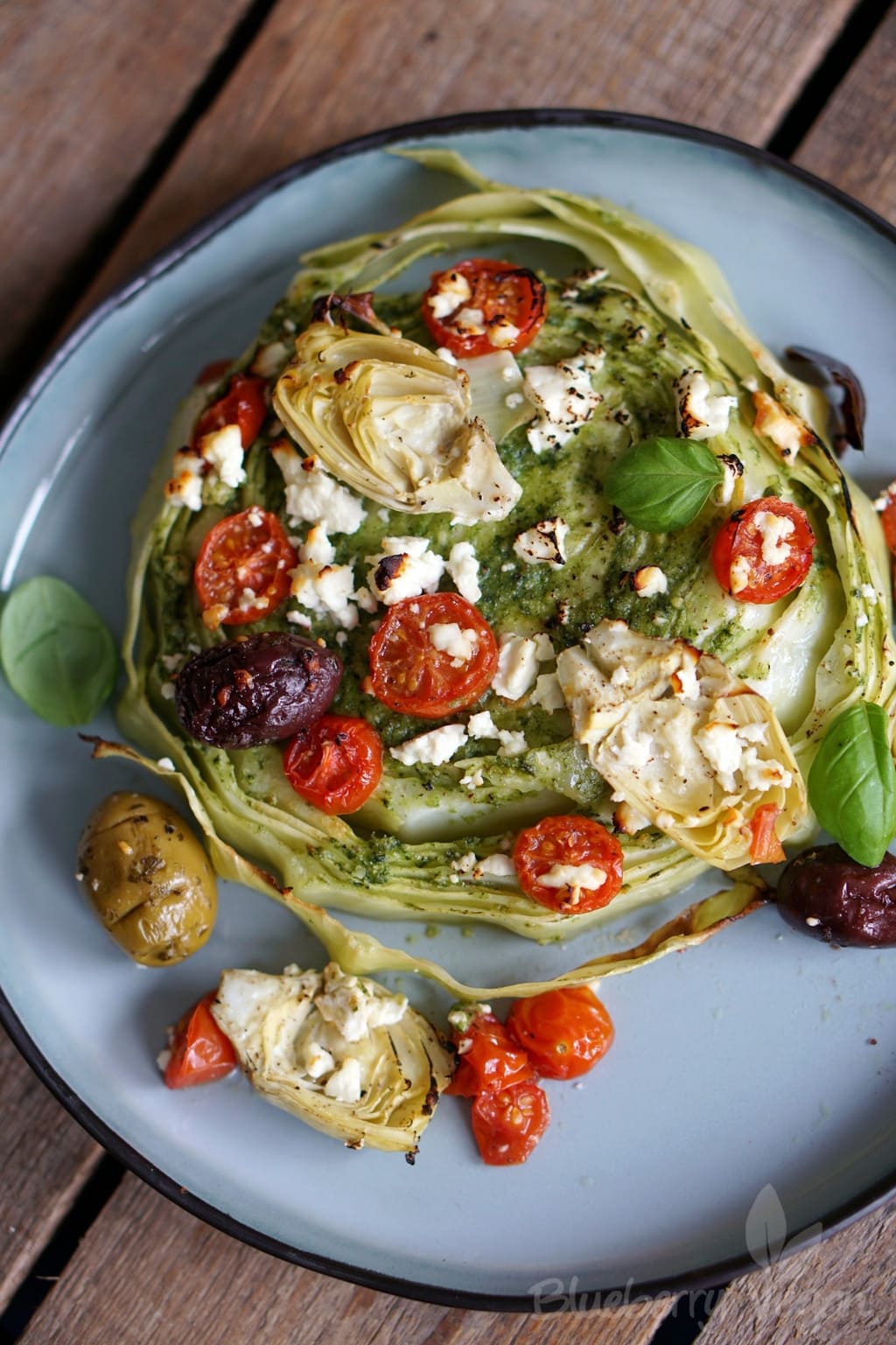 Making a traditional winter veggie into something not so wintry. That was the plan. This is the result: Mediterranean baked cabbage.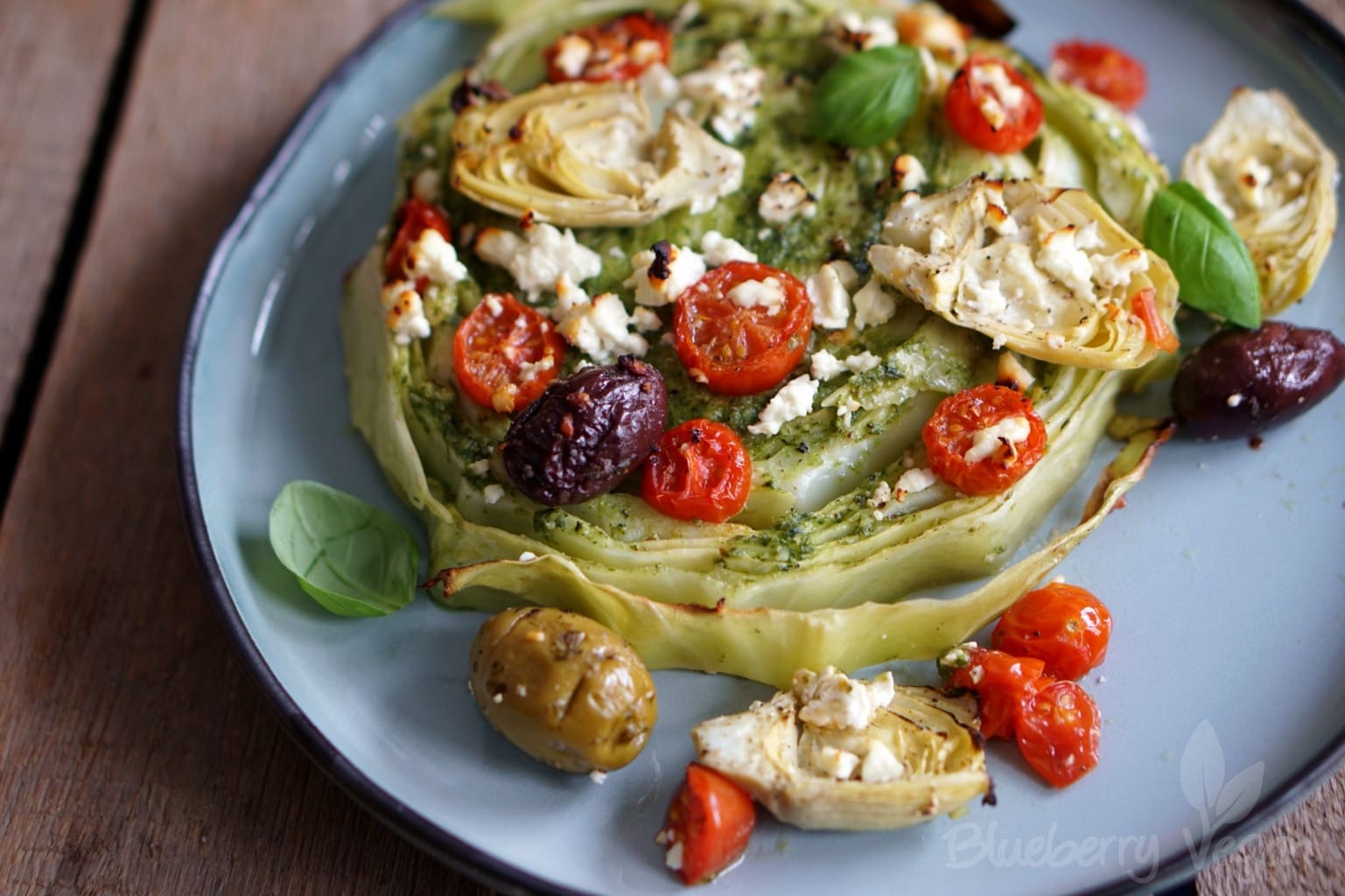 I'm into Mediterranean cuisine and its flavors. But I was skeptical whether cabbage would go with it. As it turned out, the combination tastes wonderful!
If you want to save some time and effort, you can also use store-bought pesto.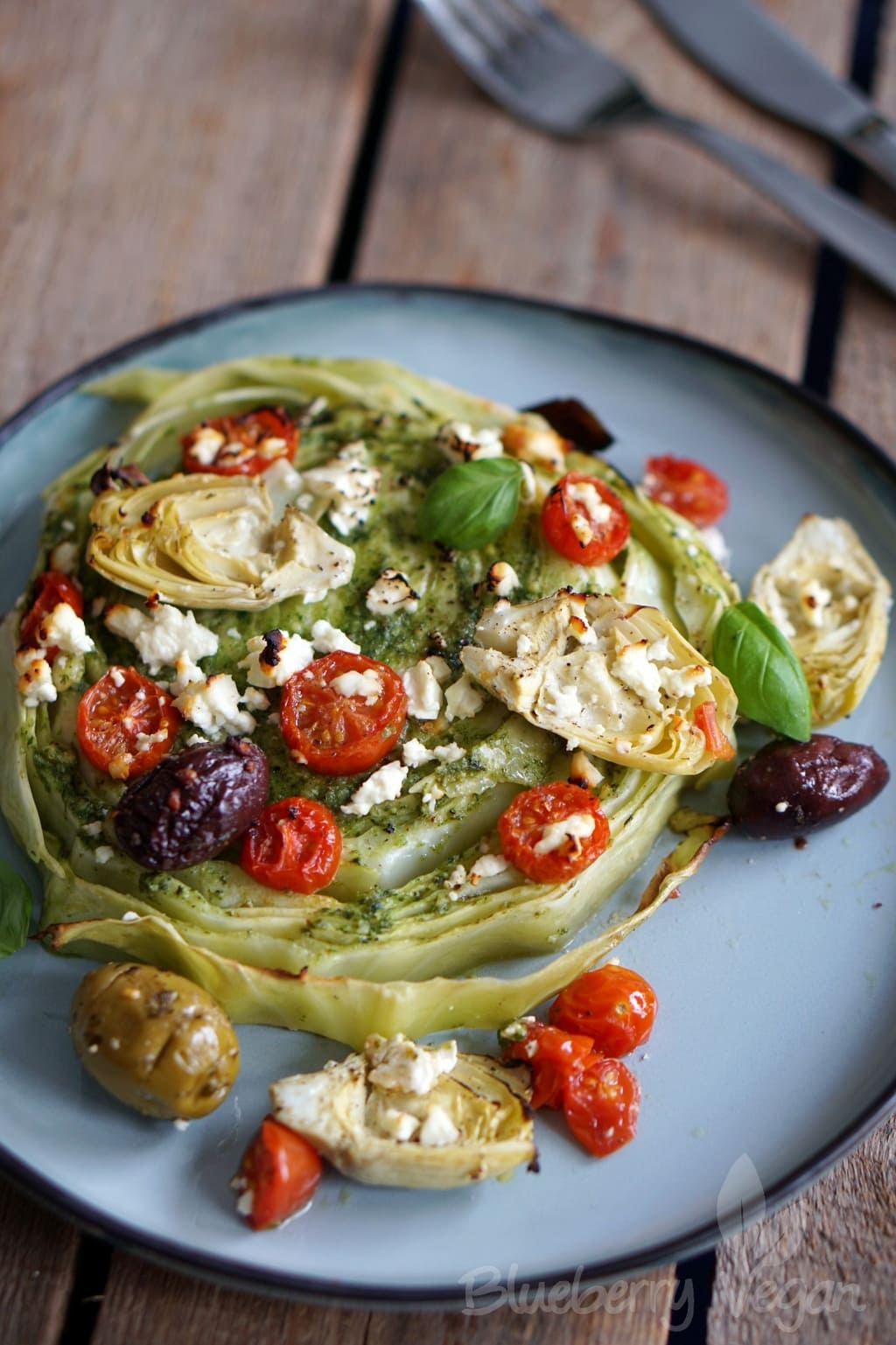 Since vegan feta cheese alternatives melt quickly, it is best to add it to the oven in the last few minutes. This way you can make it look and taste even more authentic.
Enjoy your meal!
Love,
Rina
Mediterranean Baked Cabbage
Ergibt/Yield:
2 - 4 Servings
Zutaten/Ingredients
For the cabbage:
1 head cabbage
2 handfuls tomatoes
1 handful marinated olives
1 jar artichoke hearts
1 pk. vegan feta cheese alternative
salt
pepper
oil


For the pesto:
60 g basil
30 g cashew nuts
5 g nutritional yeast flakes
5 g salt
60 g oil
Zubereitung/Instructions
Preheat the oven to 180° C (360° F).


Measure the ingredients for the pesto in a chopper or a container for the hand blender and chop finely.


Brush a baking dish with oil and season with salt and pepper. Cut the cabbage horizontally to the stalk into thumb-width slices. Put four slices of cabbage in the baking dish and spread evenly with the pesto.


Cut tomatoes into slices, halve the artichoke hearts and spread over the cabbage along with the olives. Drizzle with a little oil and season with salt and pepper.


Bake the cabbage in the oven for 20 minutes. Meanwhile, crumble the vegan feta cheese with a fork.


Spread the feta cheese alternative on the cabbage and put back in the oven. Increase the temperature to 200° C (390° F) and select convection or grill. Bake for another 5 - 10 minutes.


Take the cabbage slices out of the oven, arrange on plates and enjoy
Tipps/Notes
Also tastes great with pesto rosso!

The leftover cabbage that is too small to cut slices from makes a great salad. Simply chop the cabbage finely and massage with some salt, pepper, vinegar and oil until it softens.