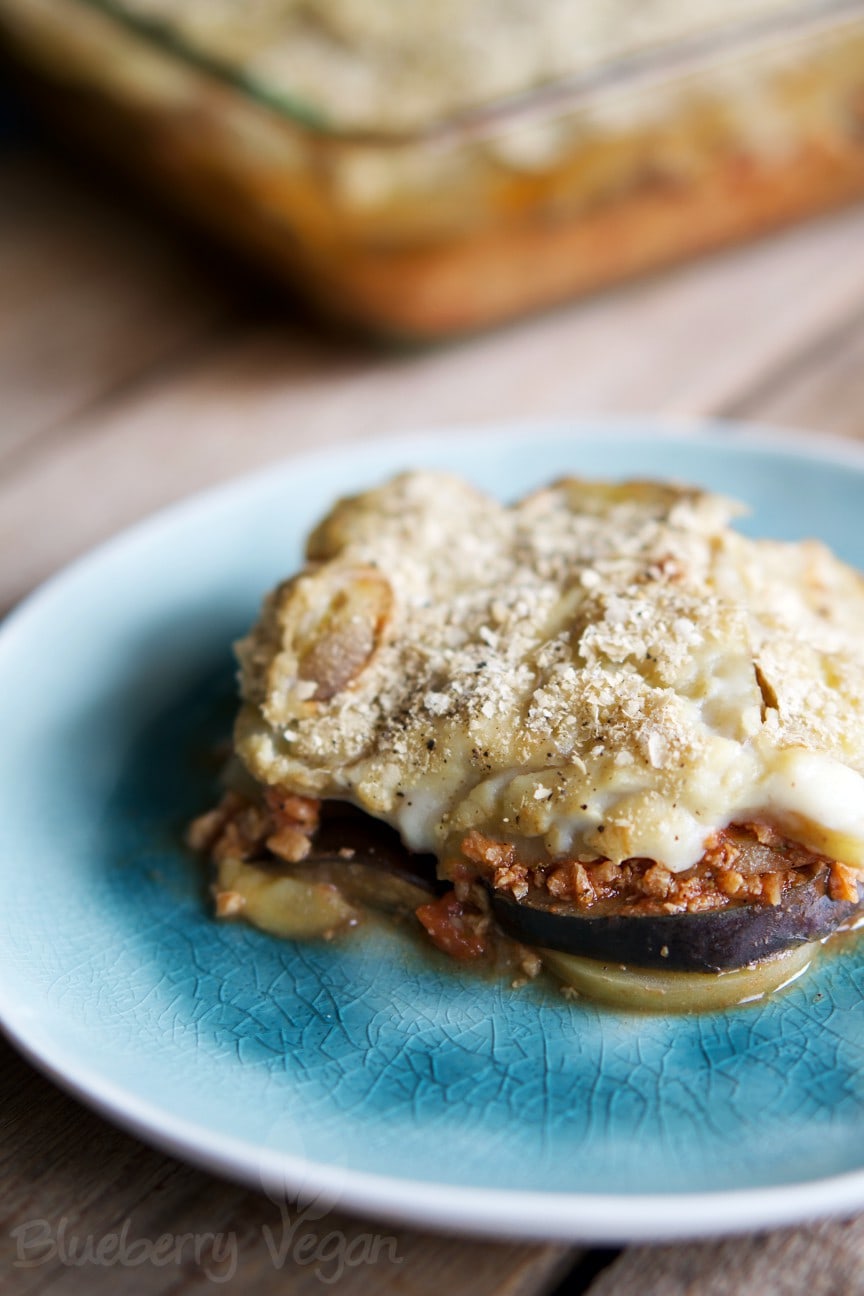 [Advertising: Affiliate Links]
Moussaka is a typical Greek dish, that is originally from the Arabian area. The classic moussaka has several layers made from minced meat sauce, potatoes and a béchamel sauce.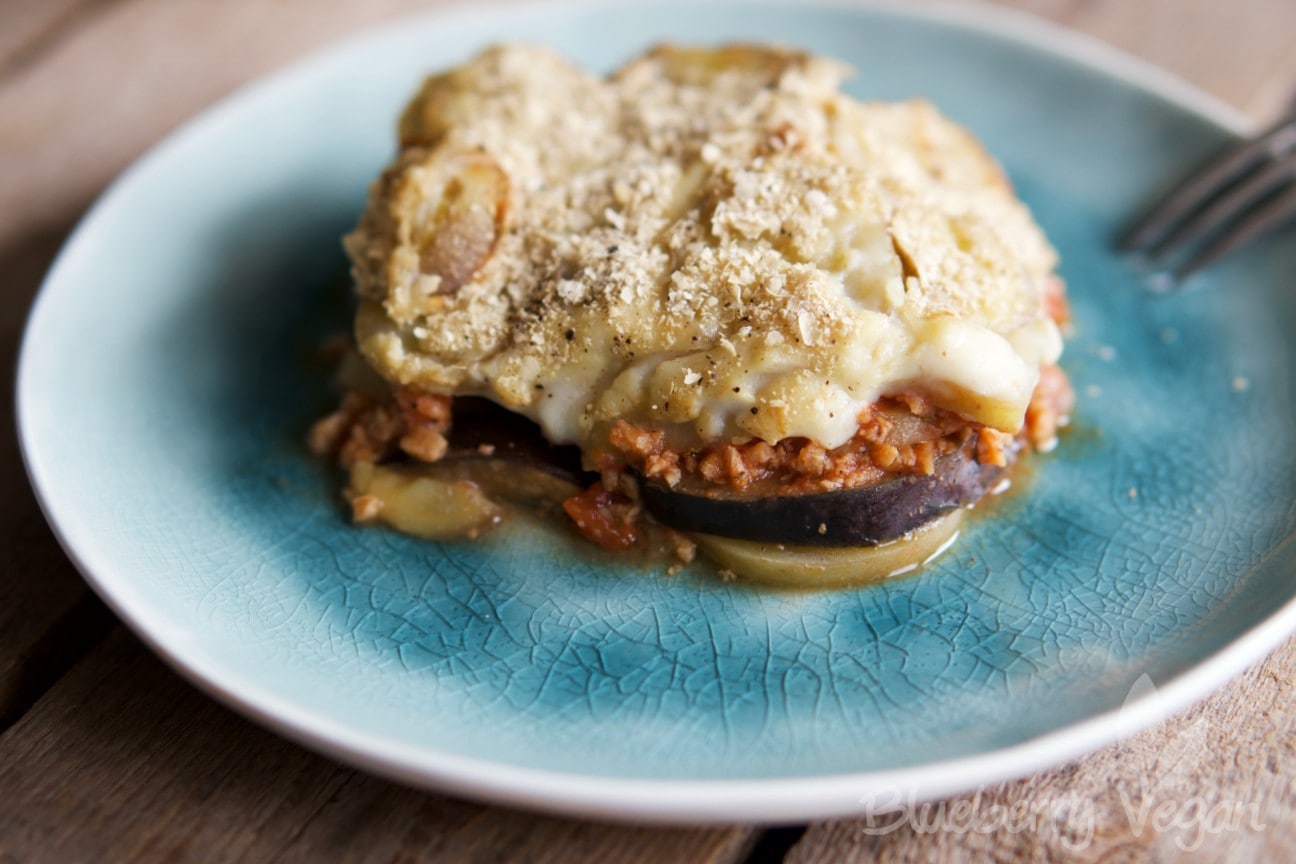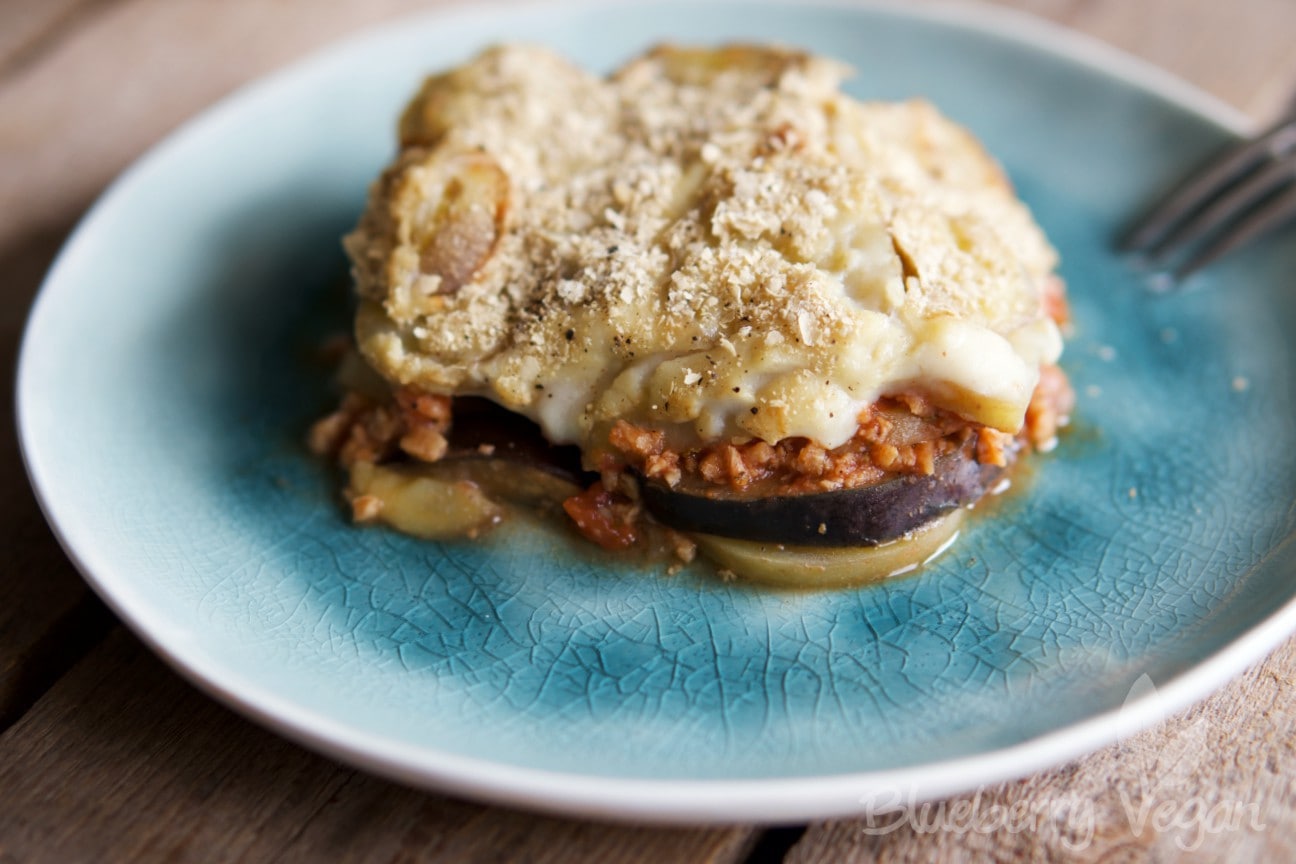 Adding slices of eggplant makes it a Greek moussaka, which is also prepared for vegetarians without the meat sauce. I decided to make "the original" moussaka and swapped the minced meat with soya mince. Back then my mom used to salt the eggplant slices, let them steep and then dabbed the water and fried them. I don't do that anymore, since the eggplants nowadays don't have that much bitters than they used to.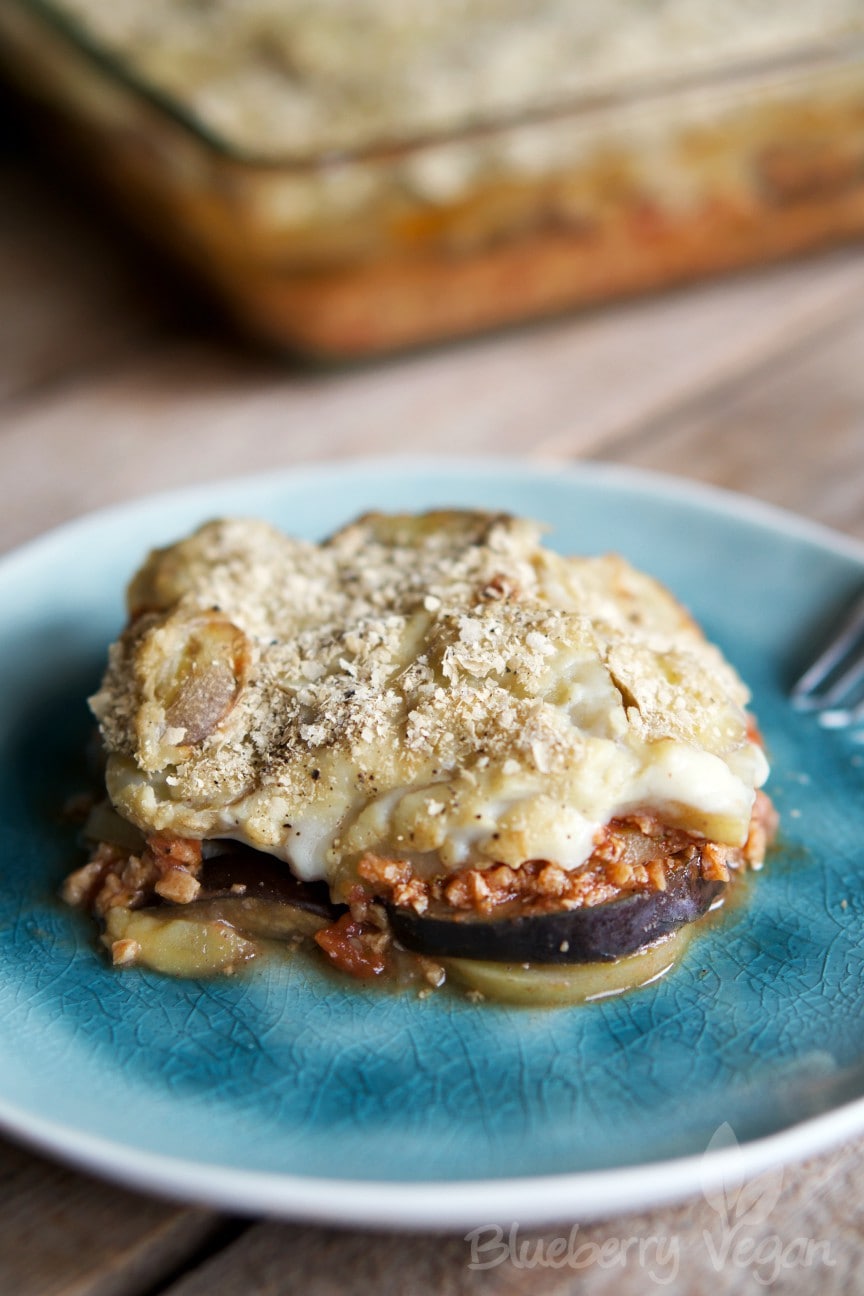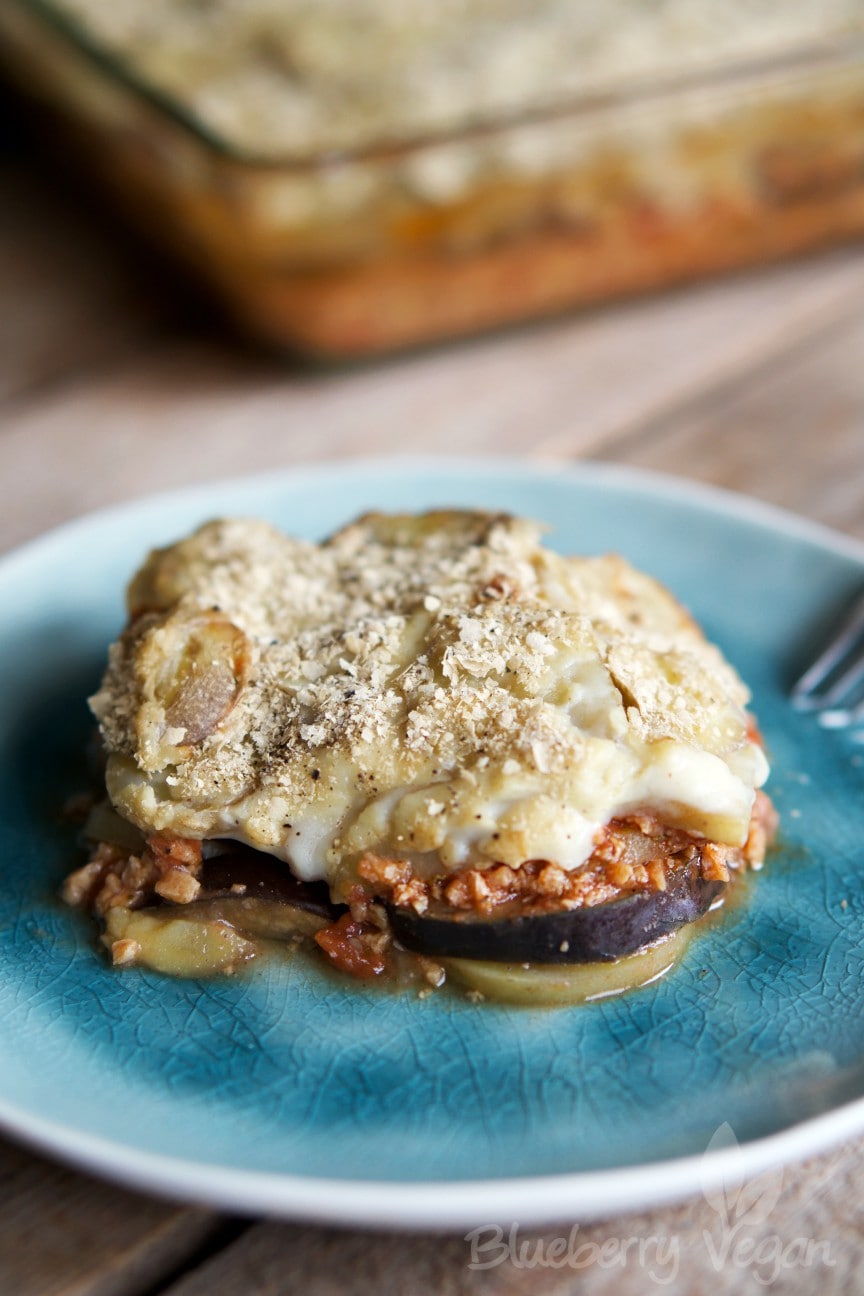 You can sprinkle over you favorite cheese, but I like nutritional yeast flakes best. Not only because of their nutritions, but also because of their zest.
Enjoy!
Love,
Rina
Like eggplant? Also try aromatic caponata, creamy eggplant curry and eggplant pizza.

Delicious Moussaka
Zutaten/Ingredients
For the tomato sauce:
1 tsp oil
1 small onion
1 clove garlic
2 tbsp tomato paste
400 g chopped, tinned tomatoes
400 ml (1 2/3 cups) veggie stock
70 g (1 cup) soya mince
1 tbsp Italian herbs
1/2 tsp paprika powder, hot
1 pinch cinnamon
salt
pepper


For the béchamel:
Also:
Zubereitung/Instructions
Slice the eggplant. Cook the potatoes in water for about 15 minutes and also slice them. Finely chop the onion and press the garlic.


For the tomato sauce heat the oil in a big pan and sauté the onion in it until translucent. Then add the garlic and briefly fry. Add the tomato paste and also sauté, then deglaze with chopped tomatoes and veggie stock. Stir in the soya mince and season with Italian herbs, paprika powder, cinnamon, salt and pepper.


For the béchamel heat the butter in a pot and whisk in the flour. Let sauté until it slightly browns. Pour in the milk and vibrantly whisk while bringing it to boil. Season with salt and nutmeg. Stir occasionally while simmering.


Heat the oven to 200° C (390° F).


Arrange half of the eggplant slices in a baking dish and pour over half of the tomato sauce. Pour over about 1/3 of the béchamel and then cover with half of the potato slices. Add the rest of the eggplant slices, the tomato sauce, the potato slices and at last the béchamel. Season with salt and pepper and sprinkle yeast flakes over, if you like. Bake in the oven for 30 minutes.
Tipps/Notes
With my
V-mandoline
I slice the eggplant and potatoes in no time and they all have the same size.