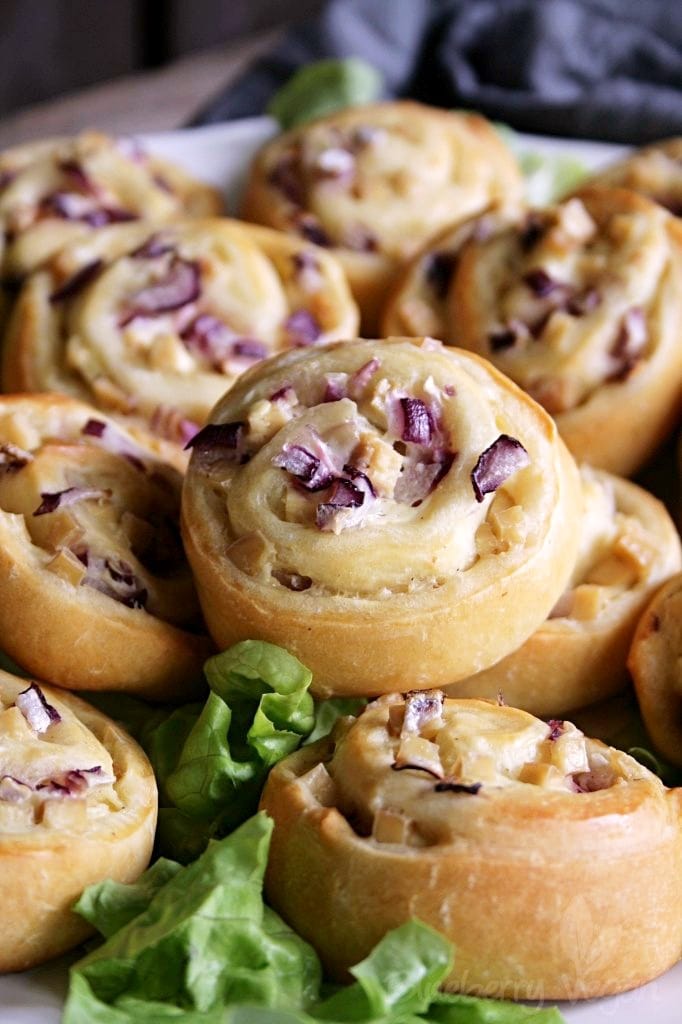 [Advertising: Affiliate Links]
A ready spelt pizza dough was waiting in my fridge to be turned into a pizza or something like that. I bought it the other day and it was overdue. So it was about time, I made some pizza.
I didn't want to have pizza though, so I decided to make pinwheels, but not with tomato sauce, but like a tart flambée.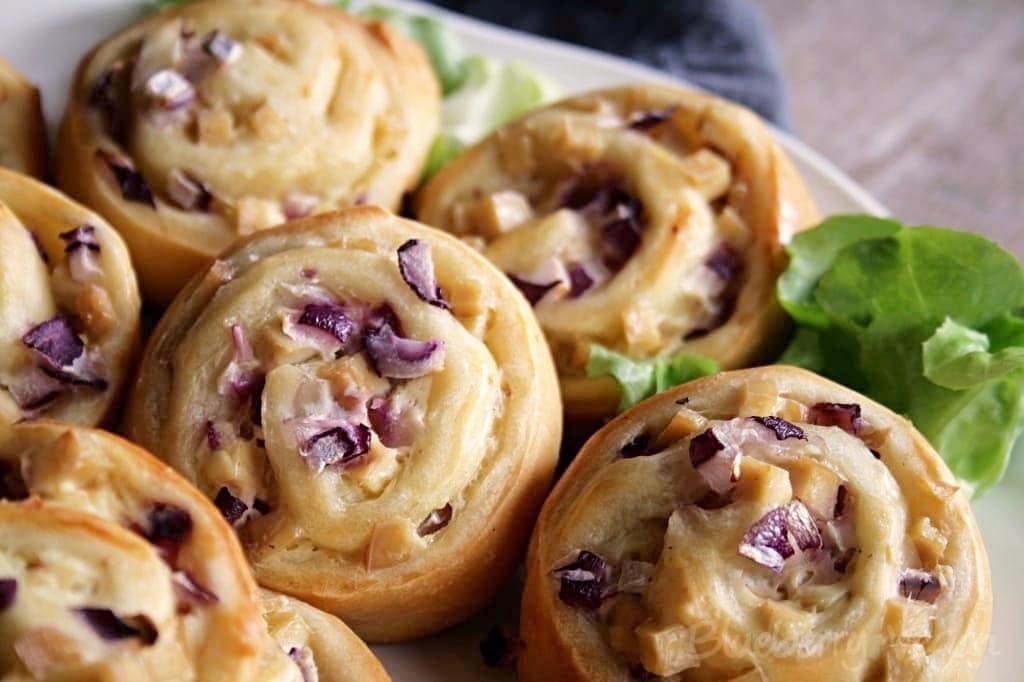 Make sure you season the soya curd well, to prevent the pinwheels from tasting stale. Also use a lot of smoked tofu and onions to enhance that heavenly taste.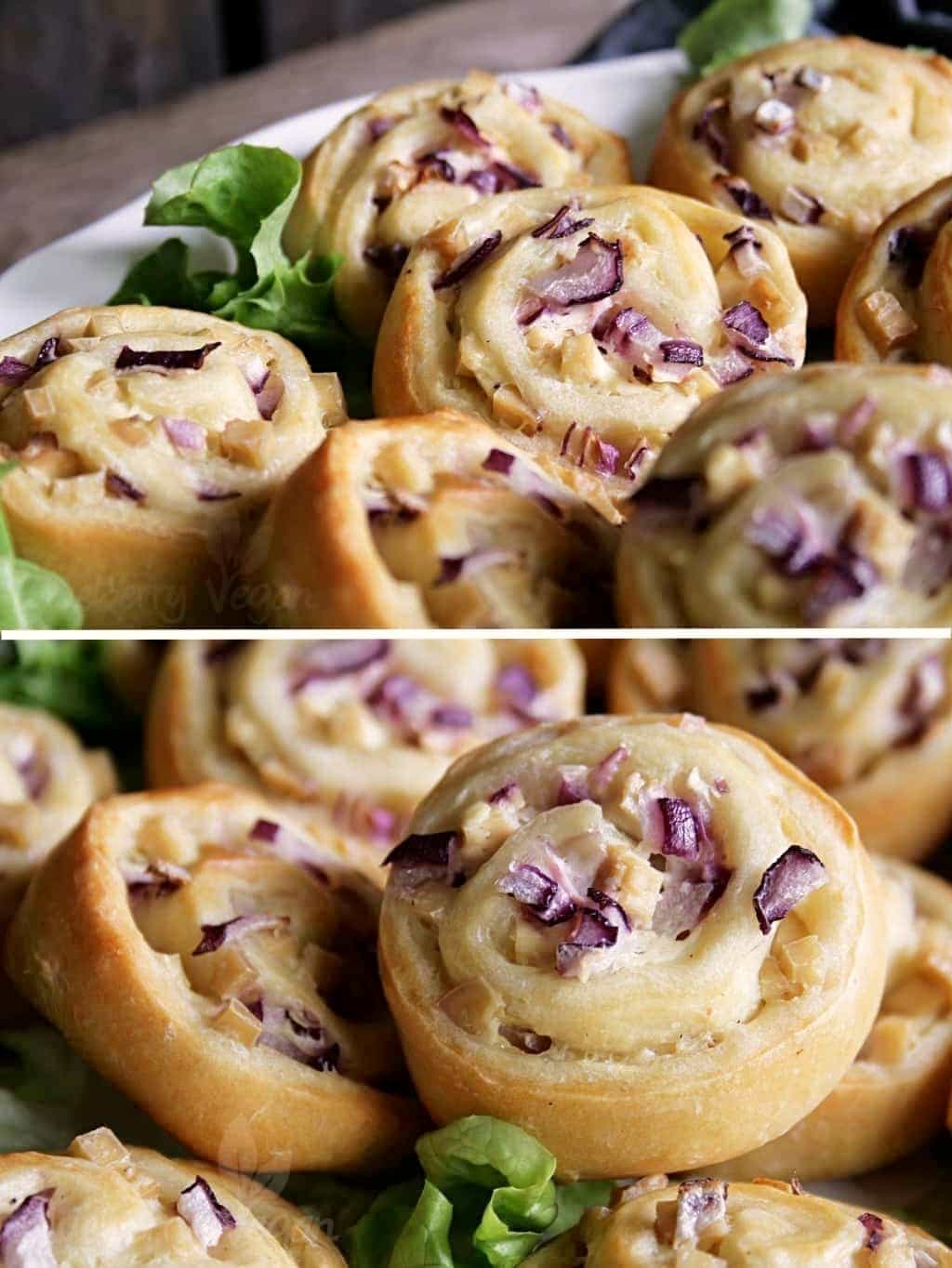 I served them with a mixed salad. Also on a buffet or as a snack they are great.
Enjoy!
Love,
Rina
Looking for more pizza inspiration? Then also try pizza with my beloved vegan pizza cheese, eggplant pizza, pumpkin pizza, asparagus pizza, quick wrap pizza, wintry pizza boats and pizza wheels with wind garlic and mushrooms.

Tart Flambée Pinwheels
Gang/Type:
Main Dish, Snack
Ergibt/Yield:
16 Pinwheels
Zutaten/Ingredients
1 pk. vegan pizza dough
150 g (5.3 oz) unsweetened soya curd - or drained soya yoghurt
125 g (4.4 oz) smoked tofu
1 big, red onion
salt
pepper
Zubereitung/Instructions
Preheat the oven to 180° C (360° F). Line a baking tray with parchment paper.


Roll out the pizza dough. Season the soya curd well with salt and pepper and spread on the pizza dough. Finely cube the smoked tofu and onion and drizzle evenly over the curd. Keep a few onion cubes for decoration.


Carefully, inch by inch roll up the dough from the long side. Cut the roll into 16 equal pieces and place them cutting surface up on the baking tray. Leave a little space between the rolls. Sprinkle over the onion cubes and bake in the oven for about 25 minutes until golden.


The pinwheels taste warm and cold. Serve them with a mixed salad.
Tipps/Notes
To drain soya yoghurt, pour it in a paper coffee filter and place the filter in a bowl. Keep refrigerated for 2 - 4 hours or overnight to thicken the yoghurt.