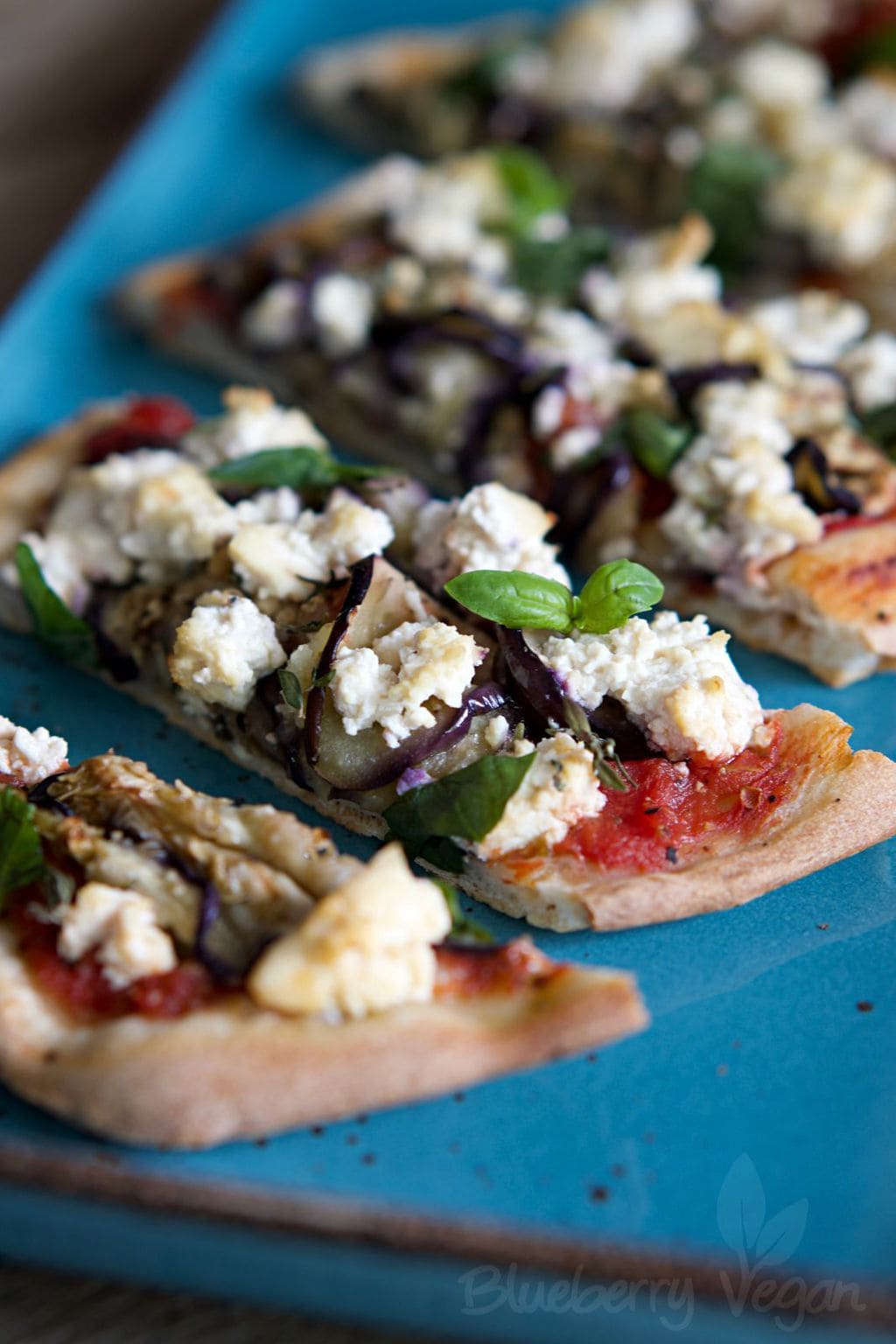 A super crispy crust and a lush topping. I have made eggplant pizza for years and each time I refined my recipe until I had this one, which I love. My Mom used to make eggplant pizza when I was a child and spread eggplant slices on a pizza and added mozzarella slices before baking.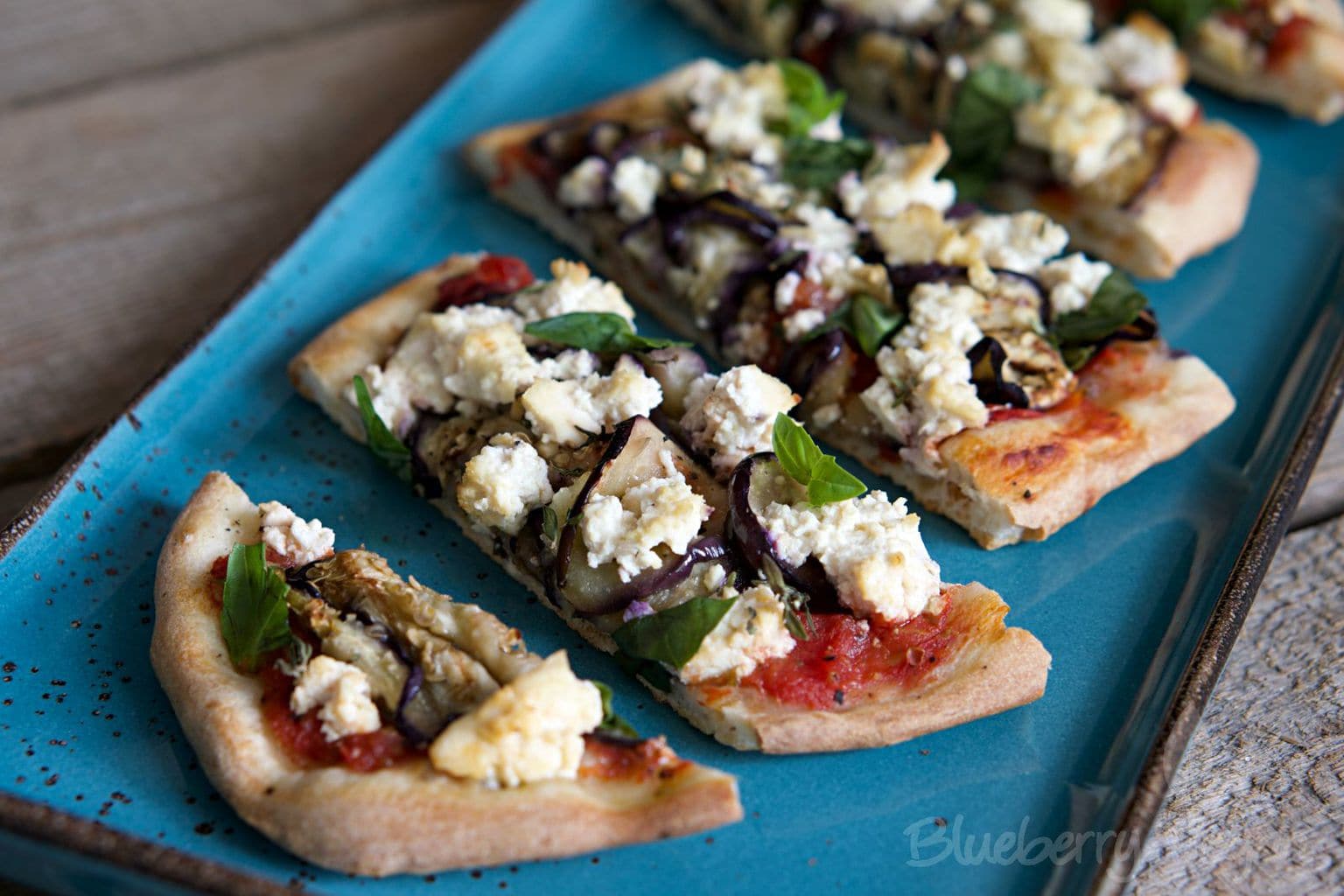 I like feta alternative now, because it is spicier. I also add some fresh herbs like basil and thyme to my pizza. I use a mandoline to thinly slice the eggplant and then put it in my contact grill for a minute or two to make them soft and thus I can shuffle them together and pile up on the pizza instead of placing the slices next to each other.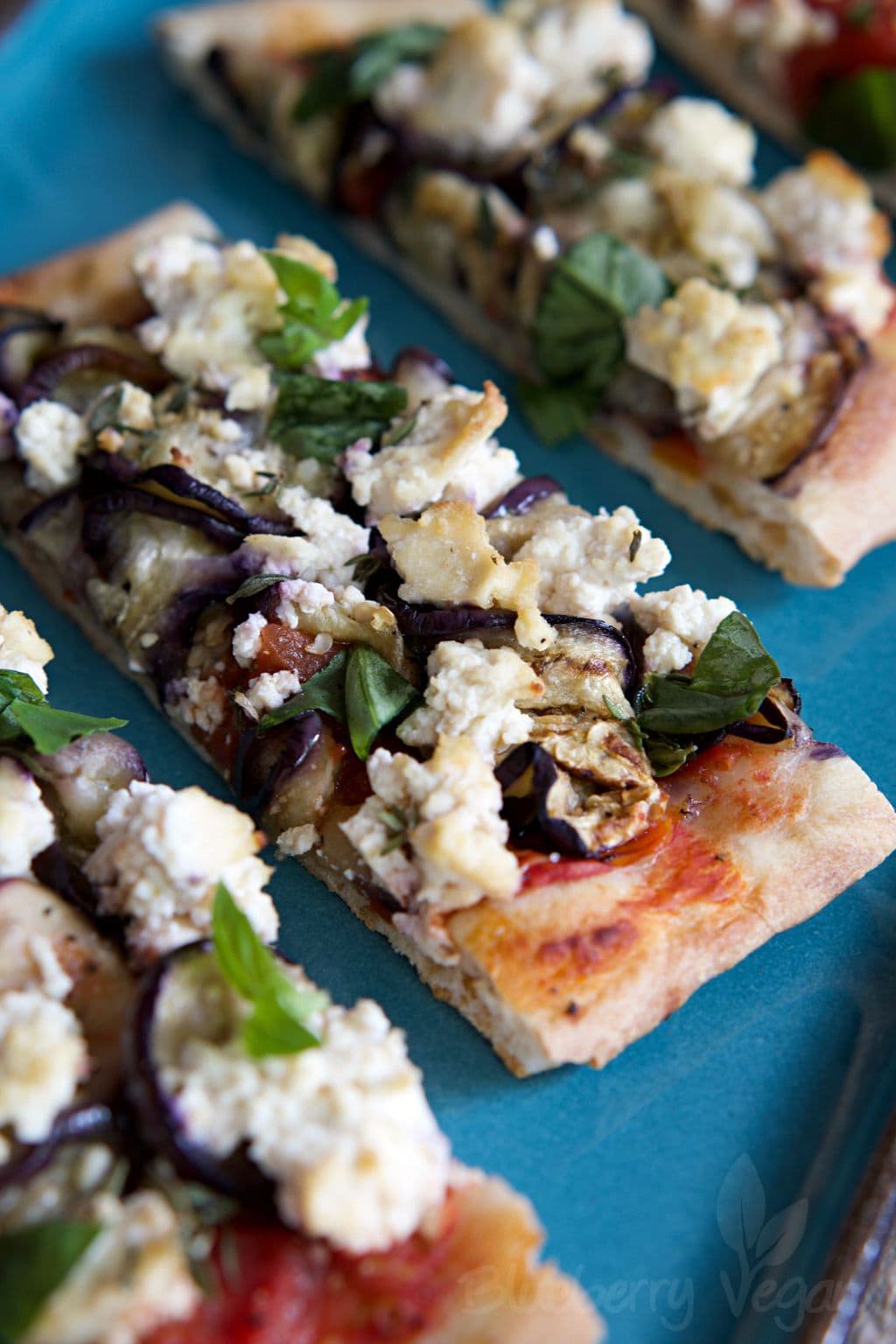 Do you know my other pizza recipes? I like pizza with cashew cheese, asparagus pizza, pumpkin pizza, wintry pizza boars, tart flambée pizza wheels, quick wrap pizza and pizza pull-apart bread.
Have fun making a pizza!
Love,
Rina
Looking for more pizza inspiration? Then also try pizza with my beloved vegan pizza cheese, pumpkin pizza, asparagus pizza, quick wrap pizza, wintry pizza boats, pizza wheels with wind garlic and mushrooms and tart flambée pizza wheels.

Delicious Eggplant Pizza
Zutaten/Ingredients
For the crust:
200 g (7.1 oz) flour
1 tsp dry active yeast
1 tsp salt
about 120 ml (1/2 cup) lukewarm water


For the sauce:
200 g (7.1 oz) chopped, tinned tomatoes
1/2 tsp oregano
1/2 tsp thyme
salt
pepper


For the topping:
400 g (14.1 oz) eggplant
some oil for frying
salt
pepper
2 cloves garlic
1 tbsp olive oil
basil or thyme - to taste


For the feta alternative:
200 g (7.1 oz) plain tofu
1 tbsp lemon juice
1/2 tsp salt
Zubereitung/Instructions
Make the dough first. Heat the oven to 50° C (120° F) then turn it off.


Knead all ingredients to a soft, not sticky dough. Maybe add some more water or flour. Knead for at least 5 minutes in the machine or 10 minutes by hand.


Then place in a bowl, dust with flour and cover with a kitchen towel. Put in the oven and wedge the door with a wooden spoon. Let rest for 60 minutes, until the dough has risen significantly.


While the dough is resting finely slice the eggplant and fry on both sides with a little oil in a pan or in a contact grill, set aside.


When the dough has risen, heat the oven to 250° C (480° F) and place a baking tray or pizza tray on the bottom rail. Divide the dough into two or four pieces and on a sheet of parchment paper press each piece of dough with your fingertips into an oval pizza shape, don't roll it with a rolling-pin, it won't raise as much then.


Combine all ingredients for the sauce and spread on the dough. Arrange the eggplant on it and season with salt and pepper. Press the garlic and mix with the olive oil, drizzle over the pizza. Crumble the tofu into a bowl and mix with lemon juice and salt, sprinkle over the pizza. Garnish the pizza before baking with thyme and/or after baking with basil.
Grab the parchment paper tight and place the pizzas onto the hot tray in the oven, close the door immediately.


It'll take the pizzas about 10 minutes to be perfect. Watch it after 5 minutes, though to prevent burning.