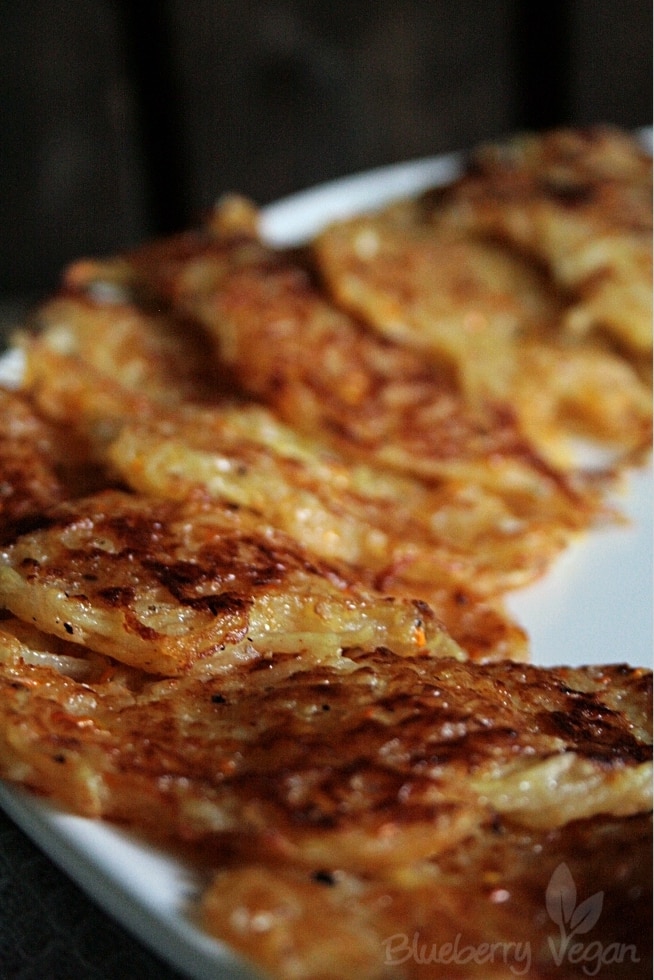 [Advertising: Affiliate Links]
I harvested my first pumpkin this year! I'm a fan of pumpkin. But my love for the yellow vegetable was not until a couple of years ago. Maybe this was because I only knew pumpkin soup back then. It was delicious, but how often do you have pumpkin soup in a row? So I didn't have pumpkin much.But now I have it regularly in late summer and autumn. I love oven pumpkin, noodles made from pumpkin, pumpkin spätzle and gnocchi, still pumpkin soup and these pumpkin fritters.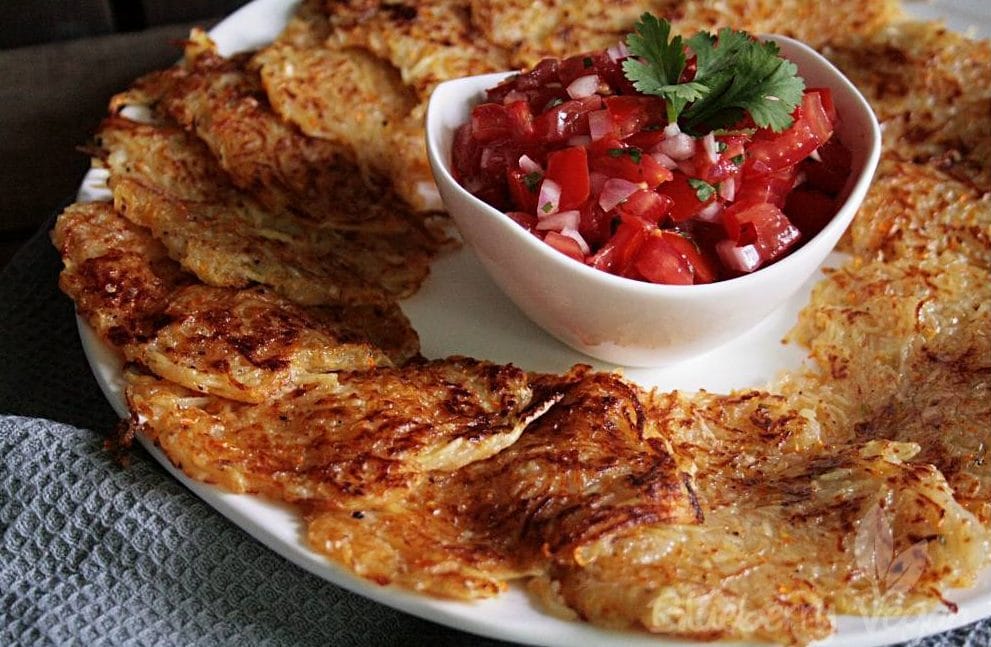 I grated the potatoes and the pumpkin in my food processor (I used the fine grating disc) and baked them in oil. The combination of this slightly sweet fritters and the tangy Pico de Gallo is wonderful. Pico de Gallo is a Spanish chunky sauce made from tomatoes, onions, chili, lemon juice and salt. I added some cilantro to the sauce. If you can't stand it use parsley instead or omit the green.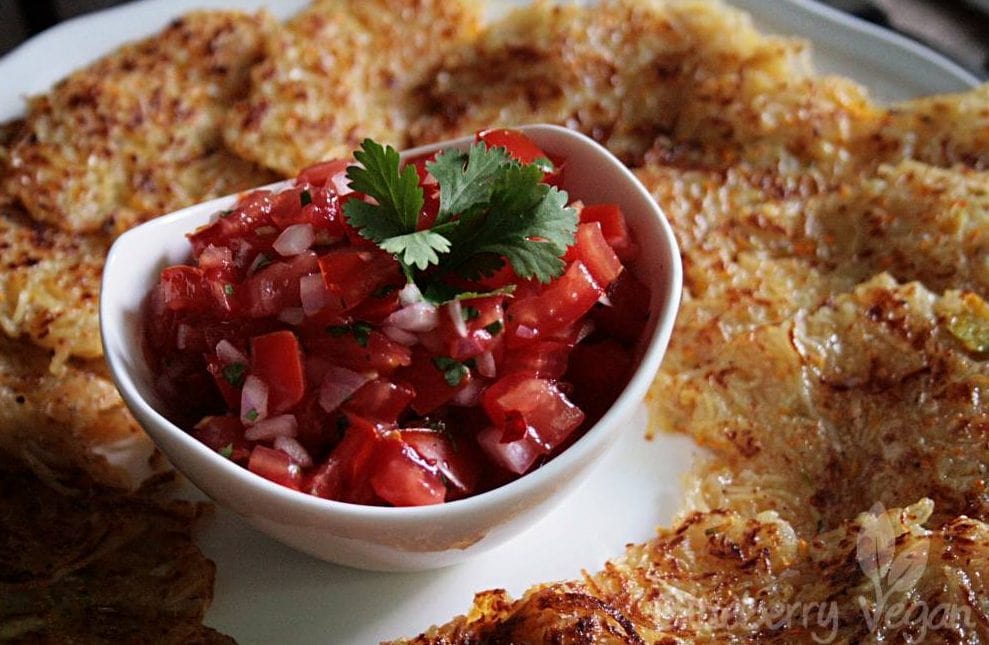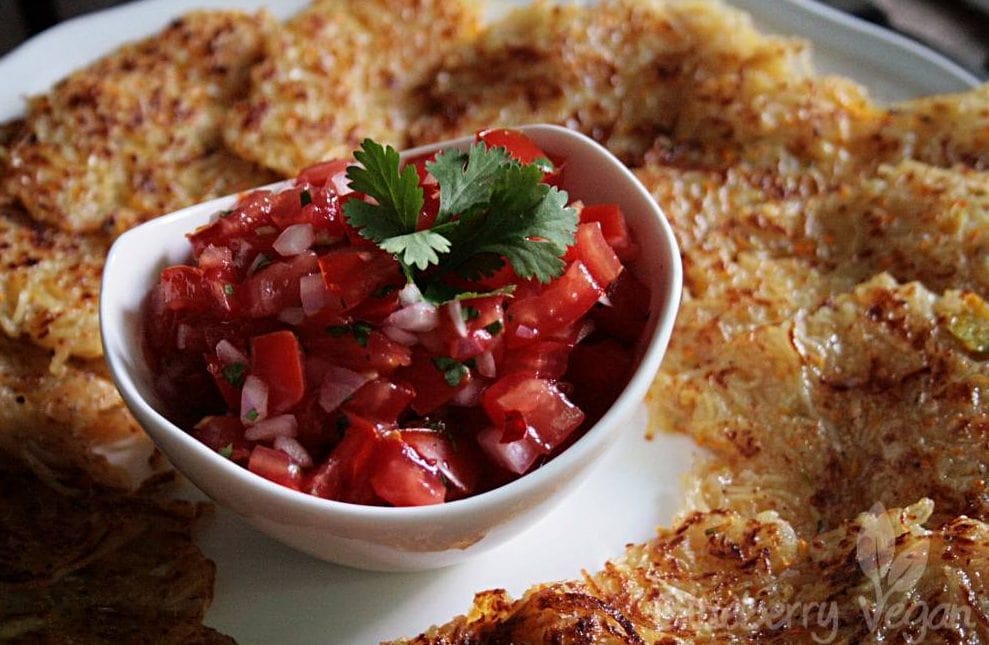 If you prefer to stay on the sweet side with this dish try apple sauce with the fritters or even better apple mango sauce. This tastes great, too.
Enjoy this meal!
Love,
Rina
Pumpkin Fritters with Pico de Gallo
Zutaten/Ingredients
For the fritters:
400 g (14 oz) potatoes
400 g (14 oz) pumpkin
1 onion
2 tsp salt
1 tsp pepper
1/2 tsp smoked paprika
1 tbsp potato starch


For the Pico de Gallo:
4 tomatoes
1 small onion
1 lime
1 tsp Sambal Oelek
1/2 tsp salt
1 tbsp cilantro, chopped


Also:
Zubereitung/Instructions
Finely grate the potatoes, pumpkin and onion. Season with one teaspoon salt, pour into a sieve and let drain.


Meanwhile prepare the sauce. Halve the tomatoes, remove the seeds and finely cube them. Also finely cube the onion, press the lime and combine all ingredients. Let infuse in the fridge.


With your hands press out the excess water from the potatoes and pumpkin and combine with the rest of the ingredients.
Preheat the oven to 60° C (140° F).


Heat some oil in a pan and add three to four small heaps of the fritters mixture. Flatten to form fritters and bake on medium heat for 2 - 3 minutes each side. Keep warm on a plate in the oven.


Serve the fritters with Pico de Gallo.
Tipps/Notes
The fritters also taste great with apple sauce or apple mango sauce.