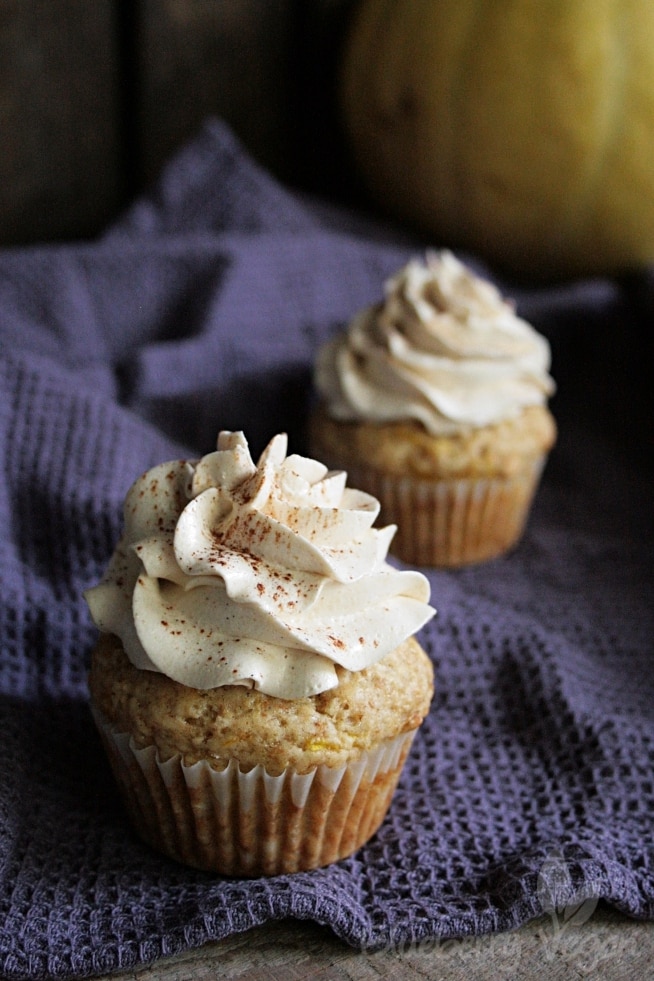 [Advertising: Affiliate Links]
It takes some time until I finish a whole pumpkin. So there is just one solution: Put it in everything, that I am making. I already shared my recipe for pumpkin blondies with you.For the birthday of a friend, I used pumpkin to make these pumpkin muffins and topped them with a pumpkin cinnamon buttercream. The muffins are beautifully moist because of the vegetables in them. A very similar recipe is the one for my zucchini chocolate muffins, which also taste great.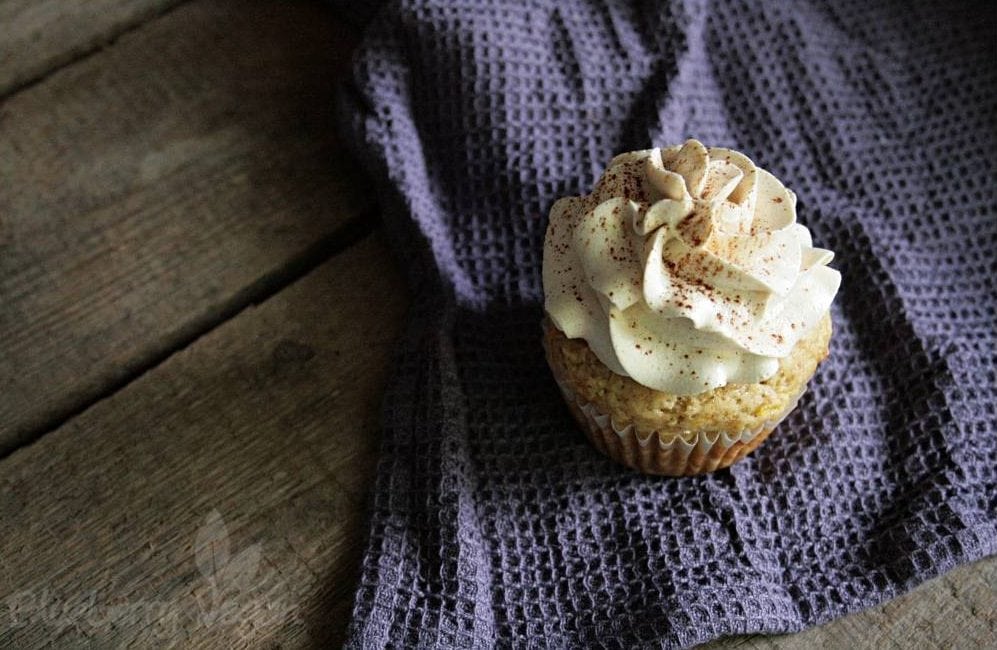 For the frosting I made a pumpkin pudding to mix up the buttercream. To do so purée some pumpkin with water, add flour and cook it.
Have fun baking these muffins and enjoy your sweet treat!
Love,
Rina
Pumpkin Muffins with Pumpkin Cinnamon Frosting
Gang/Type:
Desserts and Sweets
Zutaten/Ingredients
For the dough:
2 tbsp flaxseed, ground
6 tbsp water
120 ml (1/2 cup) soy milk
1 tsp apple cider vinegar
280 g (2 cups minus 2 tbsp) all purpose flour
110 g (1/2 cup) sugar
1/2 tsp salt
1/2 tsp cinnamon
1 1/2 tsp baking powder
1 tsp baking soda
180 g (1 cup) pumpkin, peeled
60 ml (4 tbsp) neutral tasting oil
1 1/2 tsp vanilla extract


For the frosting:
80 g (1/3 cup) pumpkin
80 ml (1/3 cup) water
1 tsp vanilla extract
1/2 tsp cinnamon
2 tbsp sugar
2 tbsp flour
150 g (5.3 oz) vegan butter
2 tbsp powdered sugar
Zubereitung/Instructions
Combine the flaxseed and water and let jelly. Also combine soy milk and apple cider vinegar and let curdle. Preheat the oven to 180° C (360° F) and equip a muffin tin with paper liners.


In a big bowl combine flour, sugar, salt, cinnamon, baking powder and baking soda. Shred the pumpkin with a grater or in a food processor.


Combine all ingredients with a wooden spoon or dough scraper until there are just a few little lumps left.


Spread the dough in the paper liners and fill them to 3/4. Bake in the oven for about 20 minutes until a toothpick comes out clean.


Let cool in the muffin tin for 5 minutes, then transfer to a cooling rack and let cool completely.


For the frosting make a pumpkin pudding by blending pumpkin and water until smooth. Mix with sugar, flour and cinnamon and bring to boil. Let cook for about 1 - 2 minutes, then transfer to a bowl and cover with clingfilm, so no that the pudding doesn't get a skin.


Let pudding and butter get room temperature.


Beat the butter and powdered sugar until white and fluffy. Then add the pudding one tablespoon after another while beating. It will take a couple of minutes until the mixture is smooth and fluffy enough to use it.


Pour the buttercream in a piping bag and pipe on the muffins. Sprinkle with some cinnamon.
Tipps/Notes
To pour the batter IN the paper liners and not around them, I use an ice cream scoop with 
ejection function
, that I have bought years ago. I ground the flaxseed in my 
Personal Blender
 and shredded the pumpkin in this 
processor
.