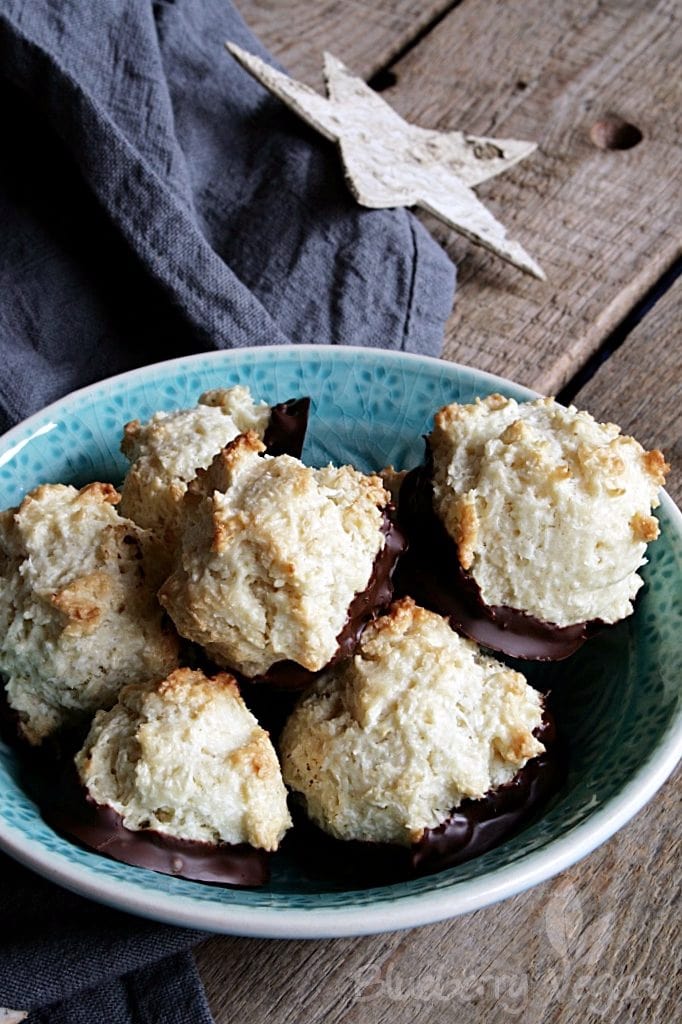 Two or three years ago I saved the recipe for vegan coconut macaroons by Isa Chandra Moskowitz and a few days ago it fell into my hands again. I had to finally try it. My family and I loved it, so I will share it with you.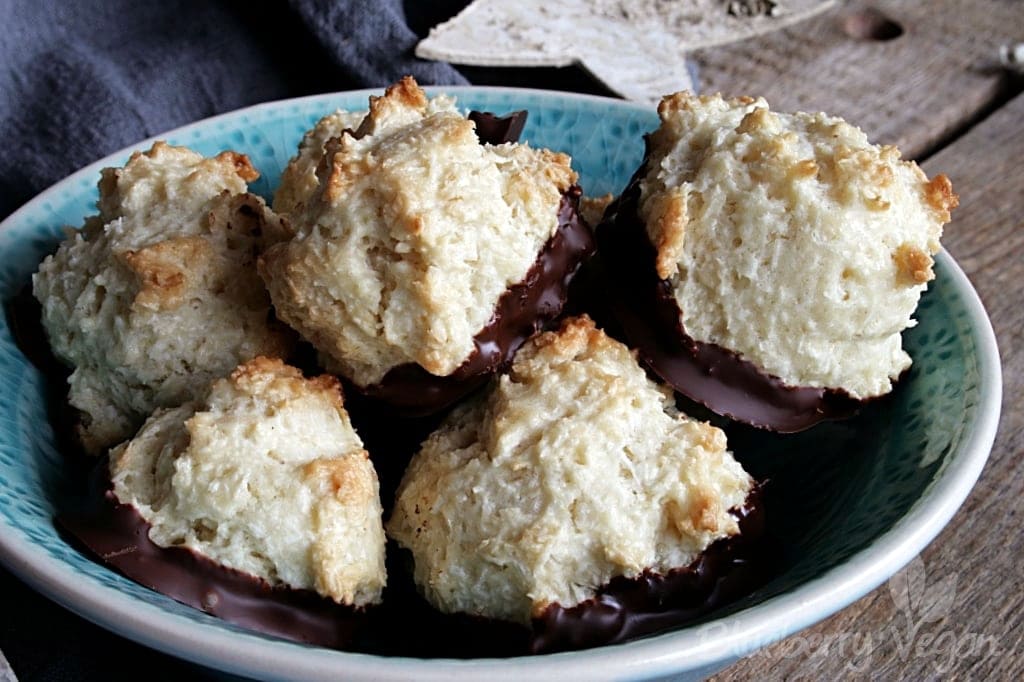 The macaroons are easy and fast to make. To avoid them from getting too hard, store them in an airtight container instead of a metal one.
Enjoy!
Love,
Rina
Want more cookies? Also try quick chocolate cookies, chocolate chip cookies, no-bake oatmeal cookies, chocolate orange cookies, granola cookies, spritz cookies and spitzbuben cookies.

Vegan Coconut Macaroons
Ergibt/Yield:
about 20 pieces
Zutaten/Ingredients
3 oz silken tofu
1/3 cup neutral-tasting oil
2 tbsp soy milk
1/2 cup sugar
1/2 teaspoon almond extract
1 teaspoon vanilla extract
1 cup flour
3/4 tsp baking powder
1/4 tsp salt
1 1/2 cups shredded coconut


1/2 cup dark chocolate
Zubereitung/Instructions
Preheat the oven to 180° C (360° F), line two baking trays with parchment paper.


In a blender mix silken tofu, oil and soy milk until smooth. Stir in the rest of the ingredients until a sticky dough forms.


Drop the dough on the baking trays with two teaspoons and bake in the oven for 12 - 14 minutes, until the edges brown. Remove from the oven and let cool on a cooling rack.


When the macaroons are cold, melt the chocolate (in a double boiler or carefully (!) in the microwave), dip in the bottom of the macaroons and return them on the parchment paper.


Store the macaroons in an airtight container for up to 2 weeks.
Tipps/Notes
Since it is winter, I let the chocolate firm outside. If you make the macaroons in summer, place them in the fridge for about 15 minutes.