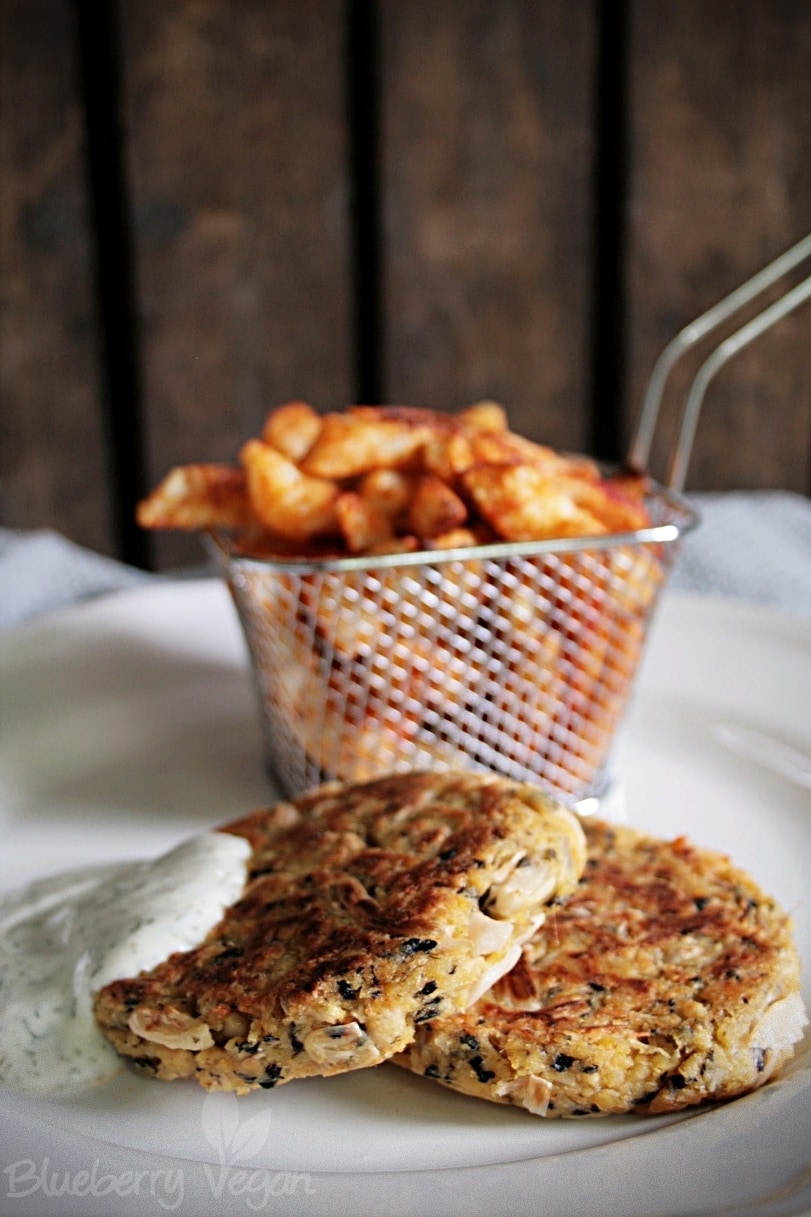 [Advertising: Affiliate Links]
I harvested a lot of kohlrabi lately and thus had a lot of kohlrabi to cook. To avoid having them the same way over and over, I thought: "How about kohlrabi fries for a change?"
The fries should be spicy and crispy. So I covered them with some flour, which helps them to bake crispy and not only get cooked. And what would fit better to "chips" than fish? So I thought about vegan fish cakes as a side.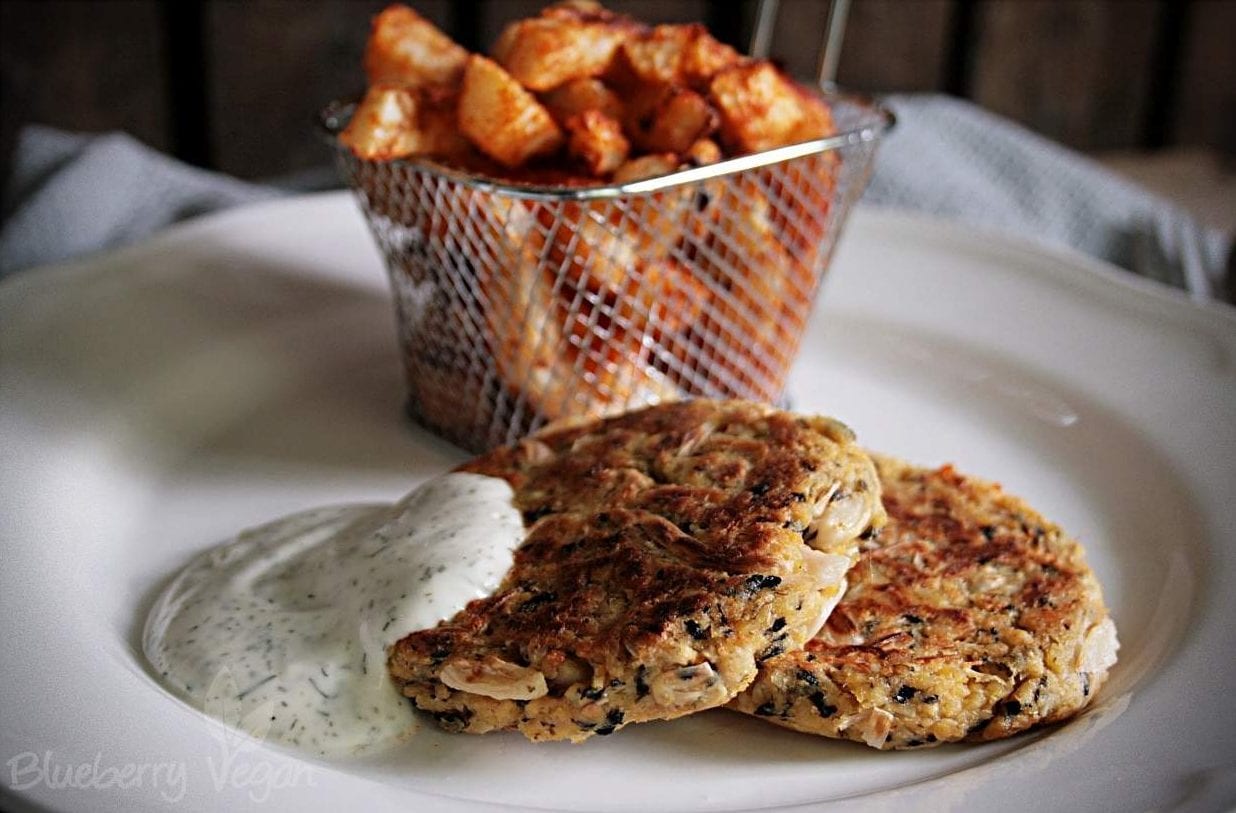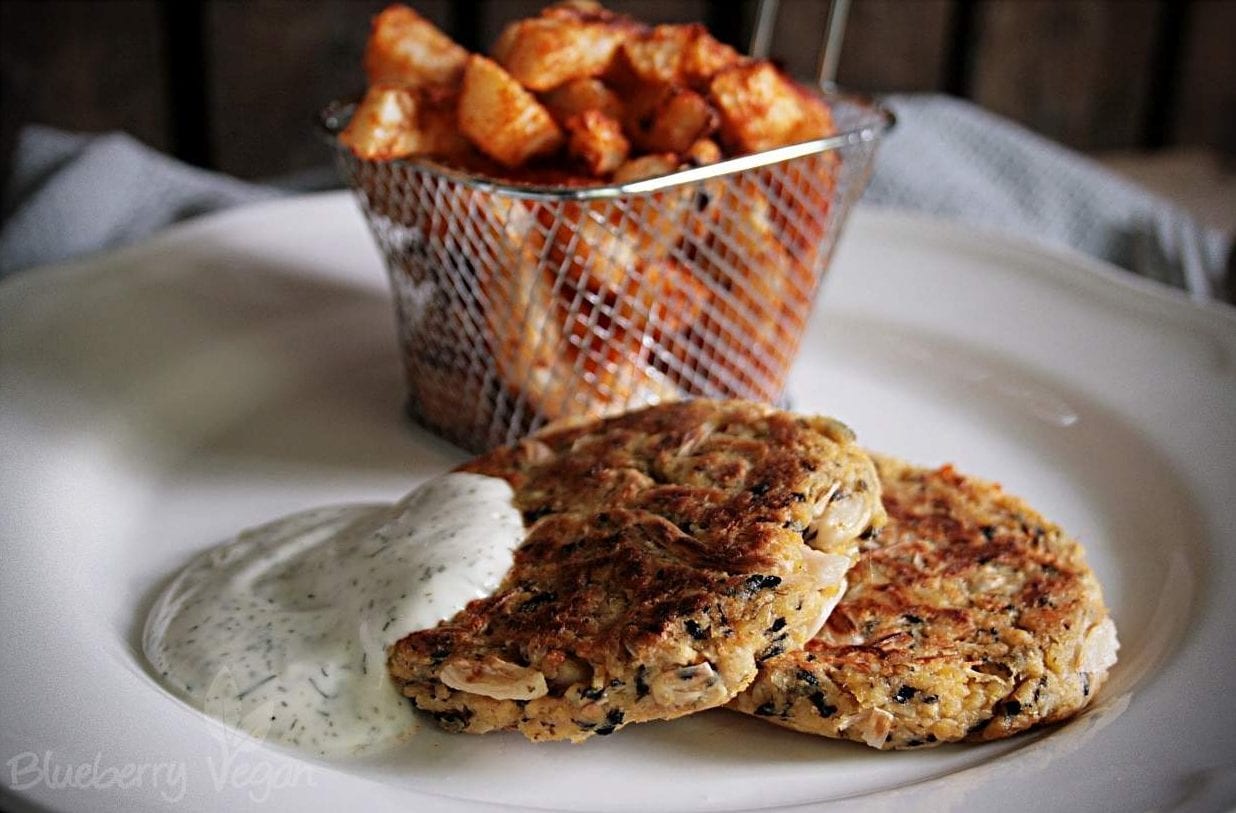 The vegan fish cakes are made from chickpeas and jackfruit. I chose jackfruit for the cakes because it adds a stringy texture. To add that special sea-taste, I added a shredded nori sheet. You will need young, green jackfruit in brine for the fish cakes. You can buy it canned in asian supermarkets.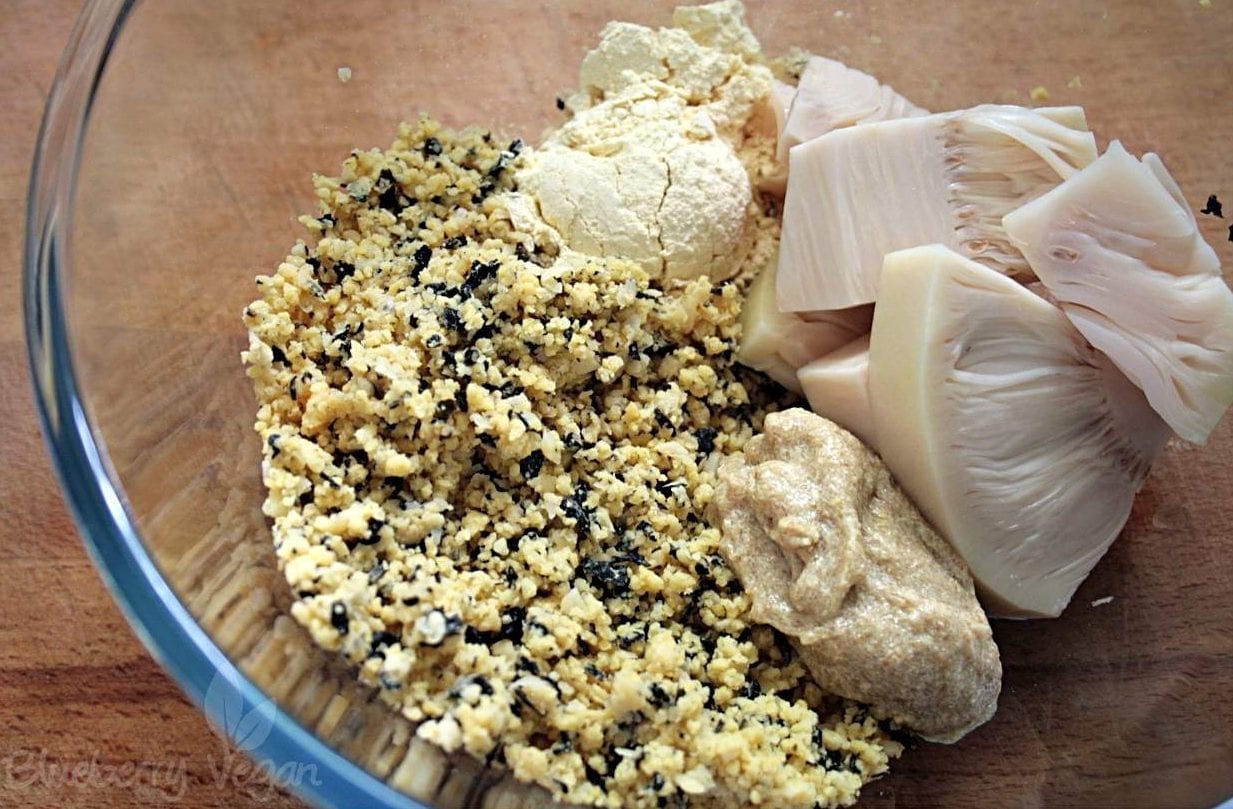 Perfect for this dish is a dip made from homemade mayo, yoghurt and dill. You can easily prepare a double batch of the fish cakes, since they freeze well.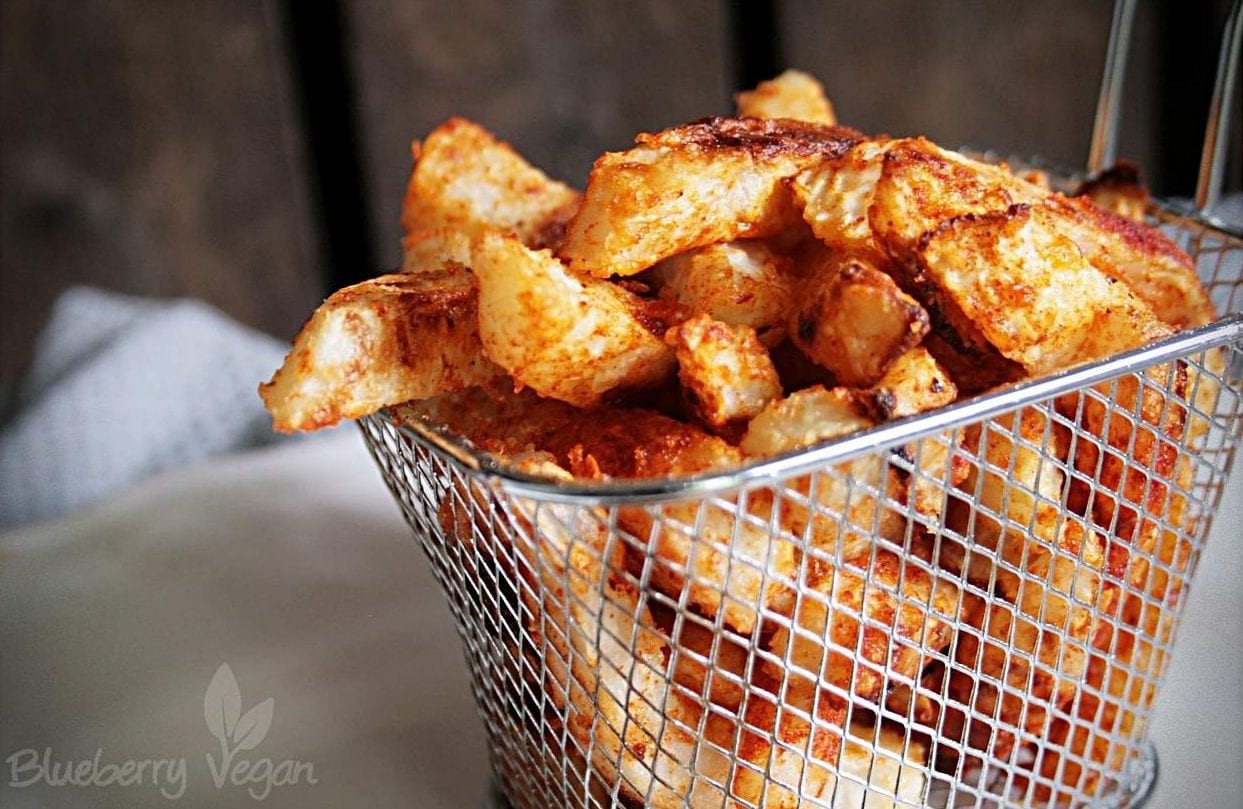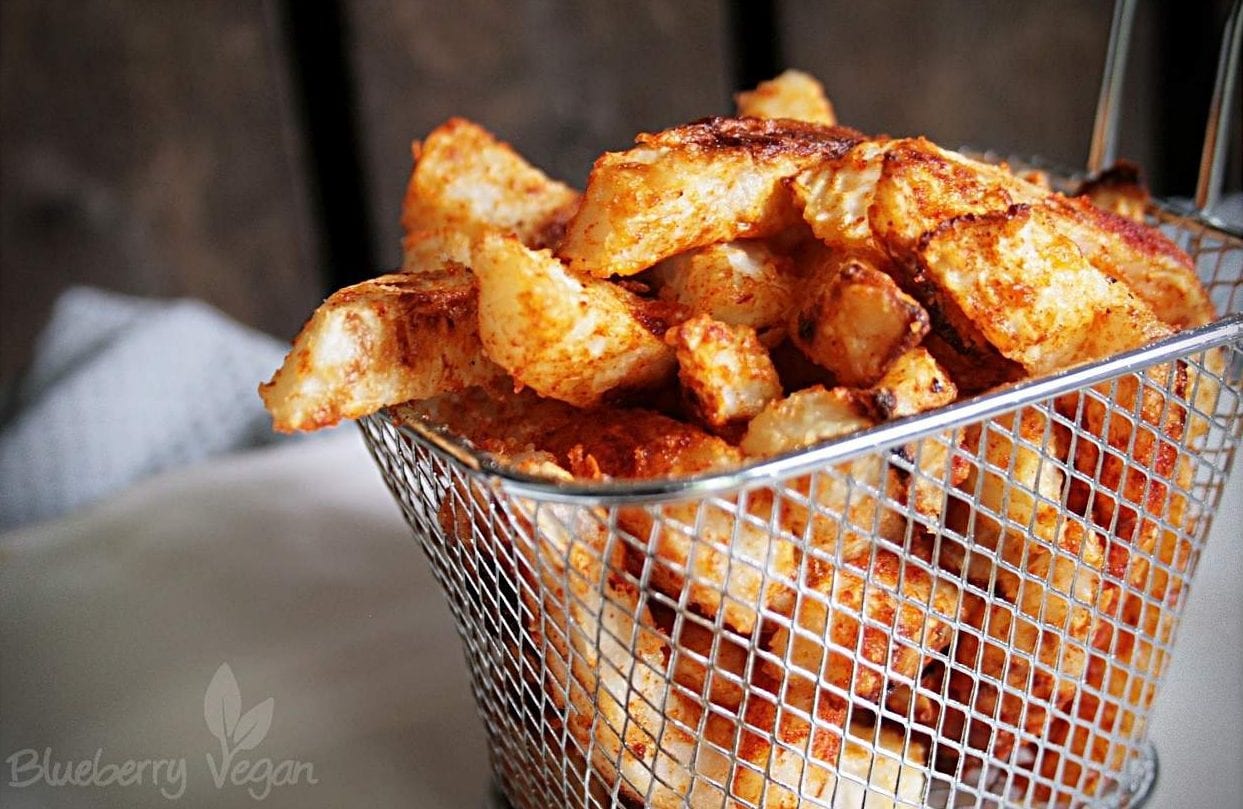 The kohlrabi fries, however, should be eaten right away, because then they are crispy. They tend to get soft while they cool, but still taste great, though.
Enjoy!
Love,
Rina
Want more vegan fish dishes? There you go: eggplant herring in yoghurt sauce, carrot lox, pickled eggplant herring snack, jackfruit tuna salad and carrot lox pancakes.

Kohlrabi Fries with Fishless Cakes
Zutaten/Ingredients
For the kohlrabi fries:
3 kohlrabi
2 tbs oil
2 tbs flour
1 tsp smoked paprika
1 tsp salt


For the fishless cakes:
1 tbs (golden) flaxseed
1 sheet nori
1/2 14 oz - can chickpeas
1/2 14 oz - can jackfruit in brine
1/2 onion
2 tsp herb vinegar
4 tbs chickpea flour
3/4 - 1 tsp salt
1/4 tsp sweet paprika
1/4 tsp pepper


For the dip:
2 tbs mayo
2 tbs non-dairy yoghurt
1/2 tsp dill, chopped
1 pinch salt


Also:
Zubereitung/Instructions
Preheat the oven to 220° C (430° F). Peel the kohlrabi and cut into sticks. Toss in a freezing bag, add the oil and juggle until wetted. Then add the flour and shake again until fully coated. Lay the sticks next to each other on a lined baking tray and bake in the oven for about 25 minutes. Turn them over after half the time. Combine paprika powder and salt and sprinkle over the kohlrabi fries.


While the kohlrabi are baking, prepare the fishless cakes. Grind the flaxseed and mix with 2 tablespoons water, let jelly. Finely chop the nori sheet or process ist in a blender by pulsing the knifes. Drain the chickpeas and jackfruit.


Finely process the onion in a food processor, add the chickpeas and process again. Pull the jackfruit in fibers and knead with the other ingredients until a sticky dough forms. Season to taste with salt, paprika and pepper. Form four cakes and fry in hot oil for about 3 - 4 minutes each side.


For the dip just combine all ingredients and season to taste with salt. On a plate arrange the fishless cakes and fries. Serve immediately.