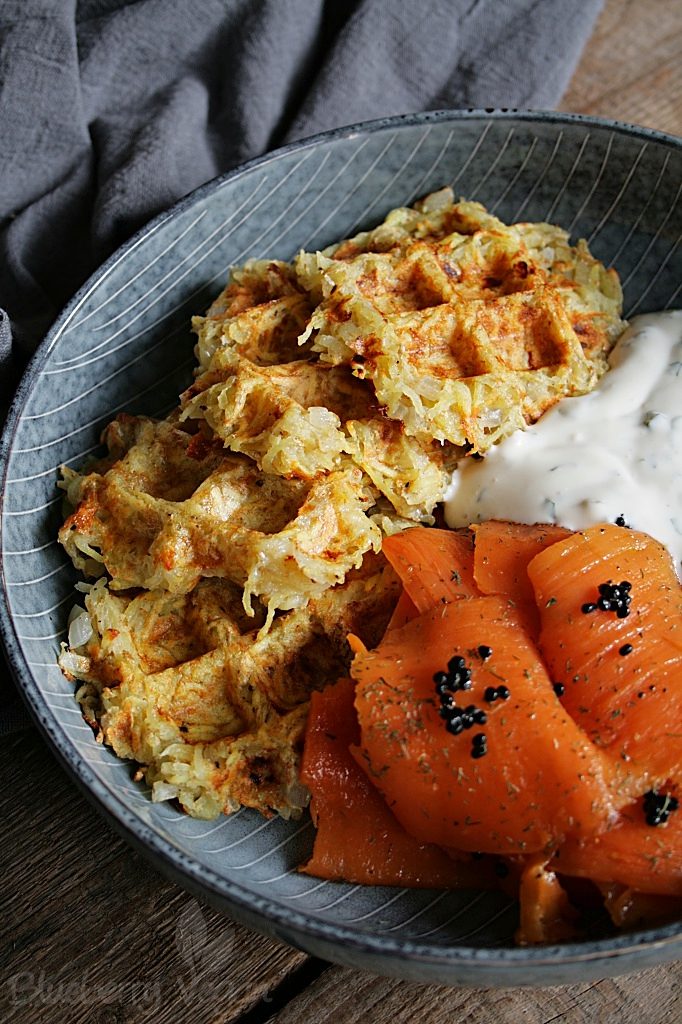 [Advertising: Affiliate Links]
I finally found the time to get in the kitchen and cook something. I missed it the past couple of weeks. I was too occupied with my work lately and when I found the time to make something it was already dark, so I couldn't take nice photos. I now have a few days off of work and I want to make them count.
Since I had some carrot lox left-over from my birthday brunch, I thought this would be great with hash browns.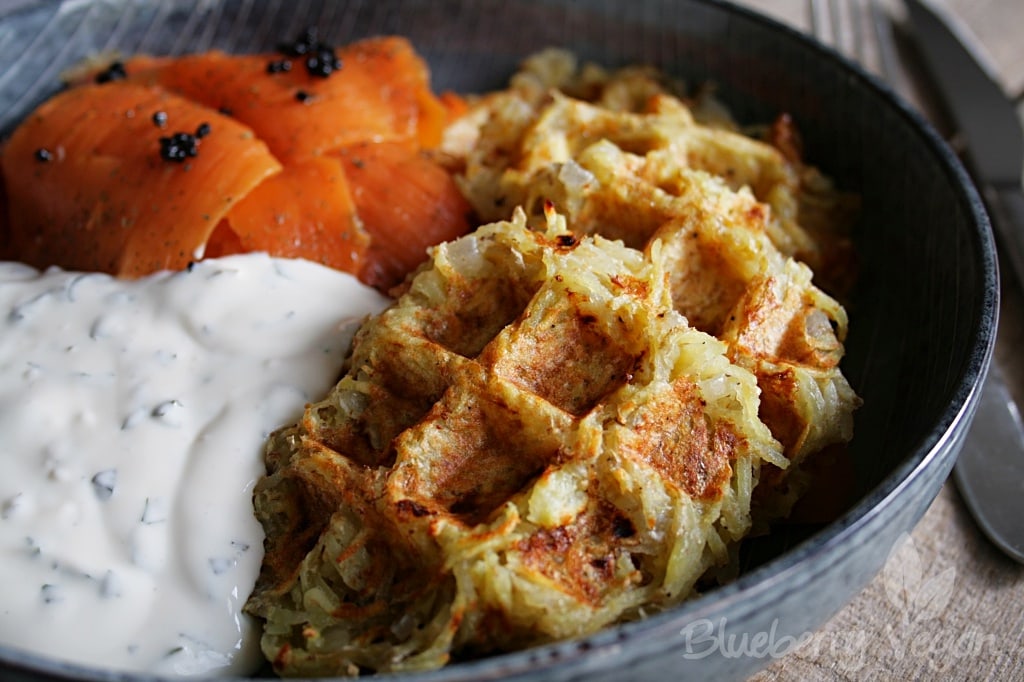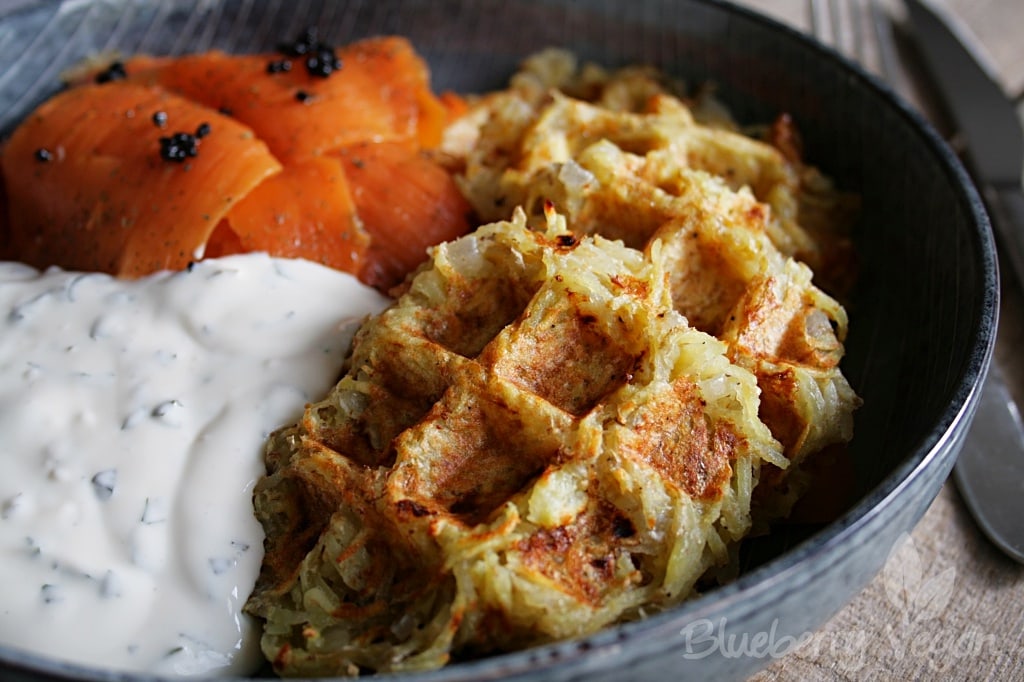 To save some fat, I like to bake hash browns in the waffle iron. This way you'll need just a tiny bit fat and thus they are easier to digest and taste deliciously after potatoes. To make the potato mixture stick together I added some ground flaxseed. I have also tried it with rolled oats, but because of the lack of gluten they don't bind well.
As a dip I made a simple herbal curd. You can add the herbs you like. I like parsley and mint best in a mixing ratio of 3:1. A dash of lemon juice and a pinch of salt… I could eat the whole bowl of it!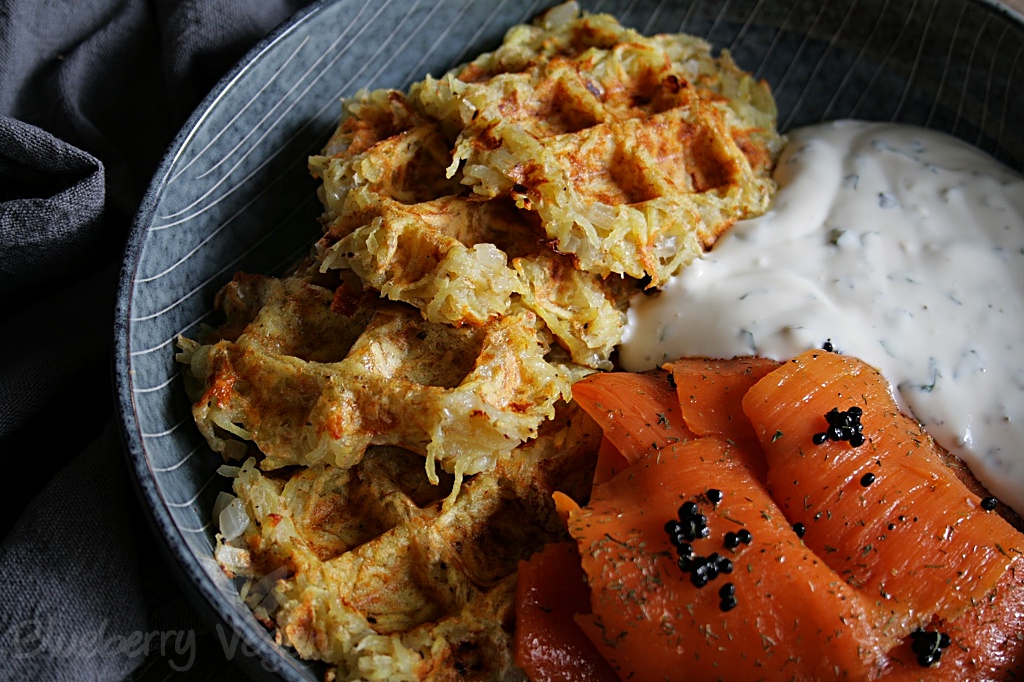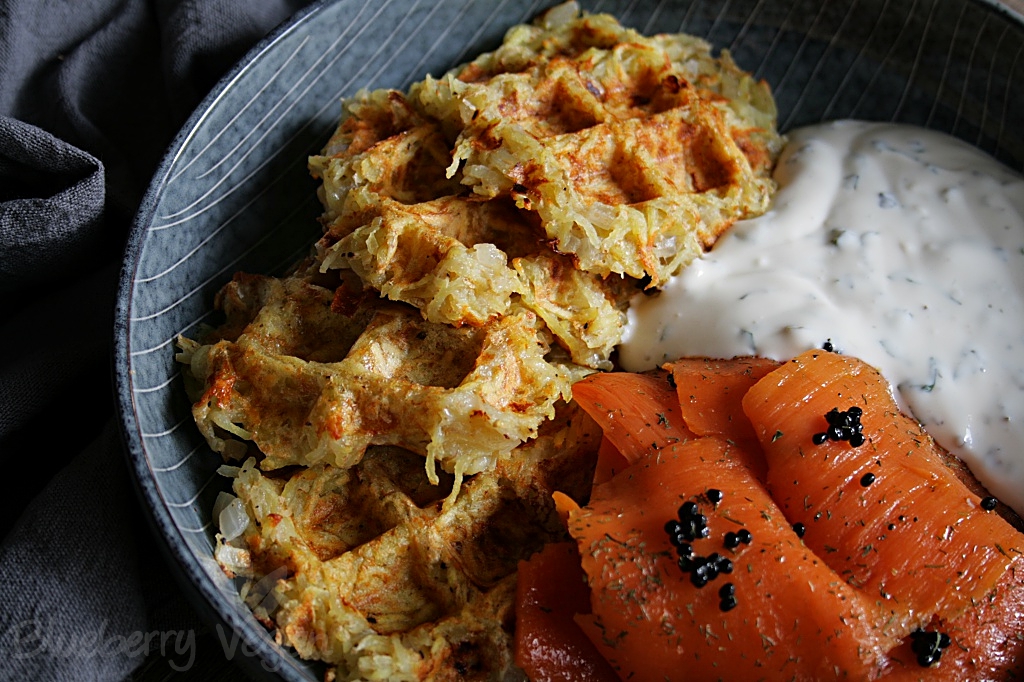 Make sure to let the waffles bake long enough, so that the potatoes are cooked through and don't stick to the iron. Have fun trying this recipe and enjoy!
Love,
Rina
Want more waffles? Then also try crispy and light waffles and breakfast waffles.

Potato Waffles with Herbal Curd
Zutaten/Ingredients
For the potato waffles:
500 g (17.6 oz) potatoes
1 onion
1 tbsp (golden) flaxseed, ground
salt
pepper


For the herbal curd:
200 g (7 oz) soya curd - Provamel
1 dash lemon juice
1 pinch salt
4 tbsp chopped herbs of choice - I like parsley and mint


Also:
some vegan butter for the waffle iron
mixed salat or carrot lox - to taste
Zubereitung/Instructions
Finely grate the potatoes and onion, mix with salt and let steep for a minute, then press with your hands to get rid of most of the liquid. Combine the potatoes with ground flaxseed, salt and pepper and knead until the mixture sticks together.


Preheat the waffle iron and grease it with some vegan butter. Add a bit of the mixture and bake the waffle(s) for about 5 - 7 minutes until golden. Repeat until all the mixture is used.


For the herbal curd combine all ingredients and season to taste with lemon juice and salt. Serve with the waffles. My carrot lox also goes great with the waffles.