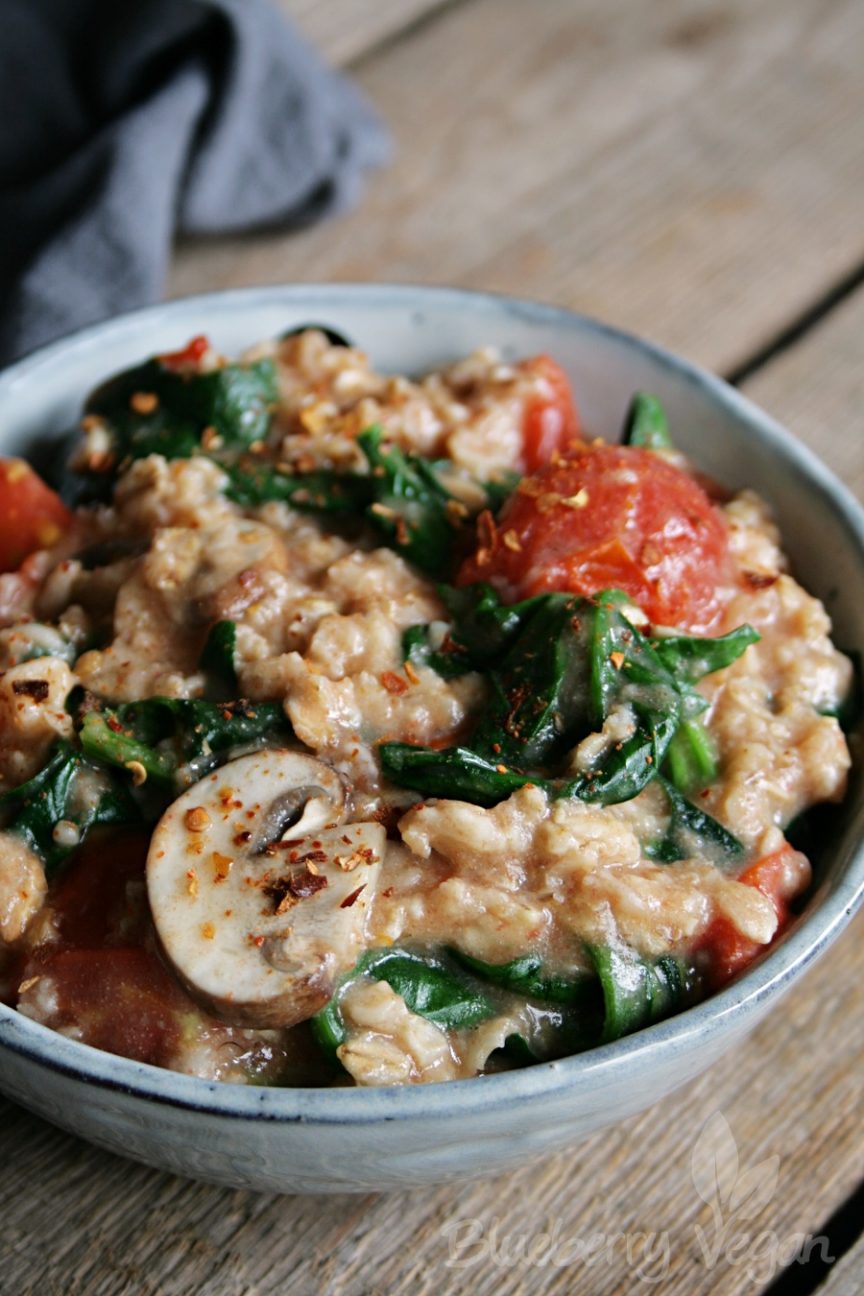 [Advertising: Affiliate Links]
Everybody knows porridge. I love it for breakfast with chocolate and peanut butter or with blueberries. Especially in winter I like its warmth.
Have you ever tried savory porridge? As I walked around in a store a couple of days ago I spotted a box for savory porridge, I made a face and didn't give it much thought. This was probably because I don't buy mush mixes or other food mixes (way too expensive and unnecessary ingredients…) and also I couldn't imagine this slimy texture in savory.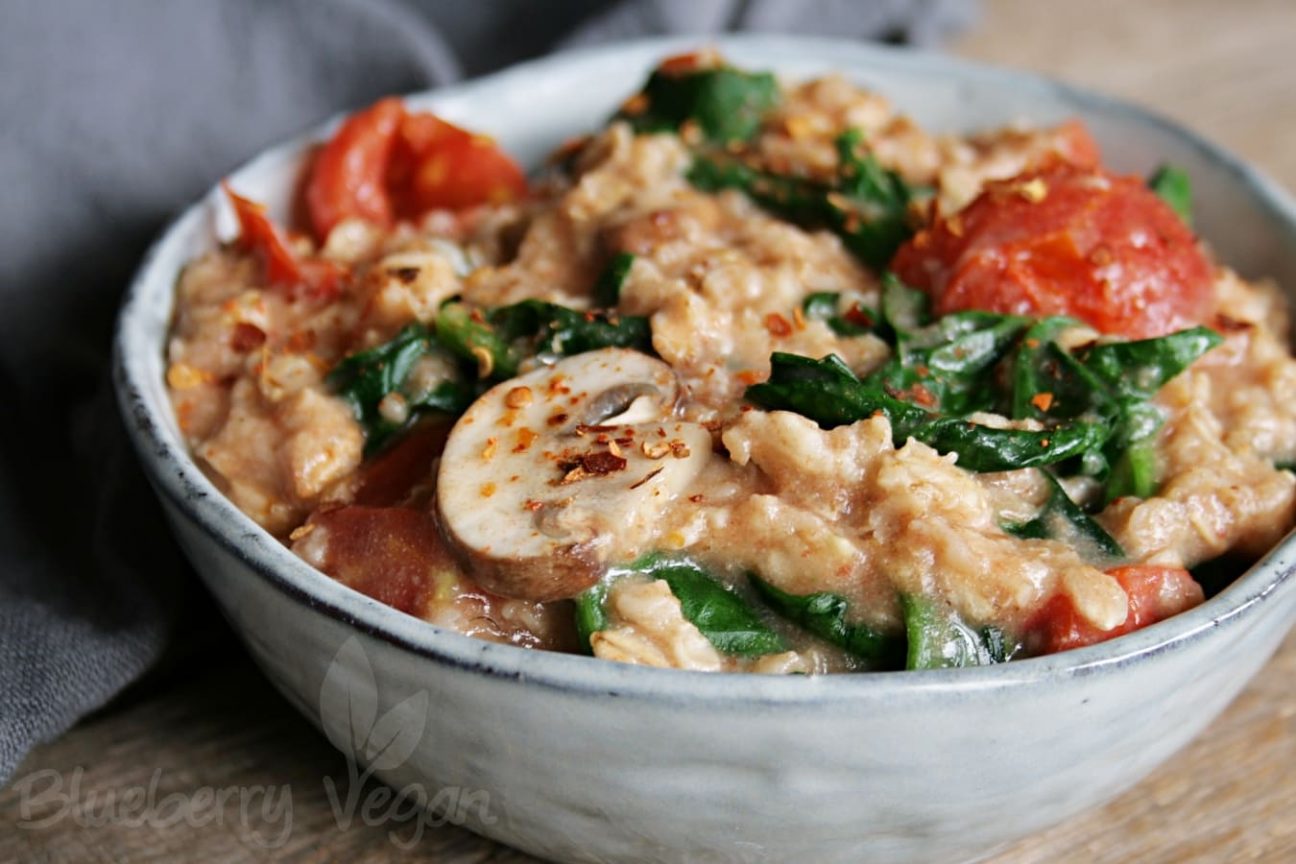 Two days later it hit me again and I was curious. So I got into my kitchen and made a savory porridge. Onions and veggie stock instead of milk and cinnamon. And instead of fruit I used tomatoes, mushrooms and spinach. The result was so yummy, that I wrote down the recipe for you.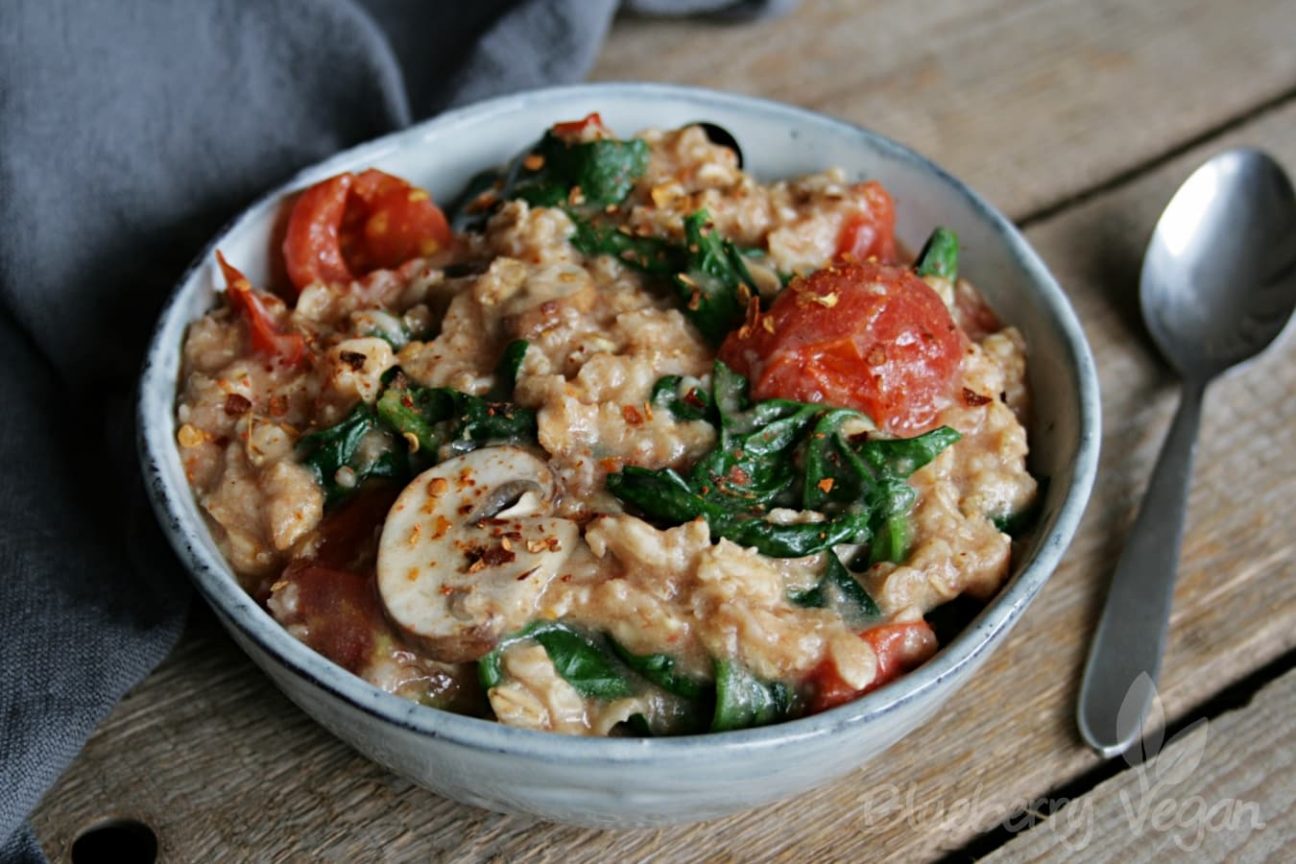 If you like the combination of tomatoes, mushrooms and spinach also try this pasta!
Have fun trying a savory porridge!
Love,
Rina
You have a sweet tooth? Then try my chocolate porridge with peanut butter and banana, porridge with blueberries, warming apple pie porridge with glazed almonds and crunchy millet porridge with rhubarb blueberry compote.

Savory Porridge with Tomatoes, Mushrooms and Spinach
Gang/Type:
Breakfast, Snack
Zutaten/Ingredients
1 tsp oil
1/2 small onion
1 handful cherry tomatoes
1 handful mushrooms
50 g (1/2 cup) oats
250 ml (1 cup) vegetable broth
1 handful spinach
1 tbsp nutritional yeast flakes
1 dash lemon juice
salt
chili flakes
Zubereitung/Instructions
Halve the tomatoes, slice the mushrooms and wash the spinach. Dice the onion and keep all ingredients handy.


Heat the oil in a deep pan and sauté the onions in it. Add the tomatoes and fry for 2 minutes. Then add oats, broth and mushrooms and let boil for 3 minutes while stirring. Add the spinach, stir in and let wilt.


Season the porridge with nutritional yeast flakes, salt and a dash of lemon juice. Arrange in a bowl and sprinkle chili flakes over.
Tipps/Notes
If the porridge gets too thick, add more broth.
I made the porridge in my new
wok pan
, which I love.