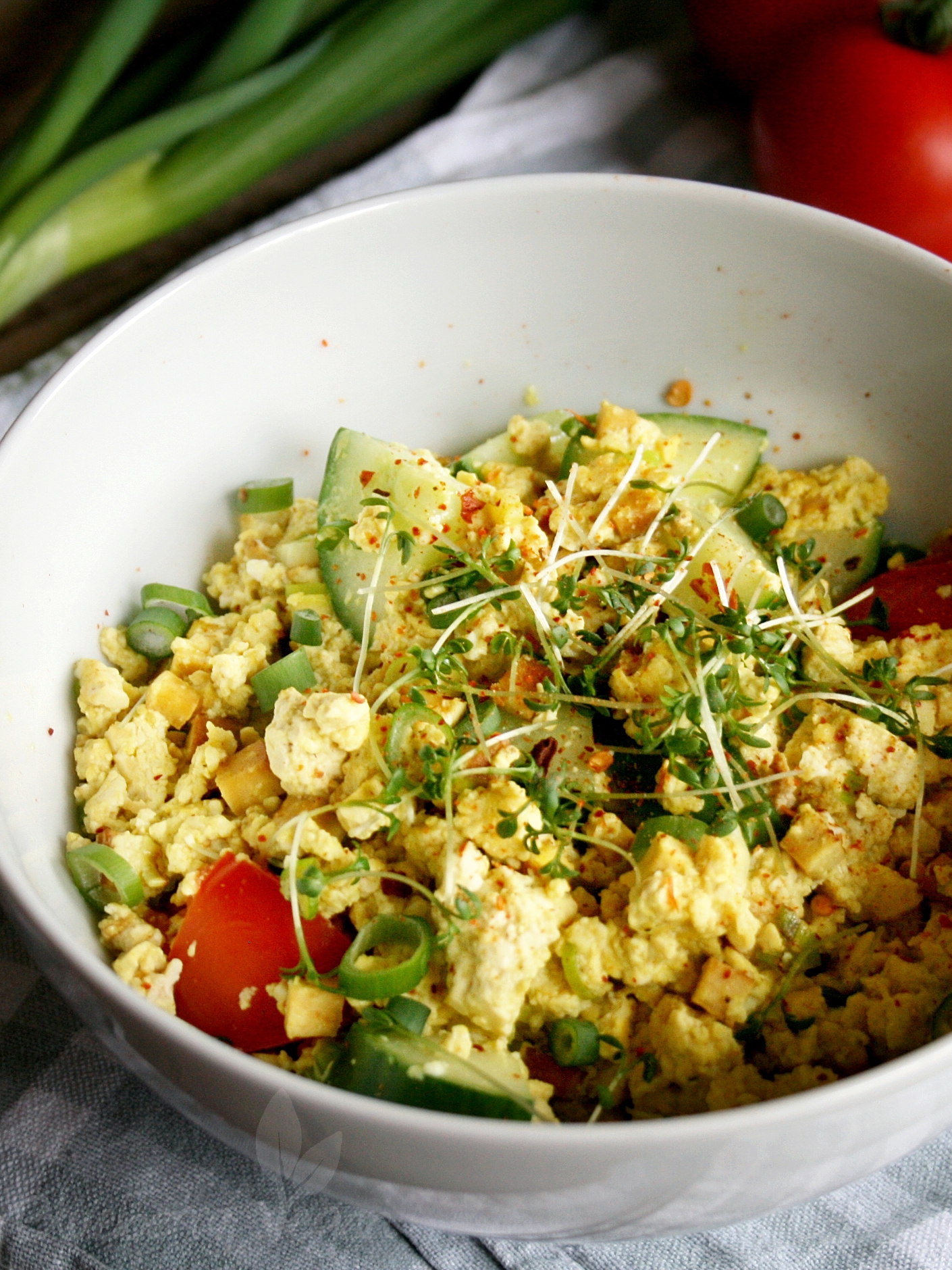 [Advertising: Affiliate Links]
I loved to eat scrambled eggs for breakfast. And although I am a vegan now, I don't have to renounce the taste of it.
The solution is scrambled tofu. I make scrambled tofu with three different types of tofu. Each providing it's own texture. I finely dice the smoked tofu and fry it on high temperature. This way it tastes like bacon bits.
After frying the smoked tofu and adding spring onions, I add plain tofu. I crumbled it, before adding and the season it with turmeric (just for the color) and kala namak. This is your scrambled tofu base. You can buy kala namak in whole foods markets or online.
What sets your scrambled tofu through the roof is silken tofu. I just trow it in the pan and hash it a little with the spoon. It makes our scrambled tofu soft and moist, just like scrambled eggs.
At last I add the rest of the ingredients. Today I chose tomatoes and cucumber. Also try mushrooms, asparagus or pickles in your scrambled tofu.
I recommend you have wholemeal toast and a tablespoon of cress with your scrambled tofu.
Use the rest of the tofu to make vegan cream cheese. The silken tofu left-overs make a great chocolate mousse.
Have a nice Day!
Love,
Rina
Want more tofu ideas? Also try baked tofu, tofu feta alternative, veggie bowl with peanut tofu and Thai-Curry noodle soup with spicy tofu.

Hearty Scrambled Tofu
Zutaten/Ingredients
100 g plain tofu
30 g smoked tofu
100 g silken tofu
1 tsp oil
1 spring onion
1 medium-sized tomato
1 2-inch-sized piece cucumber
1/4 tsp kala namak
1/8 tsp turmeric
pepper
1 tbsp cress (optional)
1 - 2 slices wholemeal toast
Zubereitung/Instructions
Crumble the tofu in a small bowl, finely cube the smoked tofu, slice the spring onion and cut the cucumber and tomato in small pieces, set aside.


Heat the oil in a big pan on high heat and fry the smoked tofu until crispy. Then add the spring onion and sautée for 1 - 2 minutes. Pour in the crumbled tofu, season with turmeric and kala namak. Fry for 1 - 2 minutes while stirring.


Reduce the heat and add the silken tofu and mash it a little with the spoon, stir in.
At last add the tomato and cucumber, stir in, season with pepper and heat for 1 - 2 minutes.


Arrange the scrambled tofu in a bowl, sprinkle with cress and serve with wholemeal toast.
Tipps/Notes
The tofu is also delicious without the veggies. If you don't like it that hearty in the morning, omit the onions.