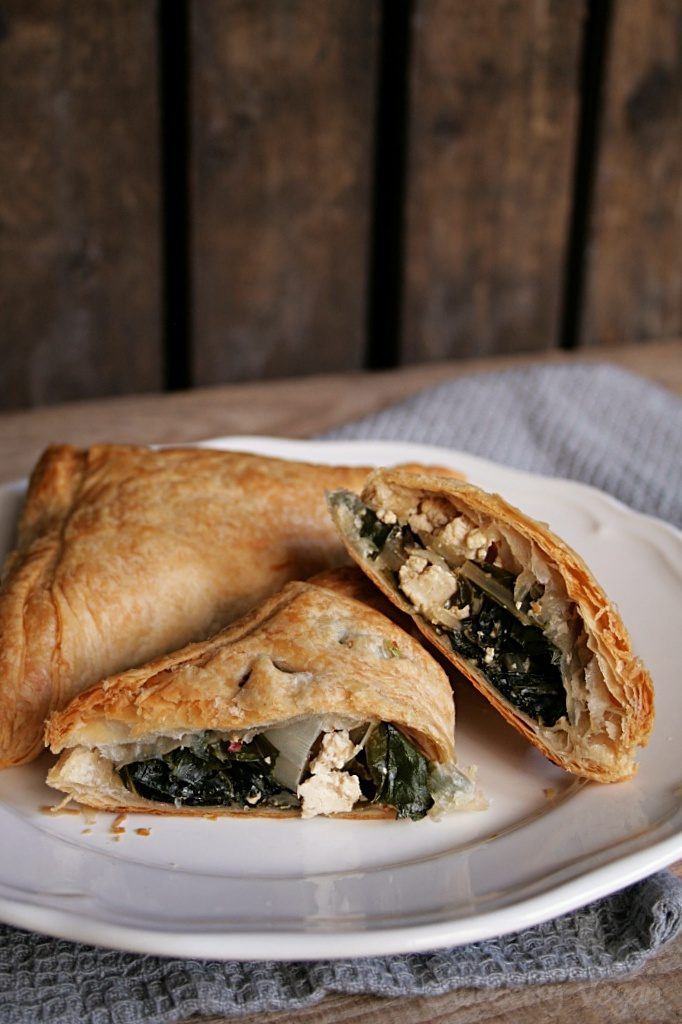 Yesterday I found fresh chard in the supermarket and had to buy it. I also saw spelt puff pastry for the first time and got that, too. I imagined it together with spicy tofu as tasty puff pastry pockets with chard and feta alternative.
So I hurried home and tried it. And it turned out super yummy.
Have fun trying out this recipe!
Love,
Rina
Chard Pockets with Feta Alternative
Zutaten/Ingredients
For the filling:
1 small chard plant
1 onion
2 cloves garlic
1 tbsp olive oil
200 g (7 oz) firm tofu
2 tbsp lemon juice
1/2 tsp salt
1/4 tsp chili flakes
salt
pepper


Also:
1 pk. vegan puff pastry
1 tbsp oil
Zubereitung/Instructions
Crumble the tofu into a bowl and mix with lemon juice, salt and chili flakes. Set aside.


Finely chop the onion, press the garlic and chop the chard. Heat the oil in a deep pan and sauté the onion. Add the garlic and brown a bit. Then add the chard and fry for 3 - 4 minutes, slightly season with salt and pepper. Then stir in the tofu.


Preheat the oven to 180° C (360° F).
Roll out the puff pastry and divide into 6 pieces. Place some filling on each pastry piece, fold and close the edges with a fork. Brush on some oil and bake in the oven for about 25 minutes until golden.
Tipps/Notes
You can also use spinach or bok choy instead of chard.