[Advertising: Affiliate Links]
Besides herring in yoghurt sauce savory broccoli cake is also a dish from my childhood. My mom lined a round springform pan with puff pastry, filled it with blanched broccoli and poured over a mixture made from eggs and cream. The only down-side of this dish was that we couldn't have three pieces of it. 😉
For a very long time I haven't prepared this dish. I had to collect some experiences as a vegan, before I thought of using silken tofu and chickpea flour instead of the egg cream combo. (It is by the way the same mixture, that I use to make a vegan omelette).
To season the mixture and give it a more eggy-taste I use a pinch of Kala namak.
The broccoli gets a three-minute treatment in the microwave oven to soften it a bit. People often fight about whether microwaves are harmful or harmless. I haven't seen one comprehensive study, that convinced me, that they are harmful. And think about it: micro waves lay between radio and cell phone waves with their length. Are you exposed to cell phones and radios? See, no need to avoid the microwave oven.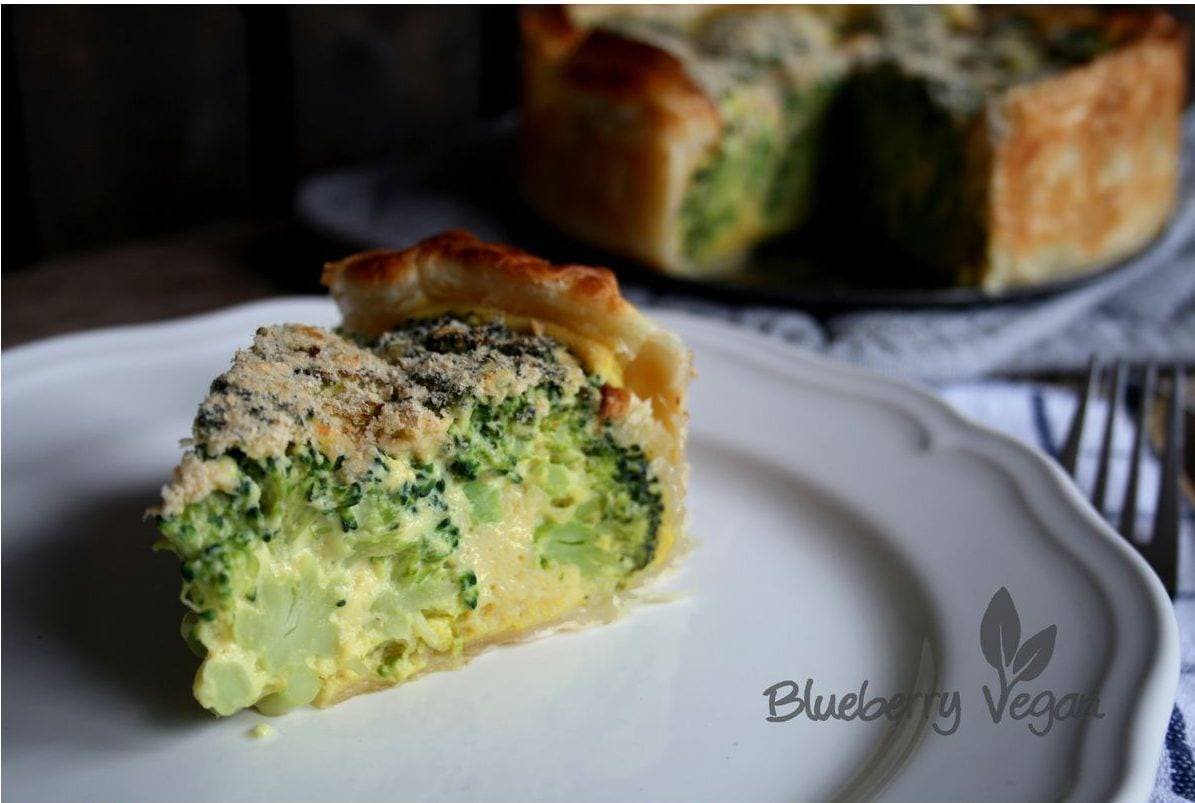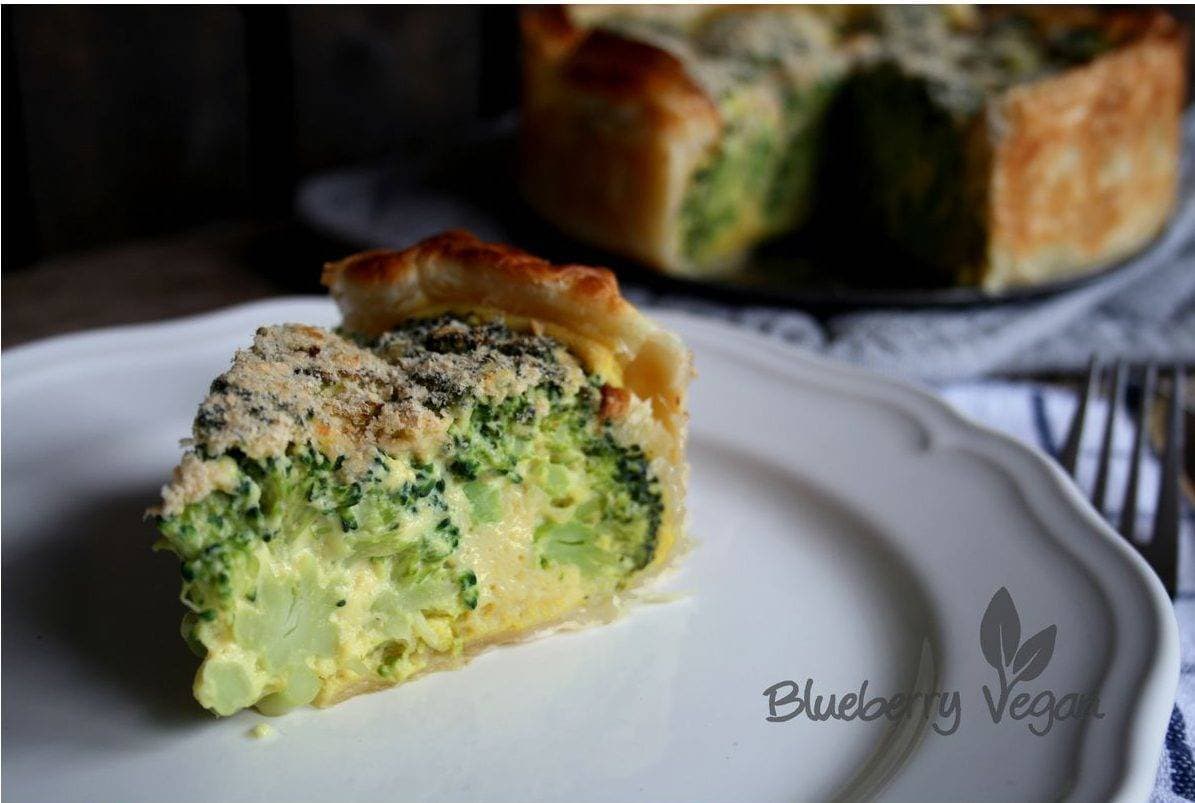 I like to cook vegetables in the microwave because it takes only a couple of minutes and thus less vitamins get destroyed. Vitamins are also washed out, when you cook your veggies in water and then drain them. Give it a try. It's firm to the bite, tasty and has a great color!
To cook in my microwave I use a microwave safe dish (I like the Tupperware rice cooker).
Cut the veggies in bite-sized pieces, wash it and put it wet in the pot. Depending on the type of vegetable and the amount, it takes between 2 and 6 minutes to cook it.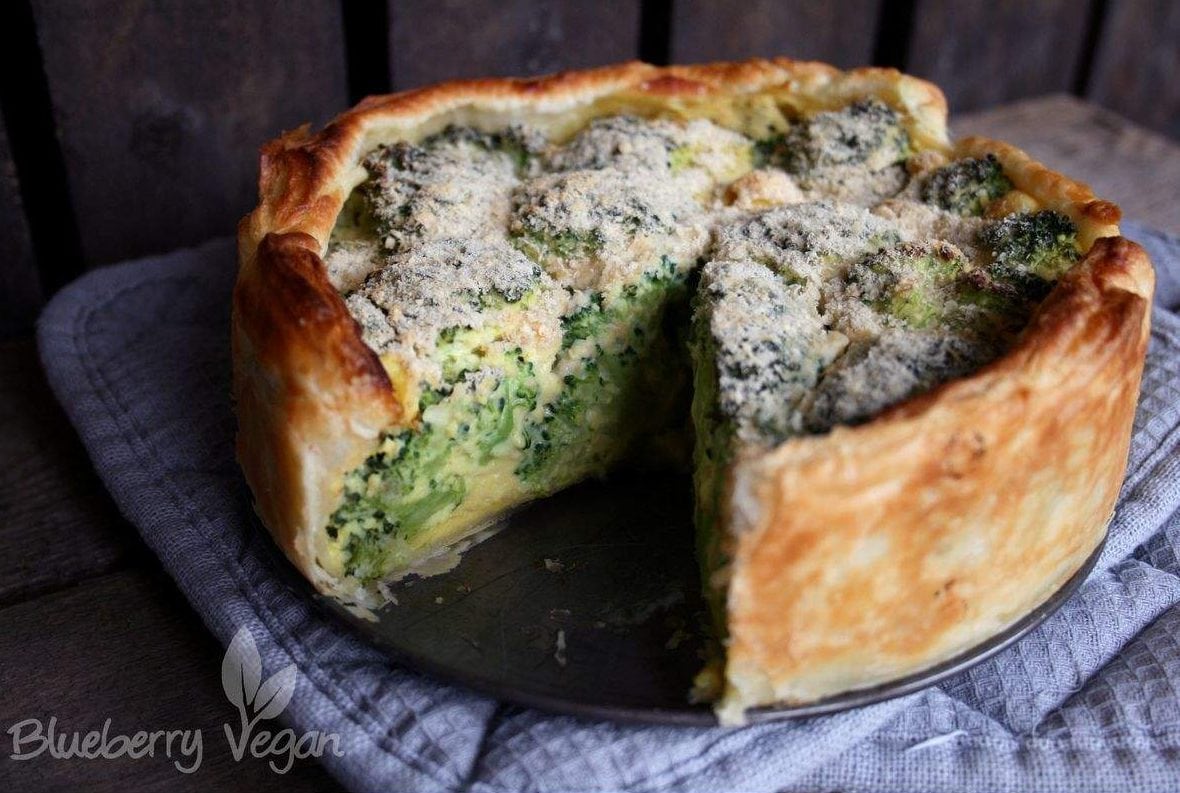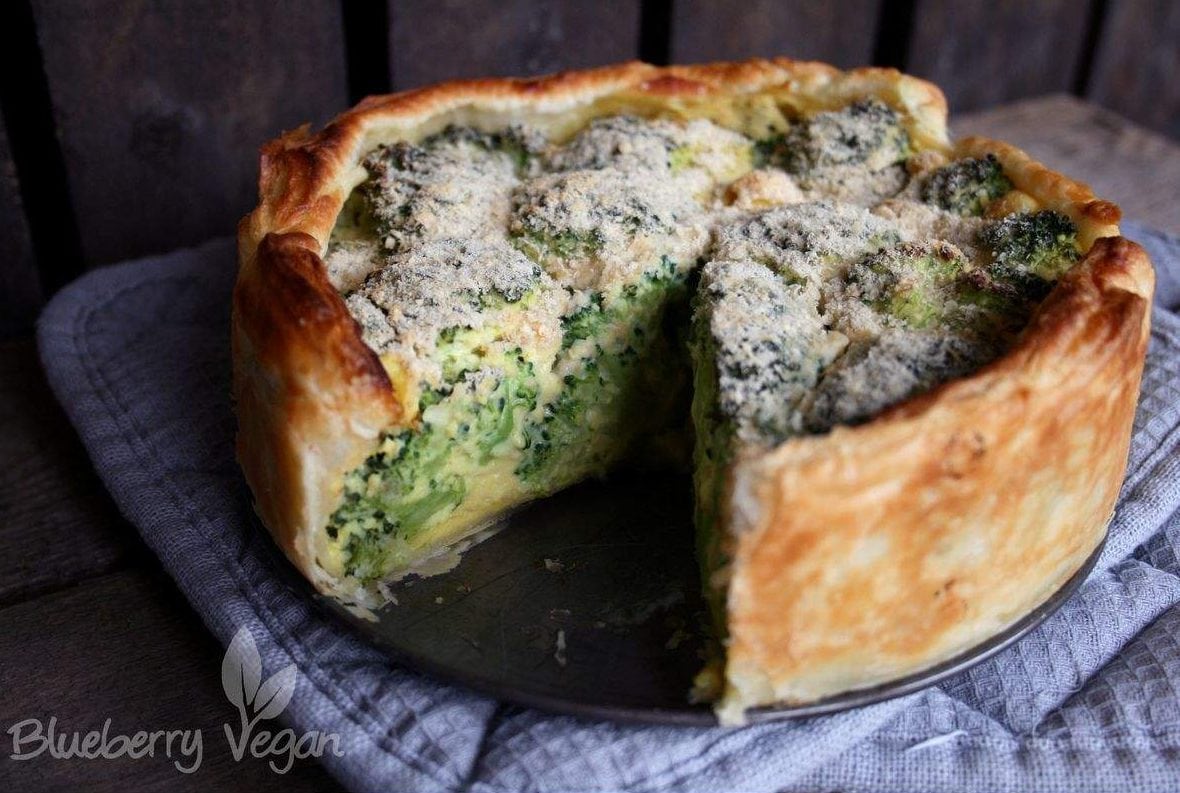 Start with 2 minutes and then rattle the pot. I can hear now by the sound, if it is how I want it to be or if it needs another, 1, 2 or more minutes. Better you start small than to overcook your veggies! 😉
Season the tofu mixture well, since the broccoli isn't seasoned at all. To get the mixture in the space between the broccoli, tap the springform pan a couple of times on the counter. Sprinkle with nutritional yeast flakes to create a spicy crust.
Enjoy!
Love,
Rina
Savory Broccoli Cake
Ergibt/Yield:
2 - 3 Portions
Zutaten/Ingredients
For the tofu mixture:
300 g (10.6 oz) silken tofu
4 tbsp chickpea flour
2 tbsp nutritional yeast flakes
2 tbsp non-dairy milk
1 tsp lemon juice
1 tsp mustard
1/2 tsp salt
1/4 tsp Kala namak
1/4 tsp turmeric
pepper


Also:
1/2 pk. vegan puff pastry
500 g (18 oz) broccoli
1/2 tbsp nutritional yeast flakes
Zubereitung/Instructions
Preheat the oven to 180° (360° F).


Grease a 20 cm (8-inch) springform pan. Line with puff pastry and form a crust. Prick the pastry on the bottom with a fork.


Cut the broccoli into bite-sized pieces, wash it and pour in a microwave safe pot. Microwave for 2 - 3 minutes until firm to the bite. You can also steam the broccoli, if you don't have a microwave oven. Pour in the springform pan.


For the tofu mixture blend all ingredients until smooth, season well. Pour over the broccoli and tap the pan a couple times on the counter to get the mixture in the spaces between the broccoli.


Sprinkle with nutritional yeast flakes and bake in the oven for 25 - 30 minutes until golden.
Tipps/Notes
To make the dish for 4 - 6 servings, double the ingredients and bake in a 26 cm (10 inch) pan for 10 - 15 minutes longer.