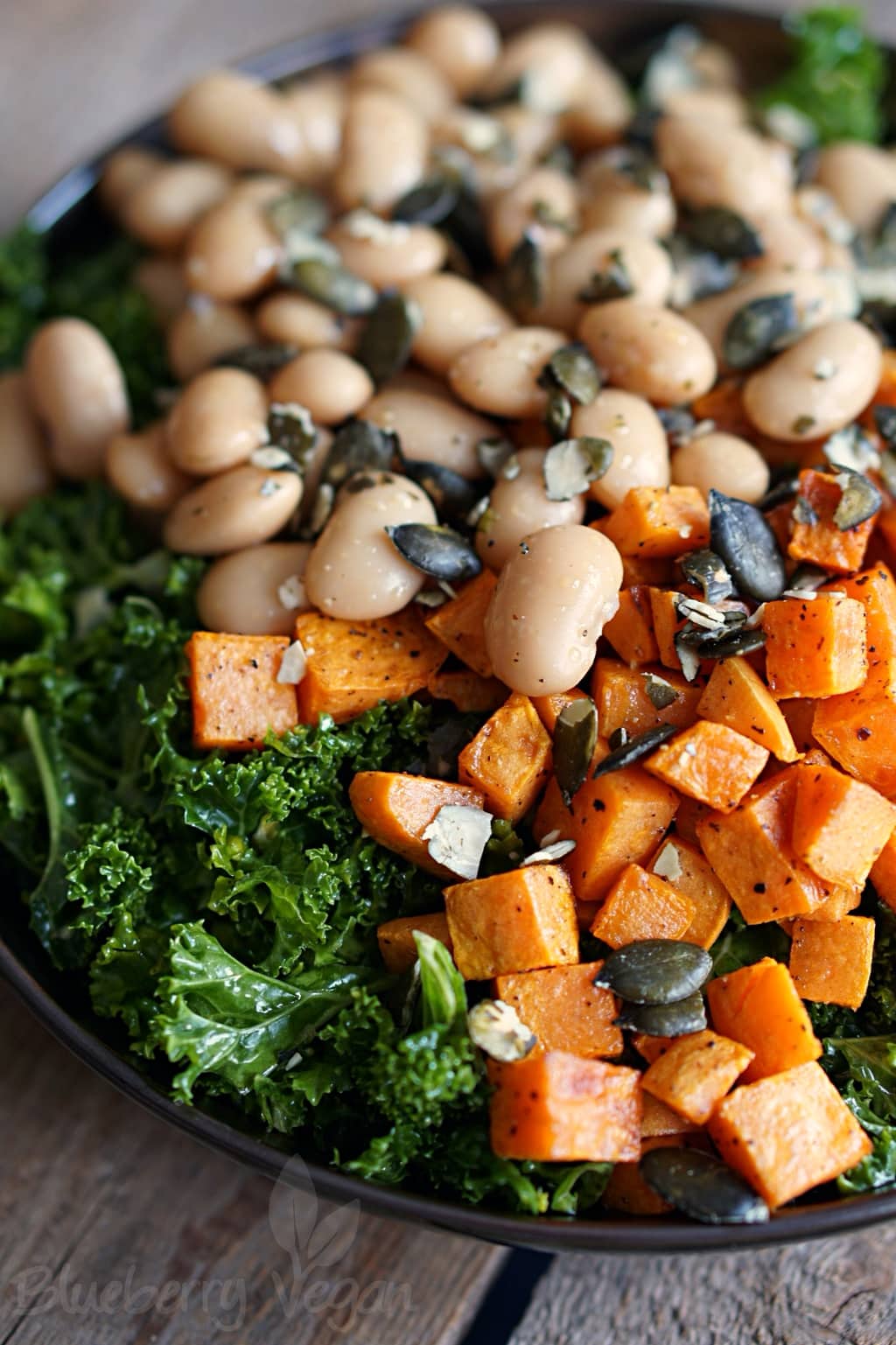 From my childhood I used to know kale only as a stew with a lot of mustard. Until a few years ago when I decided to go vegan over night. Since then, my horizon of well-known foods and preparation methods has expanded enormously. So today I like kale least as a stew but I love it as chips, on pizza, in a soup or as a salad.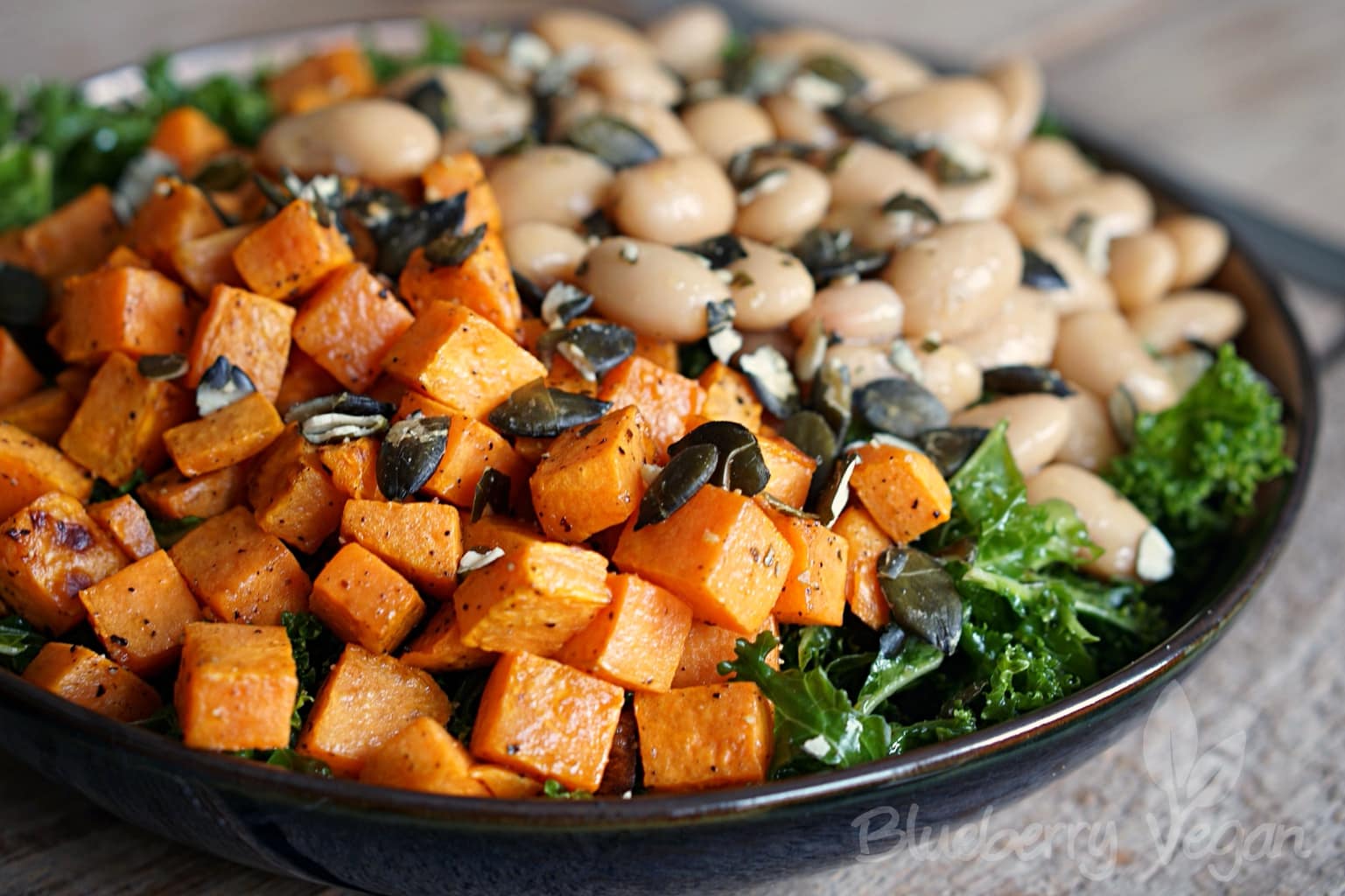 If you want to eat kale as a salad, you should definitely take 2 – 3 minutes to massage it to get tender. This makes it easier to eat and digest. As an opponent, I added soft baked sweet potatoes and buttery giant beans to the salad and sprinkled them with crunchy roasted pumpkin seeds.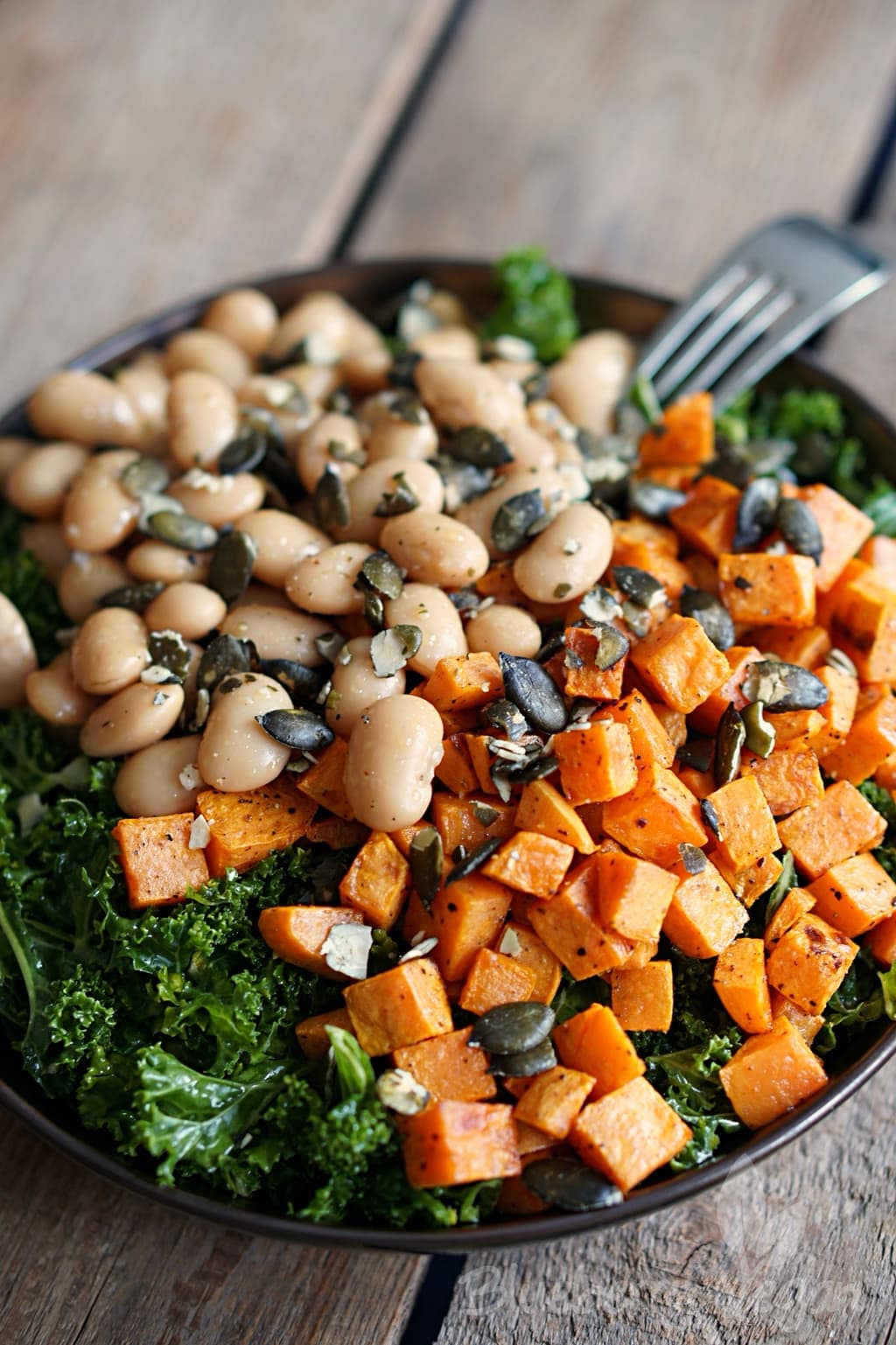 Enjoy this salad!
Love,
Rina
Kale Salad with Roasted Sweet Potato and Giant White Beans
Autor/Author:
Rina inspired by Sarah Britton
Zutaten/Ingredients
4 hands full of kale
2 medium-sized sweet potatoes
250 g cooked white giant beans
2 tbsp pumpkin seeds
6 tbsp olive oil
2 tbsp herbal vinegar
1 - 2 cloves of garlic
salt
pepper
Zubereitung/Instructions
Preheat the oven to 200 °C (390 °F), line a baking sheet with baking paper.


Peel the sweet potatoes and cut them into medium-sized cubes. Mix with 1 tablespoon of olive oil, salt and pepper and bake in the oven for about 15 minutes until they start to brown.


Pluck the kale into bite-sized pieces and knead thoroughly with 3 tablespoons of olive oil, 1 tablespoon of herb vinegar, salt and pepper in a bowl until it has softened. This takes about 2 - 3 minutes.


Marinate the beans in 2 tablespoons of olive oil, 1 tablespoon of herbal vinegar, salt, pepper and pressed garlic.


Roast the pumpkin seeds in a pan without fat and crush them in a mortar.


Spread the kale on two bowls, pour the sweet potato and beans over and sprinkle with the pumpkin seeds.