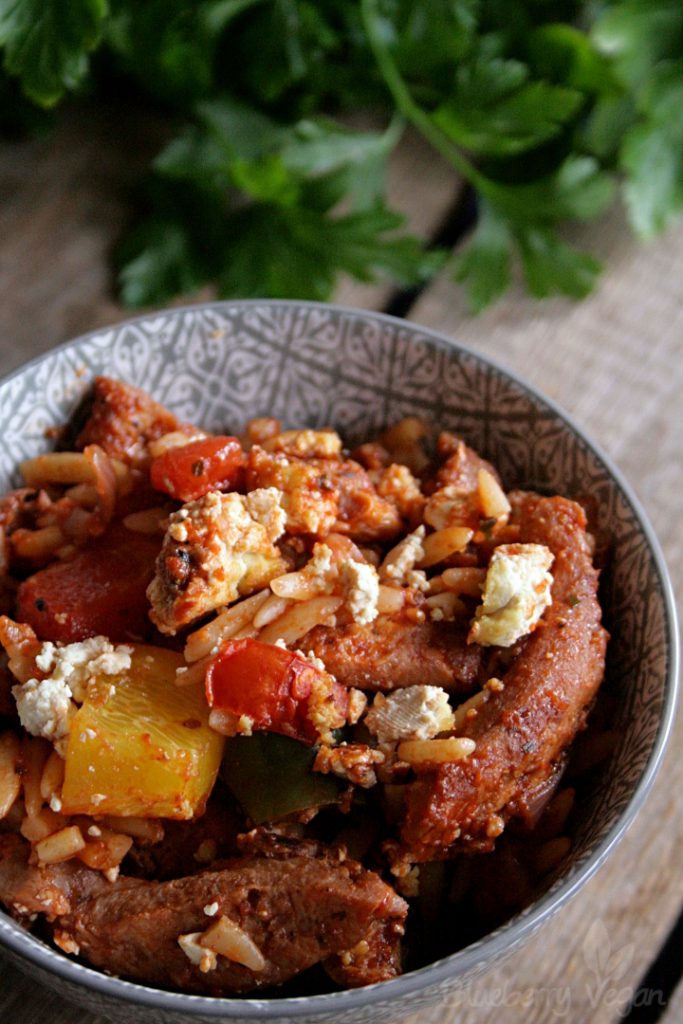 [Advertising: Affiliate Links]
How about a Greek noodle casserole? Because, who doesn't love a hearty noodle casserole? You'll need noodles, bell peppers, olives, tofu and soya chunks to make it. You can get soya chunks (TVP) online.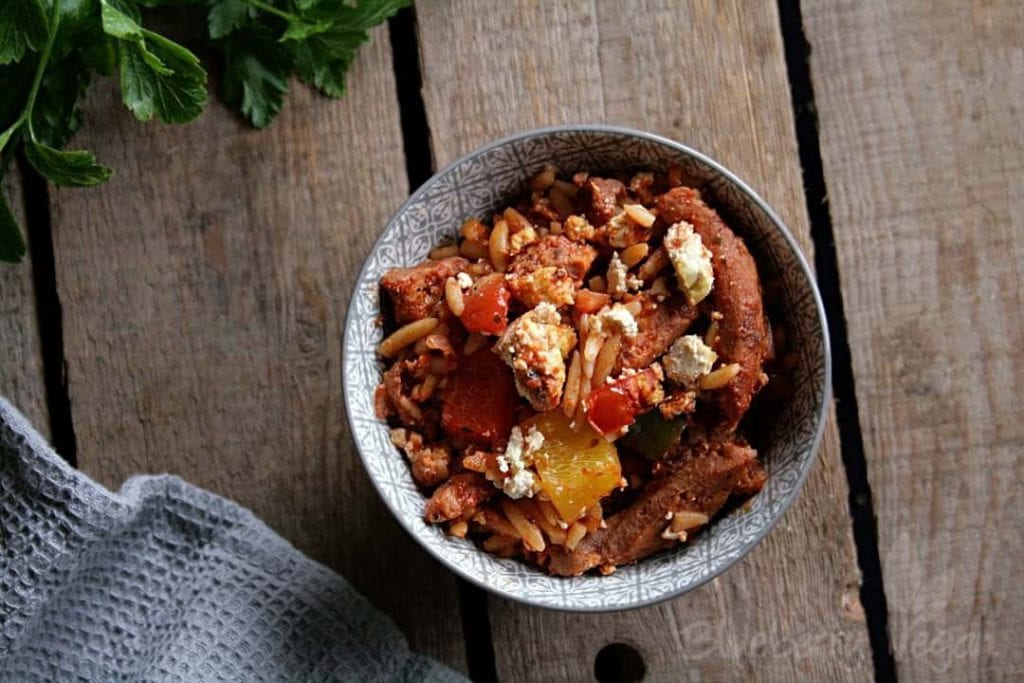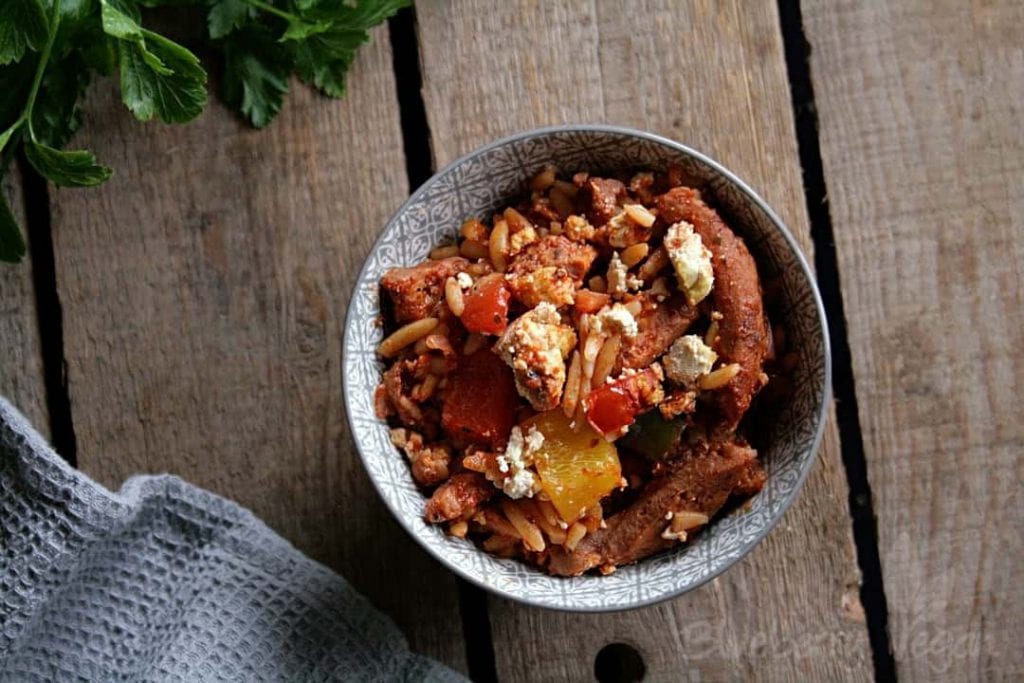 Since I used the tofu to make a feta cheese alternative to put in the oven, I crumbled it and didn't cube it like the marinated tofu feta cheese alternative. To make the tofu absorb the lemon juice and salt better, you better press it before crumbling. Make sure to over-season the tofu feta alternative, since it loses some tanginess while baking.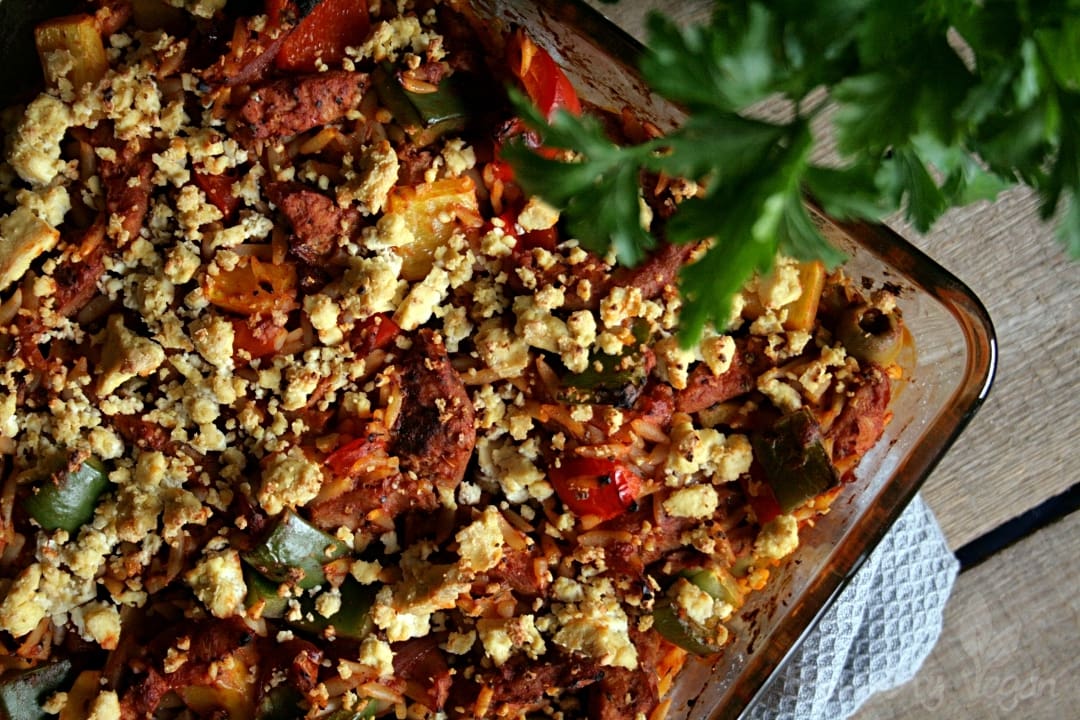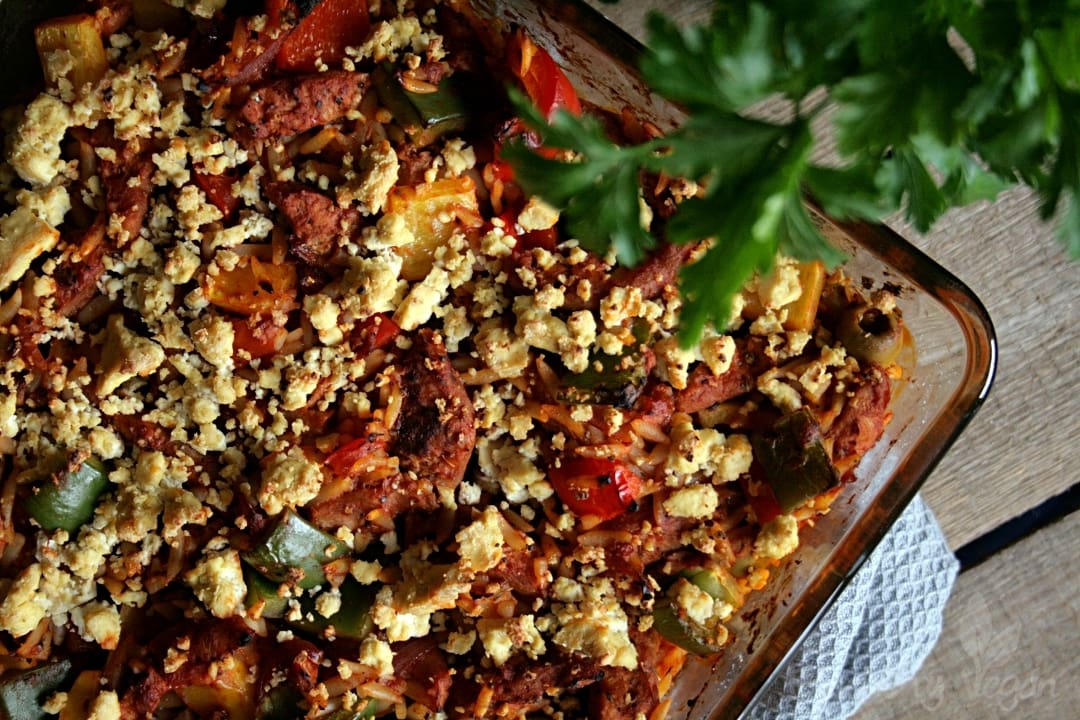 If you can't get orzo, take other small noodles, but make sure they are vegan.
Enjoy!
Love,
Rina
Greek Noodle Casserole
Zutaten/Ingredients
For the soya chunks:
150 g (5.3 oz) soya chunks - TVP
1 1/2 (6 cups) vegetable broth
3 tbsp soy sauce
1 - 2 tbsp oil
1 onion
1 clove garlic
1 tbsp gyros spice mix
1 tsp oregano
salt
pepper


For the casserole:
1 red bell pepper
1 yellow bell pepper
1 green bell pepper
4 tbsp olives
500 ml (2 cups) tomato juice
250 g (8.8 oz) orzo or other small noodles
salt
pepper


For the tofu feta alternative:
200 g (7 oz) plain tofu
2 tbsp lemon juice
3/4 - 1 tsp salt
Zubereitung/Instructions
Crumble the tofu into a bowl and mix with lemon juice and salt, set aside.


Cook the noodles in salty water until firm to the bite, drain and rinse. Cook the soya chunks in vegetable broth and soy sauce for about 10 minutes until soft. Drain, rinse cold and press out any excess liquid. While the soya chunks are cooking cube the bell peppers, cut the onion into slivers and press the garlic.


In a deep non-stick pan fry the soya shreds until all liquid vaporized and they start to brown. Then add oil, onions and garlic and sauté. Season well with gyros spice mix, oregano, salt and pepper.


Preheat the oven to 200° C (390° F).
Combine noodles, veggies, soya shreds and tomato juice in a big baking dish and season with salt and pepper. Sprinkle over the tofu and bake in the oven for about 20 minutes.