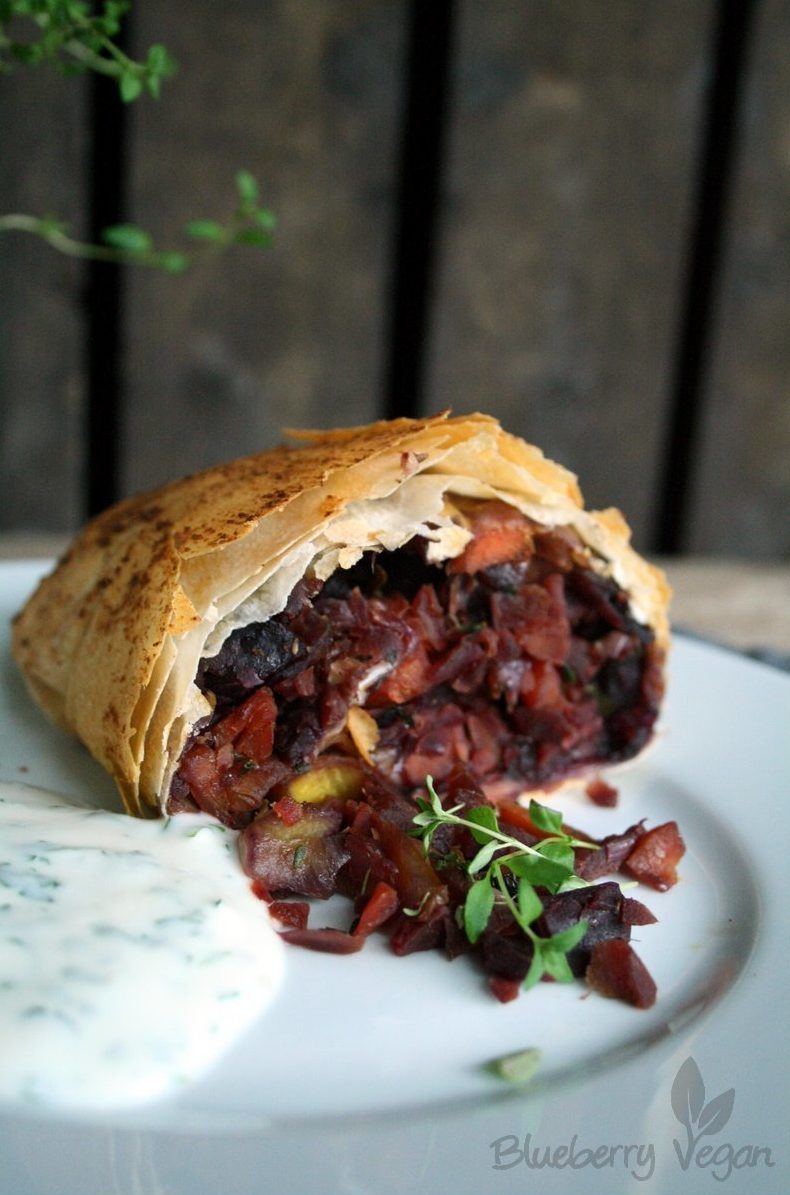 [Advertising: Affiliate Links]
Since I had some sheet of phyllo dough left over from making the savory phyllo snacks, I thought about making a strudel. I filled it with different colored carrots and beetroot. I also think a few quartered Brussels sprouts would be great in it.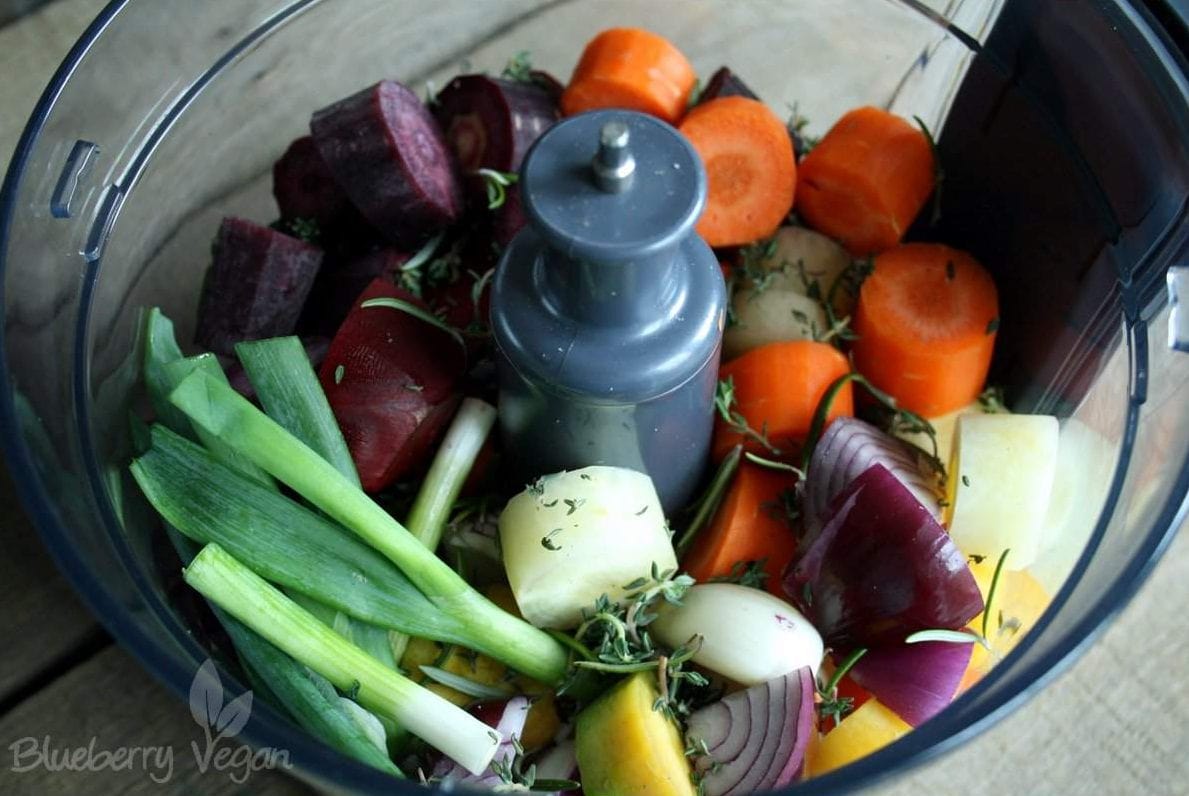 I finely chopped the vegetables with an onion, rosemary and thyme in my food processor and sautéed it in a pan. Only thinking about the smell, let's my stomach rumble again…
I brushed the strudel from the inside and the outside with a mixture of olive oil and Harissa paste, which gives a great spiciness. The fresh, lemony yoghurt is a nice contrast to that.
I hope you enjoy the dish, as much as I do.
Love,
Rina
Strudel with Root Vegetables and Yoghurt
Ergibt/Yield:
2 - 4 Servings
Zutaten/Ingredients
For the filling:
750 g (27 oz) root vegetables - here: colorful carrots and beetroot
2 spring onions
1 red onion
2 cloves garlic
2 big branches thyme
1 branch rosemary
1 dash lemon juice
1 tbsp olive oil
salt
pepper


For the yoghurt dip:
250 g (9 oz) unsweetened non-dairy yoghurt
1 tbsp lemon juice
1/2 tsp salt
2 tbsp parsley, chopped
1 tbsp mint, chopped


Also:
5 sheets phyllo dough
1 tbsp olive oil
1 tsp Harissa
Zubereitung/Instructions
Peel the carrots and beetroot and roughly chop. Remove the outer skin from spring onions, onion and garlic cloves and chop a little. Pick the leaves and needles off the herb branches and place everything in a food processor. Process until finely chopped.


Heat the oil in a big pan or wok and fry the vegetables in it for 5 minutes, season with salt and pepper. Spread in the pan and let cool for 10 minutes.


Preheat the oven to 180° C (360° F).


Combine olive oil and Harissa paste. Lay the phyllo dough sheets over each other and brush with half of the mixture.


Pour over the vegetables and spread, but leave a 2 inch edge. Fold in the left and right side and roll up from your side to the other one. Lay the strudel, with the fin faced down, on a lined baking tray and brush with the remaining Harissa oil.


Bake in the oven for about 25 - 30 minutes.


For the yoghurt dip combine all ingredients and let flavor while the strudel is baking.