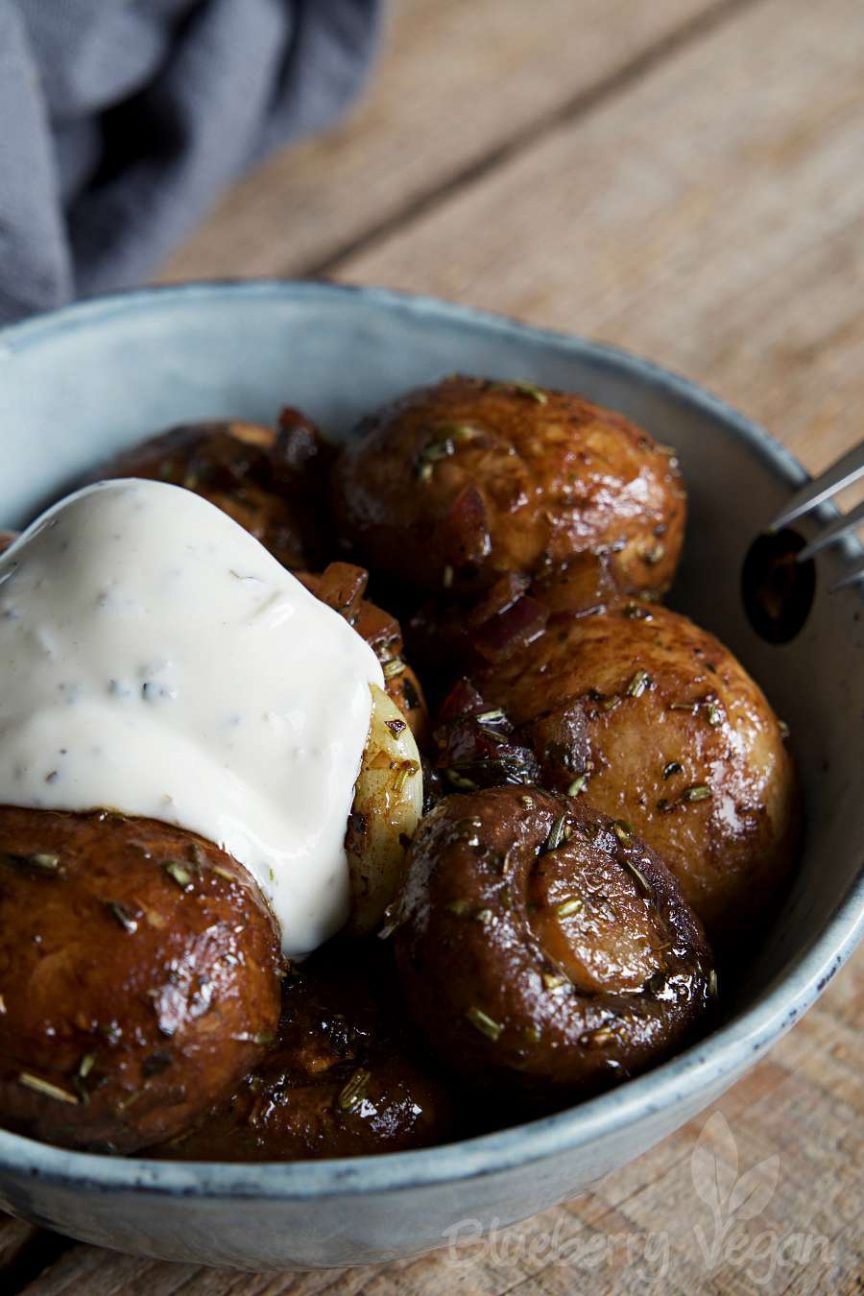 [Advertising: Affiliate Links]
I must confess, that I am not a big fan of Christmas fairs. The booths are often not that interesting, crowds of people are pressing through alleys and they all want the same: eating something and have hot wine. This explains the amount of booths offering hot wine, bratwurst and fried fish. While I love eating and drinking I need a little more. When there are booths with arts and crafts and it is really cold, I like to visit a Christmas fair after all. Often those kind of fairs charge the entrance, which I find reasonable.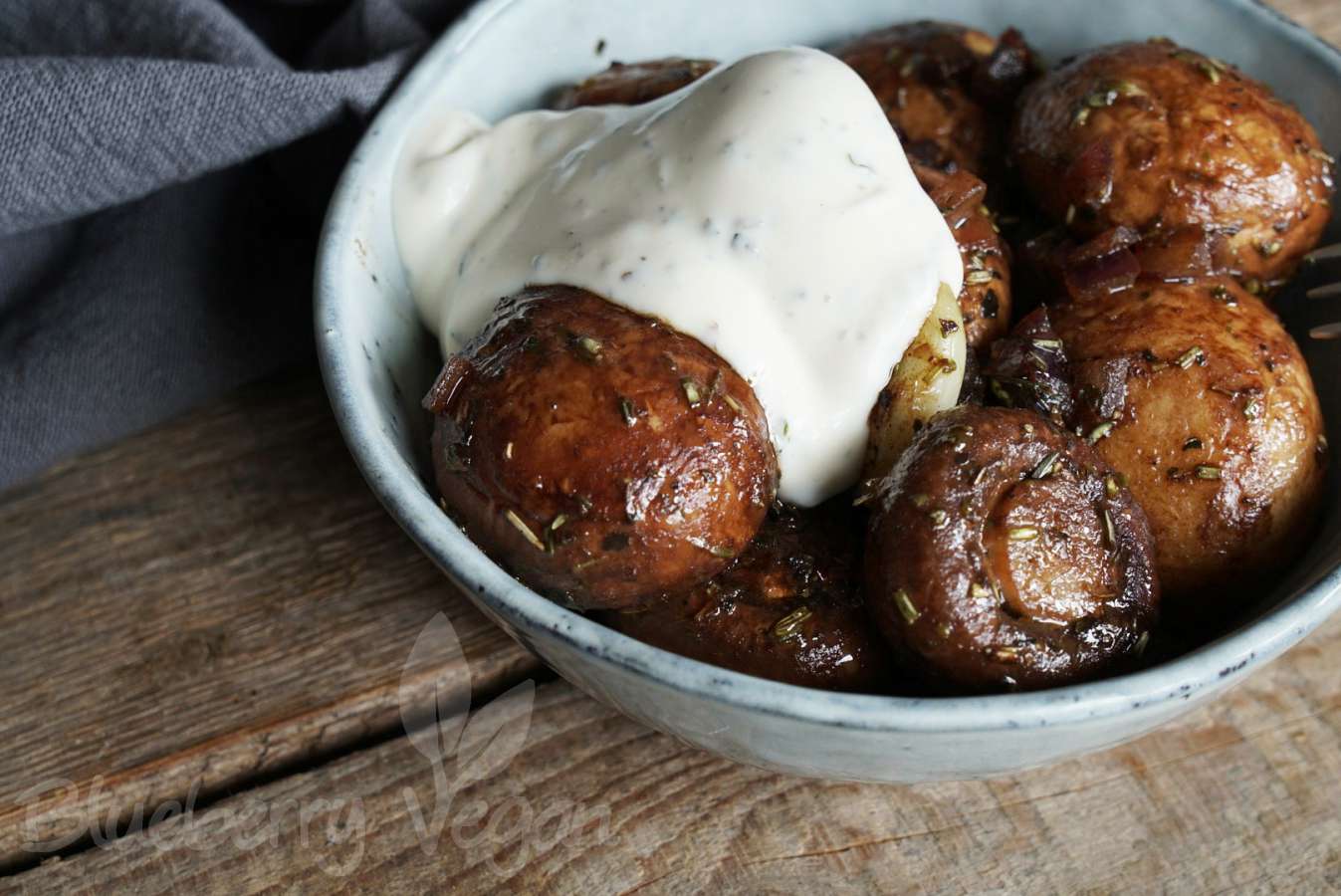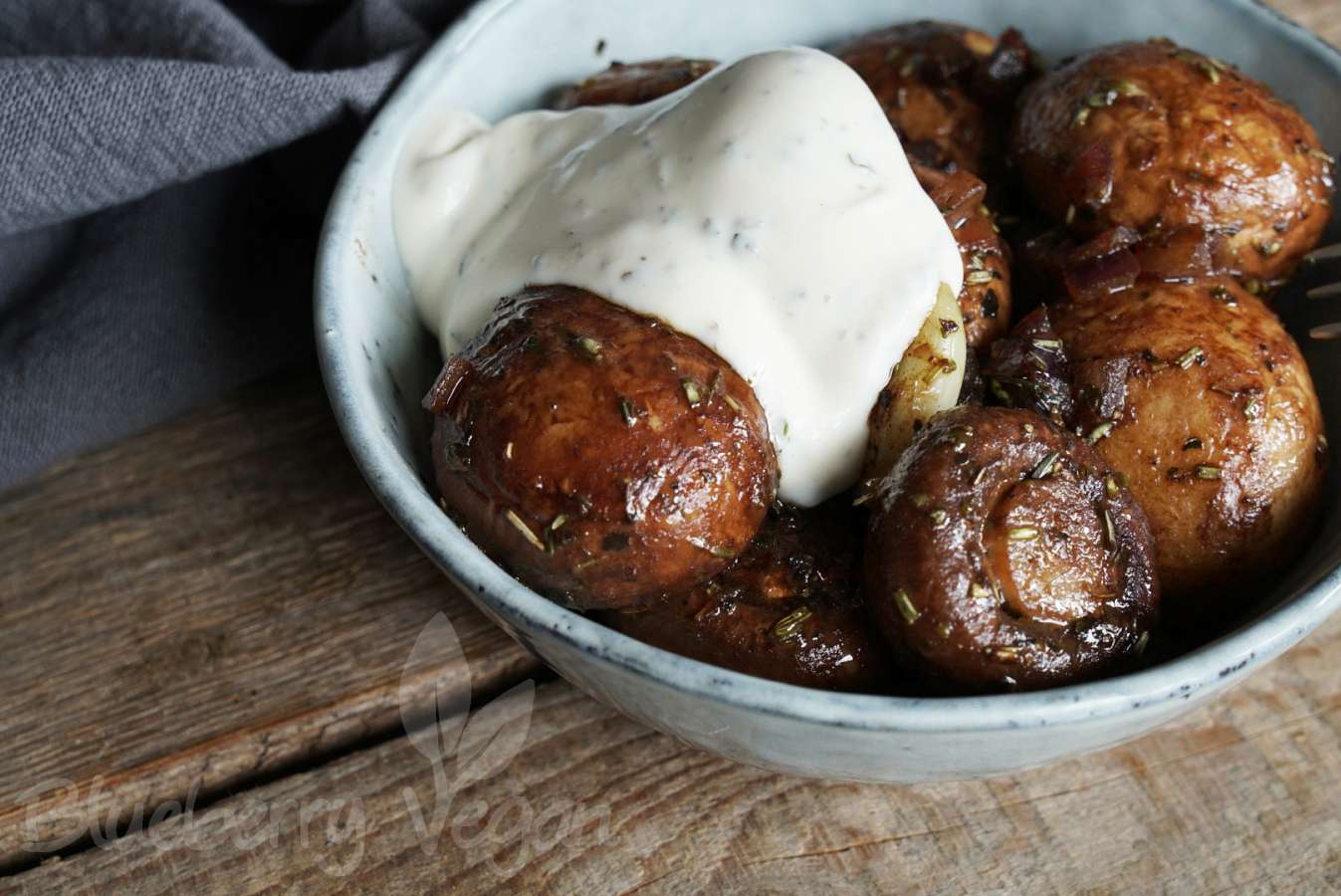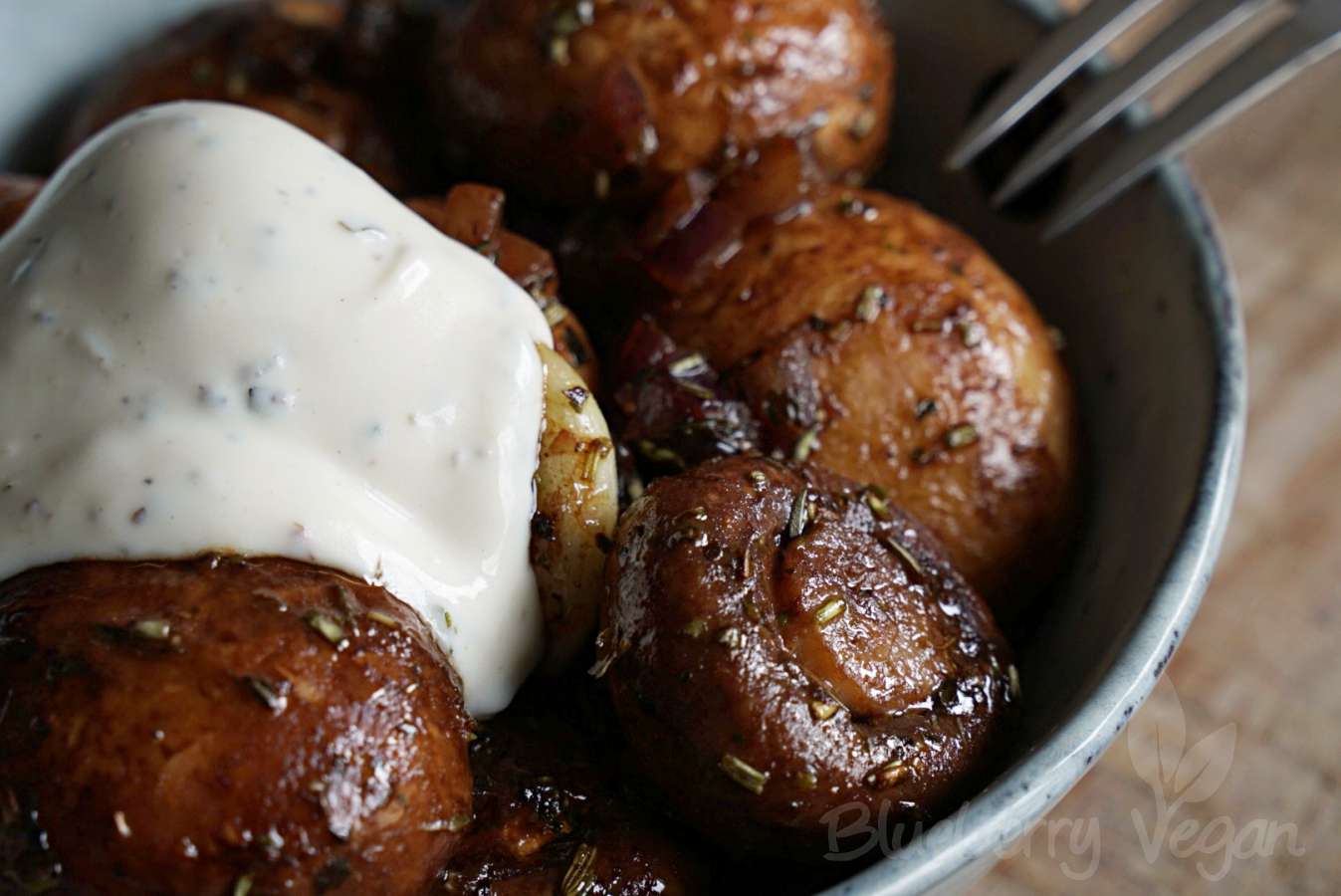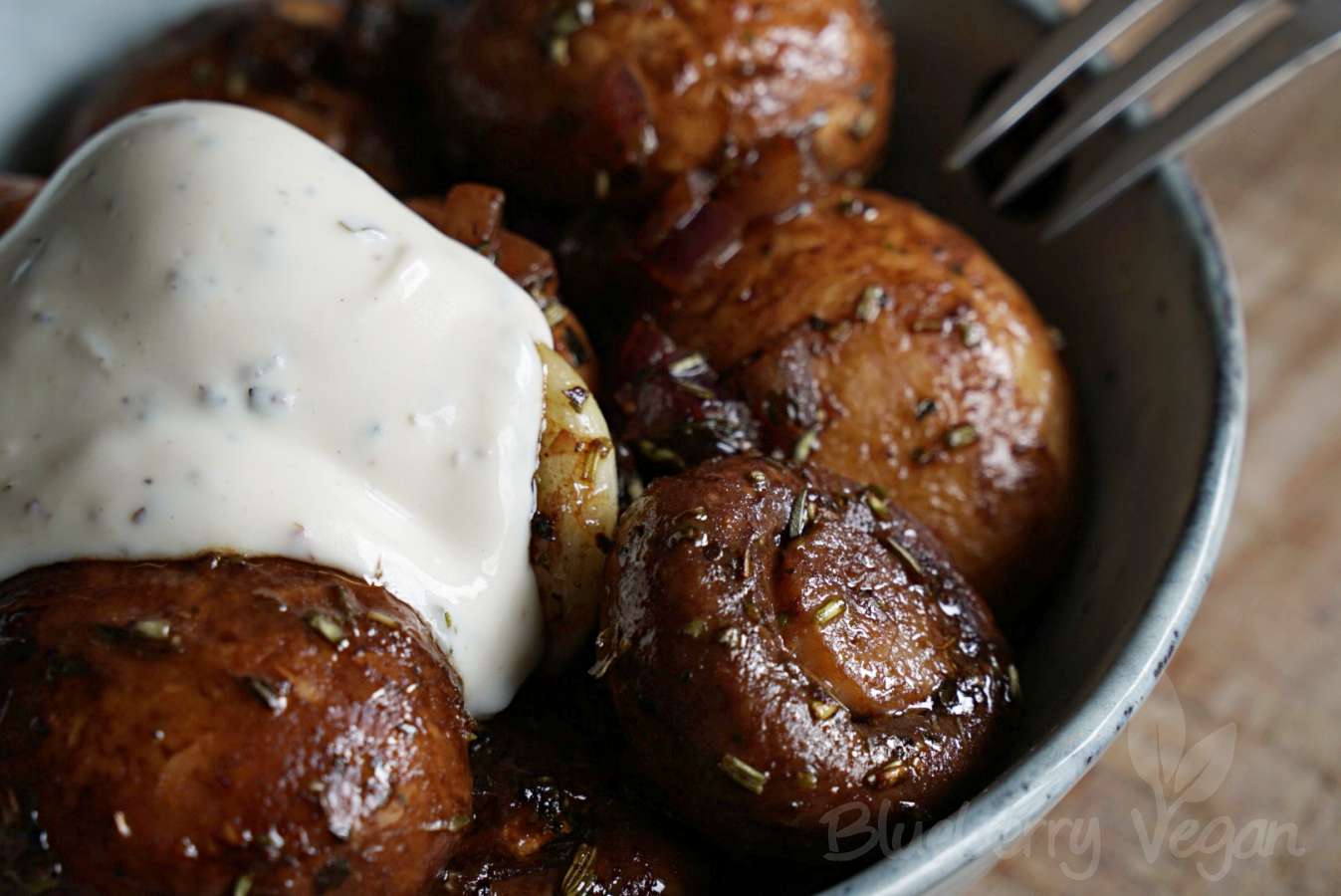 Being between all these animal dishes I can't help myself but thinking about that absurdity that on the "feast of love" there is so much suffering. That's why I rather stand by crêpes, maroon and mushroom booths. Although also these dishes aren't cruelty free hence the eggs, and dairy. So: Make your own stuff! You can easily make crêpes without eggs or milk and the garlic sauce for the mushrooms is made from non-dairy curd instead of crème fraîche.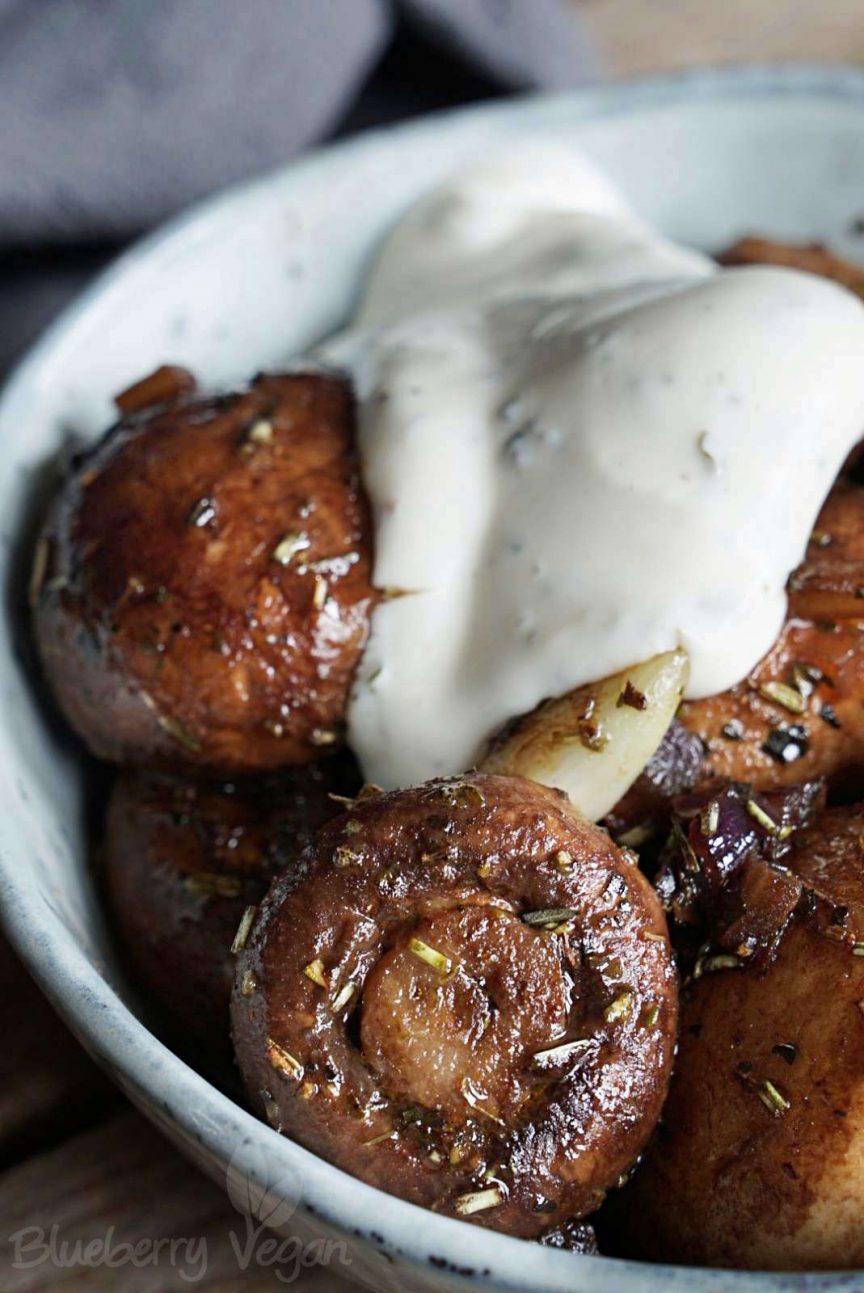 I wish you much fun trying this recipe and enjoy!
Have a wonderful, contemplative Christmas!
Love,
Rina
Got a craving for mushrooms? Finde more recipes here: pulled mushroom bites, mushroom potato stew, zoodles with mushroom carbonara, mushroom pot pies and many more…

Mushrooms with Garlic Sauce
Ergibt/Yield:
1 - 2 Servings
Zutaten/Ingredients
For the mushrooms:
250 g (8.8 oz) brown mushrooms
1/2 small onion
1 clove garlic
50 ml (3 tbsp) water
1 - 2 tbsp oil
1/4 tsp herbs de Provence
1/4 tsp paprika
salt


For the garlic sauce:
120 g (4.2 oz) soy curd - or drained, unsweetened soy yoghurt
2 tbsp oil
1 small clove garlic
1/2 tsp herbs de Provence
1/4 tsp salt
1 pinch black pepper
Zubereitung/Instructions
Make the sauce first. Press the garlic and combine all ingredients until smooth.


Clean the mushrooms and cut off the stems. Chop or slice the onion and peel the garlic clove. Take the blade of the knife to crush the garlic clove. Heat a deep pan until really hot and add the mushrooms and the water. Sauté the mushrooms until the water vaporized and the mushrooms shrank a little. Then add the rest of the ingredients and fry for 5 - 10 minutes, depending on the mushroom's size.


Pour the mushrooms in a bowl and add the garlic sauce on top. Serve with bread.
Tipps/Notes
I fried the mushrooms in my
wok pan
.