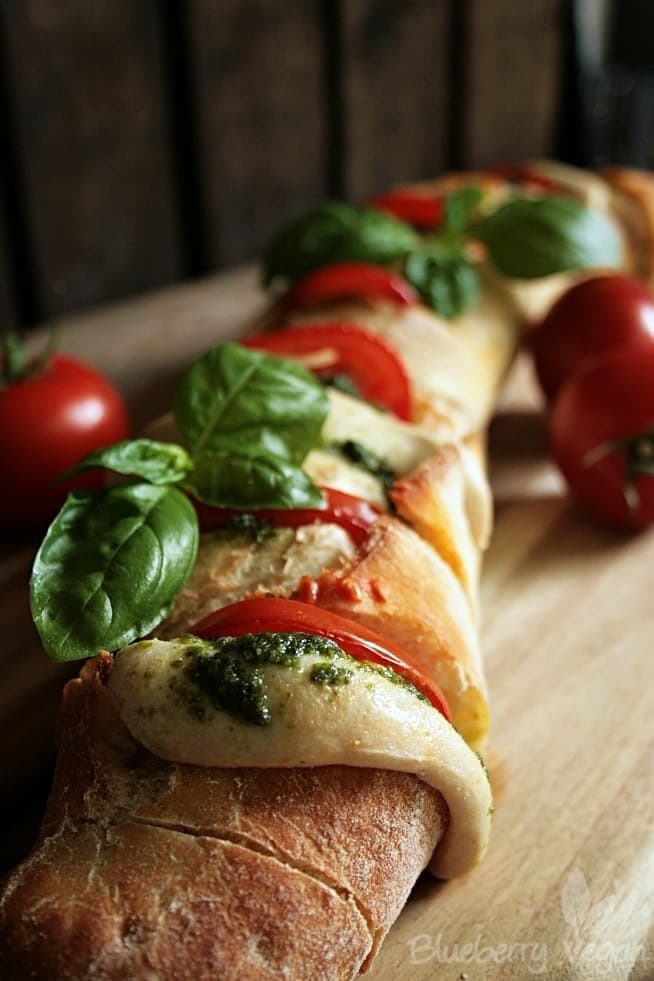 [Advertising: Affiliate Links]
This bread is a winner! At least to me. I am a big fan of vegan mozzarella made from psyllium husks and cashews. I like to eat it the traditional way with tomatoes for example. For a barbecue I stuffed tomato and mozzarella slices in a pre-baked baguette and crisped it in the oven. This tastes great already. If you want it even better, put it on the grill and heat it up. This way the mozzarella can melt a little. And it does! That is what makes it perfect for a pizza or casserole, too. I finely cube it then, so it is better spread, than just a few slices on some parts of the pizza or casserole.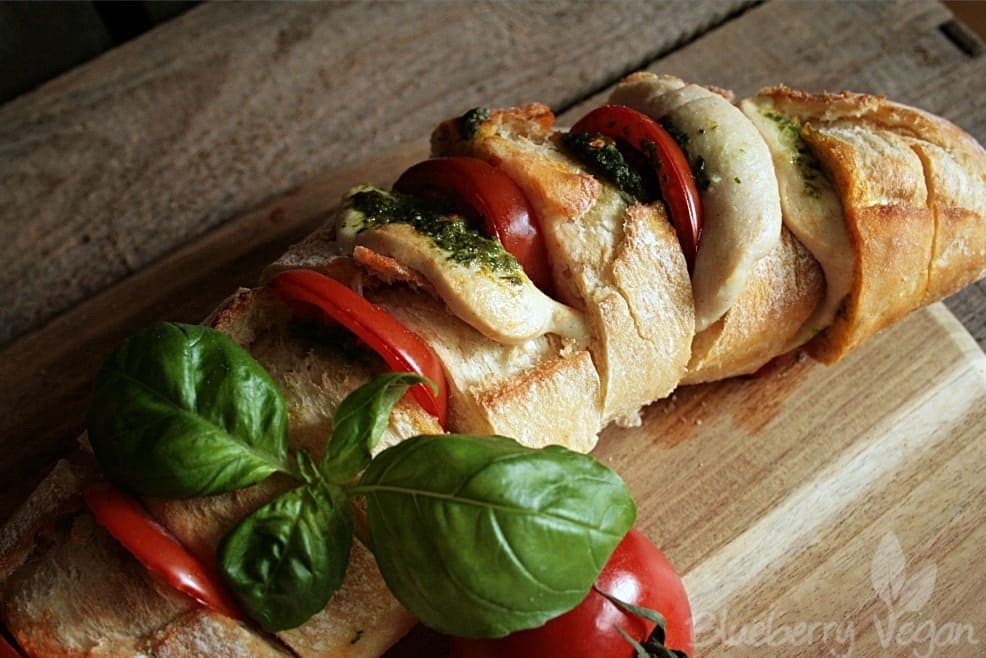 To season the baguette I made a simple basil pesto, that I whipped up in my personal blender. You can also use an immersion blender. I tried to prepare the mozzarella in a blender several time. This works until some point, when it gets stuck and only purées just one spot. So you better use am immersion blender to mix the mozzarella more precisely.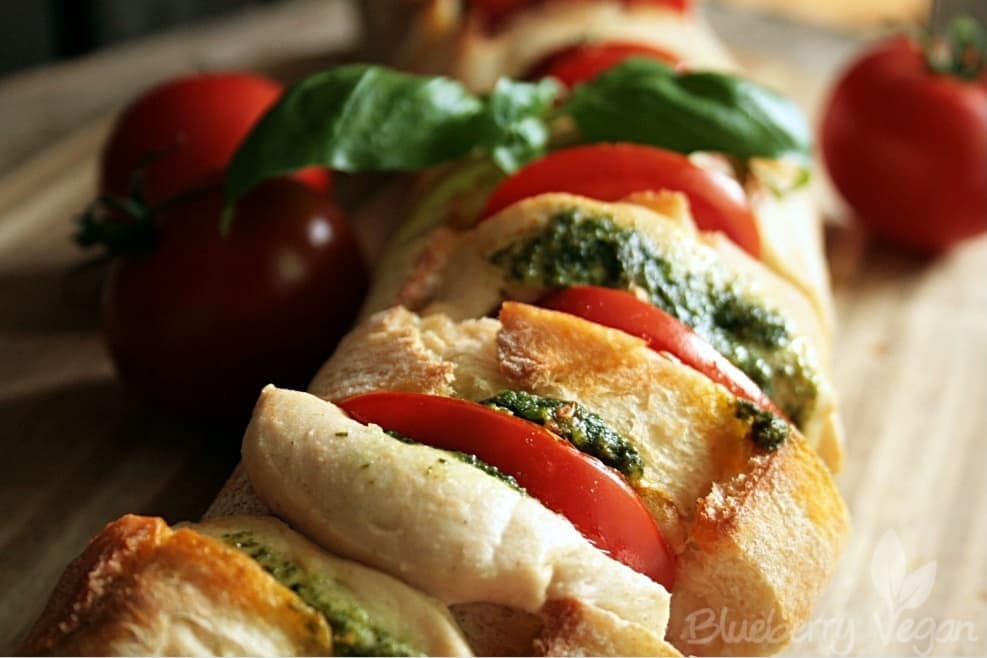 Of course you don't need a barbecue to eat this baguette. Make a mixed salad and serve as a side.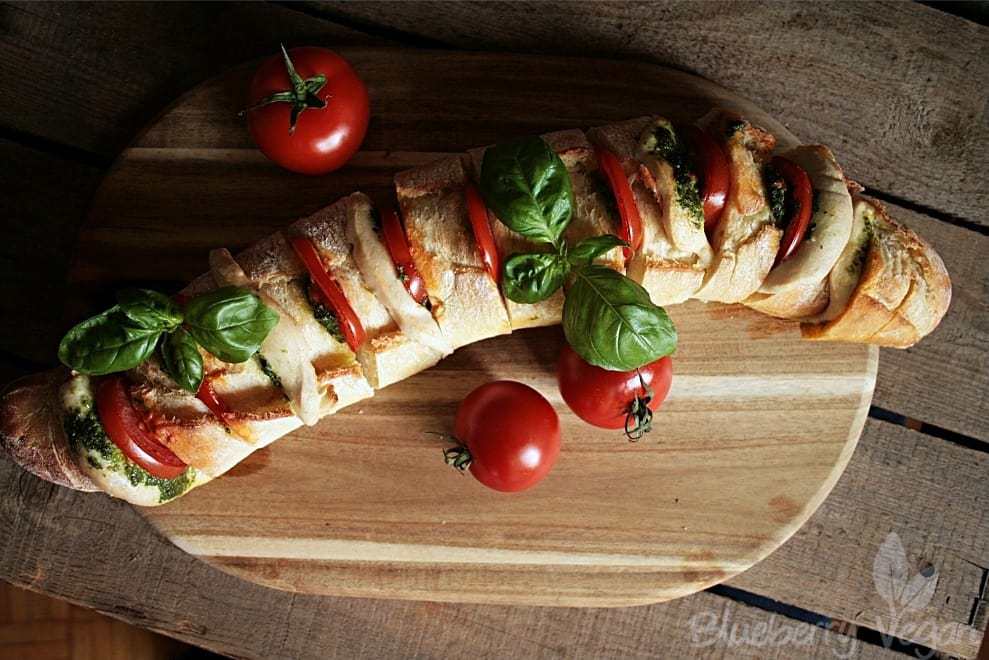 I hope you enjoy this fantastic bread.
Love,
Rina
Baguette with Tomatoes and vegan Mozzarella
Zutaten/Ingredients
For the vegan mozzarella:
70 g (2.5 oz) cashews
250 ml (1 cup) water
2 tbsp soy yoghurt, unsweetened
2 tbsp psyllium husks, ground
1 tbsp yeast flakes
1 tbsp lemon juice
3/4 tsp salt


For the pesto:
2 handful basil
3 tbsp olive oil
1 tbsp pine nuts
1 tbsp yeast flakes
1/4 tsp salt


Also:
1 pre-baked baguette to bake ready
2 medium-sized tomatoes
Zubereitung/Instructions
For the vegan mozzarella combine the psyllium husks in a bowl and let jelly for 2 hours. Cover the cashews with water and let them soak for 2 hours as well.
Then drain the cashews and purée with the other ingredients until smooth.


On a piece of clingfilm pour the mozzarella and knead a little to form a ball. Fold the clingfilm in the middle and hold the ends while rolling the package an the counter to form a sausage shape. It is the best shape to cut even slices later. Refrigerate for 1 hour.


For the pesto blend all ingredients until combined and finely chunky. Finely slice the tomatoes and mozzarella. Preheat the oven to 180° C (360° F).


Cut the baguette halfway through each 1 inch. Spread some pesto on each tomato and mozzarella slice and stuff it in the slots in the baguette.


Bake on the grid in the oven for about 10 - 15 minutes until golden. Nothing dripped in my oven, but better place a lined tray on the bottom rack.
Tipps/Notes
Try also to make little one-portion-sized breads by using rolls.