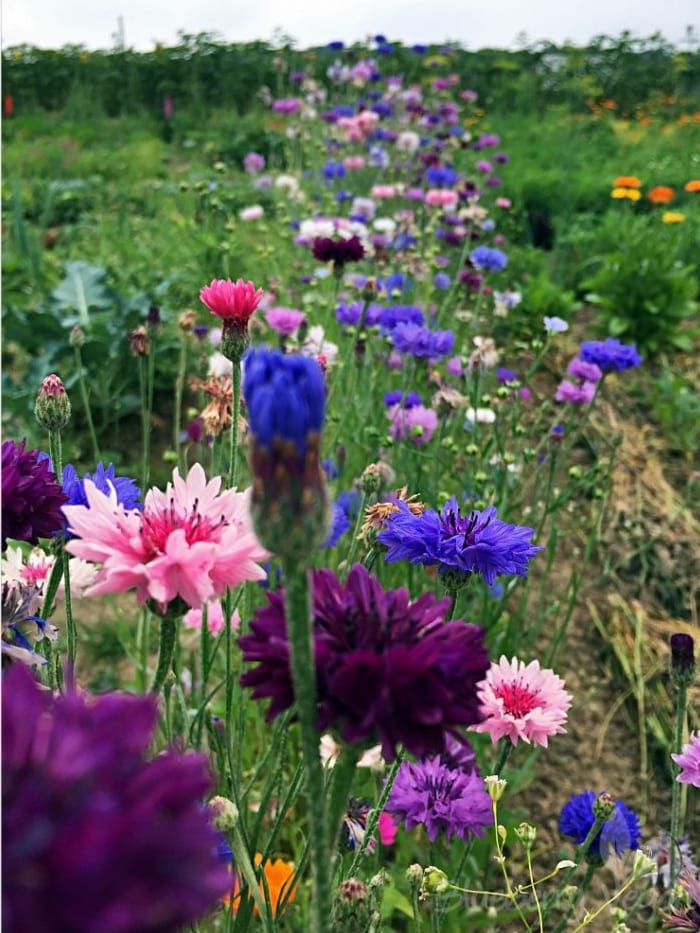 It took quite a while, but now it's summer in my kitchen garden. The temperatures climb higher each day than a couple of weeks ago and the rain stopped. So the plants can grow big and build lots of fruits.
Right now the zucchini and pumpkin blossoms are bright and glowing. And it is quite busy in and around them. Every bee wants a little bit of nectar. This reminds me of my childhood when I heard in the audio drama, that Maya the bee loves pumpkin blossoms. All that humming is so wonderful!
But there are more blossoms. Have you ever seen sweet potato blossoms? Or eggplant blossoms? I haven't and I love them.
I had to remove the potato plants because they suffered from blight. The potatoes are still in the soil until I get them out to cook them. The skins are too soft to store them, so it is best for now, that they stay in their natural packaging.
The potato plants and all weeds grow big, too. So I took 5 big boxes out the other day and threw them on the compost. I guess it's a little like fishing: for every pound of desired fish you fish 9 pounds of other animals with it. But in this case I remove the weeds to avoid them from stealing the nutrition out of the soil and I don't kill animals, so this comparison is luckily flawed.
There are still beautiful salads for me to harvest every other day. I wash them and tear them to bits to store them in a freshness-container in my fridge. So I have a salad every night.
The first zucchini, cucumbers and pumpkins are growing and I will harvest yellow bush beans. The knee-high plants are full of them.
At the edge of the field the Bröckers have planted beautiful flowers, that you can now harvest. Just pick them and throw the money in the coin bank. Look at them. Aren't they amazing?
For me it is now time to watch the pumpkins and zucchini, that they don't grow too big. They don't taste as good, when they are big. But nevertheless it is still one hour of work each week. Of course I could spend more time and plant new veggies. But the time I spend there is enough for me, considering my other free time activities.
I took these photos in my neighbour's gardens. I think that some of them are doing a wonderful job.
Stay tuned to see the pumpkins grow a race and maybe one of the melon blossoms turning into a melon.
Love,
Rina