[Advertising: Affiliate Links]
In two days it's finally happening. I am going to do my second pilgrimage. This time it will probably very different from the first one on the Camino de Santiago in Spain. This time I am in Germany and so I will talk in German. Also I don't have to fly to the way, which would make it easier to abort my journey. What I wouldn't do, of course. Different from Spain, there are very few pilgrims hostels. I will have to phone for a bed one day in advance.
I guess the food will be the same. Although I will have great vegan options in the big cities Lübeck, Hamburg and Bremen, I will have fewer options in smaller towns, just like in Spain. Maybe I can take some food with me from the cities to the towns.
My new backpack is bigger, which wasn't necessary, but it is much more comfortable to carry. It already has a rain cover and a daypack (for sightseeing tours and grocery shopping), so I don't need this separately. I will again use my drinking system. Without it I would probably only drink a few sips in the breaks.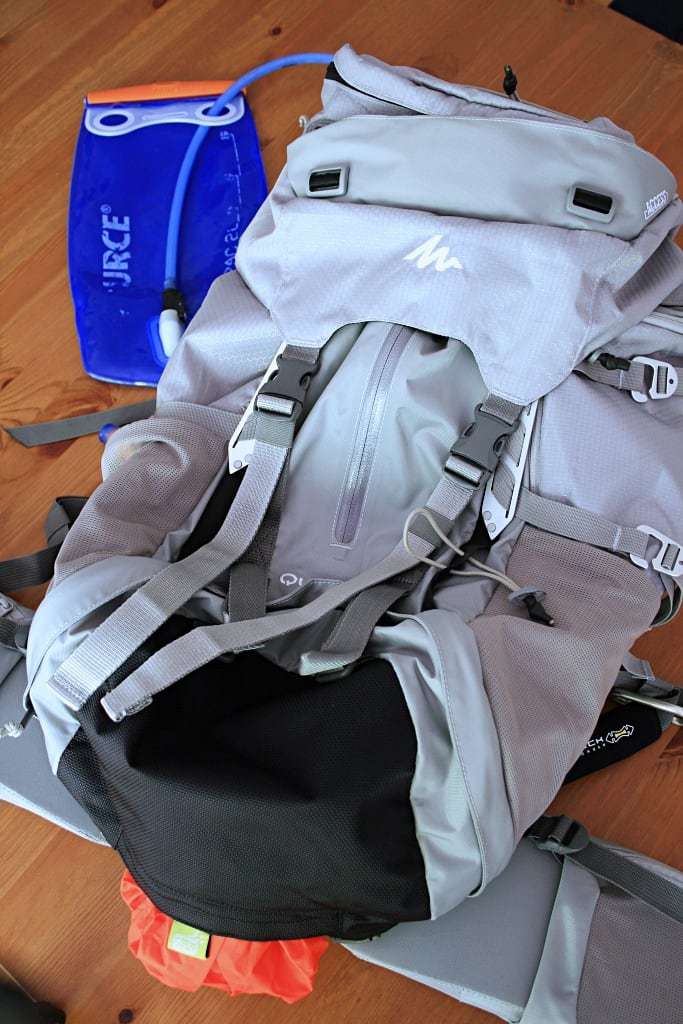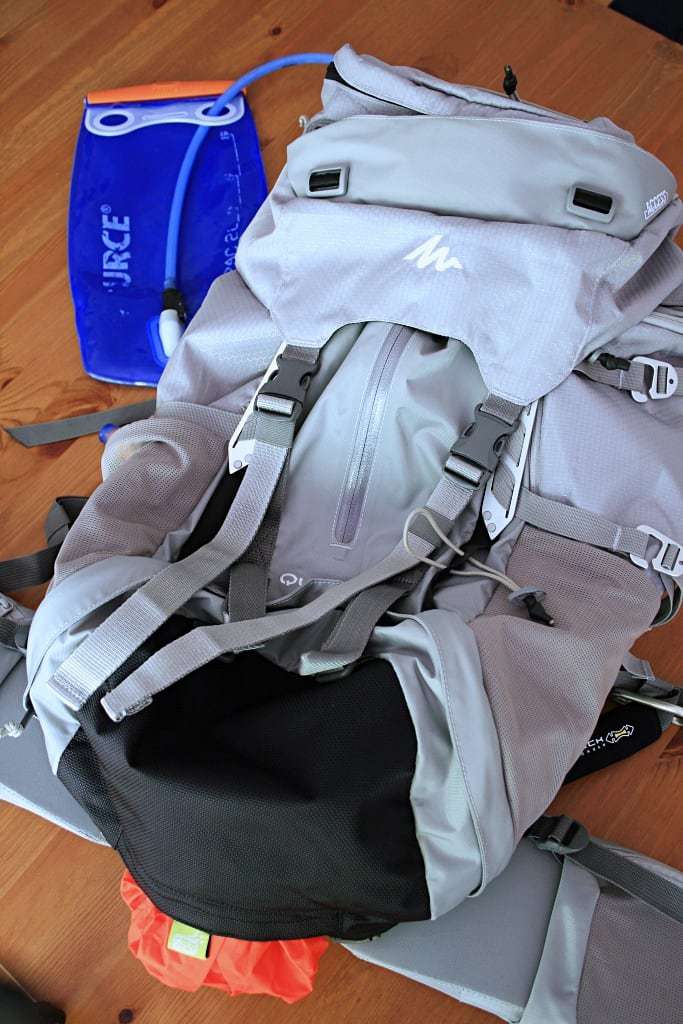 Until recently I wore sport shirts for hiking, but then I switched to blouses. They absorb the sweat without being wet and have spf 30. When it's colder, I wear the sleeves down and when it's warmer, I hitch them up. They are still long enough to cover my upper arms and prevent them getting rubbed sore. I like to wear them very much. Also my boots are new. After a couple attempts, I found a pair from Haix. Until now I only have to tape above my left heel to prevent getting a blister. They are comfortable and waterproof.
I have this clothing with me:
ski undergarments as pajama
rain jacket
buff cloth
pant-skirt for leisure
blouse for leisure
tankini
light, warm pullover
2 stretch hiking pants – wearing one
2 hiking blouses – wearing one
2 light sports bras – wearing one
3 sports slips – wearing one
3 pairs hiking socks – wearing one pair
sandals for leisure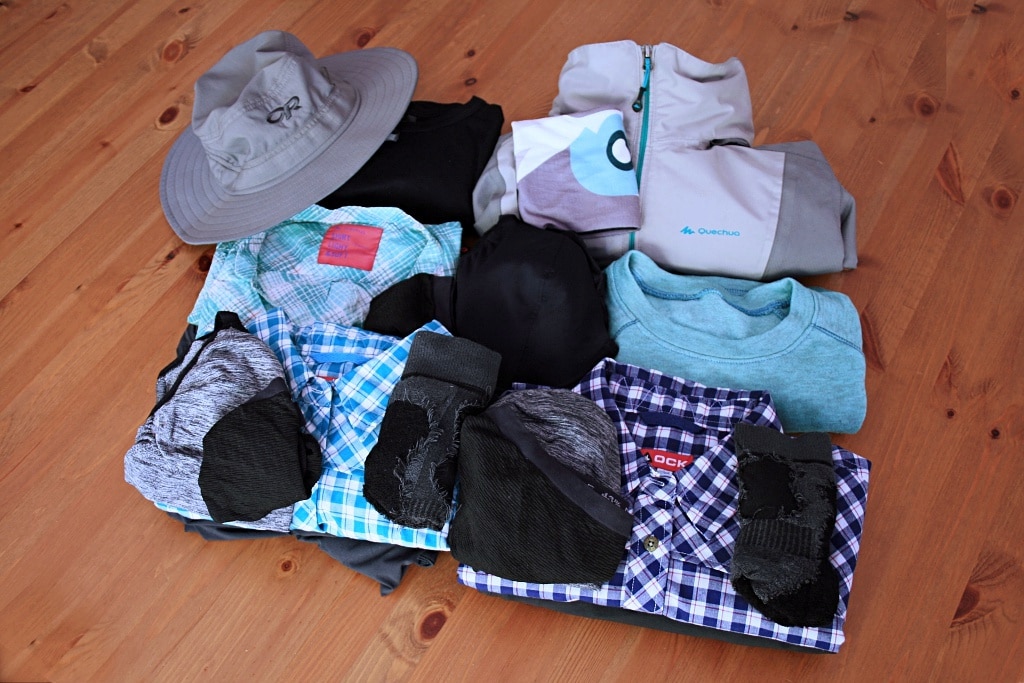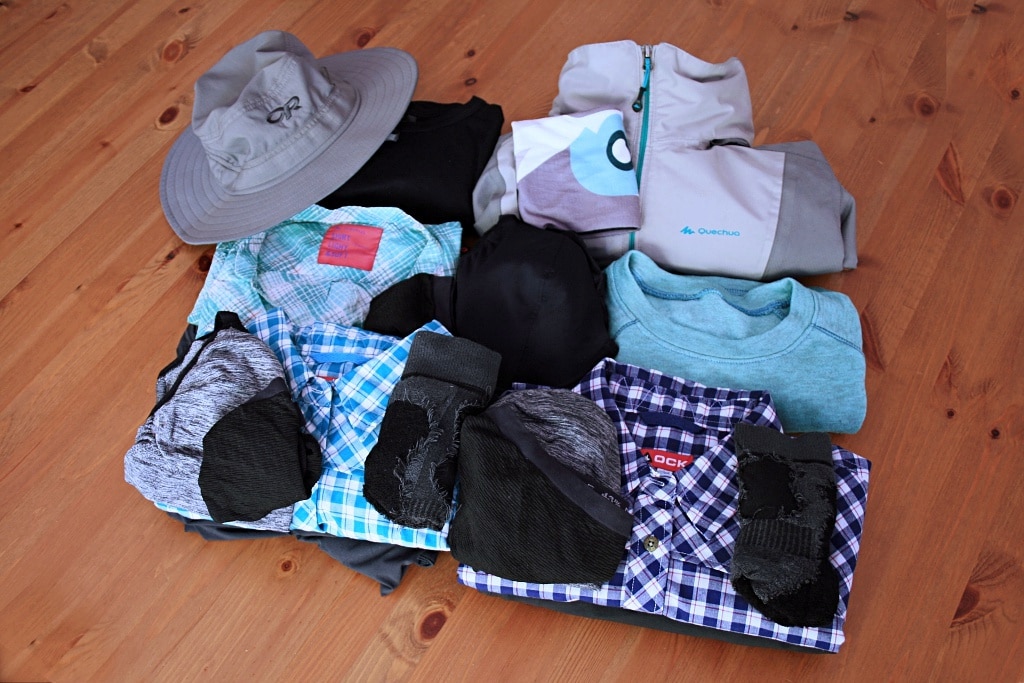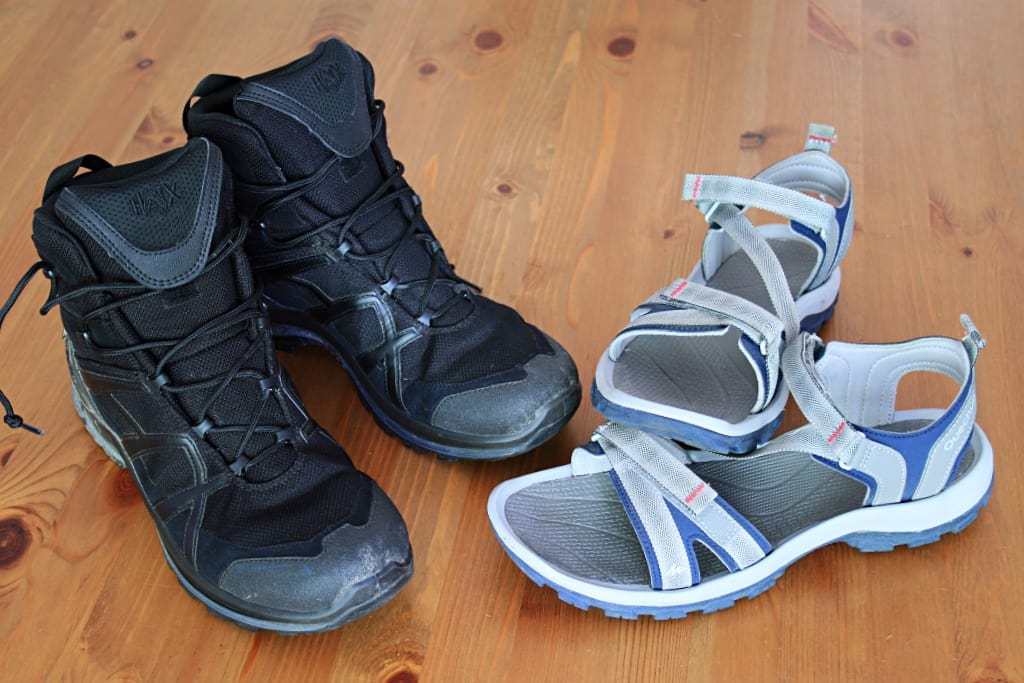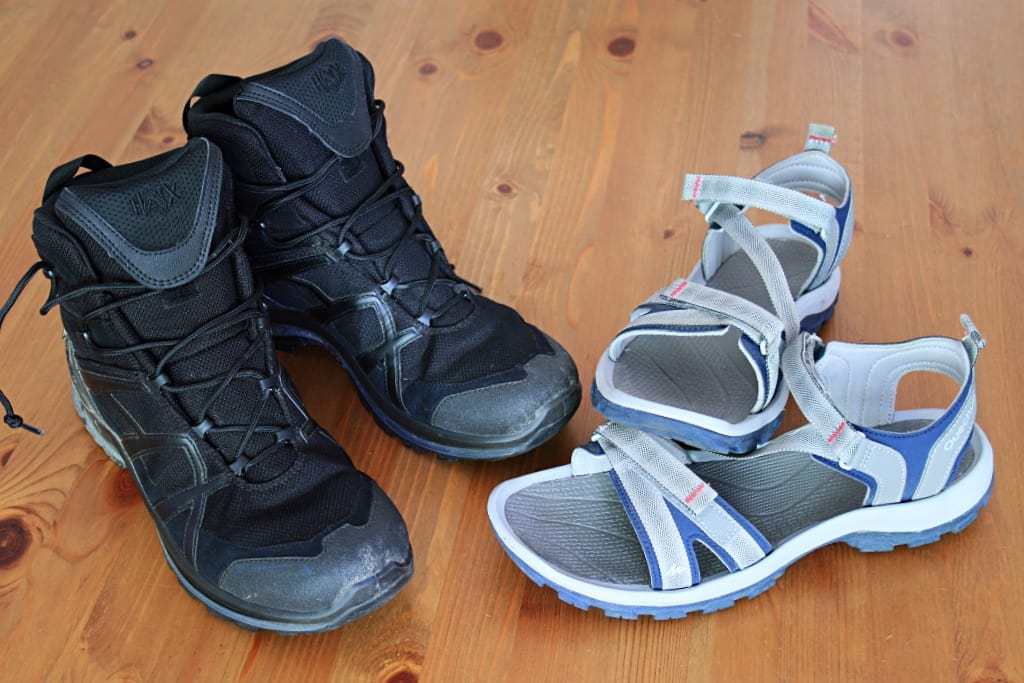 In my toilet bag are:
toilet bag made from Tyvek
towel to wash my face or hands in the morning
ear plugs
disposable razor
sunscreen gel
solid shampoo also as a shower gel
oil to lotion after the shower
scrunchies and a hair clip
hair brush
foot cream
night cream
deodorant cream
tooth paste
tooth brush
nail file
small pocket knife with file, knife and scissors
safety pins to fix the clothes on the backpack for drying
my Lunette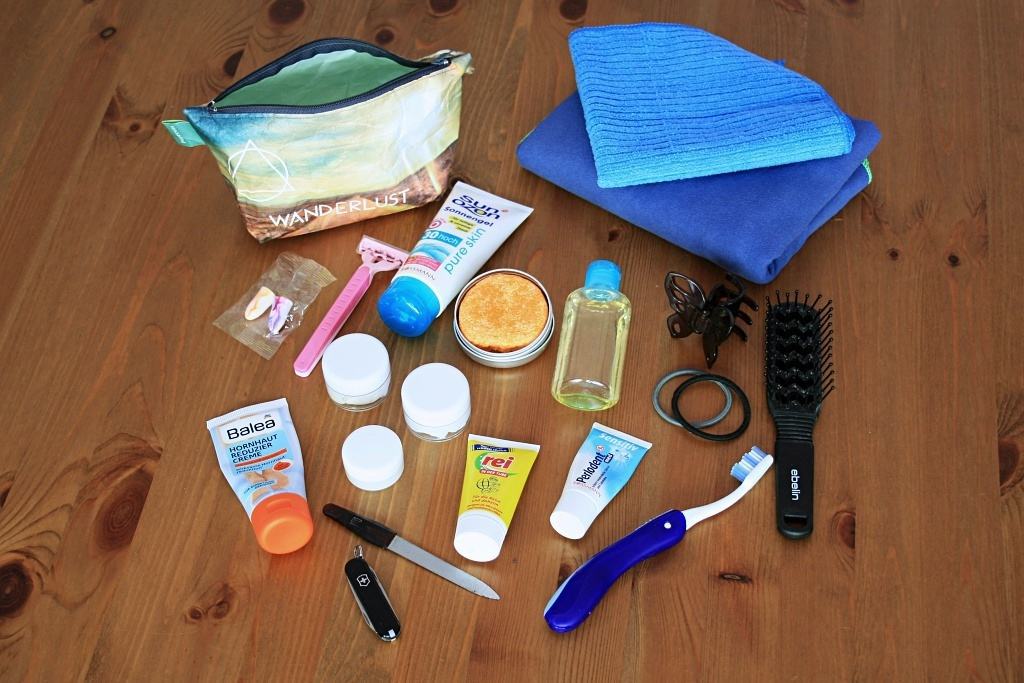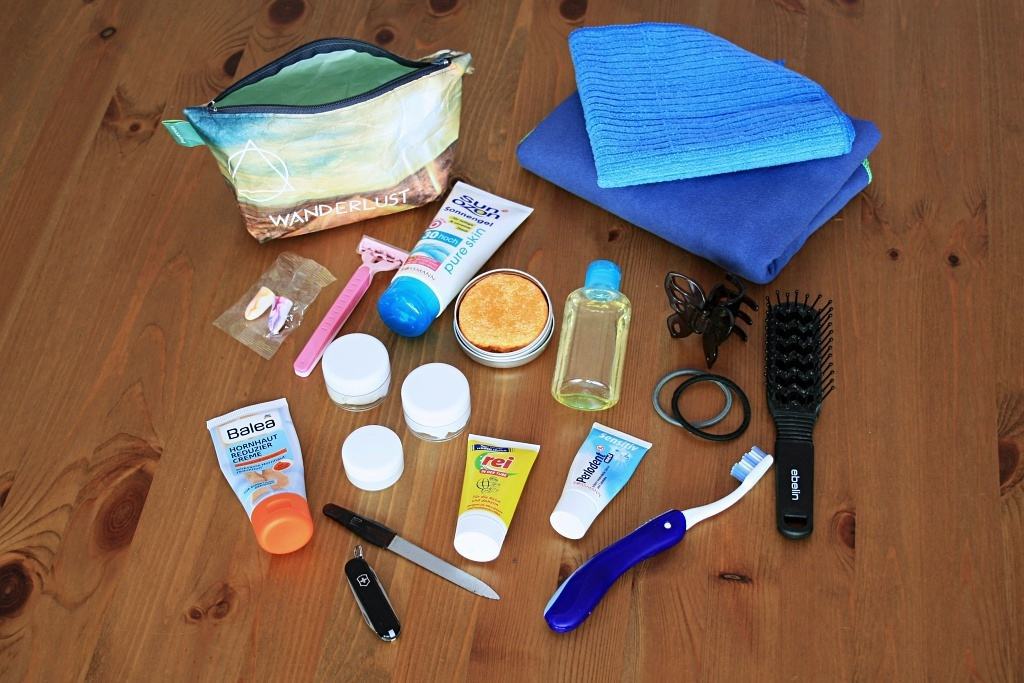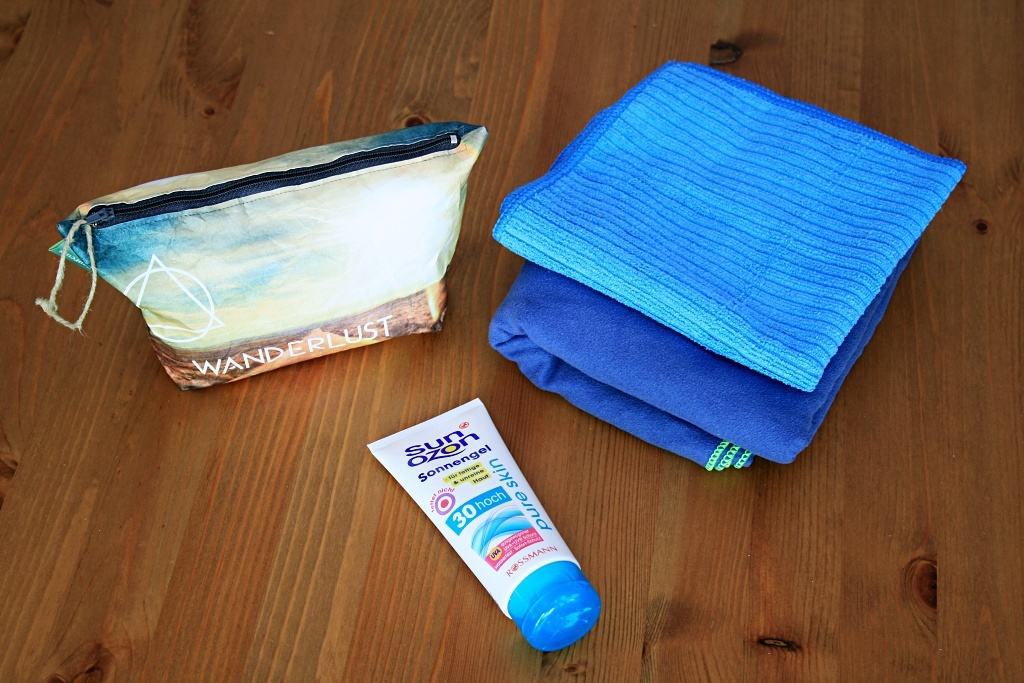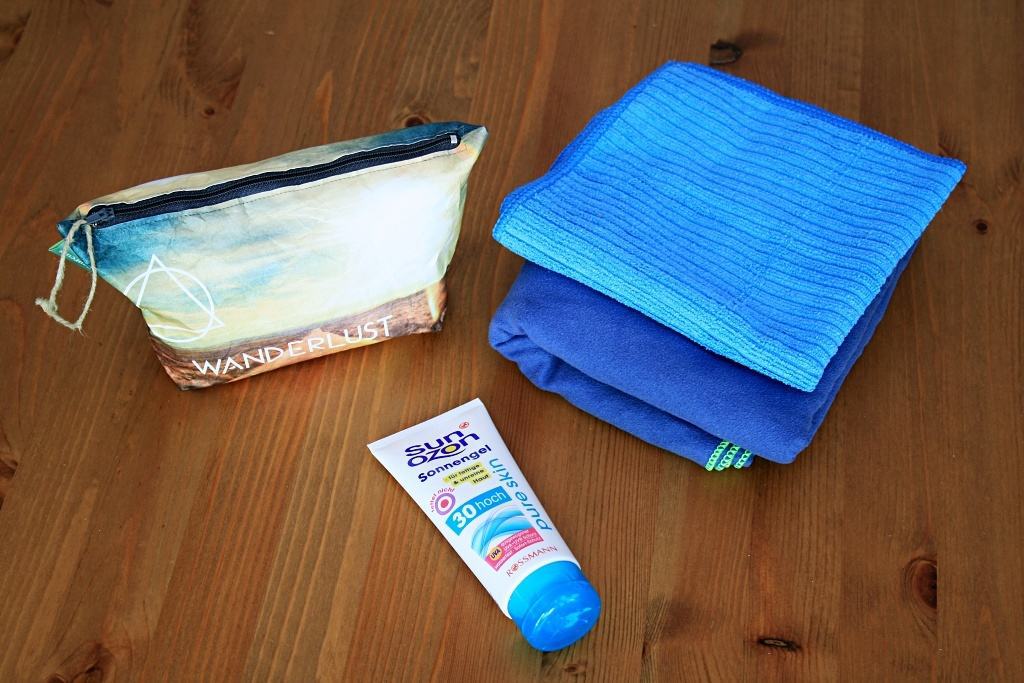 I don't pack much medicine, just ibuprofen. When I will need something, I'll get it at a pharmacy.
In my first aid kit are:
ibuprofen
my pill
sports tape
Leukosilk
magnesium fizzy tablets
tick remover
mosquito and tick protection spray
I only needed a sleeping bag in Spain for sleeping. In Germany are some pilgrims sleeping places in churches, so I will maybe sleep on the floor.
That's why I packed for Sleeping: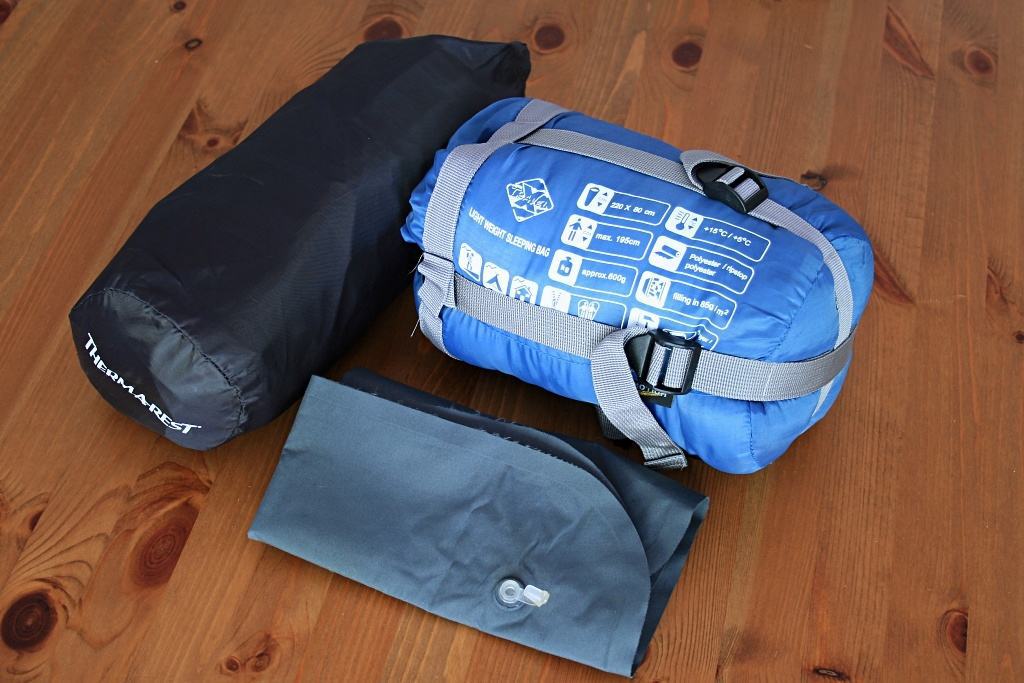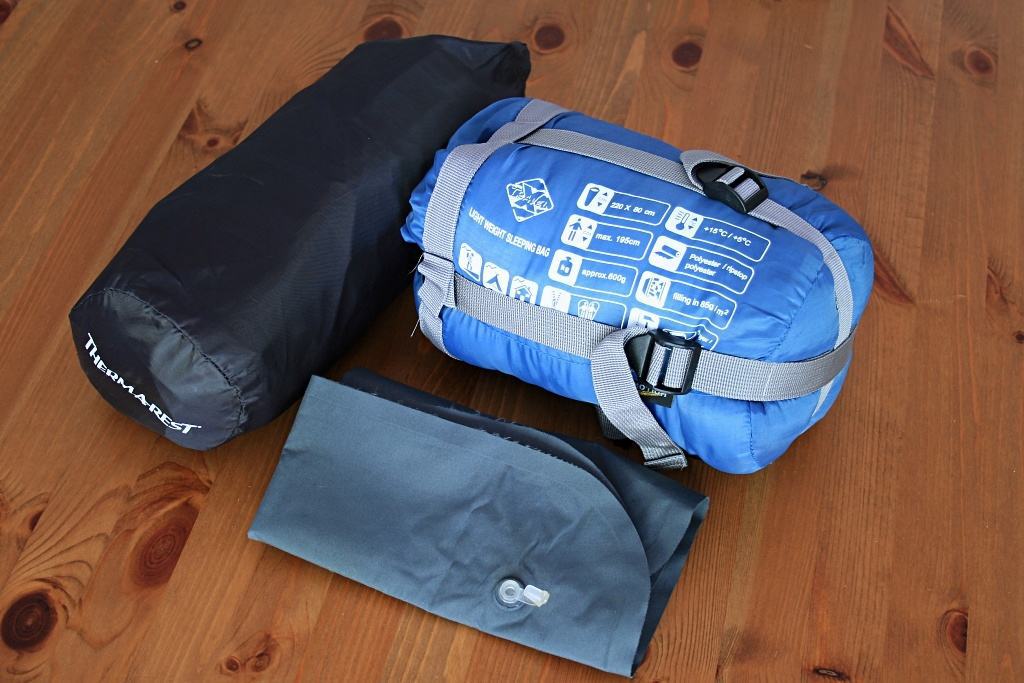 Last time I brought my MacBook and blogged every night. Although I like it, I want to blog less this time and enjoy more. That's why I will leave my MacBook at home and bring my travel keyboard instead. The plunger was a gift and helps me to hold my iPhone. I have the tracks for the way on my iPhone and can easily navigate this way without getting out the guide-book.
My technical stuff:
head lamp
in-ear phones
travel keyboard
iPhone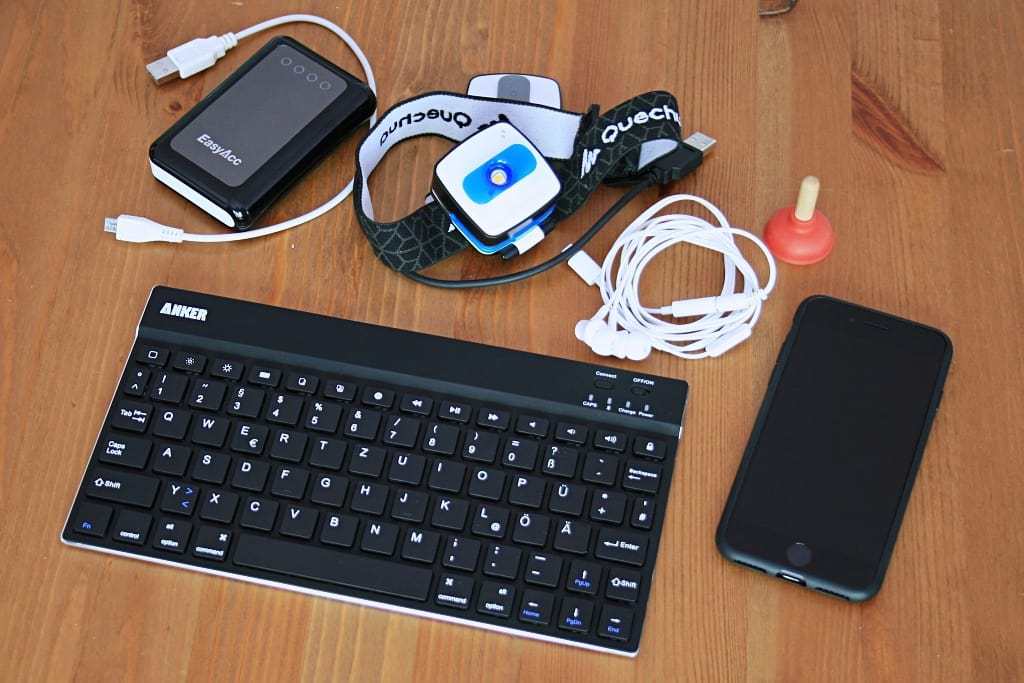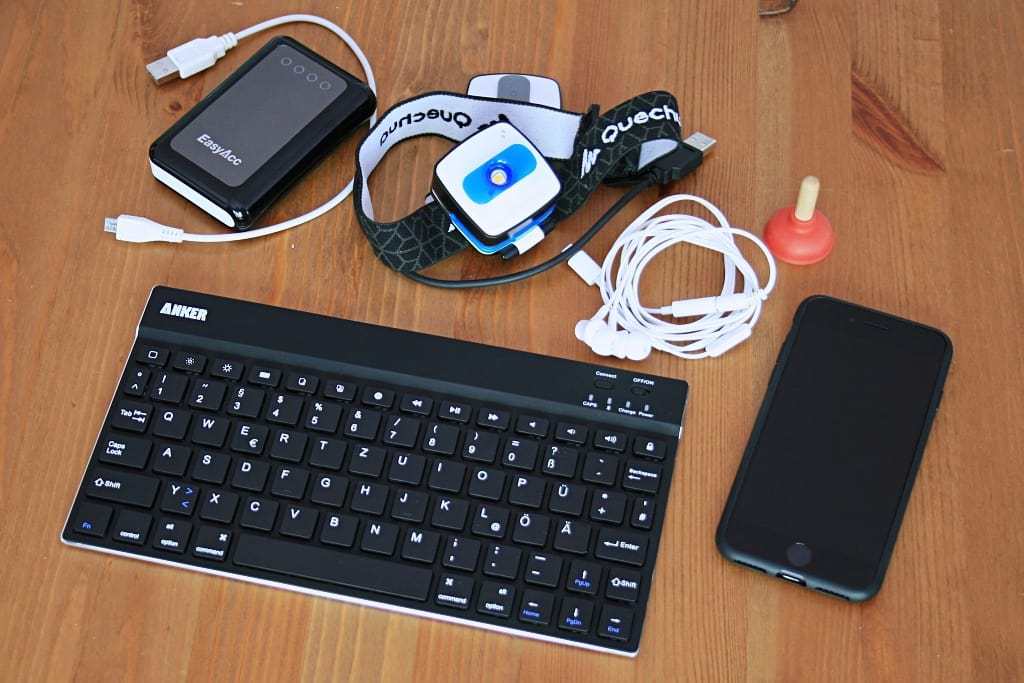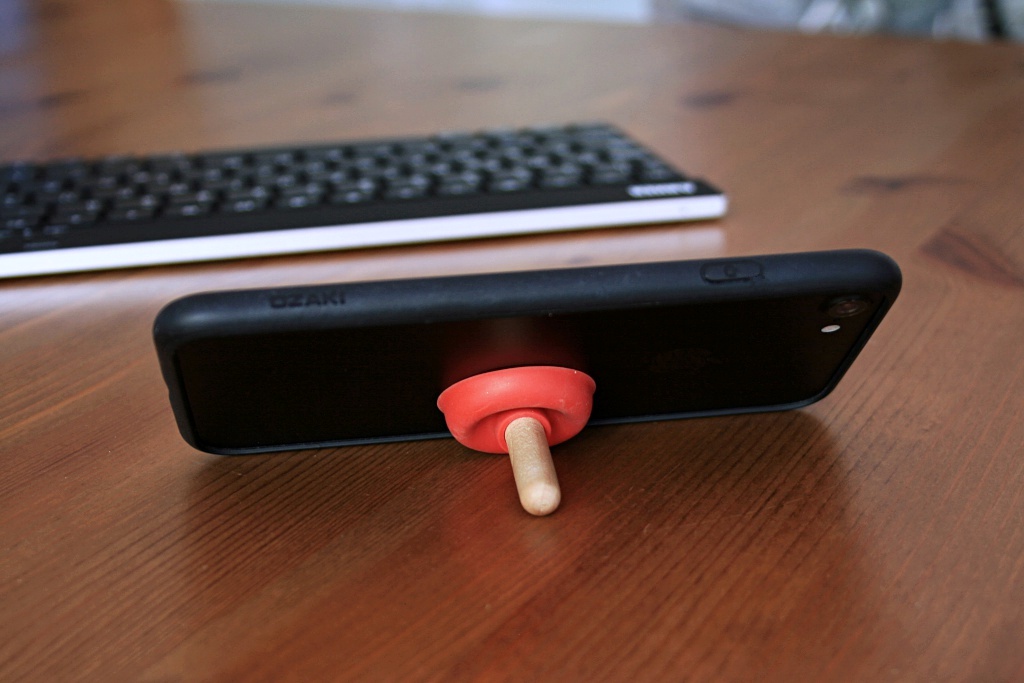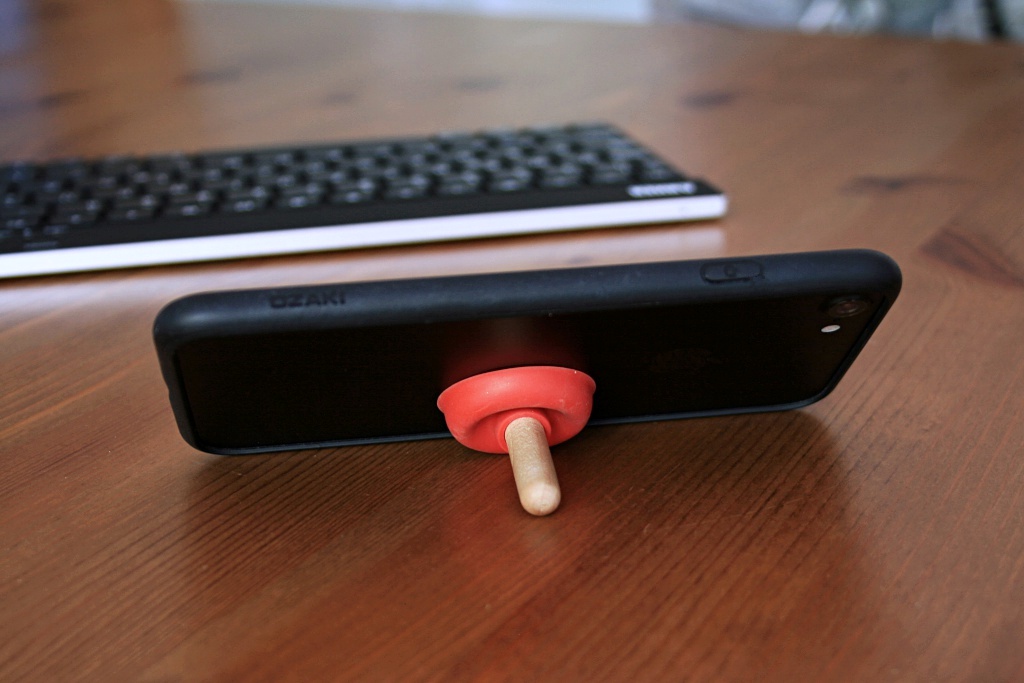 The last pilgrimage I brought an airtight container, my spork and my pocket knife. This way I can have an avocado bread for breakfast and keep the rest. It's the same for leftover salads or so. I found the trail mix in my pantry and will have it as a snack on the way.
What I packed also:
In the waist belt pockets I will store the earphones, a lip balm, my mobile and my travel wallet.
And this is how the backpack looks like packed. In the bottom pocket I packed the air mattress, sleeping bag and rain jacket. I can reach the pocket also from the bottom of the pack. To make your backpack more stable, you should pack the bottom very firm. In the main pocket I first packed the sandals. The water is the heaviest thing, it goes right next to my back. Next to it my technical stuff (in a freezer bag) and my toilet bag. I put the clothes in a water-resistant bag, put it in the backpack and pressed it into the open spots, then pressed out the air and closed it airtight. If it is going to rain heavily and the rain cover isn't safe, I will still have dry clothes for changing. On top of the clothes bag is the food container with the trail mix. I put the sunscreen in the side pocket and some toilet paper (I experienced in Spain, that I have to go, when it's actually not possible…) In the top pocket I put the first aid kit and the guide-book.
I only packed one hiking stick with anti-shock because the trail has not much meters in altitude. As long as I am on the train, the stick will be strapped to the backpack. On the trail, I will have it in my hands. The buff cloth is strapped to the shoulder strap to keep it handy. Just like the sun hat. It is hanging on a carabiner on the bottom of a shoulder strap. I don't want to lose my hat again while traveling to the starting point, so the hat will be in the backpack on the train ride.
There is much room left in the backpack, but with 11,5 kg (25.3 lbs) (including hiking stick, 2 liters of water and the trail mix) it is enough luggage for me.
I am excited and I hope I didn't forget something…
Love,
Rina
P.S.: In May 2019 I hiked another Camino. Here is the latest packing list.